Indonesia's Electricity Giants
Companies are racing to build power plants. Investment in the electricity sector is particularly lucrative.
Edition : 17 Desember 2019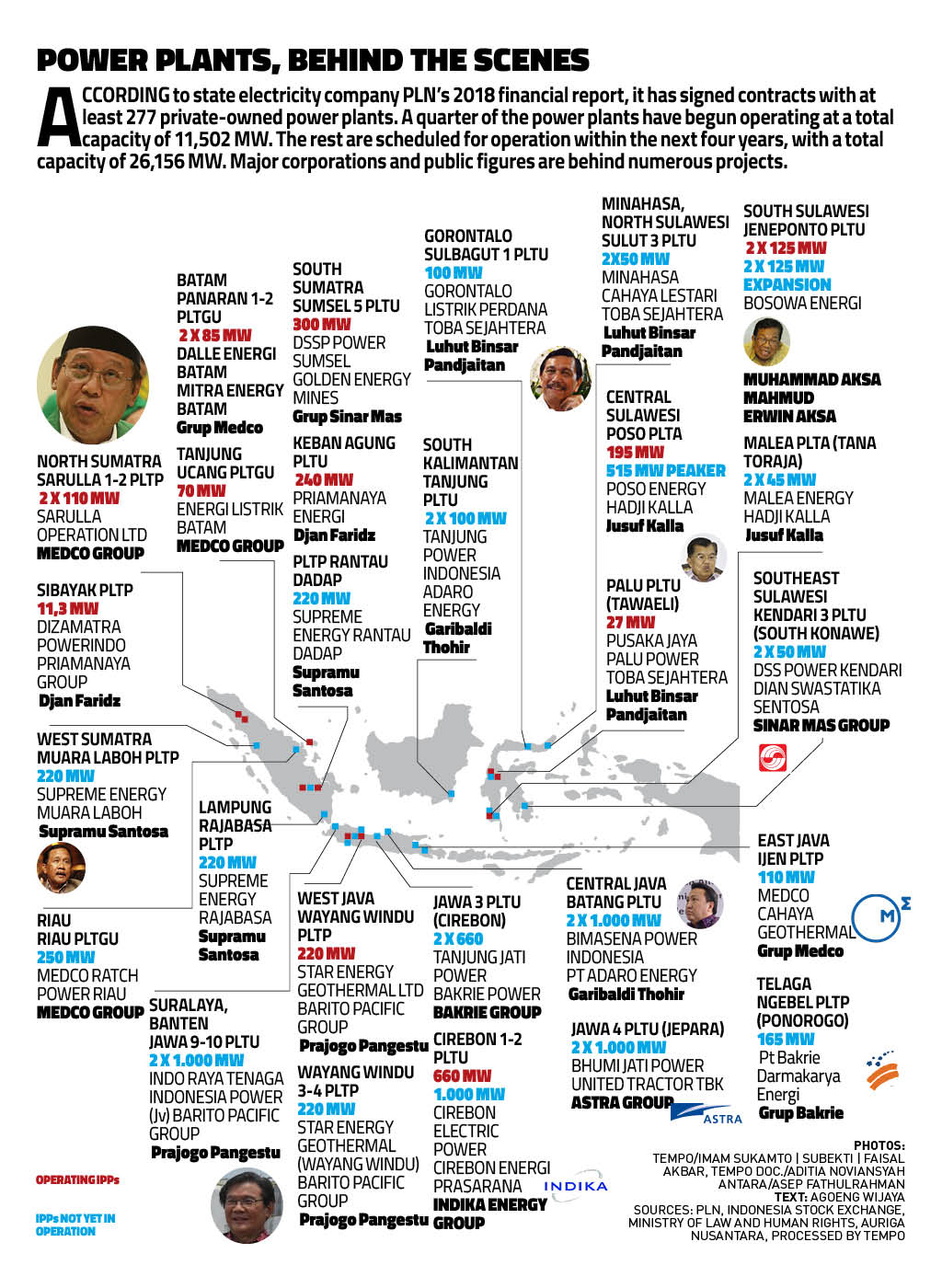 Less than one month after the end of his tenure as vice president, Jusuf Kalla returned to business. On Wednesday, November 13, the 77-year-old man visited Sulawena village in Poso Regency, Central Sulawesi. In the area between Lake Poso and Tomini Bay, Poso Energy—a company owned by Hadji Kalla and Bukaka Teknik Utama—is hurrying to expand the Poso hydroelectric power plant (Poso PLTA). Kalla last visited the renewable power plant in July 2018.
Jusuf Kalla's brother Achmad Kalla says the Poso PLTA was built in 2005 and began operating in 2012. Meanwhile, the expansion project only began three years ago. "At this time the construction of the first power house is already completed. River normalization is in progress and (we are) in the process of building the second power house," he told Tempo on Friday, December 13. With a total capacity of 515 megawatts (MW), the Poso PLTA will become a peaker plant, meaning it will operate during high demand.
Poso is only one of the locations being developed by the Kalla family. In Tana Toraja, South Sulawesi, the Kalla family is also building Melea PLTA, with a 3 x 45-MW capacity.
In the power plant sector, electricity indeed enjoys the most investment. A leader of a business group in the sector refers to power plants as 'fleshy'. Meanwhile, transmission and distribution projects, which are other parts of the power trade, "have more thorns," said the founder of a corporation that owns numerous private-owned power plants.
Independent power producers (IPPs) have tremendous opportunity to gain return on investments as all of the electricity that they produce must be purchased by the state electricity company PLN, whether or not the electricity is used. The scheme is known as 'take or pay'. Meanwhile, power plant businesses have been attracting coal mining companies as of late, to make sure that the produced power is absorbed.
Adaro Energy, for example, is currently completing two steam power stations (PLTU), namely Batang PLTU in Central Java and Tanjung PLTU in Tabalong, South Kalimantan. With an investment of US$4.2 billion, or around Rp58 trillion, the Batang PLTU is scheduled for completion in 2020, with a capacity of 2 x 1,000 MW. Meanwhile, the Tanjung PLTU, with a capacity of 2 x 100 MW, is projected to be able to fully operate this year, with a total investment of around Rp7.6 trillion.
Another energy giant, Medco Group, operates power plants in 20 locations across the country, at a total capacity of 3,100 MW. Most recently, the business group owned by the Panigoro family developed the 275-MW Riau Steam and Gas Power Plant (PLTGU) in Tenayan, Pekanbaru, through Medco Ratch Power Riau. Additionally, Medco will be developing the Ijen Thermal Power Plant (PLTP) in East Java with a capacity of 110 MW.
Barito Pacific Group, owned by Prajogo Pangestu, also controls the power business. Through Star Energy, Barito Pacific is the largest PLTP owner in Indonesia. Star Energy became the third largest geothermal power company in the world after it acquired Darajat and Salak PLTP (610 MW) from the Chevron Group, valued at US$2.3 billion, or over Rp32 trillion, in 2017.
Supreme Energy, the pioneer of geothermal energy in Indonesia, is currently developing the 80-MW Muara Laboh PLTP in South Solok Regency, West Sumatra. The PLTP is targeted for operation at the end of 2019. The 90-MW Rantau Dedap PLTP in the Lahat Regency, South Sumatra, is scheduled to follow in 2020.
Despite the general enthusiasm, some companies are showing restraint. Indika Energy, for example, is currently withholding on its power plant investment plans that the company believes to be not so feasible. "We are focusing on developing Cirebon 2 PLTU first," said Indika Energy Group CEO Arsjad Rasjid on Thursday, December 12.
RETNO SULISTYOWATI, KHAIRUL ANAM