Gandari, Christine, and Melati
Opera Gandari by Tony Prabowo was performed for the third time. Director Melati Suryodarmo gave a new interpretation imbued with her personal experience as a woman.
Edition : 23 Desember 2019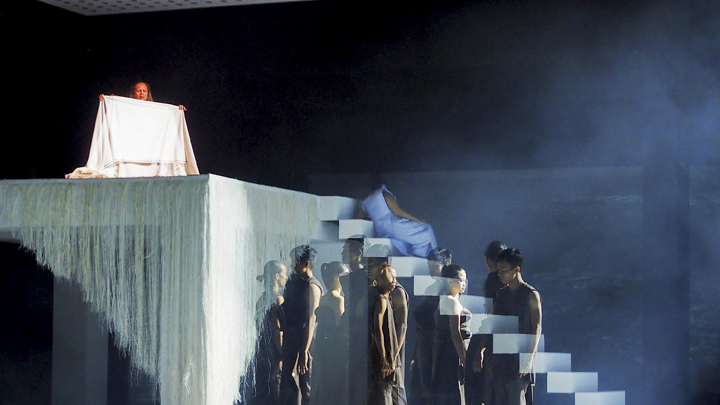 COMING from a towering scaffolding atop the stage, Christine Hakim's raspy voice suddenly pierced the silence. Her grey hair hung loose. Her fingers kept stroking the edges of a white fabric spread on her lap. "She who refused to see the world, looked out of the window for the last time that evening…" said Christine, opening the Opera Gandari in Graha Bhakti Budaya, Central Jakarta, December 15.
Below her, on the foot of the scaffolding, events took turns to unfold. Soprano Bernadetta Astari moved to the right corner. The Batavia Madrigal Singer choir then entered from both sides of the stage, clad in soil colored costumes, and lined up before lowering their bodies, followed by six dancers from Studio Plesungan. From a nook in front of the stage, slightly hidden from the audience, conductor Peter Veale from Ensemble Musikfabrik of Germany guided some 20 musicians from the Jakarta Modern Ensemble to play a composition by Tony Prabowo. All of them united under the libretto based on the poem Gandari by Goenawan Mohamad.
The opera tells the story of Gandari, wife of the blind Destarastra, mother of the hundred Kurawas who shook the kingdom of the gods in the epic of Mahabharata. Driven by her husband's blindness, and saddened by the deaths of her children, Gandari turned her back on the world by blindfolding her eyes with a piece of black cloth. This is the story of the five days before she closed her eyes over love and sorrow. However, despite the stage being enlivened by performers who entered one after the other, Gandari was not actually there that night.
That was the third time Opera Gandari took to the stage since 2014. Before, Opera Gandari was performed in Teater Jakarta by Yudi Ahmad Tajudin, and in Frankfurt, Germany, choreographed by Sun Wen-Chi from China. This time, it was directed by performance artist Melati Suryodarmo. Melati did not bring Gandari to stage through an actress. Rather, she was represented in every element of the dances, voices, sounds, and lights. "I avoid the characterization of Gandari. There is no complete Gandari, who can be grasped in one room," said Melati.
The audience then encountered Gandari though Christine Hakim's story of the death of Dursasana, her son, at the Kuru Field. His blood was then scooped to wash Drupadi's hair. "My son's blood," said Christine, rather flatly, in contrast to the loud music and lights, which turned blood-red. One could also see her in the woman dancer who was dragged and kicked around, who hugged herself tightly then thrashed about. Gandari was too, manifested in the tones sung by Bernadetta, who at first sounded like she was saying words. But the more we attempted to listen to her, the less we understood the meaning of her singing. Only high tones filling up space, reaching into emptiness.
The absence of a singular Gandari was made possible because Gunawan's poem is indeed not a complete narration about Gandari. It is a series of non-chronological glimpses which form the image of Gandari. When writing composition for the opera in 2013, Tony Prabowo also brought the music closer to the form of collage, often featuring disjointed sounds of the piano, sudden clang of a single note, or sharp grit like dry leaves rubbing together. The chorus frequently sang in syllables, such as near the end of the performance when they alternately whispered a/ir/su/rut/ca/ha/ya/se/pa (wa/ter/sub/sides/light/pales) to create echo. "There is this big structure filled with ideas on sounds, colors, and textures with interwoven patterns," said Tony, who worked on the composition for one and a half year. For this third performance, Tony made some additions to his composition.
TEMPO/Nurdiansah
Despite being locked by Goenawan's libretto and Tony Prabowo's music composition, Melati nevertheless found numerous opportunities to experiment. She offered a new perspective toward Gandari, who is usually portrayed as a holy woman and a mother willing to make sacrifices for her husband and children. Melati admitted that she was deeply influenced by her experience reading about Gandari's story through volumes of Mahabharata comic books by R.A. Kosasih during her childhood. Gandari was depicted of giving birth to a lump of flesh. She kicked it so that it broke into smaller lumps, each of which then turned into a baby, one hundred in all. "My memory of Gandari is very simple, that is the expression of her rage when she kicked the lump of flesh," said Melati.
Therefore, for Melati, Gandari is more than just a faithful woman. She holds in her heart vengeance and anger due to her helplessness. We see the dancers thrown about, fell and got back on their feet, or reaching upwards with their hands, as if trying to grasp something yet they kept failing. Melati also asked artistic director Jay Subiyakto to construct a structure with stairs on the stage. The stairs represent Gandari's determination to achieve her goals, though often held back by her fate as a woman.
Then, Melati requested Christine Hakim to act as narrator because, in previous performances, this role was taken up by male actors. Christine, of course, delivered a compelling performance, even though it was her first appearance on the theater stage. Unfortunately, Christine's expressions were not very visible due to the lights, which rarely shined directly on her face.
Melati also 'mocked' the odd story about the death of Dursasana, Gandari's son, who was defeated by Bima only after the two twin souls, Tarka and Sarka, intervened. She questioned the plot by presenting two women in red dress carrying lantern, who moved awkwardly on the stage during the scene of Bhisma's funeral. "They are ordinary women, not dancers. I specifically sought out identical twins and asked them to move freely around the stage," said Melati.
These women were also one of the ways through which Melati expressed her own personal questions about being a woman and a mother. The questions that were not necessarily answered, as in the final scene where every performer so vigorously crawled around the stage, only to slump with their eyes looking upwards in the end. "And from the sky, there is no longer anything."
MOYANG KASIH DEWI MERDEKA