The Student Alliance's Resistance
A group of students worked hand in hand helping their peers during the September protests. Some were threatened with expulsion by their schools.
Edition : 30 Desember 2019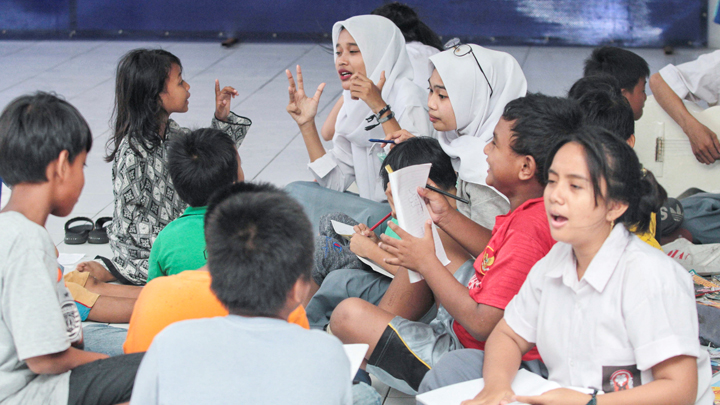 AFTER protesting at the House of Representatives complex on September 25, Zurullah evacuated to the Palmerah Station, South Jakarta. The night air at locations where protestors clashed with the police stung his eyes, as the result of tear gas. Nearing 11pm, the 12th grader at the Vocational Secondary School (SMK) 57, Bekasi, West Java, was ready to leave Jakarta. "But I had no money," said Zurullah, 17, in mid-December.
Zurullah's lament was heard by several students who were also waiting there for their train. A student, whom Zurullah remembers as an SMK Yadika student, gave him Rp20 thousand. A university student wearing a green university jacket added another Rp10 thousand. The amount was sufficient for a trip home plus a modest dinner. Zurullah says he has forgotten the names of the people who helped him. They separated ways at the Tanah Abang Station.
Besides being a student at SMK Yadika—though who knows which Yadika—Zurullah remembers that the student introduced himself as a member of the Jakarta Student Federation (Fijar). The student offered Zurullah and several other students from Sukabumi and Bogor to spend a night at his home not far from Tanah Abang Station. Zurullah refused because of a mid-term exam the next day. "Without them, maybe I would not have been able to get home that night," said Zurullah, who goes by Zul.
Solidarity among students in the protest that day was beyond anything he could previously imagine. The difference of the schools which usually had them at loggerheads disappeared. These students were united by a grand action led by university students and civil society to reject KPK law revision and several other problematic bills. Repressive action by security officers triggered a solidarity among students.
Fijar member, Aksal Duta, 17, spoke about how students from various schools worked hand in hand when the mass protest took place on September 25. Some took the initiative to prepare first aid kits to treat wounded friends. Others prepared modest meals, places to spend the night, and transportation to help students from out of town return home. "We helped according to each other's own capacity" said the student at SMK 35, Central Jakarta.
To return their friends from Bogor and Sukabumi to their homes, said Aksal, Fijar was only able to rent a medium-sized bus at Rp500 thousand. They collected the amount by setting aside money from their allowances and from their monthly treasury. Fijar has around 200 members, all of whom are students from various vocational secondary schools in Jakarta.
Besides helping students who needed assistance after the protest, the organization also helped mobilize students to reject problematic bills ready to be passed by the House. Fijar members already had enough awareness of the issues under the spotlight. "We were there to resist the negative stigma carried by SMK students who are often seen as thugs," said Fijar member, Bintang Timur, 17, a student at Harapan Kasih SMK.
According to Bintang, the the police repression during the protests reflect the country's failure to guarantee its citizens' right to voice their opinion. The rejection of the problematic bills, he said, should not have been met by violence. As a result, a number of secondary school and university students fell victim to law enforcement officers. "The government has to bring the perpetrators of violence at the September protest to justice," he said.
Fijar is a not a student group that made a sudden appearance during the September protest. Their awareness had already been honed through various activities. The organization formed in April 2019 had been active in various forums initiated by civil society groups, such as the Jakarta Legal Aid Institute (LBH) and the Commission on Missing Persons and Victims of Violence (KontraS). They had also routinely held an independent study forum every week, which they called the Village Library.
Despite its young age, Fijar's members are now spread throughout numerous cities, such as Tangerang, Banten; Bekasi, West Java; Solok, West Sumatra; and Ternate, North Maluku. They also shared a network with other student groups, such as the Santuy Student Alliance in Bogor. The distribution of the organization's members helped form cells prior to the September protest. Consolidation and mass mobilization were able to be performed quickly by relying on members in every school.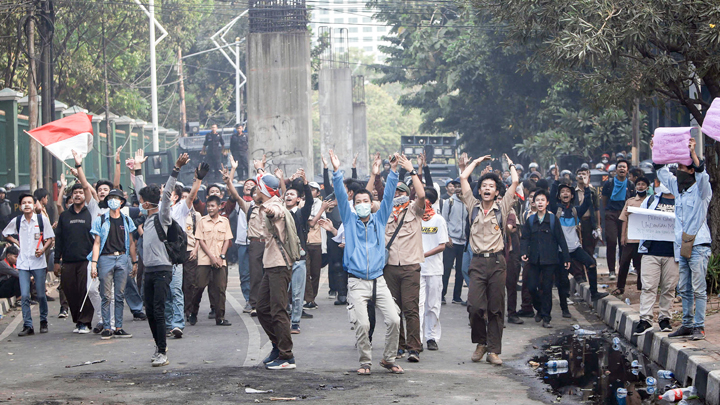 Young students Protested against the criminal code bill and revision of the kpk law at DPR gates, Jakarta, September 2019./TEMPO/M Taufan Rengganis
A number of Fijar members recently graduated also felt the calling. Nando, 18, a graduate from the Walang Jaya 79 SMK, Jakarta, admitted he had to take leave from work to join the September protest. The cleaning service staff at an office on Jalan Gatot Subroto, Jakarta, volunteered to set aside some of his salary for logistical need in the protest. "To me, it was a form of concern in the country's issues," he said.
But the solidarity did not receive support from schools. Many Fijar members got strong repirmands from their schools. Some threatened expulsion the if students were proven to join the protest. A threat was given to their peer, GM, who is now an 11th grader at SMK 35, West Jakarta.
"But Fijar was never involved in rioting. Instead we assisted those who needed help," said Nando.
The public advocacy institution, AMAR, recorded at least 32 schools sanctioning students involved in the September protest. They obtained data from complaints centers in Java, Kalimantan and Sulawesi. Acts of intimidation against the students varied, from threatening bad grades to expulsion.
"This type of repression threatens youngsters right to education when the rights of young people to expression is also guaranteed by the constitution," said AMAR attorney, Alghiffari Aqsa. In September, Alghiffari as well as a number of public attorneys from the Jakarta Legal Aid Institute visited police stations to make sure students received legal assistance.Retno Listyarti, member of the Indonesian Commission for the Protection of Children, denies the belief that student involvement in the September protests aimed to incite riots. "They were calm and had an awareness of ethics," he said. "I wanted to buy drinks for 50 students, but they refused because they were afraid people would think their protest was paid for."