Lt. Gen. Doni Monardo, Head of the National Disaster Mitigation Agency: Public safety is the highest law
EARLY this December, together with more than a thousand earthquake and tsunami survivors, the National Disaster Mitigation (BNPB) chief Lt.
Edition : 30 Desember 2019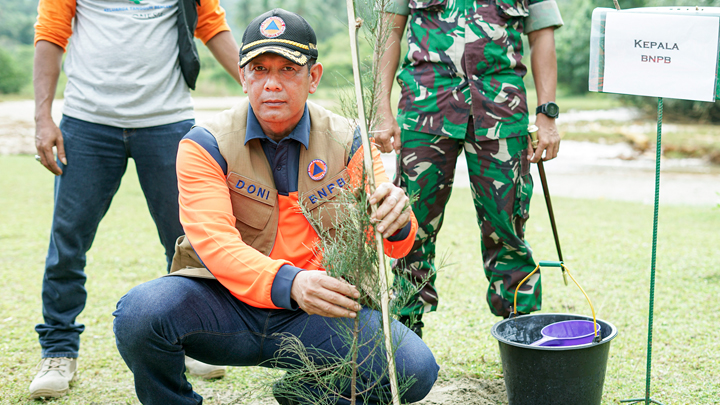 GEN Doni Monardo spent the nights near the Pasie Jantang beach in the Lhoong district of Aceh Besar regency. Scores of tents were erected in the grass field facing the Indian ocean. Arriving on Friday, December 6, Doni stayed in one of the blue tents with the tarpaulin-covered floor which can accommodate five.
Over the weekend, Doni reviewed the Katana program launched on the momentum of the of 15th anniversary of the Aceh tsunami. One of the program activities is the earthquake and tsunami simulation drill participated by people of various backgrounds who acted as disaster victims. "Through the Katana program, more families across Indonesia will become aware of what to do before and after a disaster," Doni explained to Tempo's Devy Ernis who followed the event.
On December 26, 2004, a 9.1 magnitude earthquake rocked the Indian ocean floor, around 160 km west of Aceh. The powerful tremor triggered up a 30 meter-tall smong—the Acehnese term for tsunami. On landfall, the gigantic waves devastated much of the west coast of the Aceh province, reaching the capital, Banda Aceh, and killing at least 230,000. In Pasie Jantang village, around 300 out of 1,000 residents escaped death as they were out of the the gampong (village) at the time of the tragedy.
Since his appointment succeeding Willem Rampangilei on January 9, Doni has dealt with a myriad of disasters: from earthquakes, floods, landslides, droughts, tornadoes to forest fires. On several occasions amid his schedule in Aceh, the former commander of the army's special forces (Kopassus) explained to Tempo about his appointment as the BNPB chief, the disaster mitigation activities and the plan to incorporate the disaster response lessons into school curricula. Albeit his status as an active officer in the army, Doni refused to answer questions unrelated to disaster management.
After the breakfast on Saturday, December 7, Doni, accompanied by acting Aceh governor, Nova Iriansyah, visited the tents one by one. Several tents had handicrafts and local products such as coffee and bags on sale. Sipping his coffee, Doni sat relaxed by the beach.
W251bGwsIjIwMjEtMDMtMDUgMDg6Mjk6MzQiXQ
What is the significance of the Katana program?
The program aims at raising public awareness about disasters, particularly earthquakes and tsunami. It is a continuation of the Destana (Disaster Resilience Village) program which took off last July-August. Our target is for, in the next few years, every family in Indonesia will have acquired sufficient knowledge about natural disasters.
Why is it targeted to the family?
Based on research done in Japan, the family is the second entity after our own self who can save our lives in the event of a disaster. The rate of survival through self-reliance is around 35 percent, through the help of family members 31 percent and by other parties only 2 percent.
Why was Aceh picked as the place to launch the program?
Earthquakes and tsunamis apparently tend to repeat. Layers of tsunami deposits that are 7.500, 5.400. 3.300 and 2.800 years old were found in the Ek Lentie cave. This is the reason Aceh was chosen, because of this evidence, and also to commemorate the disaster 15 years ago.
Where did the fund for this program come from?
About three years ago, a World Bank delegation offered us a disaster management program. The government agreed to accept the loan. So did I with pleasure and on one condition: that the fund be for capacity building, not for technology.
How big was the figure?
The Bank provided US$160 million in total to be used in the next five years. It was split between two agencies. BNPB received US$75 million, and the rest went to the meteorology, climatology and geophysics agency (BMKG). We've used ours to develop Katana as one of the priority programs.
Utilization of disaster management funds have proven to be prone to corruption in several regions. How do you ensure

the money is not abused?
That's the responsibility of the regional governments, not the BNPB. The fund will be handed over to them.
Can BNPB not monitor the fund's utilization, say for the construction of temporary shelters for victims?
Construction of shelters alone has a lot of problems, but BNPB cannot possibly build them because the regional administrations hold the mandate for that. However, nowadays project proposals are online, so everyone can see them. We cannot forbid any party from participating in the tender processes. If you have products, go ahead and put in the e-catalogue. I make decisions when the regions make the requests. If numbers are already there (online), then I have no burden. Everything is on record.
You've traveled around Indonesia since you became the BNPB chief. Which is the most disater-prepared region?
Well, it's difficult to say. You say you are prepared and then a disaster strikes and many lives are lost. Whether one is ready or not depends on a lot of factors. You conduct drills for daytime and then disasters occur at night. The disaster risk index can be only be proven if there are few fatalities.
Which regions have the least casualties?
I don't mean to compare one region against another, because time is an important factor. One of the regions I observed is North Konawe. The floods last July swept away many houses, but there wer no casualties. (Flood water submerged seven North Konawe districts in Southeast Sulawesi, from early till mid-June this year. More than 18,000 people were displaced, 370 houses destroyed and 1,837 others were inundated.)
How did they manage?
The regency administration maintained very good communications with the regional BMKG. They kept asking about weather developments in the region and used the information as reference. The regent instructed all department heads to directly inform village heads, who then promptly evacuated the residents living alongside rivers. Imagine what could happen if the regent and the regional heads didn't take those measures.
Is public awareness about disaster still low?
If people do not understand nor pay attention, how can they save themselves? The key is in their own hands. I imagined how 99.9 percent out of the hundreds of thousands of people did not understand what a tsunami was. If there had been information available at the time, the number of fatalities would not have been that high.
How prepared are you if a tsunami suddenly hits Aceh or Padang?
Simulations are often held in those two areas, involving several countries in cooperation with the TNI (the Indonesian military), regional governments, and the BNPB. In Aceh, every December 26 a tsunami memorial event is held to maintain public preparedness levels. However, we come back to the factors of nature and time. If this happens during the day, people would be ready. But if it's night, would people know in time? There's never a certainty.
(After about an hour of conversation, Doni Monardo and Nova Iriansyah visited the Ek Lentie cave located some 13km from Pasie Jantang where layers of ancient tsunami deposits were found. Doni and his entourage came out of the cave just before noon when the weather was quite hot, and they immediately sipped iced coconut milk served by the locals.)
Japan trains their people to be aware of disaster early on. What can we learn from Japan considering disaster-response education is not yet in our school curricula?
Last year, the previous education and culture minister (Muhadjir Effendy) launched a program, but it's still an extra-curriculum program. Last month, I visited the ministry and conveyed the president's advice to include disaster management as a subject in the school curricula as soon as possible.
What is Minister Nadiem Makarim's response?
I explained to him this concerns our children and grandchildren. I mentioned the damage to the ecosystem, diminishing water sources, polluted rivers, medical and industrial waste and so on, and he was shocked. He uttered, 'Oh no, what about my kids in the future?' Education is crucial to change behavior because it is human behavior that caused most of the floods, landslides, droughts, forest and land fires. He agreed.
What does the curriculum formulation look like?
We will coordinate with the education and culture ministry. Later, disaster-response education will not only be provided in public schools but in all schools, including madrasah. We already give disaster-preparedness modules through Scout activities, but there is no curriculum yet.
What will concrete implementation look like in schools?
Our approach will be through various school programs, one of them being 'disaster-safety education units'. In essence, there are three pillars. First is the school building. They should be sturdy enough to withstand earthquakes. Second is management. Every teacher must lead the evacuation of students under his or her care. Last, there should be learning materials for students. We will work in conjunction with the education and culture ministry to provide this.
When is the deadline for establishing the curriculum formulation?
As soon as possible. The President has said education must begin this year. We will change student behavior by making them more aware of disaster risks.
What should be done immediately in case of an earthquake?
If the quake lasts around 20 seconds, people should run as quickly as possible to higher ground without waiting for information from anybody. If possible, in less than 20 minutes, they should already be on high ground of at least 20 meters. This is the 20-20-20 universal principle introduced by Prof. Ron Harris (geologist and earthquake expert from the US). So, 20 does not mean you only have to run 20 minutes after the first quake.
If there is no higher ground?
If there are no hills, climb the trees. That's why vegetation is very critical. The culture of disaster-awareness and preparedness must be promoted among the community. Ladders with ropes and nets should be installed on trees with strong roots for those who cannot climb.
But tsunamis usually travel extremely rapidly.
Coastal areas and shores should have vegetation—such as mangroves or whistling pine trees—to break the speed of tsunamis. When the 2004 tsunami struck, the residents of a village in Pattaya, Thailand, were saved by the vegetation. More casualties occurred in coastal villages without plantation.
Where were you when the 2004 Aceh tsunami occurred?
I was on duty in Lhokseumawe. My brother, who was studying in Japan, called me and said, 'Bro, there's a massive earthquake. Beware of tsunami.' I didn't know what tsunami was at the time. Moments after the earthquake, I called my friend in Peuniti, Banda Aceh, to ask about the situation. He said there were no victims following the earthquake, but it turned out so many died after the tsunami. Pak Jusuf Kalla (the Vice President at the time) called me and asked how many victims there were. I said, 'A lot, but I don't know the exact number.' Only after going over to the hospital and the other places did I realize how colossal was the number of victims who died.
During a simulation drill conducted on the morning of December 8, a warning for earthquake with tsunami potential was announced via loudspeakers. Participants immediately gathered and looked for evacuation routes via instructions posted around the Pasie Jantang beach. On the sidelines of the drill, Doni again answered Tempo's question. Afterwards, he hit rapai, a traditional Acehnese musical instrument, to mark the opening of the Katana program and closed the event by planting a whistling pine tree by the beach.
---
DONI MONARDO
Place and date of birth: Cimahi, West Java, May 10, 1963 | Education: • Military Academy (1985), • Army Staff and Command School (1999), • National Defense Institute (2012) | Career: • Commander, • Presidential Security Force (2012-2014), • Commander-General, Army Special Forces (2014-2015), • Commander, 16th Regional Military Command/Pattimura (2015-2017), • Commander, 3rd Regional Military Command/Siliwangi (2017-2018), • Secretary-General, National Security Council (2018-2019), • Head National Disaster Mitigation Agency 2019-current)
---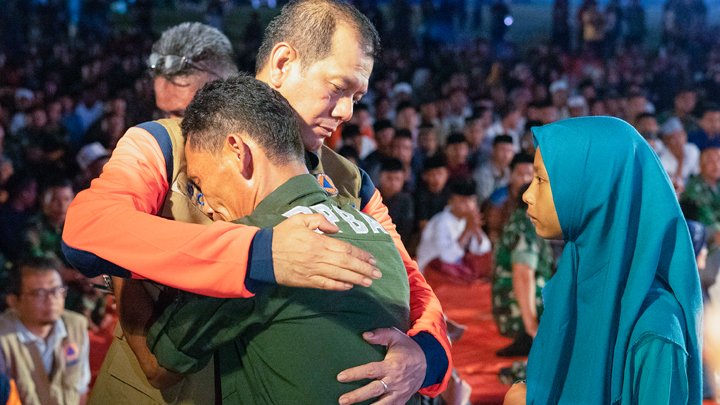 Head of the BNPB Doni Monardo at the launch of the Katana Program in Aceh, December 7, 2019./TEMPO/Muhammad HIdayat
In addition to being slammed often by earthquakes and tsunamis, Indonesia also has to bear the brunt of seasonal forest- and land-fires. But so far, BNPN appears to only be acting as a 'fire extinguisher'. What's your response?
We try to urge (the local governments) to not wait for the emergency status issued by governors for disaster mitigation. After all, fires have become an annual routine occurrence. Prolonged dry spells increase potential for forest fires.
What's the mechanism?
We are preparing the regulations.
Is it true regional governments are often late in issuing the emergency status?
We will revise the forest and land fire management procedures. Regional heads should not wait until there are fires. They can refer to BMKG data to establish status without waiting until fires break out. Salus populi suprema lex esto. Public safety is the highest law.
Isn't canalization effective to prevent peat fires?
Canals, on the contrary, caused the peat to dry out. Peatlands must be restored to their natural state which is wet. If they are wet, even when they are on fire, only the surface will be burned. The most difficult part for us is peat thickness, some of which are over 30 meters. If, say, the peat dries out to depths of seven meters below, fires will also rage down to seven meters underground.
How do you make sure the peatlands are always wet?
The current method is creating water basins. In the meantime, canals which in the end were used for illegal logging must be closed. Next is to change behaviors and here the agricultural minister plays a role. Agricultural trainers are mobilized to introduce land-clearing methods that do not involve fire.
In the Law Regarding Environmental Protection and Management, traditional communities are allowed to use fire to clear land.
This is allowed, but it is not easy to do. The law allows it if there is permission at the province, regency, city, and village levels. This means, it can only be done after full authorization. Imagine if in one village 10,000 people set up land fires at the same time. The blazes would not be contained.
The law did not deter several plantation companies, including those from Malaysia, from torching land. How do you overcome this problem?
The Malaysian ambassador to Indonesia will invite those Malaysian companies to visit BNPB. We will explain how foreign companies should adopt the same appropriate standard operational procedures (SOP) adopted by local companies.
Aren't there local companies also found guilty of using fire for landclearing?
Some of the companies already have good systems. They have firefighting helicopters and help put out the fires around their lands. Local companies also came to BNPB and expressed their wish to be involved in (fire mitigation activities). We just need to map out committed companies. There are hundreds of companies.
How many companies have committed to prevent fires on their landholdings?
Eighty percent of the large corporations.
How about the small companies?
They are a bit of a hassle. It is also difficult for us to control them, especially individually-owned companies. There are so many of them. But all the large companies are registered.
To what extent are they involved in fighting land fires?
We've solicited cooperation from corporations. Some corporations have already taken care of the fires in their areas, while some have not. This is difficult to monitor and fires can break out again. Either they are being malicious, or there are other factors involved. There are also accidental fires when embers from burned trash are carried by the wind and fall on dry peat which then catch fire.