Idols
THE Buddha's feet blistered and swollen or indistinct and changing: the series of paintings mentions 'the sleeping Buddha' even though the soles of the feet on the canvases convey the impression of Buddha who has travelled far. And not only far, but not bound by origin or confined by direction.
Edition : Tuesday, January 7, 2020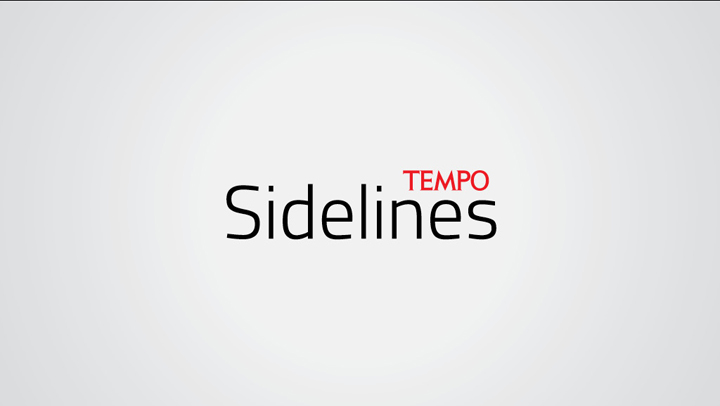 This series by Ugo Untoro in his recent solo exhibition at the National Gallery presents a figure like that depicted by the 9th century Chinese Buddhist figure Linji Yixuan: one heeding dharma who 'is above shape and form, not rooted or planted in any place, nor abiding in any abode, yet lives forever.'
In other words, Ugo's Buddha is the Buddha who walks below, in the dust, slowly, easily forgotten. He is not the Buddha in full identity as coherent subject, who with eyes wide open is aware of his 'I' and controls the world. He is the sleeping Buddha, Ugo said.
The Buddha in Ugo Untoro's paintings is the Buddha who cannot be killed.
Linji is renowned for his expression, 'If you meet The Buddha on the road, kill him'. With these startling words, Liji was actually refusing to reduce the mysterious in our experience into merely problems that can be formulated in concepts. With this particular koan, Linji wanted to stress that 'buddha' cannot be summarized as identity, as a concept about what 'buddha' is, just as a person in his or her wholeness cannot be viewed as flat and permanent in an identity card. The moment that 'buddha' becomes identity, turns into concept or doctrine about what is pure and infinite, then he must be killed. Because he has become an idol.
W251bGwsIjIwMjEtMDUtMDggMTQ6MTA6MTUiXQ
Unconsciously perhaps, Ugo's canvases view Buddha as Linji did: an iconoclastic view that rejects Buddhas like the one in Wat Pho in Bangkok: lying on his side, authoritative, 14 meters long, a mute giant of shining gold. An iconoclast does not want to worship the pure replaced by statues which religious and political institutions make power-tight—and stagnant. Made finished, in other words.
The impression I get from Ugo's paintings is of a series of works that are unfinished. The paintings do not set out to be heavy, monumental, weighty, serious with meaning and message.
In this, they are honest. They are an acknowledgement that works of art cannot fulfil their promise to express truth or communicate it. Adorno called this 'identity thinking', (konstitutiven Unzulänglichkeit): there is something inadequate in works of art, but that is what makes them.
Because interpretation is born of this. In Affandi's paintings, with his wild, angry strokes, with his overlapping colors, we, faintly perhaps, see a form—a fishing boat. Once we ask what the meaning of that boat is, once we analyze why that boat seems to be leaping, we must give interpretation. In a certain sense, the work is then 'stopped' and replaced with words.
But interpretation is never final.
In general, based on the tradition of seeing images as symbols—as when we see the garuda bird as a symbol of the State —people think that works of art are 'forms' that hold 'content'. Like a guava: within its color, texture and round shape, there are flesh and seeds. But Roland Barthes had a better metaphor for visual art: a work of art is like an onion. Under layer upon layer of its skin, there is no core, there is no flesh. It is only the covering layers that become its shape. There is no content.
To those who want art to be a tool of communication, bearing messages, 'having no content' is a flaw, even a crime—and not a state of incompletion which is what makes a work of art exist as a creative process. To those who consider 'content' separate from 'form', and even, within that dichotomy, 'content' greater than 'form', then content-less 'unfinished' visual art is a kind of social sin.
Hitler was someone like that (and he was not alone). He hated unfinished art. He considered paintings like the works of Georg Grosz and Otto Dix, which depicted people as incomplete, imperfect and disorderly, unlike neat marching Nazis, as 'degenerate'. The Ministry of Public Enlightenment and Propaganda confiscated 5,238 works of German expressionism, together with works from Picasso, Chagall and Kandinsky. They were all exhibited in tiny, dim rooms in the exhibition of 'Degenerate Art' which, Hitler said, 'insults German feeling'.
Elsewhere, another exhibition reflecting true 'Aryan' identity was held. Much grander, of course. That exhibition aimed to show something noble, great and lasting. Nazi art wanted to establish icons.
We know that after Hitler's fall, those icons were worthless.
Those who want to build power and belief systems (secular and religious ideologies) that turn into frozen structures worhipped like icons should read a quote from the Sutra Vajra Prajna Paramita or Diamond Sutra. This is how we should perceive the world: 'Like dreams, bubbles, illusions, shadows, like a falling star, like dew drops and a lightning flash…'
Like Buddha's footprint in the dust.
GOENAWAN MOHAMAD