The City
FLOODWATERS dragging and tossing cars, motorbikes and furniture, smashing house walls, destroying electricity lines, killing people… No, this is not tsunami scale disaster, but, for the umpteenth time it is rain, rivers and the sea upsetting Jakarta. The city is crumbling.
Edition : Wednesday, January 15, 2020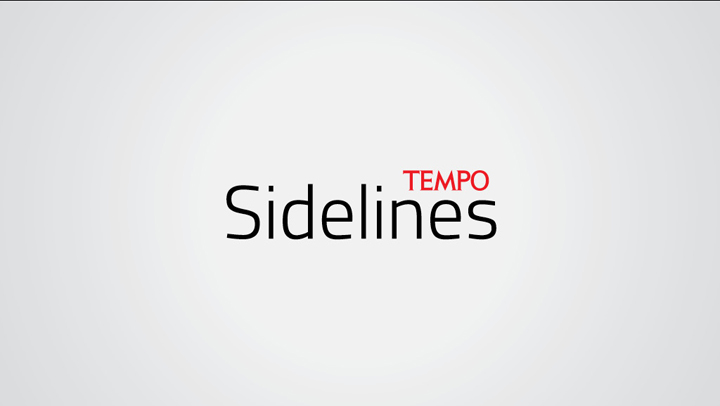 We do not know how the city took shape. The story goes that its history began with the Dutch who build a fort and social barricade in the 16th century. Then, in 1945, the Indonesian Republic turned it into a capital, and inhabitants flocked in. Migration from the interior happened in waves. The city had no walled borders; it was not a 'tuin', the Dutch word that also means 'enclosed space'.
Nobody wanted such a thing. Jakarta was not constructed like Paris designed by Haussman in the mid 19th century: Paris was entirely reconstructed, with consistency and at great cost. Jakarta, in its development, is the product of quasi-planning, combinations without shape, between planning and no planning.
But despite this, it is a space with defined area, mapped streets and alleys (albeit with chaotic numbering), houses, shops and government buildings. Within this area, money by the trillions changes hands and power is wielded.
Sometimes, as is common in any metropolis, within this proud landscape Jakarta manifests the image of man's victory over nature; it turns the sea, lakes and rivers into ornaments. It is also a glittering, dazzling place. Jacques Ellul once criticized the city as a place of pride, 'a place or artifice where nature is vanquished'. But now, water is vanquishing us.
W251bGwsIjIwMjEtMDUtMDggMTQ6NDE6MTYiXQ
But we know, as do Ellul and other anti-city intellectuals, that not everyone wants to return to a time of nature, the time that Javanese shadow puppetmasters describe as green and fertile, 'ijo royo-royo'. This often becomes the ideal of social change. But actually, man furthers Cain's rebellion. According to Ellul, Adam's son Cain rejected God's wish to protect him. The Bible tells that God expelled him from Paradise and ordered him to wander. But he disobeyed. He built a city.
I think there is no point reproaching Cain; he declared his independence, just as the city, however crowded, contains fissures of freedom. In one of Pramoedya Ananta Toer's stories from Stories from Jakarta titled Kecapi, the main character calls Jakarta a 'place of escape' where someone like a kecapi (harp) player from the village can set himself free.
I think the city—particularly cities built without Haussman-like grand ambition—is not a symbol of pride.
Jakarta's pseudo-planning is a flaw, but it is also a sign of limitation: there is always something jarring between the city as built space and the city as dwelt space; there is a gap between 'to build' and 'to dwell'.
There is a dichotomy that Richard Sennet describes interestingly in his book Building and Dwelling: Ethics for the City.
'City' can mean both ville and cité. Ville refers more to the city as a whole, with its territory, structures and systems. Cité is more the environment that reflects a 'consciousness': there is an attitude and behavior. It is wrong to assume that cité and ville support one another. "Experience in a city, as in the bedroom or on the battlefield, is rarely seamless, it is much more often full of contradictions and jagged edges," Sennet writes.
According to Sennet, city construction in the 19th century tried to fuse 'the dwelling' with 'the building'. But this link was fragile. In the 20th century, cité and ville moved separately. There is dualism, contradiction even, as when the Indonesian poet Rendra describes New York:
New York mengangkang
Keras dan angkuh
Semen dan baja
Dingin dan teguh.
Adapun di tengah-tengah cahaya lampu gemerlapan
Terdengar musik gelisah
Yang tentu saja
Tak berarti apa-apa
New York striding
Hard and proud
Cement and steel
Cold and firm
And amid the glittering lights
Melancholy music can be heard
Which of course
Means nothing at all
New York: the skyscapers do not touch the music of an anxious Rick searching for his lover, or Betsy who sends no news, or black people dancing in the streets, or the noise that shapes a big city.
And we face ethical problems: should the city exist to represent the views of the likes of Rick, Betsy and the dancers in the street? Or should it rather express the perspective of experts, planners, developers—and change the noisy goings-on in the cité?
Politicians, officials, developers, consultants, urban activists—now matter how clever and morally enlightened they may be—cannot force, gently or harshly, values that are not part of the life of a city community. What is their right to change what Rick and Betsy think is good? And could they?
But then, why not. Perhaps Rick and Betsy want a closed city, rejecting 'outsiders', or do not care about the crisis of the environment…
Confronting this dilemma, Sennet urges humility and openness—without becoming servile to the 'mentality' of a community.
But there is another ethical problem: everywhere, Sennet says, cities that must change have to choose between accretion or rupture, and this also applies to the cité which has thus far made its dwellers feel at home.
It is a complicated problem, when changes have to be made in a city destroyed as the result of large storm: must levees be built, or should the water be left to follow its course, and a section of the city moved?
We could say that we should follow the rhythm of nature, We just cannot continue making the city, as Ellul said, a place where 'nature is vanquished'. We need to choose accretion. But at the same time we must remember: in this slow development, it is not only the planners and developers who are impatient. The city's poor are also screaming.
And actually, there, Sennet says, we could consider rupture as the course of justice.
No, it is not easy. Especially when time is pressing and climate change looms, and the city is overwhelmed with uncertainty, similar to when Hurricane Sandy paralyzed New York in 2012.
Or perhaps we should just be resigned, and see Cain's sin recorded in cities that are damned?
GOENAWAN MOHAMAD