Asabri's Hollow Investments
Asabri's investment management is believed to be problematic. These issues have already been detected for a while, involving the same actors as those in the Jiwasraya case.
Edition : Wednesday, January 15, 2020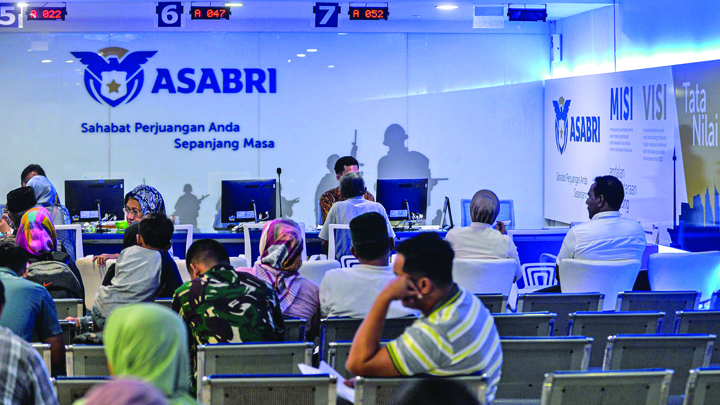 WHILE the Serpong Kencana housing estate is history, its remnants are still visible in Forest Hill, a large housing complex nearby the Parung Panjang Station in the Bogor regency, West Java.
The Silver Height cluster, the first area in the Serpong Kencana estate, stands one meter higher than the main road of Forest Hill. Its houses appear rather dated compared to Forest Hill's newer homes. While the buildings are both in minimalist styles, the ones at Silver Height have much lower ceilings compared to houses in The Arcadia and The Jardin, two Forest Hill areas that are currently on the market.
On Friday, January 17, a resident exited the gates of Silver Height with a canister of liquid propane gas on his motorcycle. He paused in one of the house-shops in a commercial block just across the gate. The real estate agent who accompanied Tempo said Silver Height is sold out, but not many owners are living there.
First opened in 2014, the Serpong Kencana estate changed its name in November 2017. Mega Mandiri Jaya took over the development from Blessindo Terang Jaya. Both are subsidiaries of Hanson International (MYRX). Mega Mandiri had changed the name of the complex to Forest Hill. "It was done in order to make the property more attractive, especially for younger buyers," the Hanson management said when explaining the name change in its 2018 annual report.
The name Serpong Kencana started to fade in public memory until the beginning of this year, in connection with the scandal of investments by Asuransi Sosial Angkatan Bersenjata Republik Indonesia (Asabri), the insurance company of Indonesia's armed forces and police. Hundreds of billions of rupiahs of Asabri's capital is believed to be tied in the 47-hectare housing complex.
W251bGwsIjIwMjEtMDQtMjEgMjA6Mjc6MzEiXQ
Asabri's investment debacle came up simultaneously with news of problematic shares of state insurance company Asuransi Jiwasraya, suspected to have disadvantaged policy holders in the trillions of rupiahs. One name comes up in both cases: Benny Tjokrosaputro. The Attorney General's Office (AGO) has named this boss of Hanson International as a corruption suspect in the Jiwasraya shares investment case on January 14.
•••
NEWS of Asabri's similar problems at Jiwasraya has been headlining the country's financial market in the past month. A statement from Coordinating Minister for Political, Legal and Security Affairs Mahfud Md. on January 10 regarding Asabri confirmed the rumors: "I heard of corruption issues at Asabri which could be as huge as Jiwasraya's, above Rp10 trillion," Mahfud said in his Jakarta office.
Alarm bells have actually been ringing at Asabri since February 3, 2017, when the Supreme Audit Agency (BPK) issued its report. The BPK initially calculated that the potential losses for Asabri, which switched its investments from deposits to stocks and mutual funds in 2013, could reach Rp16 trillion.
In 2017, Asabri's investment in shares reached Rp5.34 trillion, and another Rp3.35 trillion in mutual funds. Its remaining Rp2.02 trillion was put in deposits, which is the most liquid asset when needed. There is no recent information available on Asabri's investments as no financial report has been issued since 2018.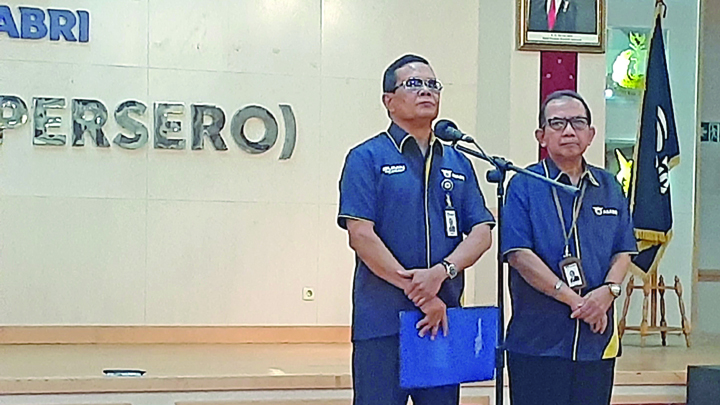 Lt. Gen. (ret) Sonny Widjaja, CEO of Asabri, giving a statement regarding suspected corruption at his office in Cawang, East Jakarta, January 16./ TEMPO/Francisca Christy Rosana
In the BPK audit, Asabri was said to have purchased questionable shares worth Rp802 billion. It also bought two penny stocks: that of Eureka Prima Jakarta (LCGP) worth Rp203.9 billion, and of Sugih Energy (SUGI) for Rp452 billion. There was also the sale of 12 non-blue-chip shares worth Rp1.062 trillion, previously bought for Rp987 billion, to affiliated mutual funds. It was suspected to be done in order to push end-of-year profits. The BPK also focused on the purchase of thousands of land plots without certificates for Rp732 billion.
Asabri's money that was tied in Serpong Kencana was also discovered in that BPK audit. The saga began on September 8, 2015, when Hanson International owner Benny Tjokrosaputro wrote a letter to Maj. Gen. (ret) Adam Damiri, Asabri's CEO at the time. In the letter, Benny offered an 18 percent stock ownership, worth Rp1.2 trillion, in Harvest Time, which in turn is owned by Hanson subsidiary Wiracipta Senasatria.
Damiri went with this, and signed a purchase memorandum of understanding on November 4, 2015. Between November 2015 and January 2016, Asabri deposited Rp802 billion in advanced payments.
Problems arose when it turned out that Wiracipta never owned 18 percent of Harvest, as had been claimed by Benny. Wiracipta only had 13 percent of Harvest shares, which had already been sold to BW Plantation. Asabri management said that they only realized that after the BPK audit. During the audit, Asabri management admitted that the transactions had been done without proper due diligence and feasibility studies.
After warnings from the BPK, Asabri under its new CEO Lt. Gen. (ret) Sonny Widjaja sent a letter to Wiracipta on June 3, 2016, asking for the return of its Rp802 billion advance payment. Asabri also demanded a seven-percent annual interest payment—which is still well below the commercial market's interest rate—for three years starting on January 14, 2016. With the interest, Wiracipta was supposed to pay back Rp832 billion.
Benny agreed to the demand, but asked to set his own schedule for the repayment. He said he was only able to return Rp100 billion in cash, and that the rest would be paid in land plots to be built in Serpong Kencana, which is developed by Blessindo Terang Jaya, another subsidiary of Hanson. Initially, Benny offered 2,033 plots of 146,400 square meters. Between June 23 and 29, 2016, Wiracipta paid Rp100 billion to Asabri, meaning it still was Rp732 billion in debt.
Benny's proposal was only approved by Asabri in its management meeting on July 13, 2016—even though Benny had already deposited some of the repayment—albeit with slight modifications. Benny had to buy back the land plots, and in turn the returns and profits are to be given to Asabri in a year's time.
This is where the plot thickens. On July 14, 2016, Hari Setianto, then Asabri's investment and finance director, signed a purchase agreement for real estate plots worth Rp732.261 billion, instead of executing the decisions from the management meeting. Asabri started transferring purchase costs worth Rp100 billion to Blessindo's account on July 25, 2016. The following day, another Rp200 billion ensued.
After Blessindo received the transfers, Wiracipta deposited Rp100 billion to Asabri's account. These circling funds—from Asabri to Blessindo, then from Wiracipta to Asabri—went on until July 29, 2016. Between July 25 and 29, 2016, Asabri transferred a total of Rp732.261 billion to Blessindo, commensurate to the agreed price of the plots. Meanwhile, Wiracipta transferred Rp732 billion to Asabri to return payments for its shares.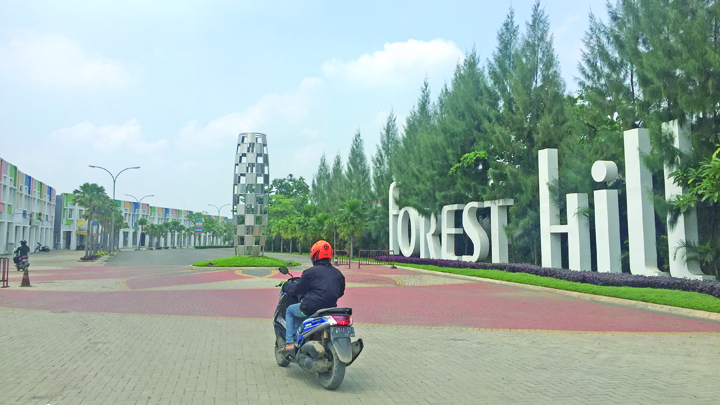 Forest Hill housing complex in Parung Panjang, Bogor Regency, West Java./ Tempo/Khairul Anam
This means that on paper, Wiracipta has returned the costs—plus interest—of the Asabri purchase on Wiracipta shares worth Rp832 billion. However, this money actually came from Asabri itself through its purchase of plots worth Rp732.261 billion.
How did Asabri account for this expenditure? This goes back to Blessindo, but under the guise of property investment. That money was used to buy 2,338 property plots at Serpong Kencana of 72-square meters each. This purchase is suspected to have violated Finance Ministry Regulation No. 53/2012 regarding the finances of insurance and reinsurance companies. This regulation stipulates that property investments can only be made on land with buildings on it. The problem was that the Asabri management made its own regulations in 2013, which ran counter to the ministry's regulations.
In that purchase agreement, Asabri bought the plots, but Benny was to develop and resell the plots, and then give the money to Asabri with a deadline of December 31, 2019, with profits of 10 percent. Until October 10, 2016, Benny was only able to sell 292 units worth Rp94.9 billion, which he had given to Asabri. However, the BPK questions the legitimacy of the transactions.
Minus the Rp94.9 billion worth of sales, Asabri was still on the brink of Rp637 billions of losses. The BPK had discovered that the certificates of the 2,338 plots bought by Asabri had already been mortgaged to Capital Bank by Benny.
Until noon Friday, January 17, half of the housing estate which has changed its name to Forest Hill was still without buildings and unsold. When asked to clarify the status of Asabri land at Serpong Kencana, Dessy A. Putri, public relations and communications officer of Hanson International, said she was unable to give an answer. "I need to discuss this with the management because it involves data," Dessy said when contacted on Friday, January 17.
•••
ON September 23, 2019, the Central Securities Depository (KSEI) announced a debt rescheduling of Islamic bonds Sukuk Mudharabah I Prima Jaringan's first and second phases of 2017 and 2018. Shareholders of the Prima Jaringan stocks were supposed to receive dividends on September 25, 2019, which respectively amounted to Rp21.818 billion and Rp4.545 billion. "We are waiting for written confirmation from the share issuer (Prima Jaringan) for the payment date," said KSEI Division Head Hartati Handayani to Tempo on Wednesday, January 15.
Not many people know that Asabri owns Prima Jaringan shares. Asabri's ownership of the shares started with its decision to buy shares of Eureka Prima Jakarta in 2015. Asabri is noted to have bought 501 million shares worth Rp203.9 billion. At that time, the stock with the code LCGP was worth Rp521 per share. As of December 31, 2015, that price was up to Rp620 per share. Asabri's ownership in LCGP stocks went up to 1.017 billion shares worth Rp630.9 billion. Asabri continued to purchase these shares.
Until September 30, 2016, Asabri had 1.7 billion LCGP shares worth Rp692 billion, amounting to 24.25 percent of total LCGP stocks, now known as penny shares. This money flow came under scrutiny of the BPK. "There was insufficient basis for Asabri to continue its investment in LCGP shares," the BPK said in its 2017 audit.
The problem is that it is difficult to get rid of penny stocks. Some market players noted that Asabri had made an effort to do just that, with the help of investment management company Asia Raya Kapital, by going to private equity fund Asia Raya Properti Syariah, using Prima Jaringan's medium-term notes. Asabri bought Prima Jaringan's in the first phase, while Asabri's pension fund bought in the second phase.
On paper, these notes were put as capital to buy 26,080 square meter worth of land nearby Taman Mini Indonesia Indah in East Jakarta. The problem here was that the piece of land was not up for sale because its right of use was in the hands of the Harapan Kita Foundation headed by Siti Hardijanti Rukmana or Tutut, daughter of former President Suharto. On September 4, 2019, Tutut granted the land to the Jakarta military command to be used to build a hospital. "In fact, this was a hollow transaction because there were no assets," the financial market source told Tempo.
Asia Raya Kapital owner Soetrisno Bachir declined to give details when asked for comment. "Please contact Chief Commissioner Syafii Antonio or CEO Tri Agung," said Soetrisno, who is also chairman of the National Economic and Industry Committee. However, the two individuals mentioned by Soetrisno did not respond to Tempo's questions.
Desy Ananta Sembiring, Asabri's Corporate Communications Officer, asked Tempo to send questions in writing. "Just send them (the questions)," Desy said after accompanying Asabri CEO Sonny Widjaja at the press conference at the Asabri office in Jakarta on January 16. Through Desy, Tempo asked for clarification on January 17 regarding Asabri's questionable investments. However, Asabri has not yet given a reply.
During the press conference, Sonny only spoke for a couple of minutes, without allowing for a question-and-answer session. He sternly denied accusations of corruption at Asabri. "To all Asabri participants—armed forces soldiers, the police, and civil servants at the defence ministry—I confirm, I assure you that your money is safely managed by Asabri. It is not lost, and there is no corruption," he said. Sonny even threatened to take legal actions if negative news about Asabri continues.
Reports about Asabri's investment violations have already reached the defence ministry. The ministry has sent its team, under its inspectorate-general, to look into the matter. "I have already sent an investigative team," said Deputy Defence Minister Sakti Wahyu Trenggono to Tempo at his office on January 16. In the meantime, Asabri is still far from potentially defaulting on its payment obligations. Its annual claims until now are still covered by mandatory dues from soldiers' salaries.
KHAIRUL ANAM, PUTRI ADITYOWATI, GHOIDA RAHMA