Knock-off Ballpoints from Yiwu
The Customs and Excise Directorate General confiscated a container containing counterfeit pens from China at the Port of Tanjung Perak, Surabaya. The gang of counterfeiters also sells other imitations such as razor blades and liquid glue.
Edition : Wednesday, January 15, 2020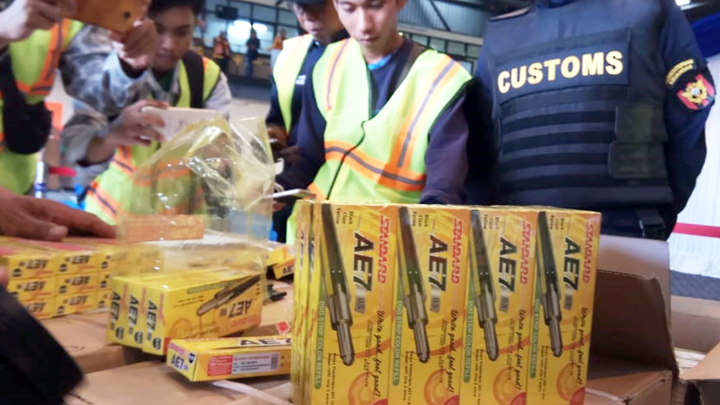 THE suspicion began over a manifest. The Customs and Excise officers of Surabaya's Tanjung Perak Port were only told that there were ballpoints inside a container belonging to PT Putra Alka Mandiri, which arrived from China on December 6, 2019. "The officers were suspicious because there were many brands and variants of ballpoints," the Finance Ministry's director general of Customs, Heru Pambudi, said on Thursday, January 9.
Customs officer then opened the container and found dozens of yellow boxes containing ballpoint pens. Each pen has an engraving that says' Standard AE7 Alfa Tip 0.5' on them. There were 850,000 pens with an estimated value of Rp1 billion.
At first glance, the pens looked normal—nothing out of the ordinary. However, the surface felt rough to the touch.
Suspecting that the ballpoints were counterfeits, officers checked their records of customs on goods with copyrights and intellectual property rights. The Standard brand of AE7 Alfa Tip 0.5 ballpoint pens are listed in the database. Tanjung Perak Customs and Excise then notified PT Standardpen Industries, which is based in South Petojo, Central Jakarta. "After our team checked the goods, we were positive that those ballpoints were imitations of our manufacturer," president director Megusdyan Susanto told Tempo.
However, Customs and Excise could not hold on to the container for too long. To prevent the goods from being released, PT Standardpen submitted a request for a containment to the Surabaya Commercial Court on December 19, 2019, with PT Putra Alka Mandiri as the party being charged.
The Commercial Court granted PT Standardpen's request on January 9. The court ordered Customs and Excise to confiscate the pens as the investigation proceeded. "It was concluded that there was a violation of intellectual property rights by PT Putra Alka Mandiri," preciding judge Sifa'urosidin said.
Heru Pambudi said the import of counterfeit ballpoints was revealed through a cooperation of various agencies: the Directorate General of Intellectual Property, Customs and Excise, the court, and the police. "This is the first collaboration between us. This is us showing the world that Indonesia is serious about combating violations of intellectual property rights, "he said.
The authorities are still pursuing the mastermind of the counterfeiters. Heru said that PT Putra Alka Mandiri is known as an importer of stationery and office equipment products, with its office located in a shop house on Jalan Raya Rawa Bambu, South Jakarta.
When Tempo visited the office on January 17, the place was locked down. The building houses nine companies, including Putra Alka Mandiri's unit on the first floor — a room measuring 3 x 3 meters with plywood walls and glass doors. That day, the office space looked vacant. "Usually there are employees, but they clocked in on random hours," said two employees of other offices at the building.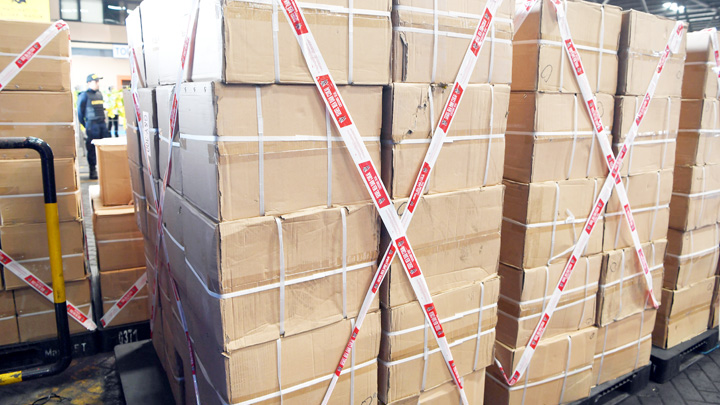 Knock-off Ballpoints from Yiwu./Tempo
A law enforcer who is aware of the case, said it is likely that Putra Alka Mandiri had no direct role in the counterfeiting. It is possible there are importers using the company's name when ordering the knock-off pens. The authorities suspect AO, a businessman in Surabaya. Customs and Excise along with the police are still gathering evidence to corroborate their suspicion of AO's involvement.
According to Megusdyan Susanto, the network of counterfeit ballpoint importers reached remote areas. He said his company's investigation team had been tracking down the ballpoint counterfeit network for years. The network consists of three layers: importers, distributors to grocery stores, and retailers to small shops. "Their target market are people living in the suburbs," Megusdyan said.
There is quite a high demand for ballpoint pens in Indonesia. According to Megusdyan, the monthly sales of ballpoint pens from various brands amount to 60 million to 70 million pieces every month. About 10 percent of them are fake products. This high demand could be what motivated counterfeiters to make knockoffs of popular brands.
The AE7 Alfa Tip 0.5 Ballpoint Pen by Standardpen is an authentic Indonesian product. The factory is located in the Jatake area, Tangerang, Banten. The company has a thousand employees. Megusdyan said his father founded PT Standardpen in 1962. "If we let this happen, forgery will kill local products," he said.
Importers order the knock-off ballpoint pens directly from factories in China. The factories are presumed to be located in the Yiwu region, a city in eastern China. Using ships, containers of the imitation ballpoints were sent to various ports in Indonesia.
They came through Tanjung Perak Harbor in Surabaya, Tanjung Priok Port in Jakarta, Tanjung Emas in Semarang, Batam and Belawan in Medan. "There are three networks that are suspected of always ordering fake Standard pens from China," Megusdyan said. The police are tracking down the three networks.
The tempting potential for profits made this a lucrative business. The price of knock-off ballpoint pens from China is much cheaper at just Rp250 to Rp350 each, far below the production cost of a genuine original Standard Ballpoint, which is Rp1,200 per piece. Once they hit store racks, the counterfeit pens are sold for just a few hundred rupiahs cheaper than the original.
PT Standardpen Indonesia's project manager Marsudi said they suspect that the counterfeiting began in 2005. They calculated the company's losses due to counterfeiting, reaching an estimated value of Rp1 trillion as per 2019.
"The state loss could also reach tens of billions of rupiah, because the fake ballpoint pens' importers do not pay taxes," he said.
According to Marsudi, in addition to counterfeiting Standard brand's ballpoint pens, these counterfeit networks also make knock-offs of other spurious goods such as razor blades and liquid glue. "So far, we can only guess and make assumptions of their whereabouts," he said.
Mustafa Silalahi, Nur Hadi (Surabaya)
W251bGwsIjIwMjEtMDYtMjIgMTQ6NDg6NDMiXQ