Ambivalence
THE city is an experience that can make you half startled, half stunned.
Edition : Tuesday, January 28, 2020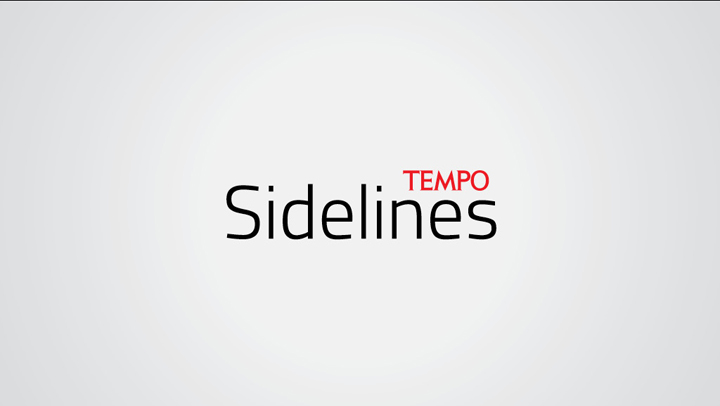 At least if we are talking about Jakarta. From the 1950s, and even more noticeably from the 1970s (not even a century ago), Jakarta entered a period of urban development that was exciting, fascinating and worrying.
This was an experience unknown to the generation before Indonesia's independence, the generation of Si Doel Anak Betawi, as Aman (Datuk Madjoindo) depicted in his famous book. Doel Hamid, a nine-year-old boy who sells servings of rice and vegetables from one neighborhood to the next, is bullied by the boy Bidara Cina, but stands up to him. Doel's father, a driver, died in a traffic accident, but his mother loves Doel dearly, even though this Betawi family has conflicts of its own. At the Lebaran holiday at the end of Ramadhan, Doel's grandfather chastises him and kicks him out for wearing his boy scout uniform.
Doel's world became marginalized. Jakarta changed. But traces of its memory have remained—and now are maybe resurfacing. There is ongoing ambivalence when we—readers—enter new urban experiences: should we reject them, as Doel's grandfather did when he criticized his grandson for no longer wearing his sarong and peci hat? Or should we welcome them, as Dul did when he proudly wore his scout hat and shoes—which he saw as smart, even though they did not fit with the ways of his kampung ?
Evident or not, ambivalence—sometimes like confusion, sometimes like hypocrisy—is reflected in various forms of expression. Indonesian films appear to be the best documents of ways people relate to the city: a world that is changing, but who knows….
Usmar Ismail's 1953 film Krisis shows increasingly crowded housing in the city. Space for private life is virtually non existent, as in the village. But this melancholy film is also funny; there are no angry words. At a time when Jakarta was changing drastically, when the governor Ali Sadikin introduced night clubs and fancy cars —cars are seen more as decoration than as a means of transportation. Usmar mocked this new metropolis as a Big Village (1969). This film not only depicts ambivalence in its view of city life, but also shows the city itself as a face that tends to be ambivalent. A sociologist once said that what was going on in Jakarta was not 'urbanization' but 'ruralization': socio-economic relations of the lower class were persisting as in agricultural areas; what was going on was 'involution', which was static but went on unobtrusively because people had ways to share poverty.
W251bGwsIjIwMjEtMDUtMDggMTM6MjU6MDMiXQ
This is not to say there was no disturbing side. In 1982, Ami Priyono directed the film Jakarta Jakarta: the story of a young man from Tapanuli who tries wrestling his way in Jakarta. He fails—like the young man in Simon and Garfunkle's ballad The Boxer, who tries to fight with New York life, loses, cries and is ashamed. But like the last words of that song, 'the fighter still remains….', this kind of ambivalence has a long presence in Indonesian literature. In a symposium in 1953, Asrul Sani chided artists for 'forgetting the village'. A creative impasse had occurred because links with village life were broken, while city life had not yet attained 'true values'. It is ironic that Asrul Sani said this in Amsterdam, very distant from Indonesian villages, and he himself did not subsequently produce any work intimate with 'the village'.
In this ambivalence, 'the village' can turn into myth. Rendra's play Kisah Perjuangan Suku Naga (The Struggle of the Naga Tribe), which was first performed in Jakarta in 1975, was an allegory about antagonism between the village and the city. The play vividly depicted the 'city' as greed and power, and the 'village' as peaceful, close to nature, and harmonious. The story ends with the pure tribe's struggle a failure. Even so, with its didactic statements the play showed that those who might be crushed in politics are still victorious in moral nobility. This is typical of melodrama, with its antithesis between the totally black and the completely white.
Pramoedya Ananta Toer's Cerita dari Jakarta (Tales from Jakarta), a collection from 1948-1956, is also about antithesis. But these short stories—also about defeated people—do not present them as personifications of ideas on some grand canvas. Unlike Rendra, Pramoedya tells of the multiplicity of faces in small portraits, not as merely elements in some grand thesis with pre-set arguments.
But here too, as in Mochtar Lubis' 1957 collection of short stories Senja di Jakarta (Twilight in Jakarta), the city is manifest in the two aspects Henri Lefebvre mentioned : scene, the part that is shown, and obscene, the part hidden. In Mochtar's stories, there is the world of luxury of Raden Kaslan and his friends rolling in corruption money; and over there, in the obscure twilight, the common world of Saimun, Itam, Pak Ijo and his wife, Neneng.
Scene and obscene—contrast, the dualism of the city and its class conflict: at the very point of conflict, Pramoedya in one of his stories introduces us to Aminah, a well-known poor prostitute who is becoming even poorer, and whose beat is Taman Fromberg (now part of Lapangan Merdeka). Almost every night she offers herself for sale 'no more than five hundred meters from the president's palace'. Her place is the dark. Bright street lights evict her. Pramoedya writes, 'If Paris sings its chanson 'my love fears the sunlight', Jakarta wails its story of the night: my livelihood fears the electric light.'
The city: light and dark and inequality of power, processes impossible to be pure. At least Jakarta is not tidy Singapore, or the holy Vatican, or legalistic Mecca. Narrations are not single.
Maybe Doel's grandfather's anger at witnessing the new and strange has not gone, and today there even seems to be a desire to return to old values. But the city, alive as it is, always wants to create difference within itself. And we are half startled, half stunned.
GOENAWAN MOHAMAD