In Between the Shark Fins
DESPITE their endangered status, sharks listed in CITES Appendix II are still being hunted. Exporters look for ways to export their fins to overseas markets.
Edition : 28 January 2020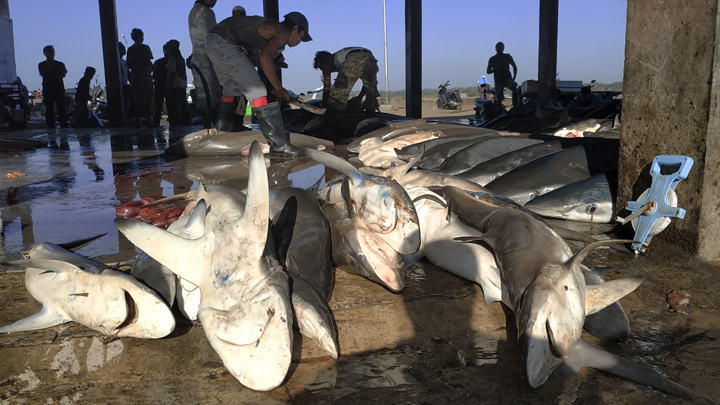 THE morning had just begun when two shark-hunting vessels docked at Tanjung Luar port, East Lombok, West Nusa Tenggara, at the end of August, 2019. Crews hauled their catch from the boat decks one after another to be auctioned off.
That morning's catch were mostly Silky sharks (Carcharhinus falciformis). There were also Scalloped Hammerhead sharks (Sphyrna lewini), Blue Sharks (Prionace glauca), and Silvertip sharks (Carcharhinus albimarginatus) in various sizes. The largest measured some 2-meter longs, while the smallest was less than 50 centimeters. Two Stingrays were also found among the dozens of sharks.
From auction, the sharks were handed over to collectors. One of them was Haji Suparman, who had been waiting for the vessels to dock since dawn. Butchers in the auction place immediately cut up the sharks, chopping off all their fins in seconds. The sharks' finless bodies were rolled over for further butchering.
The fins were then set aside, cleaned, then put into boxes. Workers carried them to Suparman's home just outside Tanjung Luar market, a couple of meters away from the auction center. There, in Suparman's house which also served as his warehouse, the fins would be dried for several days before being sold to fin exporters in Surabaya.
Suparman said he had never accepted any forbidden catch from the fishermen, such as Whale sharks (Rhincodon typus), Manta rays (Manta birostris), and Largetooth Saw fish (Pristis microdon). "Fishermen in East Lombok are well aware of the types of sharks and rays they are allowed to catch, and otherwise," he said at the end of August, 2019.
W251bGwsIjIwMjEtMDMtMDUgMDg6MTU6NTAiXQ
However, some of the sharks being caught were in the CITES Appendix II—a list of species not necessarily threatened with extinction, but may suffer such a fate if continuously subjected to exploitation, according to the Convention on International Trade in Endangered Species of Wild Fauna and Flora. The government bans export of fins from several species of sharks found in the list, but still allows them for domestic trade. "Meanwhile, we only sell the fins to exporters," said Suparman.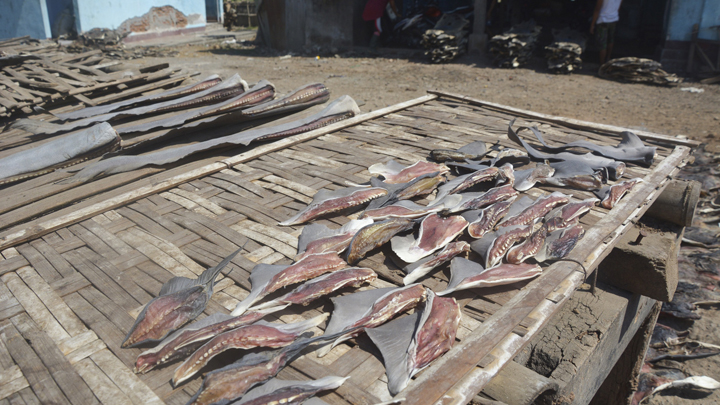 Shark fins and hides (below) at the shark processing center in Rumbuk Village, East Lombok, West Nusa Tenggara, August 2019./ SIRTU
About 70 percent of sharks caught by fishermen in Tanjung Luar, according to Suparman, are Silky sharks, known locally as lanjaman or kejen sharks, and listed in CITES Appendix II. These sharks may be caught in particular areas, but only within a certain quota limit. Exports may not exceed the quota limit.
Suparman said he formerly delivered between 2 to 3 hundred kilograms of shark fins in one shipment. Now, the amount was only around 50 kilograms, worth about Rp 1 million per kilogram. In early 2000s, he continued, a kilogram of shark fin was valued above Rp 1,5 million.
Despite weakening business, many fishermen are still specializing in shark hunting. One of them is 50-year old Muhammadun from Maringkik Island, East Lombok. On shark hunting voyages, he can sail as far off as the Sumba waters, East Nusa Tenggara. Muhammadun may catch between 20 to 30 sharks during two weeks of sailing, which would then be sold in Tanjung Luar. "We mostly catch Hammerhead and Silky sharks," he said.
Amin Abdullah, Coordinator of the East Lombok Fisheries Resource Development Institute, has difficulties getting fishermen to stop catching sharks. The fish has been their primary catch for a long time. "Only the fins are sold outside the region, to be exported," he said.
Amin said 84 shark-hunting vessels are operating in Tanjung Luar, mostly from Maringkik Island. Every day, four to five boats would dock at the Tanjung Luar fish auction place in the main Lombok Island, unloading between 10 to 20 sharks.
•••

FROM Tanjung Luar, the shark fins are brought to Surabaya. The Denpasar Coastal and Marine Reso urces Management Center (BPSPL) of East Java Work Area noted there are at least 20 shark fin exporters in Surabaya. This city is the main shipping point for shark fins heading to Hong Kong, China, Singapore, Japan, and Thailand.
Denpasar BPSPL East Java Work Area Coordinator Kiki Riski Arisandy said the companies may export more than one ton of shark fins per shipment. The large amount of shipments is due to high demand from overseas markets. As of October, 2019, around 230 tons of shark fins had been exported from Surabaya. Kiki said the fins originated from sharks not listed in the Appendix. "If the fins were from sharks in Appendix II, we will not give our recommendation," he said.
Suparman explained he supplies shark fins to CV Mandiri, whose office is at Jalan Kali Rungkut, Surabaya. There was no company name plaque to be found on the shophouse building, nor was there any apparent activity of its occupants. Only piles of sacks containing shark fins on the first floor of the building, exuding a sharp fishy smell.
CV Mandiri is said to be able to send fins from sharks listed in the CITES Appendix II out of the country. Tempo met Andrew Paul Oktavianus, the company's owner, by posing as a prospective shark fin supplier. His company, according to Andrew, accepts fins from all kinds of sharks, including Hammerhead and Silky sharks. Andrew said he could arrange for the shark fins to be sold overseas.
He only requested regional suppliers to send pictures of the shark fins in question to determine their price. He would deal with the export matters. Andrew said his company had never sold fins from sharks listed in the Appendix II to the domestic market. He claimed he buys all types of shark fins to be sent only to overseas markets.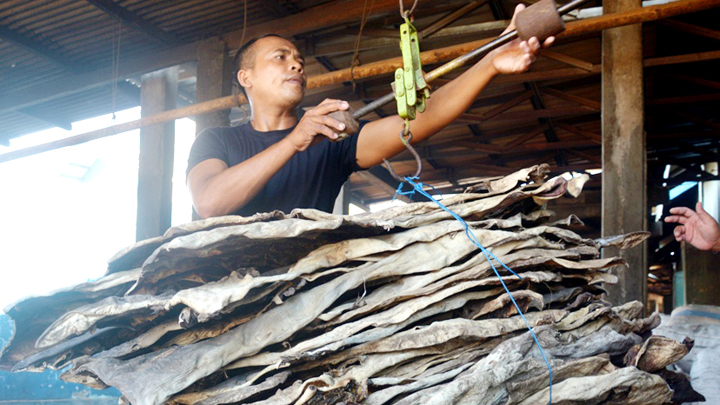 Shark fins and hides (below) at the shark processing center in Rumbuk Village, East Lombok, West Nusa Tenggara, August 2019./ SIRTU
CV Mandiri is an old player in the shark fin business. Andrew's father, Paul Djunaidi, is Chair of the Indonesian Shark Fin Business Association. Based on records from BPSPL Denpasar, CV Mandiri is a company that submits the most requests for export recommendations for shark and stingray fins.
In December, another Tempo reporter came to Andrew, introducing himself as a journalist for the purpose of confirming his earlier confession. Andrew refused to comment. "I do not wish to answer," he said.
Before export, shark fins are verified by BPSPL officers for recommendation. However, they have difficulties if the verification process involves large amounts of fins. It is no easy task for the handful of officers to inspect each fin contained in sacks piled up in warehouses. Exporters often take advantage of this situation by inserting fins taken from forbidden sharks in the middle or bottom of the stack.
A verifier from Denpasar BPSPL East Java Work Area, Beryllinda, said they would work until late at night when they have to inspect numerous fins. Two verifiers are tasked with unpacking every sack of shark fins. Sometimes, said Beryllinda, exporters slip illegal fins in sacks which have obtained export recommendation. "It is quite difficult to detect the illegal fins," she said.
Exporters in Surabaya must undergo several steps in order to be allowed to export. They have to obtain export-worthy recommendation from the BPSPL and the Surabaya Fish Quarantine, Quality Control, and Fisheries Product Safety Center, and then pass examination by Customs and Excise officers.
The business is also required to have an export permit from the Natural Resources Conservation Agency of the Environment and Forestry Ministry. This permit provides the basis for their export activities. Beryllinda said the permit, issued by a different institution, causes difficulties for BPSPL, which resides under the Maritime Affairs and Fisheries Ministry, when controlling the trade of fins from protected sharks. "This is an obstacle. The Maritime Affairs and Fisheries Ministry has not become a management of authority," she said.
There is another loophole: not all the shark fins from species in the Appendix II are entirely banned for export. Oceanic Whitetip shark and Hammerhead sharks are indeed disallowed to be sold overseas. However, the Silky shark is still allowed for export purposes, although in limited quantity. In 2019, the fishing quota for Silky shark was 80,000 fish, and the export quota was 72,000. The quota was only allocated for 19 provinces, which did not include West Nusa Tenggara. This fact was not known to Suparman and the fishermen in East Lombok, whose shark catch mostly consisted of Silky sharks.
Data from the Wildlife Conservation Society shows that no less than 10,364 sharks were delivered to the Tanjung Luar fish auction block throughout 2019. Almost 60 percent—70 percent, according to Haji Suparman—were Silky sharks. Hammerhead shark was the fourth most common type of shark caught by fishermen around Tanjung Luar.
The domestic market for shark fins is small. Novendra Aditya Pragita, Director of PT Mega Mandiri, another shark fin exporter also based in Surabaya, said the company mainly sells to Hong Kong and China. Shipments of fins from Appendix II sharks are still accepted for domestic market. "But the market here is small, so it is difficult," said Novendra, adding that the company does not receive shark fin from Lombok.
With limited export quota for Silky shark fins and a small domestic market, most of the fins from Appendix II sharks, particularly those from West Nusa Tenggara, have to be "sold" overseas in order to absorb the catches. This illegal practice is increasingly endangering the shark population. Meanwhile, of the existing 400 shark species found around the world, more than a quarter, consisting of 117 species from 25 families, happen to reside in Indonesian waters.
SIRTU PILLAILI, NUR HADI