Step-Siblings from a Tax Haven
Inti Indorayon Utama changed its outer wrapping and transformed into Toba Pulp Lestari. Though it was later sold, the owner is still Sukanto Tanoto.
Edition : Tuesday, February 4, 2020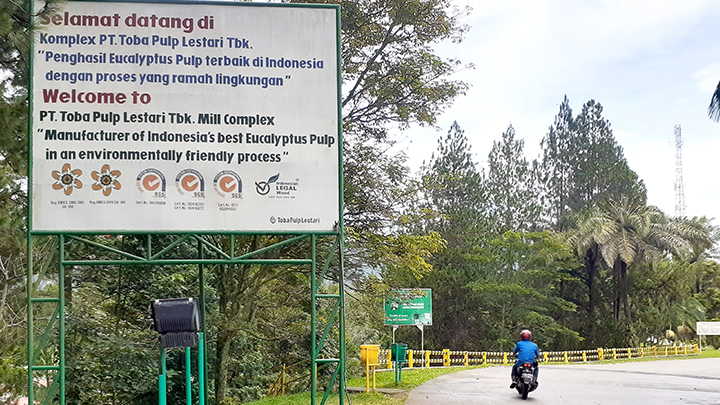 THE five-storey building stands in the middle of the Toba Pulp Lestari factory compound in Porsea, Toba Samosir, North Sumatra. After tearing down one of its walls, Toba Pulp only makes use of the ground floor for storage and for placing the generator. "The building used to house the company office when the name was still Inti Indorayon Utama," said Toba Pulp Lestari's Head of Public Relations Norma Patty Andini Hutajulu, when an IndonesiaLeaks team paid the factory a visit at the end of last November.
The building was neglected because Inti Indorayon moved the paper pulp machines in 2000. At that time Porsea residents also protested the environmental damages caused by the company's activities. Moreover there was an explosion of a boiler tank and a chlorine gas leak in the company in 1993. The explosion exacerbated ongoing conflict between the community and the company. Several members of the Porsea community as well as company staff reportedly died as the conflict dragged on. Many people also got into trouble with the police. In 1999, President Abdurrahman Wahid decided to close down the company founded by tycoon Sukanto Tanoto.
Five years later, the pulp company was back in operation with a name change, Toba Pulp Lestari, still its name to date. At the beginning of operation, the company went through some hard times. Toba Pulp operated unsteadily as pulp production was at a minimum.
In 2005, Toba Pulp registered net income of US$89.9 million. But profits were not enough to cover debts from the previous year. After subtracting bank loan interests and taxes, the ledgers still showed losses of US$24.8 million.
Sukanto Tanoto sold all his shares in Toba Pulp Lestari to Pinnacle Company Limited on December 17, 2007. The company based in the Seychelles, the tax haven located in the Indian Ocean, bought Toba Pulp shares at Rp870 per share, totaling a value of Rp1.1 trillion.
W251bGwsIjIwMjEtMDQtMjEgMjI6NDE6NTgiXQ
On April 30, 2018, Pinnacle Company Limited became Pinnacle Company Pte Ltd, and moved to Singapore. Pinnacle's office is located at the UOB Plaza Building. Information of the relocation is recorded in a company transfer register confirmation certificate issued by the Accounting and Corporate Regulatory Authority (ACRA) of Singapore.
It turns out Pinnacle is believed to still be affiliated with Sukanto Tanoto. Environmental watchdog, Transformasi untuk Keadilan (TuK—Transformation for Justice) Indonesia, in research released in 2018 stated that Pinnacle's shares are controlled by Blu Diamond Inc. This company is registered at the Cayman Islands in the Carribean. TuK stated Pinnacle controls 97.4 percent of Toba Pulp Lestari shares.
Sukanto Tanoto and his family own controlling shares of Blu Diamond. Together with Royal Golden Eagle, Blu Diamond is the shareholder of APRIL, the oil palm plantation owned by Sukanto Tanoto.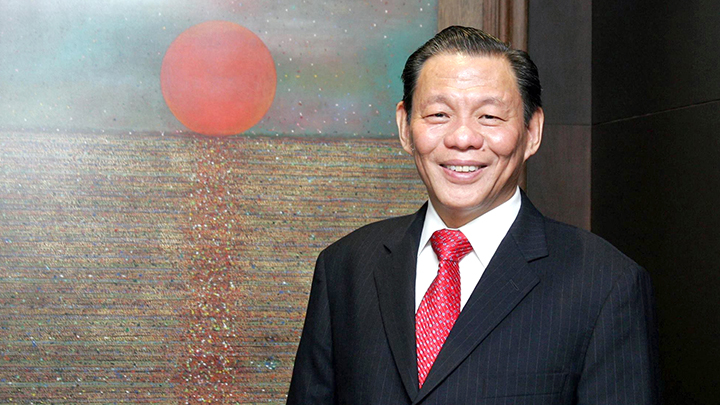 Sukanto Tanoto./sukantotanoto.com.sg
After taking control of Toba Pulp Lestari, Pinnacle did not change its core business. From the outset, Toba Pulp produced dissolving wood pulp (DWP) and bleached hardwood kraft pulp (BHKP). DWP generally becomes the main component for textiles, while BHKP is used to produce tissue and paper.
Toba Pulp exports both products through DP Marketing International Limited, headquartered in Macao. The company, generally known as DP Macao, then sells Toba Pulp's pulp to Sateri, owner of several rayon companies in China.
Documents obtained by IndonesiaLeaks show that DP Macao and Sateri are 'step-siblings'. Sukanto Tanoto owns many subsidiary companies with the name "Sateri" through Gold Silk Holdings Limited. This company is also based in the Cayman Islands. Gold Silk also has an office at 21/F, Aon China Building, 29 Queen's Road Central, Central, Hong Kong. When it issued initial share offerings at the Hong Kong stock exchange in 2010, Gold Silk mentioned Sukanto Tanoto as the major controlling owner of the company.
Through Gold Silk, Sukanto controls 85 percent of Sateri Holding Limited's shares. This is the holding company for Sateri, the rayon factory in China which purchases pulp from Toba Pulp Lestari. The company prospectus states Sateri Holdings Limited was established on June 8, 2010. Sateri Holdings Limited owns scores of subsidiary companies touting the "Sateri" name.
Also through Sateri, the Sukanto Tanoto family controls DP Macao's shareholdings. DP Macao is registered as Sateri Specialty Cellulose Limited, a subsidiary of Sateri Holdings. This investment company is registered in the Cayman Islands.
Through another subisidiary, Sateri owns a textile factory in Xingjian, China. They also built a factory in Fujian, on the southern China coast. Aside from obtaining raw materials from Toba Pulp Lestari, Sateri also gets its raw materials from Bahia Specialty Cellulose. This company is headquartered in Brasil. Bahia is also a subsidiary of Royal Golden Eagle, owned by Sukanto.
---
Documents obtained by IndonesiaLeaks show that DP Macao and Sateri are 'step-siblings'. Sukanto Tanoto owns many subsidiary companies with the name "Sateri" through Gold Silk Holdings Limited. This company is also based in the Cayman Islands.
---
Although they begin with Sukanto Tanoto, all these companies run their common ventures based on contracts. Sateri signed a non-competition act with Pinnacle on November 19, 2010. With this agreement, Pinnacle is committed to sell a portion of its pulp exclusively to DP Macao.
In every transaction, DP Macao gets a commissions from Sateri and Toba Pulp Lestari. In 2014, for example, Sateri bought DWP at a value of US$2.5 million from DP Macao. DP Macao obtained a commission totaling US$141,000 from the transaction. Meanwhile, Toba Pulp submitted a commission of two percent to DP Macao for each transaction.
The IndonesiaLeaks team visited the representative office of Sateri Indonesia at the RGE Holdings office in Jalan M.H. Thamrin, Central Jakarta, on Thursday, January 30. The team met with April Management Indonesia media relations officer, Irene Agustin, whose office is also located in the same building. She requested for IndonesiaLeaks to send questions in writing. IndonesiaLeaks received no response up to Saturday, February 1.
IndonesiaLeaks also tried the phone number supposedly used by Sukanto Tanoto and submitted a number of questions. There has been no response from the offshore phone number. The team also contacted a consultant affiliated with an auxilliary company owned by Sukanto. The person refused to give comment.
Norma Patty Handini Hutajulu refuted any ownership by Sukanto Tanoto in that company. Norma also stated that business relations between Toba Pulp and DP Macao was limited to that of seller and purchaser. She refuted the existence of a marketing contract between the two companies. "There is no such thing. There is only a selling contract," she said.
Norma said Toba Pulp Lestari sells their products to DP Macao based on a price agreement between the two entities. She also said they had no knowledge to whom DP Macao sells the paper pulp to. "Neither do we know how much profit DP Macao makes," said Norma.
INDONESIALEAKS