Locked Down in Wuhan
The new coronavirus that allegedly originated from Wuhan, China, has spread to more than 16 countries. Indonesian citizens in the city have been evacuated to Natuna, Riau Islands.
Edition : 4 February 2020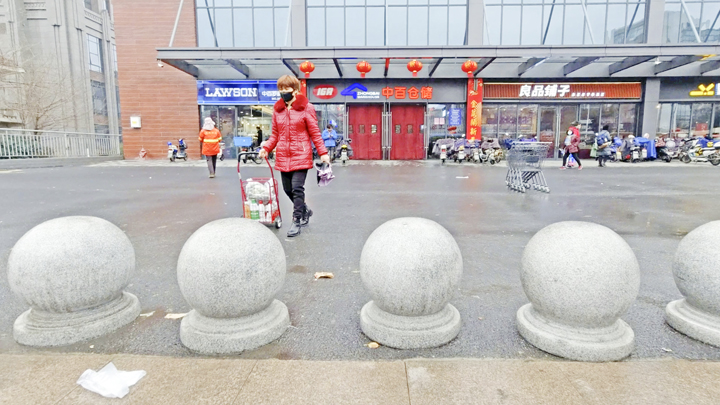 KHOIRUL Umam often admired the traffic light that stood in front of his Huazhong University of Science and Technology campus on Luoyou Road, Hongshan District, Wuhan City, Hubei Province, China. He recorded the traffic light and the situation around it on December 10, 2019.
Unlike traffic lights in Indonesia, it also displayed the faces of passersby and some corners in the intersection aside from the usual red, green, and yellow lights. The zebra crosses were not merely stripes of white or yellow, but also marked with blinking lamps. Numerous vehicles and bicycles were seen passing through the roads.
That view was now no longer available to Umam, who could only imagine that everything must have gone quieter since the Hubei Provincial Administration locked the city down and imposed restrictions on activities of residents on January 23. "Ever since the lock down, we have been avoiding crowded public places," said Umam to Tempo, Thursday, January 30.
The Chinese government closed off access to 14 cities in the province to prevent the spread of the new coronavirus. The lock down is mainly done in Wuhan City, capital of Hubei Province, where the virus allegedly originated from. As of January 31, the virus has infected 9,692 people in China, 213 of whom have died.
Outside of China, cases of the virus infection surfaced in 16 countries: Hong Kong, Thailand, the United States, Taiwan, Australia, Singapore, South Korea, Malaysia, Japan, France, Canada, Vietnam, Nepal, Cambodia, Germany, and the United Arab Emirates. During a press conference on Thursday, January 30, the World Health Organization declared the coronavirus outbreak a global emergency. The number of confirmed cases has exceeded 10,000, most of them in China. The first fatality outside China was reported in Philippines, where a 44-year-old Chinese man from Wuhan died from the virus infection on Saturday, February 1.
W251bGwsIjIwMjEtMDMtMDUgMDc6NTM6MTAiXQ
Rapid spread of the virus prompted international airport authorities around the world to tighten their screening of passengers and cancel or reduce the number of scheduled flights. The New York Times said British Airways suspended all direct flights to and from mainland China since Wednesday, January 29. A similar measure is being undertaken by Air Seoul.
On Tuesday, January 28, United Airlines and Air Canada cut their flights to China and cancelled dozens of scheduled trips due to sudden drop in demand. In Hong Kong, authorities cut more than half of total flights to mainland China. Train service from Hong Kong to mainland China has been shut down as well. Hong Kong flag carrier Cathay Pacific suspended all flights to and from Wuhan until March.
Meanwhile, different countries are attempting to evacuate their citizens from Wuhan. The New York Times named several countries that have started to evacuate or plan to evacuate their citizens, including France, South Korea, Japan, Morocco, Germany, Kazakstan, Britain, Canada, Russia, the Netherlands, Myanmar, Australia, and the United States.
•••
THE outbreak began from an incident on December 12, 2019, when Chinese health officials first identified the case of a mysterious virus infection in Wuhan. This provincial capital city with a population of 11 million is the main transportation hub in Hubei province. The new pneumonia virus causes symptoms such as high fever, coughing, and difficulty breathing.
By the end of December, Chinese health authority confirmed that they were investigating 27 similar cases. Some individuals suffering the illness were known to have visited a wholesale seafood market in Wuhan where game meat and wild animals were also traded, including wolf pups, hedgehogs, ferrets, crocodiles, giant salamander, and bats. To prevent the spread of the then-unnamed virus, Huanan Wholesale Seafood Market was closed down by the government .
On January 7, China confirmed that the virus was named 2019-nCov, or more widely known as the coronavirus. The WHO said the virus is a new strain from the coronavirus family. Its source is not yet known, but thought to be most likely to have originated from animals. Coronavirus refers to the large family of viruses that cause respiratory diseases, including the previously known Middle East Respiratory Syndrome (MERS) and Severe Acute Respiratory Syndrome (SARS). Between November 2002 and July 2003, the SARS virus infected 8,096 people, killing 774 of them.
Death from corona virus first occurred on January 9. Its victim was a 61-year-old man from Wuhan. Since then, the virus has spread beyond the Chinese borders. On January 13, a confirmed case of infection surfaced in Thailand. The WHO, as quoted by ABC, said that the patient was known to have frequented local fresh produce market in Wuhan before contracting a respiratory infection on January 5.
On January 22, the death toll rose to 17, almost twice the previously reported number of nine deaths. At the time, there were 440 positively identified case of corona virus infection. Hospitals in Wuhan struggled to deal with the sudden onset, amid the shortage of medicine and influx of patients.
Hubei Administration warned residents not to travel to or from Wuhan, saying that it was 'the most critical phase' in the effort to control the outbreak. The administration also began to announce the plan to lock the city down and limit outdoor activities of its residents. "This announcement was done in a large scale through WeChat and China Telecom telecommunications provider," said Aditya Fahmi Nurwahid, an Indonesian student in Wuhan University, to Tempo on Wednesday, January 29. Marina Febriana Chariah, another Indonesian who studies in the Hubei Minzu University, said "Aside from the media, I also received official information from the campus."
City lock down began the day after. China Daily reported that all public transport, including buses, subways, and ferries, have been suspended since January 23, 10am. Provincial government raised the emergency response level from second to first, which is the highest. It means that, in case of a very serious health emergency, the provincial disease control head office is to carry out emergency response based on the decision and order from the State Council.
The lock down policy affects the 11 million residents of Wuhan, including Indonesian citizens who happened to be in the city. Streets in Wuhan have gone quieter because residents were urged to avoid doing activities outdoor. When they had to go out, they must wear a mask.
Another factor that also contributed to the quiet situation, according to Fahmi, was the Chinese New Year. Students in China are currently on winter holiday, which lasts until February. Some residents of Wuhan went to their hometowns to celebrate the Lunar New Year. "The situation is like in Jakarta during the Lebaran holiday," said Fahmi, who majors in journalism and communication.
Aside from shutting down public transport, Fahmi said the government has been restricting the use of personal transportation, including bicycles, in downtown areas since January 26. Police cars and logistic transports are excluded from the restriction. "Vegetable and food logistic trucks are still going around to supply people's needs," he said.
Meanwhile, Marina, who lived in a dormitory in the city of Enshi, said the streets outside her campus were very quiet, with only one or two people occasionally seen walking. Many shops were closed, except a mini market near her campus. "Since the lock down, the city became quiet because buses, taxis, and other public transports have stopped," said Marina, whose dormitory is around 400 kilometers away from the epicenter of the virus outbreak, Wuhan.
Upon hearing announcement of lockdown of cities in Hubei Province, residents rushed to supermarkets, because they feared that food supply might run out. "What worries people the most was food shortage," said Marina. "Food supply has been uncertain since the lock down."
Marina obtained her daily needs in a mini market outside her campus, some 70 meters away from the gate. She last went shopping there on January 25 to purchase vegetables and other foods. There have been increases in price since the lock down, but they are not significant. "The price increase is around Rp4,000," she said. Prior to the outbreak, a liter of cooking oil was priced at Rp40,000, while chili peppers was priced at Rp60,000 per kilogram.
Fahmi last went shopping on January 28. He rode his electric bicycle to a supermarket inside the campus where he usually goes to shop. The campus was established in 1893 and currently has around 58,000 students. There, he bought rice, instant noodles, and cold food. The prices of all items were unchanged except for the mask, which became more expensive from 23 yuan or around Rp45,000 originally to 50 yuan or Rp100,000 per pack. Even then, the item was sold out.
Fahmi explained that he and many other Indonesian students had never been to the Huanan wet market. His campus is located in Wuchang District, 22 kilometers away from the Huanan market in Jianghan District. "When I needed to buy a lot of items, I would usually go to the big Wuchang market," he said. "There is also a mosque. After the Friday prayer, we would go around together looking for halal meat."
On Sunday, February 2, the Indonesian government managed to evacuated 238 Indonesian citizens from Wuhan and other cities in China. They arrived at Hang Nadim Airport in Batam, Riau Islands, and were immediately transported by Air Force planes to Natuna Island for quarantine.
In fact, data from the Association of Indonesian Students in China show that, based on record until January 30, there were 245 individuals, including 102 college students. However, four people were unwilling to leave China, while three people were sick at the time of departure and were not given clearance by the Chinese government to leave the country.
ABDUL MANAN, AHMAD FAIZ (JAKARTA)