Five Diplomats in the Coronavirus Area
The plan to evacuate Indonesians out of Wuhan and vicinity happened uncertain. The government lobbied the Chinese authority for permission to enter.
Edition : 11 February 2020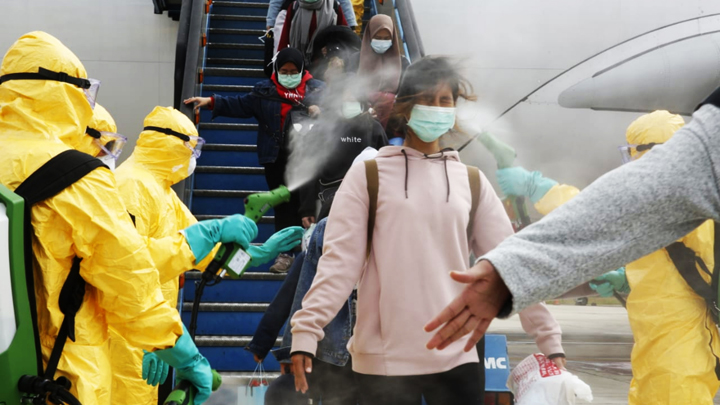 FOLLOWING the spread and impact of the coronavirus on local and foreign news channels on Tuesday, January 28, Coordinating Minister for Human Development and Culture Muhadjir Effendy reached for his cellular phone. That night he sent a message to Foreign Affairs Minister Retno Lestari Priansari Marsudi, recommending an immediate evacuation of Indonesian citizens in Wuhan and vicinity, Hubei Province, China.
While waiting for Retno's response, Muhadjir sent the same message to Minister/State Secretary Pratikno. Replying to Muhadjir's chat message, Pratikno agreed to quickly bring home 244 Indonesians isolated in Wuhan and vicinity. Pratikno also mentioned some countries, such as Japan and the United States, which had already evacuated their citizens from Wuhan. "The spread of the virus was massive enough to necessitate acting quickly," said Muhadjir when met by Tempo on February 6.
A few hours earlier, Muhadjir had led a coordination meeting in his office regarding how to deal with the coronavirus of Wuhan. That meeting was attended by, among others, Health Minister Terawan Agus Putranto, Marine Affairs and Fisheries Minister Edhy Prabowo, and Communication and Informatics Minister Johnny G. Plate. Retno Marsudi also attended the meeting. According to Muhadjir, during that meeting they discussed a plan to increase monitoring of passengers entering Indonesia at international airports and sea ports. About 195 thermal detectors have since been placed at 135 points of entry.
They also talked about the possibility of evacuating Indonesian students in Wuhan. The discussion of this plan was lively. One participant said that the evacuation would be difficult because the Chinese government has closed Wuhan down since January 23. Another participant said that there is no urgency for an evacuation yet. "Evacuation was one option for rescue, but there had not yet been a joint decision (to do so)," said that former minister of education and culture.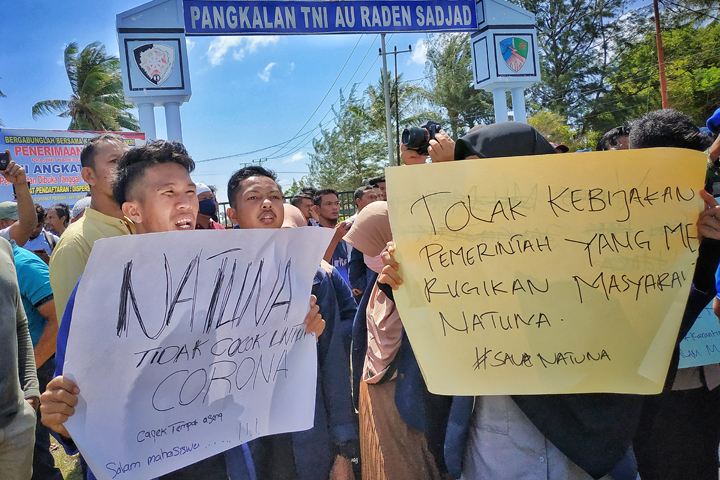 Local residents protest against the observation of evacuated Indonesians from Wuhan, China in Natuna, February 1. ANTARA/Cherman
W251bGwsIjIwMjEtMDMtMDUgMDc6MzY6MDIiXQ
Amid the uncertainty about an evacuation, Indonesian students in Wuhan had been waiting to be picked up. Nur Musyafak, chair of the Wuhan branch of the Indonesian Students Association in China, through a written statement, said that Indonesians living in the Hubei Province are facing limited capacity to survive in that isolated city. "We are asking to be evacuated as soon as possible," said that student at Central China Normal University.
Hilyatu Millati Rusydiyah, a student from Klaten, Central Java, was resigned to the situation and had no problem if the evacuation being called off. This student at Chongqing University believes being sent home from the city where the coronavirus originated would likely create a stir. "I believe the neighbors would become frightened," said Hilyatu.
The matter of picking up Indonesian citizens in Wuhan became clear on January 30, two days after that coordinating meeting held at Muhadjir's office. The President took a stance on the issue after meeting with some of his cabinet ministers, including Retno Marsudi and Terawan Agus Putranto, at the waiting room of Halim Perdanakusuma Airbase in Jakarta on January 30.
Speaking to Jokowi, Retno explained that the World Health Organization (WHO) declared that the threat level of the coronavirus in Wuhan as being 'high'. She also explained the scenario and protocol for the evacuation of Indonesians in Wuhan. "The President ordered the evacuation of Indonesian citizens in the Hubei Province be done at once," said Retno after meeting with Jokowi.
A day later, Retno lobbied the Chinese Ambassador to Indonesia, Xiao Qian. At Retno's office, the two developed a plan to airlift Indonesians out of Wuhan and vicinity. Judha Nugraha, director of Indonesian citizens and legal entities protection at the foreign affairs ministry, who attended that meeting, said that Xiao Qian authorized planes to land at Wuhan International Airport, which is being isolated. The government then assigned this task to the airline which already has an authorized flight route direct to Wuhan, namely Batik Air. According to Judha, this was purely to facilitate and expedite the administration process for the airlift.
In conjunction with this lobbying effort in Jakarta, five diplomats from the Indonesian Embassy in Beijing headed for Wuhan. According to Judha, that advance team coordinated 244 Indonesians located in seven cities in the Hubei Province. For those citizens living outside of Wuhan, the Chinese government provided buses to take them to Wuhan Airport.
Ahmad Syaifuddin Zuhri, husband of Hilyatu Millati Rusydiyah, a doctoral student in international relations at Central China Normal University, Wuhan, said that an official from the foreign affairs ministry had contacted his wife, who was isolated 12 kilometers from the Wuhan city center. That official, according to Zuhri, said that an evacuation was being prepared, but they asked that the time of the evaluation not be leaked to the media. "Due to concern of raising the expectations of students too high," he said.
Indonesians who gathered in Wuhan could not automatically return home. The Chinese authority conducted health checks before they could board the plane. Three students, one from Wuhan and two from Xianning, were found to have fevers. "Their temperatures were above 37.3 degrees, so they were not allowed to return to Indonesia," said Judha Nugraha. He said that those three students are now fit and are staying at the campus dormitory accompanied by a psychologist dispatched by the foreign affairs ministry.
On February 2, a plane which picked up Indonesians in Wuhan landed at Hang Nadim Airport, Batam, Riau Islands. After a brief transit there, they were then taken by military aircraft to the Ranai Airbase in Natuna. At a hangar belonging to the Air Force, 237 Indonesians, one foreigner, and the flight crew were kept for observation for two weeks. "This location was chosen because it has sufficient supporting facilities. This is also the joint operation command headquarters which is prepared for emergency conditions," said Achmad Yurianto, secretary of the directorate-general for disease prevention and control at the health ministry.
The observation period in Natuna did not go smoothly. Local residents and government protested the presence of Indonesians from Wuhan because they were afraid of being infected by the coronavirus. When observation began, Natuna residents held several protests. Muhadjir Effendy admitted that the protests were due to the central government failing to coordinate with the regent or to locally publicize the decision to conduct the observation in Natuna. They demanded several things from the government, such as moving the observation facility to a hospital ship and declaring a school holiday until the observation process was complete.
The request to send school children on holiday was nearly approved by Muhadjir. He said that he would propose the measure to President Jokowi in exchange for the support of the residents of Natuna. When this measure was raised in a limited meeting at Halim Perdanakusuma Airbase on February 2, Jokowi turned down the plan to give students in Natuna vacation leave for two weeks. "The President asked not to create the impression of an emergency in Natuna by giving students time off of school," said Muhadjir.
In addition to conducting an operation to bring Indonesians home from Wuhan, the government also ordered hospitals and regional government health offices be prepared to face the Wuhan coronavirus. About a week after China confirmed the first coronavirus patient in Wuhan on December 31, 2019, the health ministry immediately issued a circular to referral hospitals, health offices, and port health offices.
Dated January 6, a letter signed by Anung Sugihantono as the director-general of disease prevention and control at the health ministry, asked government health offices to be on alert for patients with symptoms of pneumonia who had traveled to countries affected by the virus. He also instructed 100 hospitals which had been referral hospitals for avian flu patients to be ready to accept patients with symptoms similar to Middle East Respiratory Syndrome (MERS) and Severe Acute Respiratory Syndrome (SARS), and to immediately reports such cases to the ministry. If they received any patients exhibiting such symptoms, the ministry asked hospitals to immediately take blood samples and send them to the health research and development agency.
As of the second week of February, 47 samples of patients with symptoms of pneumonia had come in from all over Indonesia. Based on laboratory testing, 43 samples tested negative for the coronavirus from Wuhan. The rest are still being tested. "Indonesia is still free from the Wuhan coronavirus," said Anung.
On January 7, the directorate-general of health services also issued a circular to hospitals. In it, Director-General of Health Services Bambang Wibowo asked hospitals to be on alert against the outbreak of an unknown viral pneumonia from China. Like Anung, Bambang ordered hospitals to check and reexamine the equipment and procedures for handling infectious disease, such as during the avian flu outbreak several years ago.
Pursuing all possible mitigation efforts, Health Minister Terawan believes that the virus from Wuhan will not last long. According to him, the cycle of the spread of the virus will stop in line with changes in the weather. He is also confident that the Indonesian government can prevent the spread of that virus which has infected more than 31,000 patients. "Our equipment is sophisticated and is recognized by the WHO," said Terawan.
RAYMUNDUS RIKANG, FIKRI ARIGI, WAYAN AGUS PURNOMO