Biking toward Ghost Town
Indonesians in China are taking every possible way to return to mother land. It is a journey of endless airport checks.
Edition : 11 February 2020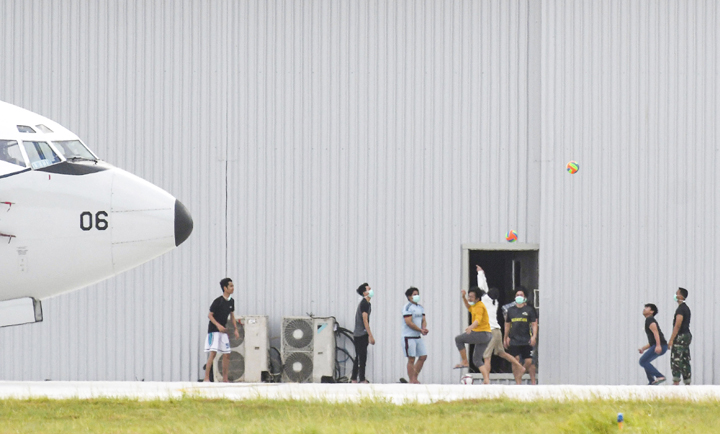 FOUR days of not being able to contact her daughter was a very frustrating period for Mat Suwarsono. He could not get an information how his daughter, Siti Mizabul Ijabah (20), was doing in Natuna, Riau Islands. With 236 other Indonesians and a foreigner who settled in Wuhan City of Hubei Province, Siti—a student of the Hubei University of Science & Technology—was sent on a flight home to escape the novel coronavirus outbreak.
Suwarsono was frightened as the virus spread very quickly and the number of people infected continues to increase, killing many in Wuhan. Siti was the evacuated and put through an observation period in Natuna. Suwarsono was relieved after a video call with his daughter. "I was stressed out. But fortunately she looked well," he told Tempo on February 7.
The evacuees arrived on February 2. The health ministry sent four doctors, five nurses, an epidemiologist, and 10 members of the disinfectant team. The passengers were sprayed with disinfectants the minute they arrived in Hang Nadim Airport in Batam, Riau Islands. They were then transported to Natuna's military base, some five kilometers from the nearest residential area.
Health Ministry's Director-General for Disease Prevention and Control, Anung Sugihantono, said there are 102 medical staff prepared to monitor the students. They intensively measure their body temperature, and keep an eye out for symptoms that suggest they may have been infected by the Wuhan virus, such as flu, cough, fever, or sore throat. "We focus on observing increases in body temperature," Anung said.
The health ministry also provides the people in quarantine with psychological needs as opposed to just medical. The evacuees hold sports activities together, and are provided with entertainment—from musical instruments to internet facilities. Ahmad Syaifuddin Zuhri, whose wife Hilyatu Millati Rusydiyah is being quarantined in Natuna, said that the government provided a ping-pong table and television set for karaoke. "That way her health and spirit would not drop," Zuhri told Tempo on February 7.
W251bGwsIjIwMjEtMDMtMDUgMDg6MTI6MDQiXQ
The observation period of students evacuated from Wuhan will last until February 16.
•••
INDONESIANS in Wuhan and surrounding are taking every possible way to return to mother land. Isma Nur Fadilah, a student of the Jiangsu Agri-animal Husbandry Vocational College—located some 100 kilometers from Wuhan—used her own money to pay for her return ke Indonesia. With several Indonesian roomates who lived with her at a dormitory in Nanjing, Isma requested permission to leave campus grounds.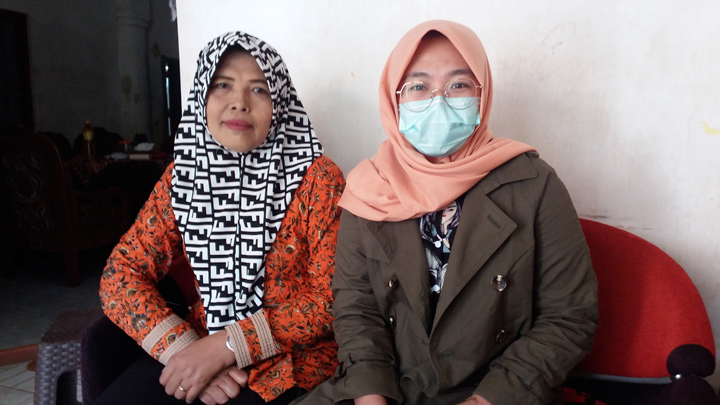 Isma Nur Fadilah (right) and her mother, Sudarmi, at ther home in Sarirejo, Kebonsari village, Lumajang Regency, East Java. TEMPO/David Priyasidharta
According to Isma, Nanjing felt like a ghost city. Stores are closed and the number of public transportation is drastically reduced. Everywhere, people are wearing masks. The students in her dormitory panicked. Anyone who was coughing and developed fever with trouble breathing was immediately examined, as everyone feared that they had been infected by the coronavirus. "Rules at the dormitory were tightened, we are not allowed to go out," Isma told Tempo at her home in Lumajang, East Java, on February 7.
Isma and her friends booked flights with a transit in Singapore on January 28. However, on Monday, February 3, she received a notification that Changi Airport has stopped accepting flights from China. Isma then resorted to booking a different flight with a stop in Bangkok, Thailand. On the way to Nanjing Airport, Isma and her friends were lucky to get a taxi, as there were very few available. En route, a tense atmosphere enveloped them.
She and her friends underwent a body temperature check at Nanjing Airport. They finally left China on Wednesday morning, February 5. Most of the plane's passengers were Indonesian nationals. "It was a relief to be able to leave China," she said. Isma and everyone on board also went through medical examinations when transiting in Bangkok and Soekarno-Hatta.
At Juanda Airport in Sidoarjo, Isma also had her body temperature checked. Once she arrived in Lumajang, she was immediately taken to the Dr. Haryoto Regional General Hospital. There, her blood samples were taken, and she tested negative for the Wuhan coronavirus. Isma, the only child of her parents, is now staying at their house while remaining under the observation of Lumajang Health Office.
•••
TO Hilyatu Millati Rusydiyah, the evacuation process was not easy. Hilyatu is a doctorate student majoring in business administration at Chongqing University, about 1,000 kilometers from Wuhan. Her husband, Ahmad Syaifuddin Zuhri, said that his wife chose to stay in their apartment, just 12 kilometers from the center of Wuhan City, as she had to work on her dissertation. Zuhri, a doctorate student majoring in international relations at Central China Normal University, Wuhan, returned home to Klaten, Central Java on January 9 with his two-year-old daughter.
At first, Zuhri had no concern about leaving Hilyatu on her own. Reading the local papers about the coronavirus spread, he thought that it was just a common phenomenon. But tensions escalated after the Chinese government put Wuhan on lock own on January 23. He then made plans to bring her wife home using his own money, "but tickets were difficult to find and the few that were available were extremely expensive," he said.
Meanwhile, the government had not provided clarity regarding evacuation plans. Foreign Affairs Minister Retno Marsudi said that the state cannot easily evacuate citizens from a city on lockdown. "We have to speak to the Chinese authorities, as there are rules for that," Minister Retno said on January 28.
A flick of hope shone on February 1 after the Indonesian Embassy instructed Indonesian students in Wuhan to pack their bags. An advance team from the foreign affairs ministry was ready to pick them up. Zuhri's campus, the Central China Normal University, was named as one of the meeting points. For Hilyatu, the evacuation process was quite troublesome, as the location is quite far from her apartment, while Wuhan was a ghost city without public transportation.
The nearest pick-up point was in Huazhong University of Science and Technology, about seven kilometers from the apartment. "I told my wife to pray and drive the electric scooter, even if the police stop her," Zuhri recounted his conversation with Hilyatu.And so, Hilyatu rode her bike through the cold winter air, and finally arrived in the location.
After undergoing body temperature checks with 236 fellow Indonesians and one foreigner, Hilyatu stepped into a Batik Air plane. "After all passengers were seated, the pilot announced 'this flight will bring you back home,'" Hilyatu Millati posted to her Facebook account. Everyone on board cheered, happy to be on their way.
WAYAN AGUS PURNOMO (JAKARTA), DAVID RIYASIDHARTA (LUMAJANG), SUJATMIKO (LAMONGAN)