Layers of the Garlic Corruption Scandal
The price of garlic skyrockets at the start every year, going over Rp50,000 per kilogram. Due to government's requirement to plant garlic in the import quota system, garlic prices in the country are consistently high, even when prices in its exporting country, China, are under Rp10,000 per kilogram. With an annual profit of up to Rp8.4 trillion, garlic import regulations are creating illegal fees in the permit issuing process. As a result, prices continue to soar and the commodity is controlled by a number of companies with import quotas and the power to withhold or pour garlic into the market.
Edition : 11 February 2020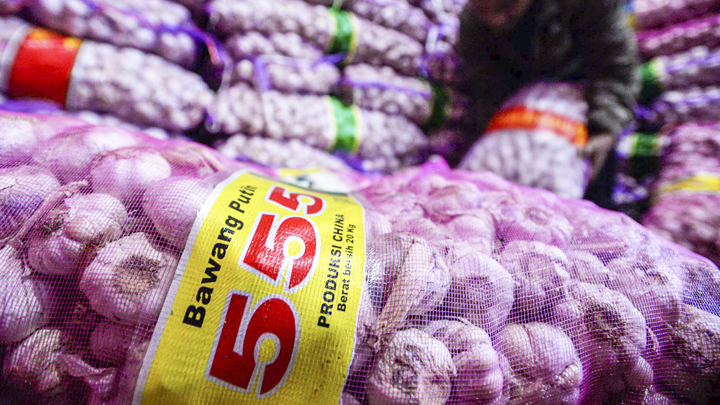 IN early February, garlic supply at Anas Sarnil's kiosk at the Kramat Jati Market, East Jakarta, shrank. On February 7, only 100 sacks of garlic were piled at the nine-square-meter stall. "Usually (it's) full, now there isn't enough," said the 52-year-old vendor.
Before February, Anas sold 15 tons of garlic per week. Importers would take turns calling him to offer garlic from China. "Now I'm calling the importers one by one," he said. "(I) only got 4 tons." Because of the scarcity, garlic prices in the past week rose to Rp45,000 per kilogram. Anas says he was still selling garlic at Rp20,000 per kilogram in December 2019.
Anas suspects that importers are withholding the garlic in their warehouses. Signs that this would happen were already evident last year. Importers told Anas that the agriculture ministry had not approved their Horticultural Products Import Recommendation (RIPH) that they requested. As a result, importers had not been granted their garlic import permits in January 2020.
In 2019, the agriculture ministry only issued RIPHs at the end of March, two months later than the previous year. Because of this, the price of garlic went up last year starting in January, reaching its peak in May at Rp50,000 per kilogram. "Garlic price rises every start of the year," said Hariadi Propantoko from the People's Coalition for Food Sovereignty.
According to Hariadi, garlic price has fluctuated since 2017, one year after National Democrat (NasDem) Party politician Enggartiasto Lukita became trade minister. Imports can only be performed after a trader receives an Import Approval Letter (SPI) from the trade ministry, in reference to the agriculture ministry's recommendation.
W251bGwsIjIwMjEtMDMtMDUgMDg6MjI6MTEiXQ
Prihasto Setyanto, agriculture ministry director-general of horticulture, denies that the garlic scarcity is due to his tardiness in issuing RIPHs. When asked about the topic on January 10, he said RIPHs were not yet issued because there is still enough supply to last until March. "They have been issued," he said on February 7.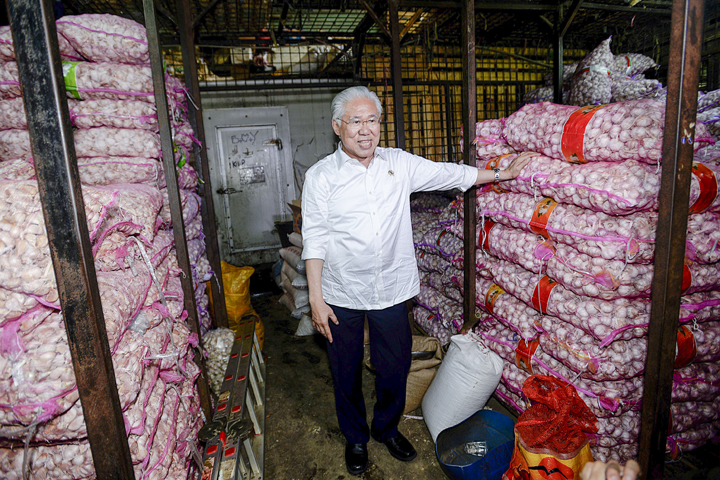 Trade Minister Enggartiasto Lukita on a market inspection following the increased garlic prices at the Kramat Jati Market, Jakarta, April 2017. TEMPO/Tony Hartawan
Like Abas Sarnil, Prihasto suspects that importers are withholding garlic supplies in their warehouses to cause garlic price to soar. According to his ministry's records, there was still a garlic supply of 60,000-70,000 tons as of last week. The reserve, said Prihasto, is enough to feed the market for the next one and a half months.
Importers say they do not understand why the agriculture ministry always delays issuing RIPHs. An importer who has been in the business for 20 years believes the delays are due to foul play. He claims he was asked to pay Rp300 per kilogram by a licensing employee in order to have his RIPH issued swiftly. "I agreed and the RIPH was issued immediately, according to what was requested," he said.
Prihasto denies the accusation. According to him, garlic import has been made as transparent as possible since 2017. "Just ask my staff if I have ever made strange requests to importers," he said, pointing at his subordinates who accompanied him during the interview. "Do you dare swear or not?"
Illegal fees for garlic import quota do not only exist at the agriculture ministry. At the trade ministry, the same importer was asked to pay Rp1,500 per kilograms by a broker. "I also agreed," he said, recollecting the events of two years ago.
The importer from Surabaya, East Java, refused to name the broker for safety reasons, but he said the broker claimed he was asked by Minister Enggartiasto Lukita to ask for money. The importer did not verify the broker's claim and chose to pay the amount after the SPI was issued. "My SPI was approved, although (it was) cut in half," he said.
Some other importers including Indonesian Horticultural Association Chairman Anton Muslim Arbi corroborated the story. A number of importers from the association have been asked to pay certain amount of money by brokers. "Those who refused (to pay) didn't get the import permits," said Arbi.
Enggartiasto Lukita, who was trade minister in 2016-2019, was evasive when asked to confirm reports of illegal fees surrounding import quotas. He told Tempo that he was overseas at the end of December 2019. But when we visited his home in Jalan Sriwijaya, South Jakarta, he was never home until last week. The security guard always gave us the same information, that Enggar was still in Japan. The former minister did not answer further questions about garlic imports sent through WhatsApp.
Importers say that the RIPH-SPI cuts are why the illegal fees exist. Not all RIPHs issued by the agriculture ministry are granted by the trade ministry. Chairman of the Indonesian Garlic and Tuber Businesses, Valentino, complains that importers were once rendered helpless because they were not granted quotas despite their approved RIPHs. "This caused losses because they had already planted the garlic," he said.
According to trade ministry's Imports Director, Ani Mulyati, garlic quota amounts were up to Minister Enggar to decide. "All by the minister, then instructed to the director," Ani told investigators working on the suspected garlic import corruption by Indonesian Democratic Party of Struggle (PDI-P) politician, Nyoman Dhamantra.
Import permits are also issued without clear standards. In 2018, Enggar approved garlic import in the amount of 600,634 tons out of the 946,022 tons recommended by the agriculture ministry. The previous year, only 449,860 tons out of the recommended 1,000,193 tons were approved.
Despite the numerous illegal fees at various points for import permits and quotas, importers still gain large profits. Garlic price in China was only at Rp7,200 per kilogram in 2018. With costs of transportation and permit taken into account, it only cost Rp12,200 to bring a kilogram of garlic to Indonesia compared to the Rp26,600 per kilogram market price of garlic that year. Importers received a net profit of Rp5,000 per kilogram.
According to People's Coalition for Food Sovereignty's calculations, garlic importers, suppliers and traders gain an annual profit of at least Rp8.4 trillion. Every year, 75-80 companies are given an average import quota of 500,000 tons, in line with consumption demands.
Despite a limited demand for garlic, the agriculture ministry does not restrict RIPH requests. After 1,000,193 tons in 2017, the following year the ministry only issued RIPHs for 946,022 tons. "Not only 1 million, I would grant 10 million tons if requirements are met," said Prihasto Setyanto.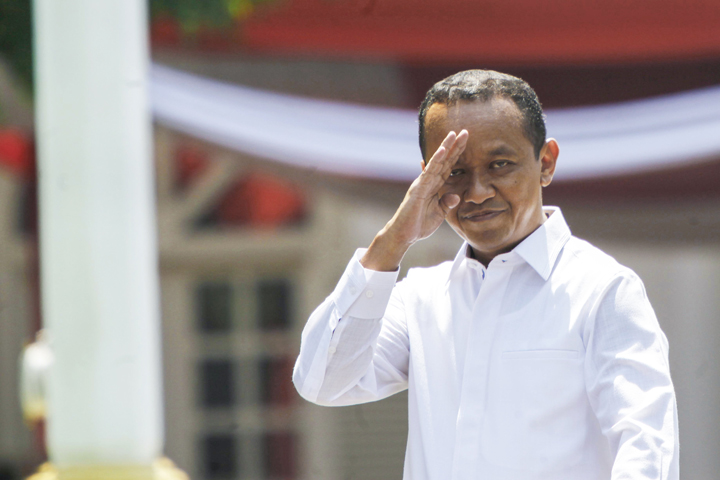 Bahlil Lahadalia at the Presidential Palace complex, Jakarta, October 2019. TEMPO/Subekti
The requirement for obtaining an RIPH is to plant garlic, as Valentino pointed out. Importers are required to plant garlic in an area of 5 percent of the RIPH they have requested multiplied by the productivity figure of garlic per hectare at 6 tons. This requirement is outlined under Agriculture Ministry Regulation No. 38/2017 on the RIPH, issued by Minister Amran Sulaiman (2014-2019).
The regulation was based on Amran's wish for garlic self-sufficiency in 2021. Because domestic garlic production only made up four percent of the demand, Amran asked importers to plant the commodity for four years, to fulfill domestic demands. During the waiting period, importers were given the right to import garlic from China.
But results have fallen far from expectations. The self-sufficiency target was never achieved. According to the agriculture ministry's records, almost half of importers have been blacklisted for failing to fufill the requirement to plant garlic. During a meeting with the House of Representatives (DPR) on January 20, Garlic Business Association Chairman, Mulyadi, said he frankly gave up on planting garlic due to the lack of knowledge of how to cultivate the plant.
A blacklisted garlic importer will automatically be written off the agriculture ministry's RIPH system. Said importer will be prohibited from requested an RIPH in the following year. But importers still find their way around this regulation. Three companies owned by Ifan Effendi, an importer from Cirebon, West Java, failed to meet the requirement to plant garlic in 2017, but he was still able to import garlic in 2018 by entering a new company name in the RIPH request.
Prihasto admits that he and his staff do not check the shareholders of the dozens of companies requesting RIPHs. The agriculture ministry will issue an RIPH as long as the importer has planted garlic—in line with its garlic self-sufficiency target—which is cross-checked with local agriculture offices.
Furthermore, there seems to be a lack of clear standards for SPIs. Minisiter Enggartiasto Lukita was able to trim or grant import recommendations issued by the agriculture ministry. The quota recommendation for Sapta Agro Mandiri, one of the 73 importers, was never cut. Although the company requested an import quota for the first time in 2018, it was granted the full amount of 15,000 tons, as recommended by the agriculture department.
During the process of requesting an import recommendation, the company's documents listed an office address on the 47th floor of the Equity Tower in SCBD, Central Jakarta. When Tempo visited the address, Abdul, the floor's security guard, said he did not recognize the company name. Two company names were listed at the floor's reception area: Jhonlin Baratama and Jhonlin Marine Trans. "This has been Jhonlin's office since a long time ago, and now it has all moved to Batulicin, South Kalimantan," said the security officer.
Jhonlin is a company owned by coal businessman from Sulawesi, Andi Muhammad Arsyad, or known as Haji Isam. When asked about the connection between Sapta Agro and Jhonlin, Isam claimed he was unaware. "Check the deed, who is the owner, what's the connection with Jhonlin," Isam retorted.
According to the deed, Sapta Agro is owned by Muara Bayu Sejahtera Utama, a company whose majority share is owned by Dudy Purwagandhi, former Chief Executive Officer (CEO) of Jhonlin Air Transport. Dudy was once a member of the administrative reform ministry's expert staff when the ministry was led by former National Police deputy chief Comsr. Gen. Syafruddin. Dudy could not be reached for confirmation. According to the security guard posted at his house in Jalan Gunawarman, South Jakarta, Dudy was out of town.
Agriculture ministry data states that Sapta Agro is among companies that have complied with the requirement to plant garlic. Because the company was granted the right to import 15,000 tons of garlic, it was also required to cultivate the plant on a total of 128 hectares of land. The company is recorded as having three plantation sites in Central Java and East Java. When cross-checked with the agriculture office in Magelang, Central Java, it was discovered that the company has only planted garlic on eight hectares of land of their obligation to plant on 127.5 hectares in the regency. "Maybe they are planting elsewhere," said Magelang Horticulture Division Chief, Yoga Susilo.
Prihasto asked Tempo to ask his subordinates about the data discrepancy on Sapta Agro's garlic cultivation. Prihasto's subordinate, Seeding Director Sukarman, says he does not yet fully understand the data. "I will ask my staff," he said. Despite the suspicious data, Sapta Ago again received a RIPH for 25,000 tons in the following year.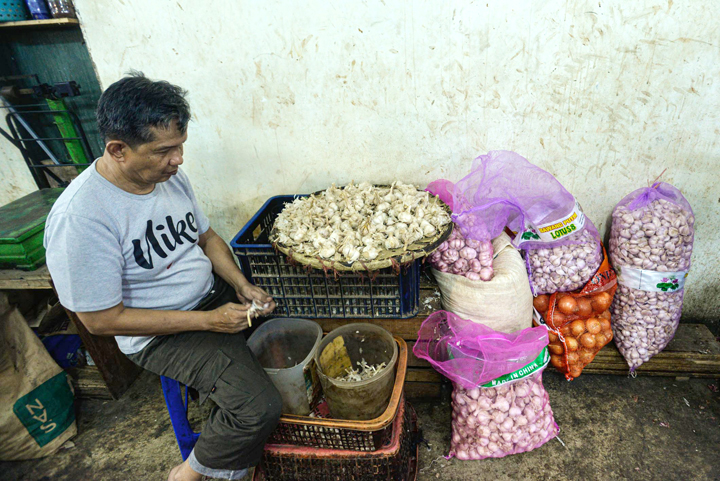 A trader of imported garlic from China at the Senen Market, Jakarta. TEMPO/Tony Hartawan
Another new company that received the full quota from Minister Enggar was Lumbung Mineral Internasional. The majority of the company's shares are held by Rifa Capital, which is owned by Investment Coordinating Board Chairman Bahlil Lahadalia. "Don't ask about that," said Bahlil. "I'm not a businessman anymore."
In April 2018, Lumbung received a RIPH for 10,000 tons after planting garlic on 89.3 hectares of land in Central Java and East Java. The SPI, with the number 04.PI-55.18.0234, was issued two days after the request was made on June 4, 2018, with the same import volume as what was recommended. Two days is indeed the SPI issuing time mentioned under Trade Ministry Regulation No. 64/2018 on the importation of horticultural products.
The problem is, not all import approvals are issued in two days. The rest take weeks, even up to six months. "The process is convoluted," said Indonesian Horticultural Association Chairman Anton Muslim Arbi. "(It's) finally issued after (we) sent a letter, although the quota was reduced."
According to Gianto Wijaya, a NasDem Party politician trusted by a number of importers to manage their import permits, companies whose import quotas are reduced are still luckier than those whose requests are completely rejected. He himself has had experience of not receiving an SPI despite already having a RIPH from the agriculture ministry.
Gianto does not know precisely why his quota request was rejected, but importers told him that the SPI was not issued because there was a request for Rp2,500-3,000 per kilogram in order to have the request approved. "It's true that I didn't give (the money)," said Gianto, who claims he was one of the initiators for the 5-percent garlic planting requirement policy.
Gianto has also heard of import permit brokers at the trade ministry. It is common knowledge among garlic traders that numerous brokers at the trade ministry are asking for payment for each kilogram of garlic imported. They would then pay Eva Juliana, former member of Minister Enggar's special staff and current DPR member from NasDem.
When Tempo met her at the DPR, Eva did not deny that she was once a member of Enggar's special staff, but when asked about the illegal fees for import permits, she refused to answer. "That's the past," she said. She stood her ground, refusing to answer and clarify stories circulating among garlic importers.
Because of the bribery surrounding import permits, another play emerged, namely permit trading. An importer from Jakarta says permit trading was triggered by the import quota approval from the trade ministry and the agriculture ministry's requirement to plant garlic. Those who are given import permits are usually new companies with no experience in selling garlic. Meanwhile, old importers such as himself are not given quotas due to failure to fulfill the planting requirement.
In 2018, as many as 62 percent of garlic importers were indeed new names. The following year, the number rose to 88 percent. These importers would offer SPIs to whoever wants them, at certain rates. "I was once offered an import letter for Rp2,000 per kilogram," said Sri Khairul, a trader in Kramat Jati Market. "I didn't want it because I had no experience (of importing garlic)."
Besides the trading, violations continue even after the garlic has arrived. Some importers bring in more garlic than the quotas they are given. Ifan Effendi's three companies received a quota of 60,000 tons—more than any other company—in 2018. But according to import records at the directorate-general of customs, the three companies imported 77,945 tons of garlic that year. When asked about the discrepancy, Ifan blocked Tempo's number. When we visited his home, only a security guard appeared to receive the interview request letter.
"How is it possible to exceed (the quota)? Just one kilogram (of excess) would be made into an issue," said Farid Helingo, CEO of Lintas Buana Unggu, in response to the discrepancy. Lintas is one of Ifan's companies, which was granted a quota of 20,000 tons. Customs Head of PR Sudiro shrugged his shoulders when asked about the excess. "I don't understand," he said.
Observing the chaotic garlic import quota system, Trade Minsiter Agus Suparmanto—Enggiartiasto Lukita's successor—promises to improve the system. "We will evaluate its implementation with relevant ministries," he said.
---
This investigation report is the collaborative work of Tempo magazine, the Tempo Institute, and Free Press Unlimited as part of the Tempo Collaborative Investigation program.
INVESTIGATION TEAM | Team Leader: Bagja Hidayat | Project Head: Erwan Hermawan | Editor: Bagja Hidayat | Writers: Erwan Hermawan, Dini Pramita, Agung Sedayu | Contributors: Erwan Hermawan, Dini Pramita, Agung Sedayu, (Jakarta, Magelang, Brebes), Ivansyah (Cirebon) | Engliah Editor: Luke Edward | Design: Djunaedi, Ahmad Fatoni | Photo: Ratih Purnama