Stillness
Nothing in all creation is so like God as stillness—Meister Eckhart
Edition : Tuesday, February 18, 2020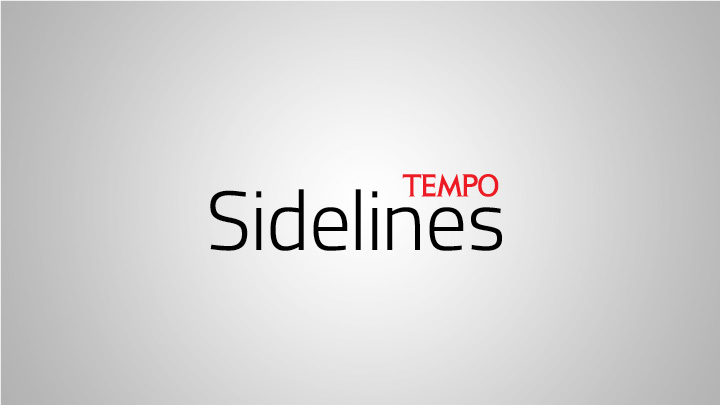 STILLNESS, like God, did not answer but was sensed as present in the valley of the boiling lake in Unzen, on the day of extreme cold when the Christians were tortured in December 1629.
Japan was eradicating foreign religions. One witness was Cristóvão Ferreira, a Portuguese Jesuit priest who lived in Japan from 1609 until when Christianity, the introduction of which had initially been tolerated, was drastically expelled. A secret letter that Periera wrote to Rome dated March 22, 1632 described in detail what happened near the lake:
"One by one the seven were taken apart from the surrounding people, brought to the edge of the seething lake and shown the boiling water casting its spray high into the air—and then they were urged to abandon the teaching of Christ or else they would experience in their very bodies the terrible pain of the boiling water which lay before them. The cold weather made the steam arising from the bubbling lake look terrible indeed…"
Shűsaku Endô quotes this letter in his novel Silence (original Japanese, Chinmoku), which has been famous since first published in 1966. Martin Scorsese made a poetic film adaptation in 2017. The film opens with that scene—fog, hills, steam, faint sunlight, lines of soldiers and cruel samurai, captured Christians tied to wooden crosses. Sound and voices are minimal. There is not even prayer. God is absent even though "He is always present… in His silence," Scorsese has written about Endô's novel that he read many times over 20 years.
Silent God seems to be a central problem (or mystery) in Endô's novel; God whose designs and standpoint are unclear, at least to the two Jesuit priests who witness people whose faith in Jesus is unswerving—most of them farmers, poor and powerless—are mercilessly tortured.
W251bGwsIjIwMjEtMDUtMDggMTM6NDg6MDUiXQ
Ferreira eventually breaks. He renounces Christianity, because only in this way—as the Japanese rulers indicate—can the poor farmers be released from torture. In the eyes of the Church, Ferreira is an apostate. He disappoints and confuses, and is criticized here and there as the spiritual leader who aspostatized, who leapt into the dark after holding fast to his faith for a quarter of a century. Even though he could have remained steadfast, and had he died he would have fulfilled the promise of martyrdom.
But was he wrong? "Listen!," he says. "I was put in here and heard the voices of those people for whom God did nothing. God did not do a single thing. I prayed with all my strength; but God did nothing."
Eventually he realizes that he cannot hope for the miracles found in many religious stories. Neither God nor he can make themselves arrogant with magical power. Sebastian Rodriguez, a younger priest, at the start does not believe the radical change in Ferreira, his role model. He is determined to follow him to Japan. With great difficulty, he lives among the hunted Kakure Kirishitan (Hidden Christians)—until eventually Ferreira appears. The Portuguese priest now uses the Japanese name Sawano Chűan, and declares that he is a member of a Zen Buddhist sect; Sebastian bitterly swallows this betrayal.
He finds Sawano Chűan despicable—just as he despises Kichijro, as coward and traitor. But in the end he himself experiences what Ferreira experienced. Some farmers are being tortured. Their torture will continue even though they have renounced Jesus. But that is not what the Japanese rulers need. They want to see the priest renounce the faith he holds dear.
And so Sebastian is forced to choose: he must trample on the image of Christ, in a 'ceremony' called fumie, or the farmers will continue to be suspended over the pit, with blood dripping through their noses and mouths from incisions made behind the ear. Until they die.
In other words, he has to choose to remain steadfast in his faith, strong as a role model, spreading the news of the greatness of God and even the nobility of martyrdom; or he can free the unfortunate people close to him who await their painful death. What should he do?
Suddenly, God is not sensed as silent. At this critical moment, Sebastian seems to hear a voice: "Trample! Trample! It is to be trampled on by you that I am here." And he tramples on the face of Jesus on the plaque. He apostasizes.
He too ends up becoming Japanese and Buddhist, even though half-heartedly. Silent too is the conclusion: how should his connection with God, man's connection with God, be? With faith in strength, or faith in suffering? This reminds me of Slavoj Žižek's writing on the complex problems that religions have faced over the centuries: religion always holds the trauma that makes man question how an all-powerful God can be connected to innocent people in terrible suffering who receive no help. I do not think that Žižek, an atheist, was proposing theodicy. But one of his sentences comes to mind: "Only a suffering God can save us."
Maybe this is why the Japanese farmers in Scorsese's film are more convincing in their faith—because it is entwined with a sense of shared destiny, not the promise of glorious martyrdom. Whenever they are tortured, they can sense their God saying, "I came to this world as the trampled."
Goenawan Mohamad