Rejected
The government will not repatriate Indonesians who had joint ISIS in Syria, regardless of their citizenship status.
Edition : 18 February 2020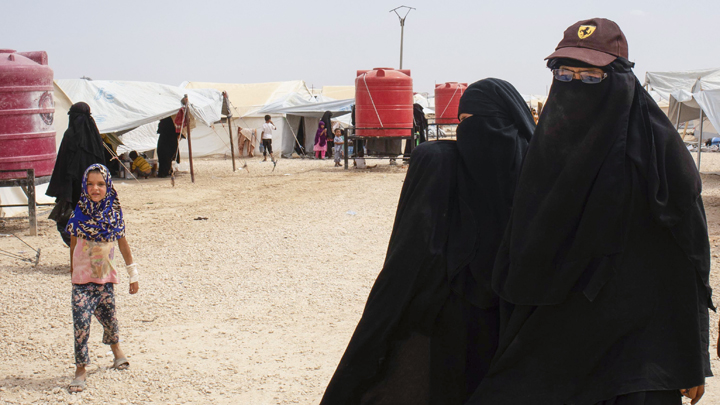 AT the Al-Roj refugee camp in northeast Syria, Ummu Abdul Jalil was silent as she read the news on her cellular phone. This Indonesian who joined the Islamic State of Iraq and Syria (ISIS) could not believe the decision of the Indonesian government to only accept back orphans under the age of 10 from Syria. "We are saddened by this. We do not want to go home to bring back the ideology of ISIS," Ummu told Tempo through a message on the Telegram application, on Thursday, February 13.
Ummu has been in Syria for nearly four years. The 25-year-old woman left Indonesia for Turkey in December 2015 after becoming obsessed with studying religion on the Internet by reading articles on ISIS websites. One of them was Azzammedia.net. Just six months later she was able to enter Syria. Ummu is not her real name. She asked her real name not be used for reasons of safety.
In Syria, Ummu lived in Al-Bukamal with her husband, who she met while in Turkey. While in Syria, this graduate of Muhammadiyah University of Jakarta said that she never took part in ISIS activities. "I was at home as a wife," she said. Later on, she found out what she read on the Internet did not match with reality. According to her, ISIS lies began to be exposed after several of its centers of power, such as Mosul in Iraq, fell to Iraqi forces.
When ISIS began to be surrounded, Ummu and her husband planned to flee to Baghouz al-Fawqani village in Dayr az-Zawr, about 120 kilometers northwest from Al-Bukamal, in December 2017. However, Ummu was captured by Kurdish forces and taken to the Al-Hawl refugee camp in northeast Syria. After two weeks there she was moved to the Al-Roj, where she has been until today. Conditions in this camp are more humane compared to Al-Hawl, which is inhabited by over 73,000 refugees. At Al-Roj, Ummu lives in a tent with her 3-year-old son.
They have a television set, a mattress, and a floral-pattern carpet in the tent. The electricity there stays on and water is always available. Ummu secretly uses her cellular phone. She spends her time taking care of her child, cooking, watching movies, reading, and talking with other refugees. "It is not productive," she said. "It is like being alive just for the sake of it."
Tempo sent a video showing Ubaid Mustofa Mahdi, a prisoner from Indonesia in the Derik prison. Ummu immediately identified him as Abu Tsabitah. The wife and child of Ubaid alias Abu Tsabitah are in the same camp with Ummu. In Al-Roj, there are about 50 Indonesians, all women and children. According to Ummu, Ubaid's wife did not want to see that video of her husband. "So as not to be saddened," she said.
•••
Ummu Abdul Jalil's hopes of returning home grew when Indonesian Minister of Religious Affairs Fachrul Razi said that the government had taken a decision to bring home 600 Indonesians—now the government is saying it is 689 people—from Syria for humanitarian reasons. After being widely opposed, Fachrul amended his statement.
The government has been studying the condition of Indonesians who are former ISIS fighters or sympathizers in Syria since last year, especially after Indonesian Vice President Ma'ruf Amin was made a 'commander' for countering terrorism. The National Counterterrorism Agency (BNPT) was named coordinator to address the issue of Indonesians previously associated with ISIS in Syria.
One official close to Ma'ruf said that the Vice President has held several closed meetings with BNPT Chief Suhardi Alius and Coordinating Minister for Political, Legal and Security Affairs Mahfud Md. In one meeting, Ma'ruf asked a study be done on the impact of bringing home former ISIS sympathizers and collecting data on their exact numbers.
The BNPT responded by promising two studies be done, targeted for completion in April. The first study is about the reasons for the government to repatriate ISIS sympathizers and the security risks involved. The second is an analysis of the legal basis for not bringing them home and its consequences. When they are completed, they will be taken to Ma'ruf before being forwarded to President Joko Widodo in May or June.
Ma'ruf Amin's spokesman, Masduki Baidlowi, did not deny that order had been given. According to Masduki, one of the duties of the Vice President as a coordinator for countering terrorism is indeed to coordinate with other institutions. "That order is completely appropriate," he said.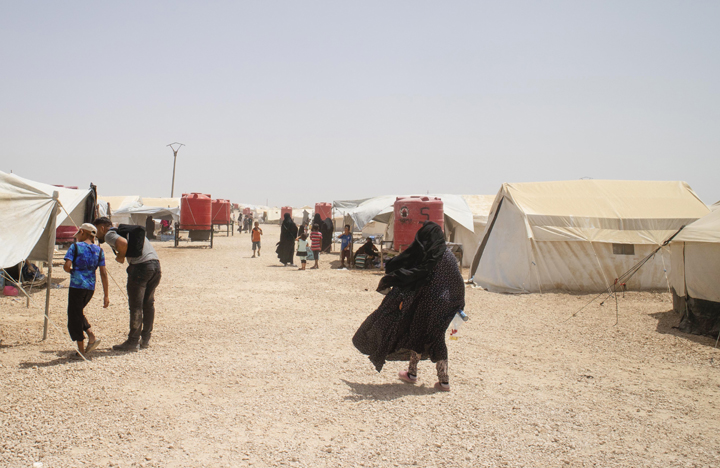 Al-Hawl refugee camp in Syria, May 2019. TEMPO/Hussein Abri Dongoran
BNPT Director of Deradicalization Irfan Idris said that after that meeting his agency has been intensively studying the options for the future of Indonesians in Syria. For instance, there is the matter of readiness to conduct deradicalization efforts if hundreds of people return to Indonesia at the same time. "We hope the deradicalization program takes at least one year," he said on February 11. The BNPT has experience bringing home 18 Indonesians who were ISIS sympathizers in Syria in 2017.
The BNPT is also preparing means to identify and filter out those who should not be repatriated. According to Irfan, there is no guarantee that those who are brought home have truly left behind radical thinking. He cited Syawaluddin Pakpahan, who attacked the North Sumatra Police Headquarters in 2017. It was later discovered that Syawaluddin had been to Syria in 2013. Another example is Rullie Rian Zeke and Ulfa Handayani from Makassar, who became suicide bombers at the Cathedral Church in Jolo, Philippines, January 27, 2019.
The studies were completed ahead of schedule. On Tuesday, February 11, Suhardi Alius presented the findings to Mahfud, Minister of Religious Affairs Fachrul Razi, Minister of Foreign Affairs Retno Marsudi, and Minster of Justice and Human Rights Yasonna Laoly. After that, Suhardi and Mahfud met with Vice President Ma'ruf Amin at the office of the National Team for Accelerating Poverty Alleviation. "We conveyed what was going to be submitted in a limited meeting," said Mahfud.
In the limited meeting, according to Mahfud, President Joko Widodo immediately told his ministers about his statement to the public. He personally said he was against bringing home former sympathizers of terrorist groups back to Indonesia. The President also talked about his state visit to Australia on February 8-10. During that trip, said Mahfud, the President discussed the plan of bringing home ISIS sympathizers with Prime Minister Scott Morrison.
Australia had indeed set a policy to bring home children of its citizens. "The President said that terrorist must be fully opposed, but there must be humanitarian considerations," said Mahfud. In that meeting, Mahfud continued, Suhardi proposed that orphans under the age of 10 could be brought back to Indonesia. The reason for this is that such children have not yet been brainwashed by terrorism and could still be deradicalized. Suhardi said that the age limit was decided during the meeting.
Some difficult issues were tackled in that two-and-a-half hour limited meeting. Mahfud said that one person suggested that former ISIS sympathizers be left in limbo as a lesson for the public to not join terrorist groups. At the end of the meeting, everyone present agreed to not repatriate 689 Indonesian citizens in Syria in order to safeguard domestic security, except for orphans under the age of 10.
The government is also going to collect additional data on the number of Indonesians in Syria. The President appointed Suhardi Alius to prepare the means of collecting data. At present, some government officials are in Syria to conduct verification.
President Jokowi said that the nation is not responsible for the citizens who are currently in Syria because they went there of their own accord. The President is calling them "ISIS ex-WNI (Indonesian citizens)." National Human Rights Commission Chairman Ahmad Taufan Damanik reminded the government to not let them to lose their citizenship. "As long as they are Indonesian citizens, the government is obligated to administer their particulars," he said.
HUSSEIN ABRI DONGORAN,
AYU CIPTA (TANGERANG), DEWI NURITA
---
A Short-Lived Caliphate
THE Islamic State of Iraq and Syria (ISIS) declared by Abu Bakar al-Baghdadi in July 2016 attracted tens of thousands from around the world. ISIS finally fell after being attacked by the Syrian Democratic Forces (SDF) in March 2019. Their fighters and supporters fled. Some of them became prisoners or refugees. Their safety is in danger because the Syrian government under President Bashar al-Assad as well as the Turkish government are attacking the area controlled by the SDF.
More than 100,000
Number of ISIS fighters as of 2016
• Foreign fighters: +40,000 (from 100 countries, the rest from Iraq and Syria)
• Fighters killed: 60,000-70,000 (2014-2017)
• 70,000 people from 54 countries have a connection with the ISIS network
14,500 foreign citizens are being detained by the SDF
• 9,500 children, most under the age of five
• 4,000 women involved in criminal actions with ISIS
• 1,000 male combatants
Over 7,500 ISIS supporters have been sent back to their countries of origin
• Countries against repatriating former ISIS sympathizers: Britain and the United States
• Those accepting the return of women and children of ISIS sympathizers: Belgium and Russia
• Those accepting the return of children: Australia, Italy, Indonesia, Germany and Sweden
Al-Hawl
This camp has held the most ISIS sympathizers since the defeat of that terrorist group.
• December 2016: 12,000 refugees
• April 2019: 73,000 refugees
• January 2020: 66,000 refugees
(More than 4,000 Syrians have left Al-Hawl and 1,430 foreigners have left Al-Hawl)
Total number of Indonesians in Syria:
• 689 (government figure)
• 288 identified
Text: Hussein Abri Dongoran | Sources: Rojava Information Center, Tempo.co, Tempo