Appeal from a Syrian Camp
A British court has rejected the appeal of Shamima Begum, a former ISIS member whose citizenship was revoked. She is considered a threat to national security.
Edition : 18 February 2020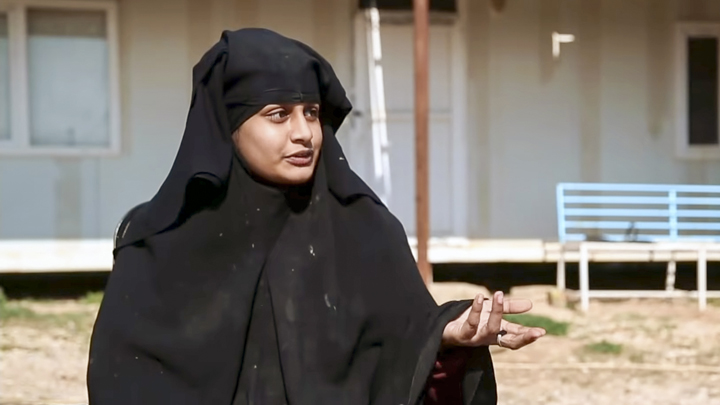 THE decision of the Special Immigration Appeals Commission (SIAC), on February 7, prevented Shamima Begum from return to her country. However, this was not the final stage of the appeal. The woman born in England who joined the Islamic State of Iraq and Syria (ISIS) in 2014 still has a chance to appeal the revocation of her citizenship by British Home Secretary Sajid Javid.
Daniel Furner, Begum's lawyer, said that his client will appeal the verdict as "a matter of exceptional urgency." He is worried about the fate of his client, who is currently in the Al-Roj refugee camp in North Syria. This is one location for refugees, in addition to Al-Hawl, which has taken in families of ISIS members after that terrorist group lost its last territory in Baghuz, East Syria.
In their verdict, the SIAC judge considered that the measure of Minister Javid to revoke Begum's citizenship did not violate human rights regulations. Judge Elisabeth Laing also considered that the verdict did not make Begum stateless because she can still obtain citizenship from Bangladesh. Begum was born in England to parents of Bangladeshi citizenship.
Revoking citizenship is one way the British government is dealing with its citizens who join ISIS. According to Secretary Javid, Begum is one of about 150 people whose citizenship has been revoked since 2010. He said that the revocation was very important to prevent the return of British citizens with dual citizenship who are involved in terrorism in Syria or Iraq.
Another whose citizenship was revoked was Jack Letts, a Muslim convert from Oxford, known as 'Jihadi Jack' after he went to Syria in 2014. He was captured when attempting to flee to Turkey in May 2017. The Kurdish authority accused Jack of being an ISIS member. His mother, Sally Lane, is British, and his father is Canadian. Jack was born and raised in England, but the government has declined to take him back.
It is not known how many British fighters still remain in Syria and Iraq. According to government data, over 900 people have left England to join ISIS and other armed groups in those two countries since 2014. At least 20 of them were killed there, and about 40 percent have returned.
The story of revoking of Begum's citizenship began in mid-February 2014. At that time, Begum, who was still 15 years old, flew from Gatwick Airport, England, to Turkey, together with two of her peers from Bethnal Green Academy, Kadiza Sultana, 16, and Amira Abase, 15.
From photos taken when passing through the security checkpoint at Gatwick, they looked like cheerful teenagers going for a vacation. As it turned out, the three were following in the footsteps of a school friend of theirs, Sharmeena Begum, who had gone to Syria a year earlier.
After finding out that their children had gone, their parents openly asked them to return. This call was not heeded. About a week later, the London Metropolitan Police said that British officials were certain that those three teens had already entered Syria, a country which at that time had its territory partially controlled by ISIS.
According to Shamima Begum, she then married Yago Riedijk, a Dutchman who had converted to Islam. There was news that her two friends also married with ISIS fighters.
In an interview with Sky News in February 2019, Begum said that she had never done anything dangerous and was just a housewife for four years. In an interview with the Daily Mail in September 2019, she said that she spent most of her time at home. She has had three children with Riedijk.
However, sources with British security have some other information. It is said that Begum is a member of Al-Hisbah, a body known as the 'morality police' in ISIS. When she was there she purportedly toted an AK-47 and is suspected of taking part in sewing vests for suicide bombers.
When asked for confirmation that she was a member of Al-Hisbah, Begum became angry and said that it was a baseless accusation. "For the first eight months (in ISIS) I waited at home for my husband who was in prison for being suspected of spying," said Begum.
When Begum went to Raqqa ISIS was at the height of its power. In less than a year they had taken over a number of major cities in Iraq and Syria. ISIS leader Abu Bakar al-Baghdadi announced the formation of a caliphate from the pulpit of Nouri Great Mosque in Mosul on June 29, 2014, and changed the group's name to Islamic State.
This victory did not last long. In 2017, the territories controlled by ISIS were lost one by one in fighting against Kurdish and United States coalition forces, as well as in fighting against the Syrian government military forces supported by Russia. In early 2019, the final city under ISIS control was Baghuz, which was lost on February 2019.
When ISIS faced its final battle in Baghuz, Begum and thousands of other families fled to the camp in Al-Hawl, East Syria. They crossed desert terrain in order to avoid the fighting. According to the World Health Organization (WHO) at least 29 children died during that trip.
---
According to government data, over 900 people have left England to join ISIS and other armed groups in those two countries since 2014.
---
Those who survived the fighting were found in refugee camps. Food, medicine, and clean water were in short supply there. At that time, Begum was nine months pregnant, while her husband had been captured by Kurdish forces and was being held in another camp.
In February 2019, Shamima Begum told reporters about some bad news regarding her friends. According to her, Kadiza Sultana died in a Russian aerial attack in 2016. She also lost contact with Sharmeena Begum and Amira Abase. She said that she wanted to go home so that she could take care of her third child, Jarrah, who was born in the Al-Hawl camp.
Disease spread through the camp, resulting in many deaths, leading it to be dubbed a death camp. Jarrah developed a respiratory infection and died 10 days after being born. There are about 3,000 women and 7,000 children from outside Iraq and Syria at that camp.
In an interview with The Times in February 2019, Shamima Begum said that she did not regret coming to Syria, but all she wanted to do was came home to Britian. The British government responded to her wish by revoking her citizenship. The British cited that she has the right to take Bangladeshi citizenship.
Secretary Javid wrote a letter to Begum's family that he believes that Begum family is Bangladeshi, and that she meets the conditions to apply for citizenship there. However, Bangladesh said that there is no chance for her to be accepted there.
Begum challenged the revoking of her British citizenship in March 2019. Tasnime Akunjee, a lawyer for the Begum family, said that this broke the European convention on human rights. "We are arguing the decision is wrong because it renders Shamima Begum stateless, it puts her life at risk, exposes her to inhumane and degrading treatment," said Akunjee as quoted by the Guardian.
The British government is unmoved. "We cannot have people who would do us harm allowed to enter our country, and that includes this woman," said Priti Patel, the British Home Secretary, Javid's replacement.
In the appeal hearing for this case in October 2019, the government made an argument for national security being the basis for revoking her citizenship. They considered Begum to have allied with ISIS. Not only did she take a trip to Syria, but she remained with them until their final days. This indicated her commitment to that terrorist group.
Abdul Manan (Guardian, Independent,
Daily Mail, The Sun, New York Times)