Ahok's PDI-P Membership
With his prison sentence behind him, Ahok is now expanding his business and again embarking into politics. He decided to join the PDI-P following Megawati's frequent visits while he was in prison. His relationship with the PSI is deteriorating. The former Jakarta governor was once courted by Prabowo's camp.
Edition : 18 February 2020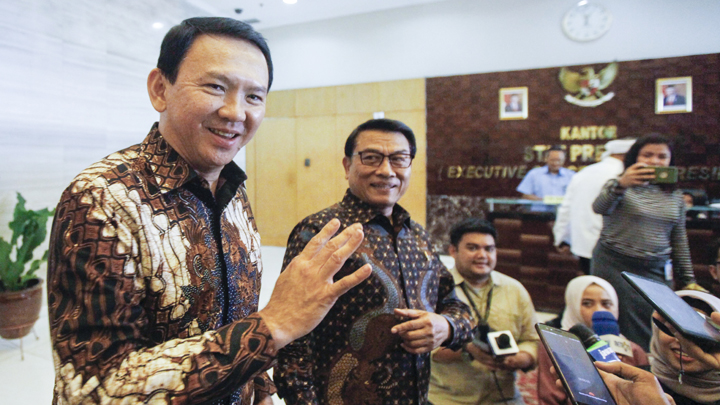 LATELY, former Jakarta governor Basuki Tjahaja Purnama has been meeting frequently with former Indonesian Military commander, Gatot Nurmantyo. Basuki is planning to start several businesses with Gatot. "We meet almost every week, [I] want to start a chicken business," said Basuki in a special interview with Tempo at the Pertamina Building, Central Jakarta, on Wednesday, February 12.
Ahok—as Basuki is more commonly called—has certainly made preparations, including learning how to farm chicken in Australia and putting together chicken coops and feed. He has even visited Gatot's chicken farm in Purwakarta, West Java, where the former army commander farms over 80,000 chickens, producing around 4 tons of eggs every day. According to Ahok, business preparations are mostly undertaken by his brother, Basuri Tjahaja Purnama.
Gatot confirmed reports that Ahok has visited his farm and believes that Ahok wishes to learn the business. "I'm open to giving assistance and (sharing) experience," he said when contacted on February 13. Gatot says his chicken farm is a joint venture between 34 individuals and that Ahok is not part of his business.
Gatot and Ahok's reunion happened thanks to a fast food entrepreneur. According to Ahok, the businessman asked him to join a broiler chicken business. Ahok says he is friends with Gatot and that he once shared a ride on the way to Gatot's land.
But Ahok and Gatot were in opposite camps during the 2017 Jakarta gubernatorial election. Gatot, in a white cap and army uniform, attended the November 4 and December 2, 2016, demonstrations. The two massive protests in the capital city demanded Ahok's indictment for quoting Al-Ma'idah verse 51, which prohibits non-Muslim leaders. Ahok was sentenced to two years in prison for religious blasphemy. Almost two years after his arrest at the Mobile Brigade (Brimob) headquarters in Kelapa Dua, Depok, West Java, on May 9, 2017, he was released on January 24, 2019.
Besides meeting with Gatot, Ahok has also met with Vice President Ma'ruf Amin. Ma'ruf is the non-active leader of the Indonesian Ulema Council who issued a decree stating Ahok had insulted religion and ulema. Both met in early December 2019 at the Palace. Ahok came as the president commissioner of state oil company Pertamina, together with CEO Nicke Widyawati. Ahok immediately took Ma'ruf's hand and kissed it.
Ahok says he no longer has a problem with Ma'ruf, asserting that they get along just fine. Ahok claims he has forgiven all of his former political foes. "Whatever happened, I'm a former convict for religious blasphemy."
•••
AHOK says he became anxious before leaving prison and even considered becoming a pastor. He says the desire emerged during the process of divorcing his former wife, Veronica Tan. "I wanted to start a church and serve," he said.
Besides wanting to become a priest, Ahok also wanted to host a television talk show. "So there would be entertainment element on television as well as service at the church."
According to Ahok, Metro TV had expressed its willingness to produce the program. Metro TV's representative, said Ahok, visited him at the Brimob Detention Center to discuss the plan. Ahok says even before the program was launched advertisements were already lining up, claiming that the program would have been able to make Rp2 billion each week from them.
But upon leaving prison, the program was delayed. In mid-2019, the program was officially canceled. Metro TV Chief Editor Don Bosco Selamun did not answer questions about the program's cancelation. But in mid-July 2019, he said the program had indeed been canceled. "We decided not to run it," he said without explaining the reasons.
While Ahok was in prison, his business persisted. He owns Basuki Solusi Konsultindo, located on the 21th floor of Wisma Nusantara building in Central Jakarta. The mining consultancy was established before he was imprisoned. He also owned a sand mine in Belitung, but he left that company, choosing to enter politics instead.
Ahok's company also publishes his books. His latest, Panggil Saya BTP: Perjalanan Psikologi Ahok Selama di Mako Brimob (Call me BTP: Ahok's Psychological Journey at the Brimob HQ), charts his thoughts during his 625 days in prison. Ahok says the company has been handed over to his children. "All (is) owned by the children. (I'm) just helping out with work," he said. He goes to work at the company's office almost every day.
Besides his businesses, Ahok is still involved in politics. At first he did not wish to join a political party, but later on he chose to join the Indonesian Democratic Party of Struggle (PDI-P). He discussed his options with several people before finally deciding on the bull party. According to Ahok, PDI-P General Chairperson Megawati Soekarnoputri was among those who most frequently visited him while in prison.
Based on Ahok's journal entries included in his last book, Megawati visited him on Monday, October 23, 2017. It was the former president's fourth visit. In the book, Ahok wrote that Megawati brought him snacks and books about the samurai, Attila the Hun and Genghis Khan, all written by John Man. Both spoke lightheartedly about various topics, including the country's issues.
Ahok told Megawati about his wish to join the PDI-P. He also told PDI-P head of ideology and regeneration, Saiful Hidayat, about this wish. "We didn't ask Pak Ahok, it was his own decision," said Djarot, who replaced Ahok as governor following the latter's arrest.
On the day Ahok was released from prison, he visited Megawati's home in Jalan Teuku Umar, Central Jakarta. It was there that Megawati gave him a PDI-P membership card. "Welcome," said Ahok, quoting Megawati.
Ahok says he chose the PDI-P because of the party's consistent fight for pluralism, among others, by nominating him—a Chinese-Indonesian and a Christian—as a Jakarta gubernatorial candidate. Nearing the gubernatorial election, Megawati insisted on nominating Ahok although National Democrat (NasDem) Party Chairman Surya Dharma Paloh had asked Ahok to step down in front of President Joko Widodo during a meeting at the Bogor Palace after the November 4, 2016 protest.
When confirming that the meeting indeed occurred, Ahok said he understood Surya's position. "Pak Surya Paloh did not want to see his brother troubled," he said. Lestari Moerdijat, NasDem Party's high council member, also confirmed her superior's request.
Basuki Tjahaja Purnama at the opening of PDI-P's 5th Congress in Sanur, Bali, August 2019. ANTARA/NYOMAN BUDHIANA
Ahok then reported the meeting to Megawati. Unlike Surya Paloh, Megawati asked him to continue his race for governor. PDI-P politician Bambang Wuryanto says he heard that Ahok was pressured to step down. "Bu Mega fought for the party's ideology by standing by Ahok," said Bambang.
Before joining the PDI-P, Ahok says he was courted by the Indonesian Solidarity Party (PSI). "They sent people to the Brimob HQ to discuss the issue," he said.
Ahok was known to have a close relationship with the party led by Grace Natalie. During the Jakarta gubernatorial election, PSI supported Ahok-Djarot Saiful Hidayat. According to Ahok, PSI was hoping to win 6-7 percent votes with his help, especially because he still had plenty of supporters. Ahok said the request upset him. "You guys, I'm already in prison and (you) still want to exploit (me)," he said.
PSI Secretary-General Raja Juli Antoni confirms that he once visited Ahok in prison, but he denies asking Ahok to join his party. Juli says Ahok needed a strong political support while undergoing the legal process. "We understand that Pak Ahok needed a strong tree, can't take shelter under a bean sprout plant," said Juli.
Ahok's decision to join the PDI-P disappointed PSI. PSI regional deputy chief for Jakarta, Rian Ernest, says the disappointment mounted after Ahok made a video seen as cornering PSI several days before the general election. In the video, Ahok urged the public to vote for the PDI-P. He said he would not repeat his previous mistake of joining the New Indonesia Party (PIB), which did not make the parliament threshold. Ahok does not seem troubled by his relationship with the PSI, which he says is solid.
Even during his time in prison Ahok was still seen as a magnet for votes. After Joko Widodo appointed Ma'ruf Amin as his running mate, a senior police commissioner and an ulema visited him in prison on September 15, 2018, asking for Ahok's support in the presidential election. They also asked about the possibility of Ahok supporting Jokowi-Ma'ruf.
Ahok says he was also persuaded by his sister, Fifi Lety Tjahaja Purnama, to support Prabowo Subianto-Sandiaga Salahuddin Uno. "She said either I or my brother would be made minister if 02 won," said Ahok, referring to Prabowo-Sandiaga's ballot number. Fifi, who admitted to supporting Prabowo, denies her brother's statement. "No such thing," she said. "I supported Prabowo because he supported Jokowi and Ahok to lead Jakarta." Prabowo's party Gerindra indeed supported Jokowi and Ahok in the 2012 Jakarta gubernatorial elecion.
In the end, Ahok decided to continue his support for Jokowi, his partner at the Jakarta City Hall. Ahok rejected Prabowo's invitation, telling him that, "A friend is always loyal."
By joining the PDI-P, which also supported Jokowi's race for Jakarta governor and presidency, Ahok hopes that his party will win the 2024 general election. Even so, Ahok cannot yet confirm that he will join the race in 2024. A political observer from the VoxPol Center Research and Consulting, Pangi Syarwi Chaniago, does not believe that Ahok has a good chance of becoming a presidential candidate. Besides first having to gain the support of political parties, Ahok is a non-Muslim. After all, the country has never had a non-Muslim presidential candidate. "If he's able to become a presidential candidate, this would be a new phenomenon.
Although he admits that he still wishes to run for president, Ahok is not exactly optimistic. "The problem is, would a party dare to nominate me for president? I'm a liability, already labeled as a religious blasphemer."
DEVY ERNIS, RAYMUNDUS RIKANG, STEFANUS PRAMONO