Gifts for the Terrorist Block
Ahok experienced all kinds of pressure during his time at the Brimob HQ. But money poured in from book sales.
Edition : 18 February 2020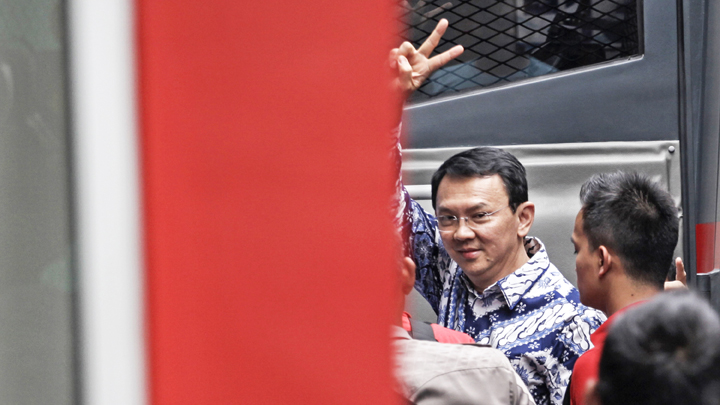 CHEST pain seized Basuki Tjahaja Purnama in mid-May 2017. The former Jakarta governor felt hot and had trouble breathing. Early that morning, Basuki screamed for the attention of a prison guard. "Pak, help me, Pak," he said, recounting his experience to Tempo on Wednesday, February 12.
According to Basuki, the person he called out to said it was a normal condition. "That's normal, Sir. New people usually get like that," said Basuki, quoting the prison guard. It had been less than two weeks since he was held at the Mobile Brigade (Brimob) headquarters in Kelapa Dua, Depok, West Java. He was sentenced to two years in prison for religious blasphemy.
Ahok—as Basuki is known—asked the prison guard to call a doctor. Only moments later, he canceled his request. Ahok was worried that a doctor's examination would be leaked and that the media would report his breakdown in prison. The prison guard recommended that he run around the yard to get him back in normal shape. At first he thought about doing as the prison guard suggested, but he changed his mind. Ahok was worried that a guard would shoot him for attempting to escape.
In his book, Ahok repeatedly mentions that the pain would return at midnight. He became convinced that he was under stress. To overcome the pain, Ahok often exercised. He claims he was able to perform 200 push-ups and would bet against officers on guard. He says his clothes got too small after leaving prison because his arm muscles had grown.
---
"I left with a book, (some) profit and a wife,"
---
Ahok exercised in his 2x3-meter cell. He was forbidden from performing activities at the Brimob yard for security reasons. Another reason was to avoid photos of him from reaching the public. "(They're) afraid (people) would think this and that," said Ahok, who explained that during his early days at the Brimob HQ, his moves were heavily monitored. The license plates of his visitors' vehicles were recorded.
Ahok's moves became even more restricted when convicted terrorists ran amok at the Brimob Detention Center on May 8-10, 2018. The convicts, who were affiliated with Jamaah Ansharud Daulah, managed to seize sharp weapons and firearms. According to Ahok, security in his block, around 100 meters from the three blocks controlled by the terrorism convicts, were heightened.
Although the police placed additional personnel around his cell block, Ahok was fearful. He says he was worried that the firefight between the police and terrorism convicts would send a stray bullet to his cell. "The situation was on red alert, the bullets could have pierced the wall," he said. At the time, around 150 terrorism convicts were being detained at the Brimob HQ.
In a journal entry dated May 10, 2018, which was included in the book Panggil Saya BTP: Perjalanan Psikologi Ahok Selama di Mako Brimob (Call Me BTP: Ahok's Psychological Journey at the Brimob HQ), Ahok wrote that the riot meant he could not receive visits from family. According to the same journal entry, he was aware that five police officers were caught by terrorism convicts and their throats were slit. Ahok says he was angered by the incident.
He was also infuriated when planning to request for the assimilation right beginning December 2017. Ahok had imagined he would be traveling from Depok to Jakarta and working from morning until afternoon. But the detention center's officers repeatedly came to persuade Ahok not to use his assimilation right. He was also asked to write a statement letter saying that he would not request assimilation. Ahok suspects that the officers' request had to do with the 2019 general election process, which was already in progress since mid-2018. "Some feared Ahok's freedom," he said, referring to himself in the third person.
But Ahok's life in prison was not always gloomy. He received visits from his colleagues during his imprisonment. They would bring souvenirs, fruits and food for him. During holidays, he would receive an abundance of food. Ahok would then give the food to police officers as well as inmates in other blocks, including in those meant for terrorism convicts. "They didn't know that the food came from me," he said, laughing.
Other 'guests' who visited Ahok were fan letters, which he received every day. According to his calculations, he received and replied to over 15,000 letters during his time at the Brimob HQ. The letters, among others, asked for advice during a divorce process and offered Ahok to marry the writer's daughters. When replying to these letters, Ahok would include quotes from books he had finished reading. He also says he made money selling books bought by his supporters. He made at least Rp19 billion from book sales.
Toward the end of his prison term, Ahok began a relationship with Puput Nastiti Devi, a police officer. Puput was formerly an aide to Veronica Tan, Ahok's ex-wife. Ahok and Veronica married in 1997 and officially divorced in April 2018, when Ahok was still in prison. Through her close friend, Veronica refused to comment on her relationship with Ahok after they split.
Ahok says he grew close to Puput after a discussion with Djarot Saiful Hidayat, his successor in Jakarta after Ahok was sent to prison. Djarot says he discussed his own criteria for a wife with Ahok. The former Blitar mayor says a wife candidate must be previously unmarried, must come from East Java and must have a sibling. "Apparently, Ahok took my criteria," said the Indonesian Democratic Party of Struggle (PDI-P) politician.
One day, Djarot visited Ahok at the Brimob Detention Center. Puput, who was present, entered the meeting room to serve drinks. "Mas, this one also wants to be with you," Djarot said jokingly. Puput blushed and left the room. The men then spoke about Puput in whispers. Djarot says later on they discovered that Puput fit the criteria Ahok had in mind for a wife. The two were married on January 25, 2019, one day after Ahok's release from prison. They now have a son.
Ahok says a relative once recommended that he perform a specific ritual after leaving prison, namely by stopping at a hotel to wash his hair, have a haircut, put on new clothes and throw out the old ones, to "get rid of ill fortune." But Ahok refused, saying that his life in prison did not bring him misfortune. "I left with a book, (some) profit and a wife," said Ahok.
RAYMUNDUS RIKANG, DEVY ERNIS