Basuki Tjahaja Purnama: I Was Treated Like A Political Prisoner
CONVICTED of religious blasphemy, Basuki Tjahaja Purnama, former Jakarta governor, spent 625 days in the Mobile Brigade (Brimob) detention center. On May 9, 2017, after the North Jakarta district court sentenced him to two years in prison, Ahok—as Basuki is familiarly called—was immediately taken to the Cipinang Prison in East Jakarta. The following day, for security reasons, he was moved to the Brimob headquarters in Kelapa Dua, Depok, West Java.
Edition : 18 February 2020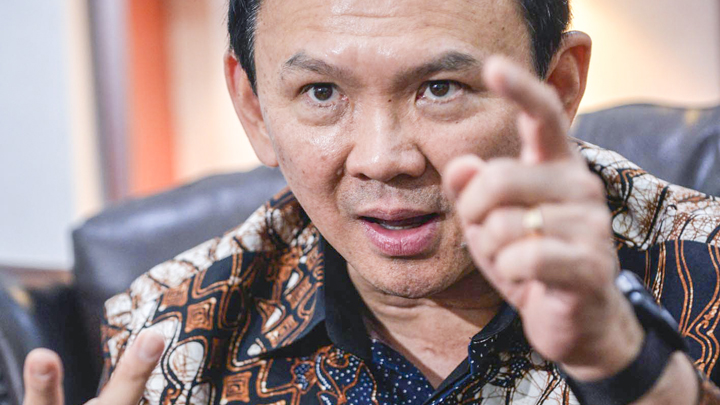 Unlike other prisoners, Ahok's movements were very much restricted. He, for example, was not allowed to do activities in the prison yard lest guests visiting other inmates will see him or take pictures of him. "All kinds of rumors might arise," he said during the special interview with Tempo.
The life in prison was a misery to Ahok, 53. He became so stressed that he fell ill. At the same time, he was pressured into forfeiting other legal options to have his sentence reduced. He was advised to continue his prison life until he completed serving his time. Then, after his release, he had to 'flee' overseas until the presidential elections were over.
However, prison also brought him blessings. He reaped a financial windfall from the lucrative sale of his book Ahok di Mata Mereka (Ahok in Their Eyes). Also in prison, he found love with Puput Nastiti Devi after his marriage with Veronica Tan ended. Recently, he was appointed president commissioner of Pertamina. Ahok is now set to release his second book titled Panggil Saya BTP: Perjalanan Psikologi Ahok Selama di Mako Brimob (Call Me BTP: Ahok's Psychological Journey at the Brimob HQ).
In the three interview sessions with Tempo—on December 12 at his Central Jakarta home, on February 12 and 14 at his Pertamina office—Ahok, in his signature fiery candid style, talked about his life in prison. He also shared the story of his meeting with his former political foes such as Ma'ruf Amin and Gatot Nurmantyo.
How did you end up writing books?
After around 10 days of my detention, a friend of mine paid a visit and said I should start writing daily. My staff brought me paper. So I began writing. After waking up, when I felt upset, crazy or whatever, I just wrote. Then the idea of writing a book popped up. I eventually earned Rp19 billion from writing (the first book).
You got richer in prison, then?
Yes. That's why right after the release, I refused to go to hotel, get a haircut, bathe or change clothes before going home, as most people do upon release supposedly to get rid of the bad luck. But I didn't have bad luck. I hit a jackpot. I got a wife, money, book (laughs)...
What distinguishes the new book from the previous one?
This book essentially is about my psychological journey during my time in prison. It records the changes I went through. I experienced various illuminations which never came again after I left the prison. Prison changed me. Several psychologists have read my diary to analyze these changes.
In the book, you seem angry at being imprisoned.
I was of course angry. Why did the state bow to the pressure from the masses? It was a joke to me. Suddenly I was thrown into jail. Never in the history of this republic, was there an active governor thrown into jail unless he or she was a thief caught in a sting operation. I couldn't accept it.
---
Asking for advice on divorce. I myself failed and they wanted my advice (laughs)...
---
Whom where you mad at?
I was mad at everyone who took an oath of office to serve as a public official in this republic. Even in jail, I was constantly monitored. Every time my visitors came, all their details including their car registration plate numbers were recorded. My every move was watched. I could feel them, you see. I was treated like a political prisoner.
Also at the President?
I said everyone. There should have been intervention when someone violates the constitution. It is not the masses that should win, it should not be a clash of powers. You are armed, given power, authority to enforce justice, to speak the truth.
How long did that anger last?
Until the 14th day, I used to wake up at 2am every morning. I felt my chest tightened and my entire body was hot. I told myself I was really stressed out. I tried to find the cause and realized then that I had pent-up anger. Finally, I prayed asking for strength to forgive. When I finally let go of my anger, I never woke up again in the middle of the night.
What made you angrier: losing the election or going to prison?
I never thought much about my election defeat. I still had seven months to work. Look at the expression of my face when I lost. It was no big deal. But the arrest was forced. If I weren't detained immediately, I would have been able to keep on working.
One of the drivers behind the mass protest against you was the Indonesian Ulema Council's fatwa issued by Ma'ruf Amin. Were you disappointed when Ma'ruf became the vice-presidential candidate?
I wasn't disappointed because of Ma'ruf Amin. But someone should be elected for his/her capability, based on merit, not because he or she has the masses. I was advised to pick an Islamic Betawi native as my deputy. I refused. You can also check that I never went to churches to campaign for the gubernatorial election.
You met Ma'ruf Amin last December. How did the meeting go?
That was my first visit to the Palace. I said, 'Jokowi was naughty.' He definitely knew I would greet Ma'ruf. I kissed his hand. I guess he didn't imagine I would (do that). He asked how I was and I said, 'I'm good, Pak.'
Did you intentionally kiss his hand?
He's an elderly person, right? Even Jokowi kissed the hand of Bibit Waluyo (former Central Java governor who once called Jokowi stupid). But, that's it. In prison, I (learned) to control myself, to not hate.
There are no more issues with Ma'ruf Amin?
All is well. Now I'm friends with those who took part in the protests against me. I'm friends with Gatot Nurmantyo (former armed forces commander). We want to start a joint business raising chickens and growing corn. We are preparing the coops now. If we want to supply franchise restaurants, we have to follow their standard sizes.
Gatot apparently was anti-Ahok, wasn't he?
Come on, don't slander my friend, (laughs)....Money knows no race. He has tens of thousands of chickens.
(When he was contacted via phone, Gatot Nurmantyo confirmed his meeting with Ahok. "He seems interested, so I open myself to give assistance and share experience," but added that they had not gone into partnership yet.)
While in prison, you continued to support Jokowi.
Well, he's my friend. I read the Book of Proverbs. There is a suitable verse: A friend is always loyal.
Isn't Prabowo Subianto your friend?
We have to differentiate. Jokowi and I shared the same journey of struggle.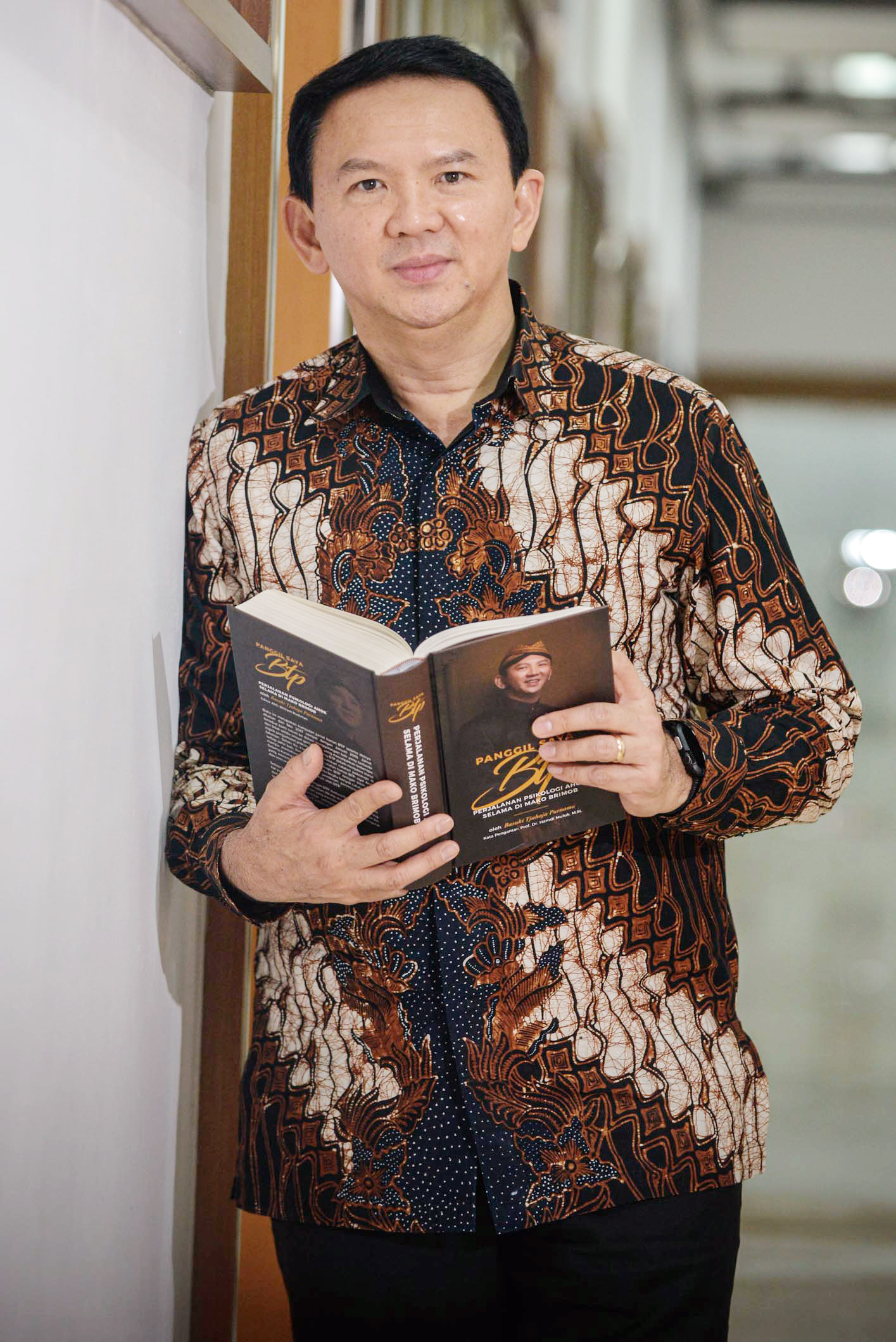 TEMPO/Tony Hartawan
What changes occurred in you after coming out of the prison?
A police officer asked whether I would choose to be the governor or be imprisoned if the clock could be turned back. I said I would choose to be imprisoned. Why? Because, as a governor, I'd be in power for another five years at most. In prison, I learned to control myself. Some don't believe that I've changed. How come they don't? Well, put it this way, I've got my PhD from the Brimob headquarters (laughing)...
Did you feel at home in prison?
Throughout my time in prison, I had the best six doctors in the world. The first is sunshine. I sunbathed. Second, a regular exercise. Before bed, I did push-ups. I would do 200 push-ups every day. I had a good eight hours' sleep daily. Great. We had to go to bed at 10pm and wake up at 4am. Then I wrote or read books and then went back to sleep for another two hours. The fourth doctor was timely meals. Fifth, I had ample time. I replied to more than 15,000 letters while I was there. It was easy to write and reply letters, but reading them was a struggle. Sixth, I had many friends. We had a band called BTP, Band Teman Penjara (Jail Mates Band). A lot of people must have regretted putting me there (chuckles)...
What are the weirdest letters among the tens of thousands of letters you received?
Asking for advice on divorce. I myself failed and they wanted my advice (laughs)...
You did not seek other legal options after your sentence.
I was advised not to go for assimilation (back to society) although I was already eligible. Then the prison management asked me to declare in writing that I didn't want to go through the assimilation process. Apparently, I was still not 'trusted'. Even for remission, other people got more than me. Later, I tried to look at it from a different perspective. If I wanted to do assimilation, I had to go back and forth Jakarta-Depok which took four hours. Train ride was out of the question. Who would watch over me? If I worked in a building anywhere, I would attract throngs of fans. I still have a lot of them, you see. Besides, if I went out, I would lose my time to read and write.
In your book, you mentioned that several politicians came to express their opinion about cassation.
In essence, they told me not to create any more commotion. It's done, just accept it. But of course, it was difficult for me to accept it. But eventually I did because I changed my perspective.
Was the advice related to political calculations?
Everything was about political calculations. Some people felt that if Ahok got out, the president would lose the election; therefore, Ahok should remain in prison.
We heard that you were taken abroad after your release which came ahead of the presidential election.
My friends, family and my mom indeed suggested me to go overseas. 'What do you want to do here? People are busy with campaigns. Do you want to create troubles again? You can't help Jokowi either to help get more votes.' At least, I didn't make myself a burden for Jokowi. I did get upset. I wrote that in my book.
You were also offered to join political parties, one of them being Indonesian Solidarity Party (PSI). Why did you turn it down?
Some PSI members came and asked me to join their party. They said my membership could help them meet the parliamentary threshold. My supporters made up of at least 6 to 7 percent (of voters). If they made it to the parliament, I could be nominated as a presidential candidate. Then there was another who offered me Rp5 million down payment to make a movie. I said, "I went to prison and you guys still want to take advantage of me." I also didn't click with Sunny Tanuwidjaja (the secretary of PSI's supervisory board) either. He used my name.
How did he use your name?
One of the shocking news was Tempo's article that said there was a money trail to Teman Ahok (an organization of Ahok's supporters lobbying to nominate him as an independent gubernatorial candidate). Don't be mistaken. Teman Ahok members were great idealist kids. I called those who were mentioned in the report, but they all denied. My realization only came when I heard the recording at the trial of Sanusi (M. Sanusi, member of Jakarta Legislative Council, who was implicated in the land reclamation bribery case) and Sunny. The recording was so clear, wasn't it? "How about your koko (a Chinese term for an older man), did he agree or not?" And Sunny answered 'all clear'. That phone was right by my office and I could be heard talking. Isn't it insane? If the Tempo report was true, then he (Sunny) had deceived people. I believe the report. I believe Tempo cannot be bought to slander people.
(Tempo repeatedly tried to contact Sunny but he neither answered calls nor replied messages from Tempo).
Then why did you choose to join the Indonesian Democratic Party of Struggle (PDI-P)?
Actually, I didn't want to be in political parties but I want to fix this nation and like it or not, I can only do it through party. I picked PDI-P because that's the only party which firmly offered me. Other parties are afraid of being near Ahok. Certainly, we can't be blind to the fact that not everyone in the PDI-P is good. But Bu Mega (Megawati Soekarnoputri, PDI-P Chair) did not see me as a burden that can cost the party its votes. Instead, she said I was the embodiment of nationalism.
You seem to be quite close to Megawati?
If I weren't jailed, she would take me along on the campaign tour. She also visited me four times in prison. She was afraid I would be under stress. She usually brought food and we ate together.
Do you have targets for 2024?
I can't possibly have targets because I don't have anything. From the party side also. Even Mahfud Md. (former Constitutional Court chairman-turned-political, legal and security affairs coordinator minister) has said that I cannot become a minister, although his statement can be debated since I didn't face or given a five-year prison term. As you see the prosecutor sought four years and the court gave 2 years. The question is whether anyone has the guts to appoint me a minister. I on the other hand don't want to work for only Rp19 million salary. If it's Rp500 million, it's okay (laughing)...
Do you still want to be President?
I want to be president if possible. If there are no good candidates, I want to (be the president). Otherwise, I'd rather not. The problem is whether the party dares to nominate me or not. Being labeled a religious blasphemer, I'm a liability, you see. Although I'm a good contender in terms of work ethics, capability, integrity. But, here's the thing, I'm now at East Merdeka (Pertamina office), closer to North Merdeka (Presidential Palace). Anies Baswedan is still in South Merdeka (Jakarta City Hall), farther (from Presidential Palace) (laughs)...
You changed your name from Ahok to BTP in your book.
When I was in jail, a lady police officer said, 'A' meant negative and 'hok' meant 'hoki' (good luck). So 'Ahok' meant not lucky. Just like 'asusila or amoral' (immoral). She suggested I use Basuki. Actually, I often used BTP in the past, but it became less popular compared with Ahok. My father gave me the name Basuki, which means prosperous and successful in Javanese. He wished that I would be more like Javanese. Metro TV was also planning BTP show at the time, so I began using BTP to rebrand myself. The psychologist I met also said that the name change would be good to help bury the past. So, yes, I used the Javanese name as my dad had wished.
In the photo on the cover, you wore Javanese suit and cap. Why did you want to highlight the Javanese side?
A friend of mine once gave me a book titled Pitutur Budaya Jawa (Advices of the Javanese Culture). The true Javanese people prefer to humble themselves to the lowest level. Like water. Why can't I choose to have characters like that? As regards the photo, I was in the process of getting married and I just asked the photographer to take solo pictures for the book cover at the same time.
Does the change to become more Javanese have anything to do with political interests?
Of course not. If that's the case, I might as well convert my religion. That's more advantageous. I don't like identity politics. I just want to be myself. It was my father who named me Basuki, not me. He told me not to ever play around with religion.
You also talked with candor about the failure of your marriage in your book.
That was already discussed at the trial. At some point, I didn't want to have a divorce. The psychologist who read my diary also viewed that I hit one of the lowest points of my life during the divorce process. But after a long hard struggle, I finally made the decision.
(Veronica Tan, his ex-wife, through her close friend declined to comment on the marriage.)
Who played the biggest role in your marriage to your new wife?
Djarot (former Jakarta deputy governor Djarot Saiful Hidayat). He was helping me find a wife based on various criteria that we set together. During one of his visits to Brimob, he met Puput who came to say goodbye to me. He said, 'No need to search anymore. Here she is,' and he directly asked her 'Do you want to be with Pak Ahok?.' From the way she laughed, she seemed she's agreed, Djarot said. Later, her parents also gave their blessings.
You also wrote about your indignation over the unqualified opinion (WTP) the Supreme Audit Agency (BPK) gave to the Jakarta administration's financial report.
Yes, I was upset. Not because Anies Baswedan got it. Previously, during Governor Fauzi Bowo's era, the BPK also gave WTP although the assets had dwindled. During my tenure, I fixed everything, documented assets and created a more transparent system. Yet I was given the qualified opinion. If they used the same standard, it wouldn't come out like that.
Are you disappointed seeing the current conditions of Jakarta?
No. I'm grateful instead. Now people can see, Ahok has really worked hard. The problems in this country will never end if we choose leaders not based on merit, but on primordialism.
---
BASUKI TJAHAJA PURNAMA
Place and date of birth: Manggar, East Belitung, June 29, 1966
Education: MSc (Financial Management), Prasetya Mulya University (1993), BSc (Geological Engineering), Trisakti University(1989), Faculty of Medicine (did not graduate) Christian University of Indonesia (1984) Career: President Commissioner, Pertamina (Since November, 2019); Jakarta Governor (2014-2017); Jakarta Deputy Governor (2012-2014); Member, House of Representatives (Golkar) (2009-2012); Regent, East Belitung, Bangka Belitung Regency (2005-2007); Member, East Belitung Regional People's Representative Council (2004-2005)