Tardy Import Permit
Industrial and consumer sugar prices soared following scarce supply. The cause is believed to be delays in import permits from the trade ministry.
Edition : Tuesday, February 18, 2020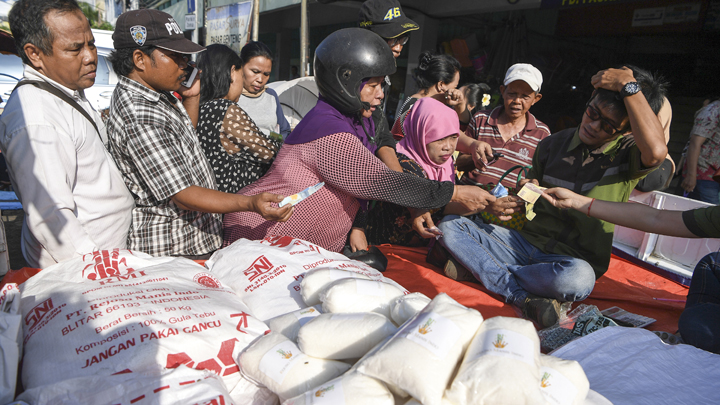 DWIATMOKO Setiono, head of Sekawan Karsa Mulia, has been in a bind lately. The price of sugar, key raw material for his company's food and beverage products, continues to climb. Suppliers of industrial sugar offer their ware for Rp9,000 per kilogram, up Rp1,000 from January. According to his administration, sugar supply contracts from late 2019 still put prices at Rp7,600 per kilogram. "(It's) Crazy how fast it's going up," said Dwiatmoko, who is also chairman for the Refined Sugar Industry Users Association Forum on Friday, February 14.
The recent spike in prices is threatening the continuity of this producer of chocolate powder drinks and pudding. Sekawan Karsa needs between 200,000 and 300,000 tons of industrial sugar annually for its production process. Thus, Dwiatmoko has searched high and low in order to keep up production. He has gone from one supplier to another in order to get a variety of price offers for refined sugar. He has also bought from a number of suppliers in order to get the best price for this raw material.
Dwiatmoko is only one out of thousands of businesses threatened by the soaring price of refined sugar. Most of them are small and mid-sized companies. In this group, Dwiatmoko said, sugar transactions are not as plentiful as those for the larger players. Consequently, the prices for the smaller firms are also higher. "Even as a mid-size player, I have to pay Rp9,000. For smaller businesses, it can be up to Rp10,000 for one kilogram," he said.
Industries related to sugar have indeed been upset. A number of food and beverage factories have rung alarm bells as their sugar supplies are dwindling. Some factories have even temporarily halted operations as they have run out of sugar. Meanwhile, suppliers—firms that import crude sugar and process it into industrial sugar—can do little as they hardly have any stock left. Some said they are all out of sugar, with no new supplies in sight.
The current condition is worrisome for the food and beverage industry. January is usually the period to stock up on sugar in order to go full force into the production process in February and March. This is done in anticipation of higher sales for the fasting month of Ramadan and the Idul Fitri celebrations in April and May. Companies are now worried that the price hike due to low supplies will continue, causing production costs to soar.
W251bGwsIjIwMjEtMDMtMDkgMDc6Mjc6MjkiXQ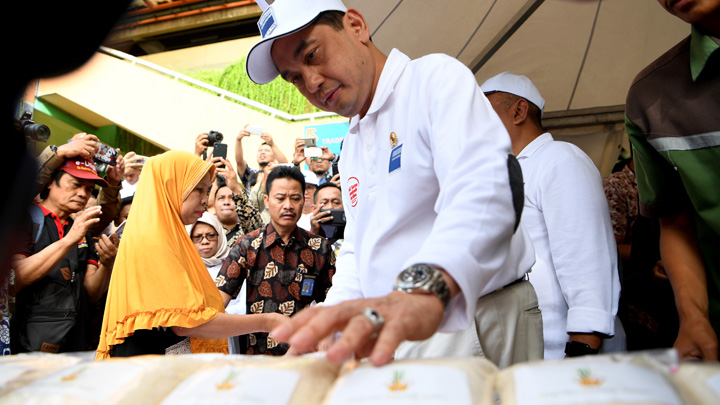 Trade Minister Agus Suparmanto (center) in an unscheduled inspection at the cheap sugar market in Wonokromo Market, Surabaya, January 31./ ANTARA/Zabur Karuru
Cause for the sluggish industrial sugar supply is believed to be problems in sugar import permits at the trade ministry. A meeting regarding food at the coordinating ministry for the economy in September 2019—then still under Minister Darmin Nasution—had set the industrial sugar import quota at 3.3 million tons in 2020. Routine import is done since domestic sugar production has never been enough to cover national demand for both public and industrial needs.
Bernardi Dharmawan, chairman for the Indonesian Refined Sugar Association (AGRI) said his members have already submitted requests for raw sugar imports—to be used for the production of refined sugar—at the end of 2019. The industry ministry already issued its recommendation letter for imports of 1.6 million tons for the first semester of this year. However, the permit from the trade ministry have yet to be issued.
The AGRI then wrote a letter to the trade ministry in the second week of January. The letter, with a copy to the Indonesian Food and Beverage Association, asked the ministry to accelerate the release of the import permit. At that time, there was only two weeks worth of sugar stocks remaining. However, the letter went unanswered.
Finally, the Indonesian Business Association (Apindo) went into action the following week. After receiving complaints from the food and beverage industry, Apindo Executive Director Danang Girindrawardana requested a meeting with the trade ministry. However, as he received no reply, he went to the coordinating ministry for the economy. "Maybe the coordinating minister finally coordinated with the trade minister," Danang said, as the import permit was finally issued at the end of January.
Trade Minister Agus Suparmanto issued the import permit on January 31. Bernardi said that 11 AGRI members received permits to import some 1.44 million tons of crude sugar for the first semester of 2020, less than the 1.6 million tons recommended by the industry ministry. "Average allocation for each company was cut by 10 percent," Bernardi said.
•••
THE permit for industrial sugar imports was not the only thing that got stuck at the trade ministry. Import documents for other commodities, such as sugar for public consumption, has also been halted. Budi Hidayat, executive director for the Indonesian Sugar Association (AGI), said that the government had set imports for public consumption sugar at 456,000 tons by the end of 2020. The aim of consumer sugar imports is similar to that of industrial sugar: to secure stock for the beginning of the year. Anticipation is needed because sugar cane processing season is only done in May.
Similar to industrial sugar imports, the decision for public consumption sugar was taken during the coordinating meeting in September 2019. At that time, the government had predicted that production for public consumption sugar would go down by 10 percent to some two million tons due to the long dry season in 2019. "A lot of plants died, and replanting failed," Budi explained.
Thus, the AGI calculated that an additional 1.3 million tons of imported sugar would be needed in order to fulfill public consumption need for sugar, which was projected at 3.3 million tons for 2020. The problem is that the import licence was only issued for some 112,000 tons last year. The remaining, Budi was informed, would be issued at the beginning of 2020. However, by mid-February, no confirmation have been issued regarding this plan.
Some businesses have heard that the permits were piled up at the trade minister's desk, waiting to be signed. The minister's travels aboard for several weeks in January is said to be the cause for the delay. After going on the minor haj pilgrimage to Mecca, this politician from the National Awakening Party (PKB) went straight to the World Economic Forum in Davos, Switzerland, from January 21 to 24. This was followed by a working visit to Italy's Milan on January 24 and 25. "That's the information I received," Danang said.
Minister Agus has yet to reply to questions from Tempo. A number of high-ranking trade ministry officials, including Secretary-General Oke Nurwan, were also unable to give comments regarding their boss' international travels.
However, Oke assured that there were no problems for the refined sugar commodity. He said that his ministry has just approved an import quota of 1.1 million tons for the first semester of this year. "This is in accordance with recommendations for the first semester," he said.
Regarding sugar for public consumption, Oke explained that it would be discussed soon. The government will hold a limited coordinated meeting this week to set the volume of consumption and import needs. Imports will be done in anticipation of prices for public consumption sugar, which has been up some four percent since January. "This is in order to control prices," Oke said in a press gathering on inflation at the office of coordinating ministry for the economy in Jakarta on February 13.
Sugar for consumption in a number of regions has become increasingly expensive. On Friday, February 14, the National Information Center for Strategic Food Pricing noted that the average price for local-quality refined sugar stood at Rp14,100 per kilogram, exceeding the maximum retail price (HET) set by the government at Rp12,500. Meanwhile, premium-quality sugar has reached Rp15,200 per kilogram, and in Papua it has even soared to Rp16,550.
A number of sugar cane farmers in East Java said their harvest was sold out by the end of last year. Irawan Nusantara, a farmer from Kediri, said he was puzzled when the prices soared after their stock was sold out. Another farmer, Ardianto Santoso from Bojonegoro, also complained about the prices that he believed has gone completely out of kilter. The indication of this, he said, is that refined sugar which usually sells for Rp9,000 at the market have spiked to Rp12,000 per kilogram. Meanwhile, the price of public consumption sugar at distributors have also exceeded the HET. He is suspicious that sugar distribution has been delayed on purpose. "Sugar from farmers is controlled by traders," Ardianto said.
He further said that there is actually still sufficient sugar supply on the market. The problem is that sugar prices have increased due to the import permit delay. "I heard that the raw sugar import was held up at the trade ministry," Ardianto said.
Iskandar Simorangkir, deputy for macroeconomic and financial affairs of the coordinating ministry for the economy, said that the flow of imports could not be opened just like that. The government has also organized diversification in import supplies. "Usually it comes from Australia, but now we're sampling from India," he said.
This diversification model has been implemented since the end of last year, in tandem with the government's policy of lowering tariffs for refined sugar from India to five percent. This policy is done in exchange for easing palm oil exports to India. "This also eases import transition. If Australia is stagnating, we can go to India," Iskandar said.
Adhi Lukman, chairman for the Indonesian Food and Beverage Association said the industry will evaluate the quota for crude sugar procurement. The association estimates that demand for industrial sugar could reach 1.9 million tons. "If that's not enough, the governments must be notified immediately."
KHAIRUL ANAM, PUTRI ADITYOWATI