Hagiography
Back in those days, I would listen to my mother's stories as she lulled the children to sleep. She knew that sleep was investment for a fresh new day. In the 20th century, stories had become 'technology'.
Edition : Monday, February 24, 2020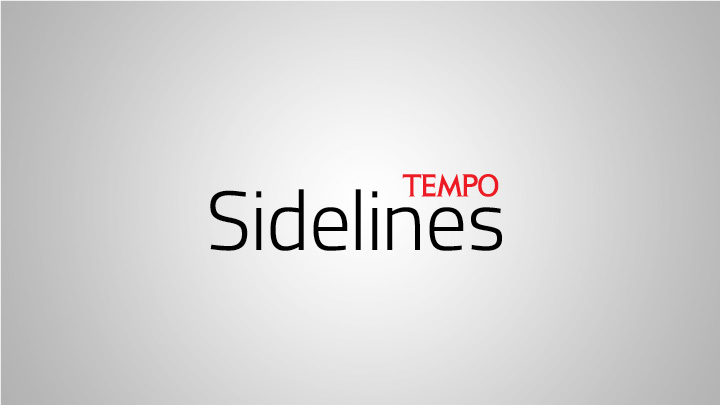 WHEN a mother sang fragments of the Javanese poem Wedhatama extolling Panembahan Senapati, she was actually using that story to produce the future, so her child would become someone great:
Nuladha laku utama
Tumraping wong Tanah Jawi
Wong agung ing Ngeksiganda,
Panembahan Senapati
young men should imitate the highest example of behavior
for people in the land of Java—
that of the great man of Mataram,
Panembahan Senapati.
Whether the child knew the history of 14th century Mataram (called 'Ngeksiganda' in the poem) did not matter. What was important was that there was a 'great man' who older Javanese considered an epitome of excellent behavior.
All hagiography—as opposed to biography—is the 'technology' of half-forgetting. In hagiography a person is held up and divorced from earth, cockroaches, and the contents of their stomach. So who was 'Panembahan Senapati'? The Wedhatama says: a remarkable man. He was able to control his passions, he sought solitude and meditated until finally, at the edge of the ocean, he was filled with special powers. He was even able to hold them in his fist, rinegan segegem dadi. And he was able to dominate nature, including the mysterious Queen of the South Sea.
This story conveys the classic advice: you will succeed if you can discipline your mind and body. Suffering first, enjoyment later… In the Wedhatama, Senapati ends up becoming the subject who succeeds in subjugating his body, nature, and nature's mysteries. "I rule over, angratoni, the Non-Me."
Thus the story of 'civilization'. So too the arrival of the modern world. What is interesting in this so-called 'traditional' work of literature is that meditation is undertaken not as a 'mimetic' moment with the environment—not as the 'archetype of love' (der Urform von Leibe) with nature as Adorno says in Minima Moralia. Meditation is preparation for subjugation. Nature is the opponent.
It reminds me of Odysseus in Homer's poem.
Odysseus, the King of Ithaca, is sailing home from the Trojan Wars. One day, his ship passes an island where the sirens, creatures half bird and half woman, are singing. People know that the sirens' song can lure sailors to join them and never return home. But Odysseus is prepared. He orders his crew to close their ears, while he—who wants to hear their song—asks to be bound to the mast. His strategy is that when he hears the seductive song, he will remain on the ship.
He succeeds. Odysseus cunningly calculates probability. Adorno and Horkheimer, the German philosophers who post-World War I saw capitalism as bringing 'damaged life', analyzed Odysseus's cunning in their Dialectics of Enlightenment (Dialektik der Aufklärung). Odysseus from Ithaca employed sharpness of instrumental reason, human reason directed towards achieving results with efficiency. Odysseus, so long parted from his wife and palace, succeeds by conquering his body: he binds himself to the mast. He also succeeds because he, the captain, dominates others; he forbids his crew to enjoy the sirens' song. And he is victorious over living nature, the sirens.
In this picture, Odysseus is like a businessman in bourgeois society: he advances with calculated risk, restrains himself and controls his body, all the while tasting enjoyment. Odysseus, Adorno and Horkheimer wrote, "lives according to the age-old principle that founded bourgeois society: one may choose between being deceptive, or being ruined."
Probably Senapati was like this, too. Born with the name Danang Sutawijaya, he came from a humble peasant family. His father was Pemanahan, his mother, Mbok Sabinah. His destiny changed when his father, without asking permisson, drank coconut water that did not belong to him—coconut water that, so the story goes, had magical power.
The young Sutawijaya was ambitious, energetic and clever. The Javanese folk story tells of how in 1549 he confronted Ario Penangsang, the Bupati of Jipang who would not submit to Sultan Hadiwijaya. Sutawijaya deliberately rides a fine mare. Penangsang's stallion becomes excited, uncontrollable, and leaps across the river that separates the two armies. Sutawijaya takes the opportunity to attack. He stabs Penangsang in the stomach, so his intestines spill out. Enraged, Penangsang draws his kris. But the tip of his poisoned kris cuts his intestine. He dies.
Instrumental reason wins…
Sutawijaya then adopts the name Panembahan Senapati. The kingdom of Mataram is founded; expansive and more 'advanced' than Javanese kingdoms of the past. But this 'advance' still had its limits. When its kings had to confront the Company of Dutch merchants who were more modern in money and arms, Mataram lost.
Why was the Mataram side, whose power was said to be magical, ineffective? Maybe because at the time, magical things—as represented by the mysterious Queen of the South Sea—no longer held authority. Entzauberung, as Max Weber said about modernity, is the loss of 'magic' from life. Panembahan Senapati had defeated it. And with that, Mataram went into decline.
Goenawan Mohamad
W251bGwsIjIwMjEtMDUtMDggMTQ6MDY6MjAiXQ