Taxation Director-General Suryo Utomo: With Tax Cuts, the Economy Can Grow
Controversy surrounding the omnibus bill's deliberations has not discouraged Finance Ministry's Taxation Director-General, Suryo Utomo.
Edition : 24 February 2020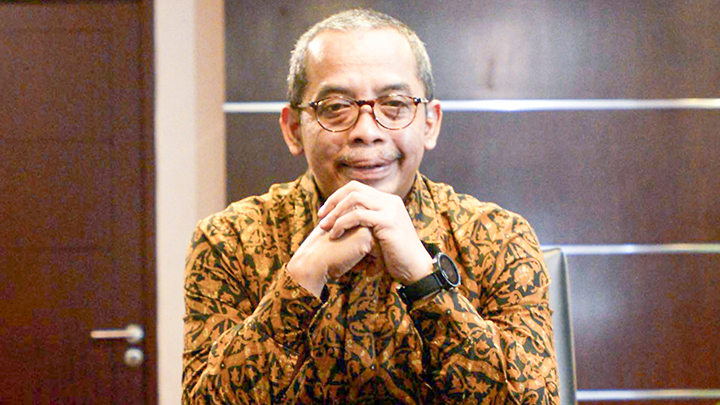 SINCE he succeeded Robert Pakpahan on November 1, 2019, Suryo has been eagerly promoting the taxation omnibus bill—one of four omnibus bills—to the public, including to businesses and investors.
Suryo, 51 years old, says an omnibus law on taxation would ease the government's effort to expand its tax base, among others, to the digital economy sector. With an omnibus law, for example, the taxation directorate-general would have the authority to collect income tax from foreign digital companies that have been operating and amassing consumers in Indonesia. "So far, (the government) has not been able to collect taxes. With an omnibus law on taxation, at least we would be able to first collect value-added tax (VAT), and then we'll talk about income tax," said Suryo in a special interview with Tempo at his office on February 6.
The omnibus bill on taxation, or the bill on tax facilities to strengthen the economy, will comprise 28 articles made up of 7 synchronized laws, among others, laws on value-added tax (PPN), income tax (PPh), as well as regional taxes and levies. The bill is one of 50 priority bills agreed by the House of Representatives (DPR) for completion and legislation this year.
Suryo did not deny the news that an omnibus law on taxation, which regulates discounts for institution or corporate taxes in stages, would reduce the country's potential earnings up to trillions of rupiah. But he is certain that the tax incentive would be able to attract more investors and encourage economic growth, which is predicted to be bleak this year due to a global recession.
Suryo told Tempo journalists Sapto Yunus, Aisha Shaidra, Putri Adityowati, and Andi Ibnu about his strategy to boost revenue from taxes, the tax amnesty program's evaluation, as well as his method for dealing with tax evaders. Excerpts:
W251bGwsIjIwMjEtMDMtMDUgMDg6MzA6MTciXQ
How important is an omnibus law on taxation?
With tax cuts, we are hoping that the economy can see better growth—so the great hope is to improve the economy, alongside the other omnibus law (on job creation) to promote the business climate. In regard to the taxation omnibus law's dimensions, the money will not be given to the state, but please circulate it. It's the multiplier effect that we are hoping for. With the emergence of new economies, the wish is for tax (revenues) to improve.
Finance Minister Sri Mulyani says a taxation omnibus law can potentially reduce the country's earnings up to Rp85-85 trillion. How will the deficit be addressed?
By entering new economic sources into the system. And expanding the tax base because we realize that not all bases can be promoted yet. There is still room to collet more, but efforts must be made.
What kinds of efforts?
How to reach more taxpayers to the areas that we are reducing. The omnibus bill includes sanction reductions to improve tax compliance. The current sanction is 2 percent per month. If there's late payment, well, a maximum of 24 months at 48 percent. We will reduce this. Now, whether it's investigated or not, the sanction is the same. No incentive for those who comply. It would be cheaper, that's the simple way of putting it. So, let's fix it before we investigate.
How long has the omnibus bill been in the works?
Almost as long as (the job creation bill). Nearly one year.
What was the background?
Well, looking at the current situation. We are also studying the PPh law, PPN law, not to mention other laws. If there are seven laws, when will they (legislation process) be done? So we saw that everything must be arranged under one law.
Who is included in the deliberations?
The finance ministry, me, the Investment Coordinating Board. We also hold frequent discussions with the justice and human rights ministry. You can't draft a law on your own. It has been seriously designed since the start.
Are business associations involved?
They are intensively involved. We have invited the Indonesian Chamber of Commerce and Industry (KADIN), Indonesian Young Entrepreneurs Association (Hipmi), Indonesian Entrepreneurs Association, many.
Has it been an omnibus law concept since the start?
Yes, since the area is covered by several laws. If deliberated on one by one, when will (the laws) be executed? We already have the example of the tax amnesty law, whose substance indeed explores various laws, does it not?
What is the difference between the omnibus bill and tax incentives under the tax amnesty law?
The subject and object are the same. The tax amnesty's base are assets owned per date. Assuming taxes are not paid, fees are paid instead. An omnibus law on taxation has the same base. The laws used are still there, such as the PPN and PPh laws. What's different are tariffs and sanctions. That's it, really.
How great are the tax incentives?
There's a corporate income tax reduction in stages from 25 percent to 20 percent in 2023.
Will an omnibus law on taxation be able to boost tax earnings next year?
The government wants to improve the economy by giving incentives and using its fiscal infrastructure for that purpose. The hope is that the economy will grow. In regard to state earnings through taxes, we are first managing what's already visible and expanding new bases. New bases are, in fact, economic activites.
According to the omnibus bill on taxation, taxes would be collected from foreign digital companies without legal entities in Indonesia. How would that be done?
For foreign companies with Indonesian consumers, the VAT law can't yet determine business owners as VAT collectors. So, the omnibus bill attempts to determine companies as VAT collectors. At least we would collect PPN first for new bases. Then we would talk about income taxes. Now, income tax is tied to the general taxation stipulations, which require physical presence that is internationally recognized. The double taxation avoidance agreement (DTAA) also recognizes business entities as physical entities in Indonesia. How do we subject companies whose business models differ from physically present companies to taxes? Which is why, we want significant presence in Indonesia in the bill. This way, the obligation to pay taxes goes without saying.
Google and Facebook already have offices in Indonesia. What about digital companies that are operating from their countries of origin, such as Netflix and Spotify?
Well, that's just it, after all, we look at the physical presence. We use domestic infrastructure, which is why Google created a company in Indonesia.
What about Netflix and Spotify?
We are finding ways (laughs).
What is the approach for e-commerce?
I don't remember the calculations. E-commerce has two great spaces, inside the country and overseas. In the country existing laws can regulate. Outside the country, as long as there is physical presence in Indonesia, we can enter the area of permanent establishment.
The omnibus bill is frequently criticized for its tendency to accommodate business interests. What is your take?
The policy is being made to improve the economy. For this purpose, we are using infrastructure and instruments. There are various types, including tax holidays and tax loans. Coincidentally, the results are not yet significant. We can't immediately find infrastructure to improve the economy. After all, tax holidays come after (companies) make profit.
What about Indonesian digital companies?
In the current situation, in fact, the same tax regiment applies. There is special treatment for companies making under Rp4.8 billion per year in revenue. We call these small-medium enterprises. There are still criteria to facilitate them. According to Government Regulation No. 23/2018, only half of the revenue is calculated. Not only for digital companies, but in general, for example, culinary or coffee start ups. But if the revenue is over Rp4.8 billion, paying taxes is only expected.
Many companies claim they haven't made profit to avoid taxes.
Income tax is calculated based on the difference between what is sold and production cost. Tax on profit, actually, which is why revenue and cost must truly be examined. The taxation law tells us what can be said as revenue, cost that can be reduced, etc. That's the only formula.
When is the omnibus bill on taxation scheduled for completion?
I'm hoping as soon as possible. It's with the DPR, after all.
This is already in the area of politics. What about the lobbying?
The President's letter is already delivered to the DPR and we are waiting for a discussion.
•••
Only 86.5 percent of the state budget's target revenue from taxes was realized last year. What was the obstacle?
Commodity prices were the greatest influence. The global economy put pressure on commodity prices, such as oil, palm oil, and coal prices. Although state revenue from royalties in the mining sector was not great, considering the composition of 30-70 percent taxes, it had an effect on the performances of mining companies because taxes are the effect of economic activities.
What were the indications?
We viewed it based on revenue, especially revenue from import VATs. The flow of goods to Indonesia showed a decrease since the third quarter of 2019. VAT, in particular, decreased. In my view of the dimensions, the global economy seems somewhat stuck.
Economy has slowed since several years ago. Was this not calculated when setting a revenue target?
The target was determined based on the previous year's state budget. We can't estimate the expectations. This year, for example, there is suddenly the coronavirus outbreak.
What is the percentage of the coronavirus outbreak's influence?
I don't know the exact value. But, particularly from China, demand for Indonesian goods will possibly decrease, fewer tourists in Bali, Manado, places with direct flights from China.
In relation to the revenue target, what commodities are estimated to grow this year?
Banking and finance is a sector that is still surviving and solid, still growing at 7-8 percent last year. Transportation and storage are still solid. Construction is still positive—if seen from the revenue contribution angle, that is. Trade is still growing.
Is mining still a sector with potential?
Slight decline in mining and manufacturing. Mining still has potential and the size is great because Indonesia's current base is still natural resources.
What is the largest tax revenue source?
The largest revenue composition is from the 329 tax offices (KPP) for large tax payers, foreign investments tax offices and medium KKP. The contribution is around 67 percent. The remaining 33 percent is from 48,000 tax offices (KKP pratama) throughout Indonesia. Large taxpayer and medium KPP are relatively sensitive to economic conditions because large companies are relatively more sensitive to the economy, especially if they are in export-import. This can be seen in the decreasing revenue at several regional tax offices.
Are there efforts to realize this year's target tax revenue?
How we do expand the taxation basis. We have a program to improve voluntary compliance. Then performing monitoring, just law enforcement. Next, improving the economy because a growing economy means greater taxes collected. We are promoting the economy and hoping for taxes in the future. That's the big picture of what we will perform all through this year and maybe until 2024.
How will tax compliance be improved?
Compliance is voluntary, which means the people must first have tax awareness. The method is, well, education. The problem of whether an entity is already a taxpayer or not is a segmentation problem. We have a Tax Awareness Inclusion program, Tax Talk. We are entering the area of education, universities, etc. To those who are paying taxes, we are making it easy. Millennials certainly want paying taxes to be a simple process.
Using an app?
We are, in fact, working toward automation. Everything is with banks. We are also opening channels at payment stations to make things easy. Several digital platforms can be used to pay taxes.
With these existing innovations, what's the level of tax compliance?
Based on quantity, more annual tax return forms (SPT) are filed.
What is the amount?
In 2018 there were 12.5 million SPT. Last year there were 13.4 million. So we are trying to make it easy. Paying taxes is like buying cell phone minutes.
(Of the 13.4 million SPT filed last year, as many as 91 percent were filed electronically. Only around 8 percent came in through counters or via mail.)
One of the hurdles are tax avoiders. How will this be addressed?
With the self-assessment system, every taxpayer is obligated to calculate and submit taxes. Then the taxpayer is obligated to file an SPT. Our job is to review whether the SPT matches actual conditions based on the data we posses. With 13.4 million taxpayers filing SPT, we can no longer review each one manually. If the data is there, well, we analyze the financial report, the SPT. If there is a deficit, we urge the taxpayer to revise the SPT. If the taxpayer won't admit (to the deficit) and we have the data, we proceed to investigation. If the taxpayer has deliberately performed an act to cause the state financial losses in the context of taxation, that's already in the area of legal processing.
What about delinquent tax employers who are in collusion with taxpayers?
We have an internal monitoring infrastructure. System-wise, we are trying to automate everything to reduce the room for interaction, to anticipate or reduce the possibility of violations, including (during) inspections. All services are automated, our monitoring is automated. We also have a whistleblower system. Go ahead and file a report if you have information.
After three years, there is potential for the tax amnesty program's Rp141 trillion in repatriated funds to leave Indonesia. How will this be prevented?
This is about their interest in staying in Indonesia. If the money belongs to an Indonesian, I'm almost certain it's in Indonesia. We saw that until the end of last year, (the money) is still solidly moving here. If (it's) moved, it was still in the country.
What happens after the three-year period ends?
The government tries to keep them in the country. They are persuaded to invest through incentives. Go ahead and do what they will, there are 18 sectors that are given room for tax holidays.
What is the value of investments that have entered the country?
Only in the past two years the commitment is already at Rp1.1 trillion. Yesterday I met with Pak Bahlil Lahadalia (Investment Coordinating Board chief). The hope is that this (amount) will be realized.