Ambitious on Omnibus Bill, Forgetting the Virus
Yopie Hidayat (Contributor)
Edition : 24 February 2020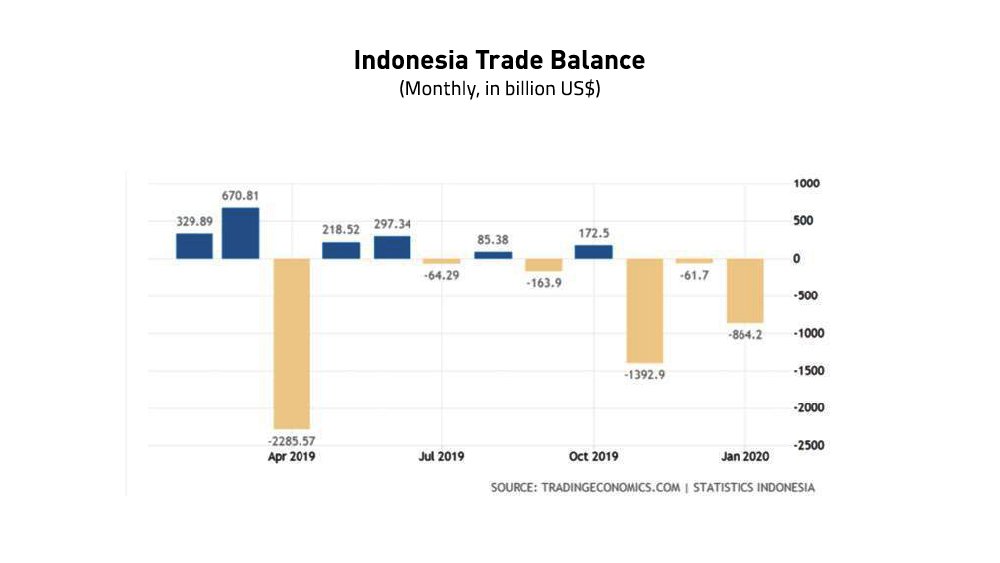 FINANCIAL markets around the world are increasingly nervous due to the Covid-19 epidemic. The moods are continuously zigzagging between optimism and pessimism. The elusive nature of Covid-19, which still confounds virologists, is also wreaking havoc on market sentiment.
Economic projections are also becoming grimmer. The S&P Global Ratings predicted that China's economic growth this year will drop to 4.4 percent if the epidemic is not over by April, a sharp decline compared to China's 6.1 percent growth last year. Such a drastic economic slump, in S&P's worst case scenario, could trigger an avalanche of non-performing loan up to Rmb10 trillion. This is equivalent to Rp19,641 trillion, approximately 1.5 times of Indonesia's gross domestic product per year.
That is the magnitude of the problem that is engulfing the world economy. A declining Chinese economy will certainly trigger a long chain reaction. Even now, many businesses and industries around the world are suffering from a shortage of supplies and raw materials. It is unimaginable how grim the world economy would be without Chinese manufacturing products if Covid-19 cannot be solved quickly.
Indonesia is certainly also at risk. Indonesia's economy is highly exposed to the risk of lower trade volume and commodity prices. If the world's manufacturer weakens, the demand for various commodities such as oil, coal and various minerals will inevitably fall. These are Indonesia's primary export commodities.
That effect even has hit in January, before the peak of the epidemic. Indonesia's balance of trade in January was once again at a deficit of US$864.2 million.
According to the Central Statistics Agency, this deficit arose partly due to the lower value edible oil exports, of which palm oil constitutes the main component. The value of edible oil exports dropped by 34 percent compared to December 2019, while the revenue of mineral products exports fell by 19.15 percent in the same period. If the Covid-19 epidemic continues to pressure the world economy, starting from February and for who knows how many months ahead, Indonesia's commodity exports will certainly continue to decline.
Thus the heavy blow to Indonesia's economy comes from multiple directions: from consumer goods trading, manufacture sector which relies on Chinese raw materials, as well as declining commodities export. This is not to mention the impact of disappearing Chinese tourists, could be to the number of zero. To prevent the spread of the epidemic in the country, the Indonesian government has mandated that every person who has been in China in the last 14 days must be quarantined until their tests for Covid-19 infection are proven negative. Bali, which had enjoyed the flood of Chinese tourists in recent years, now looks deserted.
In fact, this can already be called a mini crisis that requires immediate response. Unfortunately, the government is still preoccupied with another issue: the omnibus bill. Even if this law draft does pass parliament soon enough, there will be a significant time lag before the Indonesian economy can reap its benefits. Investment is not an overnight decision that is made right after the law is passed. Another issue is Indonesia is well known for inconsistencies between laws and its implementing regulations. There is no guarantee that everything will immediately work smoothly and well synchronized.
So as bureaucrats, politicians, members of the House of Repersentatives, civil society organization activists, labor unions, businessmen, both paid and voluntary buzzers in the social media, and security cum intelligence officials are riotously fighting over the pros and cons of the omnibus law, the wheels of the world economy are in tatters from the epidemic.
In many other countries, governments are already giving incentives to overcome this emergency. While it seems that Indonesia prefers to keep itself busy making up new and ambitious rules. Ah, another thing, the government is also obsessively still dreaming of a new capital city.