The Family Resilience Bill under Fire
The Family Resilience Bill triggers controversy. It is considered of encroaching too far in the private domain.
Edition : 24 February 2020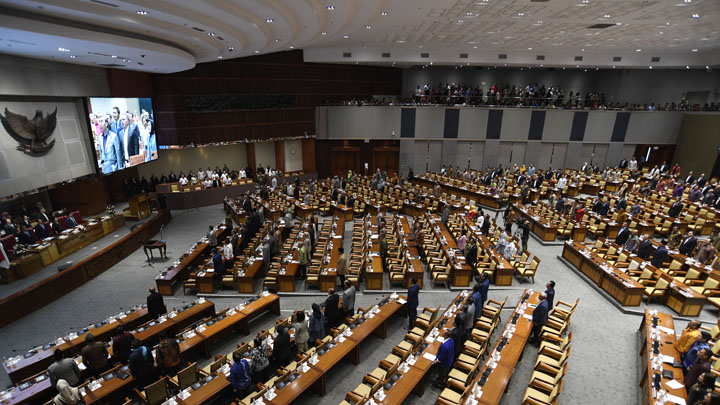 THE Bill on Family Resilience has triggered controversy. The bill initiated by the House of Representatives (DPR) is considered problematic because it intervenes too far in the private domain and domesticates the role of women in household affairs. "We disapprove of this bill," said a member of the Indonesian Democratic Party of Struggle (PDI-P) Faction, Rieke Diah Pitaloka, on Thursday, February 20.
Some articles of the draft are questioned, among others is the division of roles requiring a husband to work and a wife to handle household matters. This provision is not right because every family has its own background in religious, economic, social and cultural terms. "The role division (in a family) is very personal and no longer rigid. Husband and wife can exchange their roles," said Rieke Diah.
The Family Resilience Bill has been proposed by five members of the DPR from four factions. They are Ledia Hanifa and Netty Prasetiyani from the Justice and Prosperity Party (PKS), Sodik Mudjahid from the Gerindra Party, Endang Maria Astuti from the Golkar Party and Ali Taher from the National Mandate Party (PAN). Golkar later withdrew its support after the bill became target of protests.
According to Ali Taher, this bill constitutes an attempt to press the increasing number of divorces. Every month, about 300 divorce cases are recorded in each regency or city. Divorces, he added, have caused guardianship disputes, economic problems, and threatening the future of children. "I am also worried by the behavior of lesbians, gays, bisexuals and trans-genders (LGBT) now getting widespread," he said.
A commissioner of the National Commission on Violence against Women, Mariana Amiruddin, said that family resilience problem has been regulated by Law No. 1/1974 on marriages. "So if we want to talk about family affairs, we examine their roots. They originate from marriages, and the law (on marriage) is already available," she pointed out.
W251bGwsIjIwMjEtMDMtMDUgMDg6MTY6MzUiXQ
Mariana also questioned the formulation of articles in the Family Resilience Bill that regard the LGBT, sadism and sadomasochism as deviations in sexual behavior that require rehabilitation by state or society. "These articles invite a lot of criticism for interfering too far to the private domain of citizens."
Controversial Articles
THE initiative to introduce the Family Resilience Bill came from five politicians of the four faction in the House of Representatives: the Gerindra Party, Golkar Party, Justice and Prosperity Party (PKS) and National Mandate Party (PAN). The formulation of provisions in this bill has sparked off controversy as they bear a number of problems.
Article 25 paragraph 2:
It regulates the obligations of husband and wife in a household that domesticates the role of women to handle household matters.
 Articles 31 and 32:
They regulate the prohibition for transacting, donating or requesting donations of sperms or ova to secure offspring.
 Article 33 paragraph 2 on separation of children's rooms:
It regulates the obligation to separate the bedrooms of parents and children as well as the bedrooms of male and female children.
 Article 85
The sexual identities other heterosexual such as lesbians, gays, bisexuals and trans-genders are considered deviations and a social problem.
Article 87
Adults who have sexual deviations are obligated to report to a rehabilitation institution to obtain treatments.
 Article 88
Rehabilitation institutions for deviations in sexual behavior are managed by the government or public.