The Maneuver that Kills 'Hope'
Malaysia's Pakatan Harapan (Alliance of Hope) is done for. There are those seeking power through a new coalition involving the UMNO.
Edition : Tuesday, March 3, 2020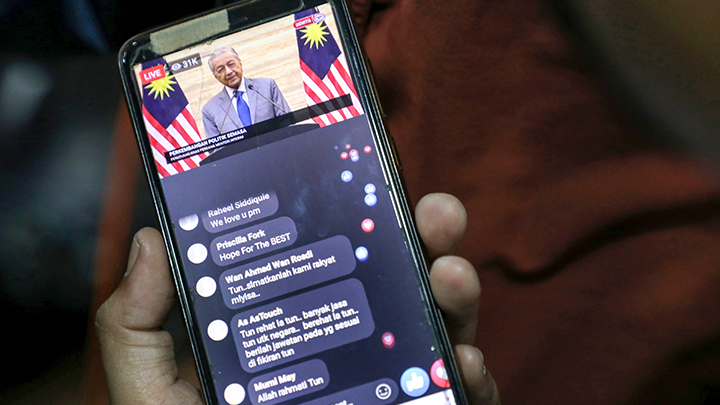 POLITICS in Malaysia has been on a roller coaster lately. "Every morning as we wake up, it feels like we need to check our phones to see what is happening," Muhammad Fazril Mohd. Salleh, leader of the Malaysian Muslim Youth Movement (ABIM), said in a discussion at The Kuala Lumpur and Selangor Chinese Assembly Hall, February 27. "Changes happen quickly. Every day."
The small discussion was held by the Malaysian Socialist Party, dubbed The Sheraton Maneuver and its Implications to the Democratic Society. The 'Sheraton maneuver' refers to a meeting by a number members of parliament from the Pakatan Harapan (Alliance of Hope) coalition with the opposition at the Sheraton Petaling Jaya Hotel in Kuala Lumpur, Sunday, February 23. Politicians who attended declared their exit from the coalition, and announced the establishment of a new alliance. The event practically ended the Pakatan government, hardly two years old, and led to a political crisis in the country of 31.6 million population.
The next day, Malaysian Prime Minister Mahathir Mohamad resigned. The King, Yang di-Pertuan Agong Sultan Abdullah Ri'ayatuddin al-Mustafa Billah Shah accepted the resignation, but asked Mahathir to become interim prime minister. Under such circumstances, as allowed by the Constitution, the King can look for prime minister candidates from parliament members who is considered to have the majority support from the People's Council.
The public reaction was varied. "We are disappointed, but there is nothing that people can do. Many parliament members are taking actions without consulting the public—breaking their own vows during the general election," lawyer New Sin Yew told Tempo on February 27.
Another Kuala Lumpur resident, Manimaran, said he did not care much—choosing to focus on work. He does not support any political party either. "All political parties are the same. When they are done with the election, they forget their promises," he said.
W251bGwsIjIwMjEtMDUtMDggMTU6MDc6MjAiXQ
New Sin Yew warned that this crisis will impact the economy. "On the first day alone, this problem caused a loss of around 44 billion Malaysian ringgit," he said. On the day Mahathir resigned, the Malaysian Stock Exchange (FBM KLCI) fell to 1,486.71, the lowest since November 23, 2010. The Edge Malaysia estimated that more than 43 billion ringgit was lost because investors pulled out from financial markets.
However, the situation sparked almost no demonstrations in Kuala Lumpur. One small protest took place on Wednesday, February 26, staged by supporters of the People's Justice Party (PKR), part of the Pakatan Harapan coalition. Protesters criticized Mohamed Azmin Ali, deputy chair of the PKR and Minister of Economy in Mahathir's cabinet, who was also present at the meeting at the Sheraton. They accused him of being the mastermind behind the government's fall.
Azmin Ali and Malaysian United Party (PPBM) President Muhyiddin Yassin are two politicians from Pakatan Harapan who met with opposition parliament members at the Sheraton Hotel to form the National Alliance. The day after the meeting, the United Party, which has 26 seats in the People's Council, declared its exit from Pakatan Harapan. Azmin Ali, along with 10 parliament members from the PKR, also pulled out from their party.
The departure of Azmin's camp and the United Party left Pakatan Harapan with just 92 seats in parliament, under a minimum majority of 112 seats. The PKR then fired Azmin from the party, as they see him now as a traitor. "That was treason at its highest level," PKR Secretary-General who is also the Secretary-General of Pakatan Harapan, Saifuddin Nasution Ismail, told Tempo on February 27.
The King then summoned 221 members of parliament, except for Mahathir. He asked them to fill out documents and write down their names, identity cards, and their nominees for the prime minister. Each legislator was only given three minutes.
After Mahathir resigned, almost all parties expressed support for the veteran politician to be prime minister. The flood of support made Azmin Ali's supporters confident that Mahathir would become prime minister again. "Now, Mahathir has a supermajority support. This is the first time in history. Quitting the party, becoming independent, and getting support from parties," Khalid Jafar, a former special adviser to Azmin Ali, told Tempo.
When the King met with parliament members, Mahathir met party leaders—calling them one after another to his office. Mahathir summoned PKR President Anwar Ibrahim on February 25. According to Saifuddin, Mahathir told party leaders that he had the support of all parties. Mahathir also said he would become prime minister with the support of lawmakers—not parties, and that he would focus on the state's economy. Anwar objected. According to Anwar, this cannot work in Malaysian politics, especially when the joint-government includes the DAP (Democratic Action Party/Parti Tindakan Demokratik), which is resented by the United Malays National Organization (UMNO) and the Malaysian Islamic Party (PAS).
After meeting with the King, UMNO and PAS withdrew their support for Mahathir, because Mahathir's cabinet plan does not include the DAP. Pakatan Harapan also stated that they no longer support Mahathir, and proposed for Anwar Ibrahim as a prime minister candidate.
On February 28, the State Palace said that no parliament members who had received majority votes to become prime ministers and form a government. As of February 28, according to the Malay Mail's estimate, Anwar would have at least 92 votes. Muhyiddin Yassin is expected to receive greater support as he is backed by UMNO, PAS, the Malaysian Chinese Association (MCA), the Malaysian Indian Congress (MIC) and Azmin Ali camp in the PKR. But the constellation changed. In the press statement on Saturday, February 29, Pakatan Harapan is back in favor of Mahathir as prime minister. At the same day, State Palace announced Muhyiddin replaces Mahathir as prime minister in a press statement.
•••
There are many speculations about the reasons behind Azmin Ali's maneuver to pioneer the meeting at Sheraton. Azmin's close associates believed that this current development is inseparable from the tense relations between Azmin and Anwar Ibrahim.
"Although widely supported by the inner circle, Azmin and his people are ostracized," said Radin Shamsul Kamar, PKR caretaker and a supporter of Azmin. The Azmin group felt pressured. They were ignored in meetings, but if they are absent from one they could face sanctions.
Saifuddin Nasution acknowledged the tension in the relationship. He said that a serious problem between Azmin and the party began after the Pakatan government was formed in 2018. Although he was considered to have played little role in winning the general election, Azmin was named Minister of Economy—making it seem like he was Mahathir's golden child. He also frequented meetings with the opposition and openly attacked Anwar Ibrahim and the party. "There were suggestions to give him disciplinary actions, but that did not happen. Pak Anwar was very patient," he said.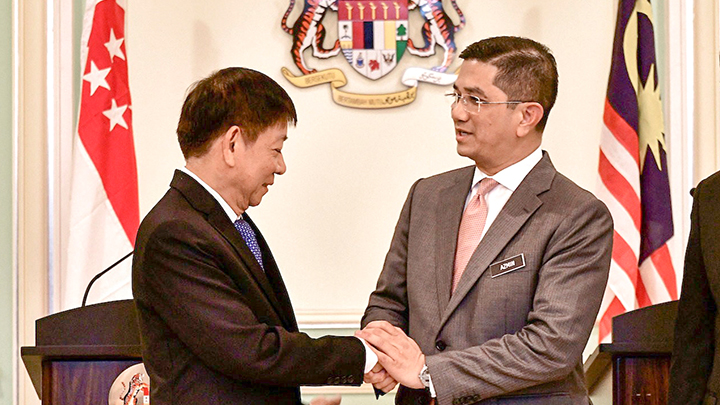 Azmin Ali (right) after a meeting with Singapore's Transportation Minister Khaw Boon Wan in Putrajaya, September 2018./Reuters/Stringer
Another problem was the transfer of position from Mahathir to Anwar. According to Khalid Jafar, Anwar instructed his supporters to keep pushing for political transitions. "Every day, this matter was discussed. It caused instability that made everyone forget about the government's real agenda; political reform and economic recovery," said Khalid, Azmin's former adviser.
The pressure on Mahathir was also a reason for Azmin's move. "Efforts to force Mahathir into setting a date for the transfer of power was an evil attempt to turn him into lame duck prime minister. Thus, we have taken proactive steps to thwart the conspiracy to topple the Prime Minister in mid-term," Azmin and his 10 supporters said in a joint statement on Monday, February 24.
Saifuddin dismissed the accusation. In his views, the political transition from Mahathir to Anwar was one of Pakatan Harapan commitments. They believed that it had been agreed upon following a meeting on February 21. In the agreement, Pakatan Harapan would keep Mahathir as prime minister until after the Asia-Pacific Economic Cooperation (APEC) meeting in Malaysia in November. The exact date of the transition was left for Mahathir to decide. "So, assumptions that Anwar and his supporters were impatient were proven wrong," he said.
•••
AT 9am on Sunday morning, February 23, PPBM officials came to the party headquarters. Mahathir Mohamad, founder and leader of the party, was there. The party, led by Muhyiddin Yassin, is mainly composed of former UMNO supporters. Muhyiddin was the deputy prime minister and vice president of UMNO during Najib Razak's term in office.
The three-hourish closed meeting went brutal. Members debated over the party's plan to form a coalition with UMNO. Most of the officials wanted the coalition. They also do not want DAP in the coalition. According to a Tempo source, Mahathir was not happy with the results. During the debate, Mahathir's hands clenched into fists, as if he was restraining anger. When it was his time to speak, he said ,"This is a wrong decision."
In truth, the Barisan Nasional coalition also includes another Chinese party, the MCA, founded in 1951. "UMNO and PAS regard the MCA as being neither anti-Malay nor anti-Islamic; (they are) more tolerant, more respectful of the Malays," said Atory Husain, a former lecturer at the University of Science Malaysia.
The PKR was not surprised by the United Party's stance. "Most of them are indeed UMNO people," said Saifuddin.
After the United Party meeting, there was another meeting at the Sheraton Hotel. This one included Azmin Ali, Muhyiddin Yassin, and leaders of opposition parties, namely UMNO Secretary-General Annuar Musa, PAS President Hadi Awang, and MCA President Datuk Seri Wee Ka Siong. But they are all lip-tight, not spilling any beans over what went on during the meeting.
According to Tempo's sources, the meeting discussed the formation of a joint government. Azmin said the Sheraton Hotel was a historical place, as it was used as headquarters by Pakatan Harapan during the general elections two years ago. Now, the place will witness the birth of a united government. According to Saifuddin's information, it was during this meeting that a plan to form a Perikatan Nasional (National Alliance) government was announced, with Mahathir as prime minister.
By counting the number of legislators and party representatives who attended the meeting, their votes in parliament exceeded the simple majority to form a government. "Technically, on Sunday, the Pakatan government had already fallen," said Saifuddin Nasution.
Although the coalition supports Mahathir, the man was not seen at the meeting. He also did not come to the dinner held at the same place. Until the program ended, there was no sign of Mahathir coming. According to Tempo's sources, when the politicians were having dinner at the Sheraton, Mahathir was at home, sitting in a chair reading the newspaper.
At almost the same time, PKR Chairman Anwar Ibrahim was holding a Qur'an recitation at his home in Segambut. To his supporters who came, Anwar claimed that he smelled betrayal, committed by his party comrades and coalition colleagues.
Early the next day, Pakatan Harapan leaders met Mahathir at his home. There were Anwar Ibrahim, DAP Secretary-General Liam Guan Eng, and Amanah Party Chairman Mohamad Sabu. The three asked Mahathir's about what he was going to do given the latest political development. Mahathir did not agree with Azmin and Muhyiddin's steps. "They used my name," Saifuddin said, quoting Mahathir's answer.
Mahathir's refusal led to speculations. "It was uncertain whether it was by the orders of Tun Mahathir, or if it was actually Azmin's own plan to depose Pakatan Harapan and Pak Anwar," Atory Husain said.
Mahathir also disagreed with Bersatu's move to leave Pakatan and plan to include UMNO and PAS in the new government. Mahathir expressed his intention to step down as prime minister and Bersatu chairman. Anwar and his friends tried to convince Mahathir to stay. But Mahathir's mind was made up. At noon, around 1pm, Mahathir submitted his letter of resignation to the King.
Tempo sources said the resignation was quite shocking to the people at the Malaysian Prime Minister's Office in Putrajaya. There was no sign that it would be Mahathir's last day there. Most employees started to pack their belongings into boxes. About two hours later, they unpacked. There was news from the Palace that the King had asked Mahathir to become interim prime minister. On Saturday last week, Mahathir agreed to run as Pakatan Harapan's candidate of prime minister, but the State Palace announced Muhyidin prime minister.
Abdul Manan (Kuala Lumpur)