Roundabout Rescue Scenario
An injection of state equity participation is one of the possible schemes to rescue Jiwasraya, through the holding of a state-owned insurance company.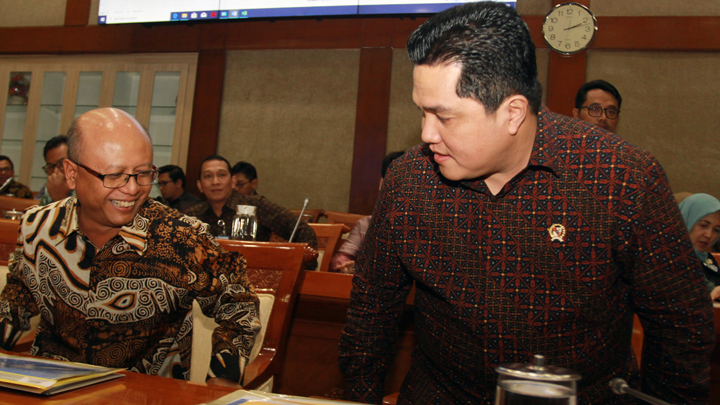 THIS month is supposed to be decisive for the customers of Asuransi Jiwasraya. The ministry for state-owned enterprises (SOEs) has promised that Jiwasraya would pay out its arrears to insurance holders for the sum of Rp17 trillion by the end of March.
However, this commitment in late January released by SOEs Minister Erick Thohir after a meeting of the House of Representative's (DPR) Investment and Industry Commission Working Committee discussing the handling of the Jiwasraya case, was not unconditional. On March 2, SOEs Special Staffer Arya Sinulingga said that the arrears payment must wait for the DPR's approval of Jiwasraya's restructuring scheme. Arya assured that the funds are ready. "However, let's wait for the third working committee meeting on Jiwasraya," he said.
The working committee, set up by the DPR's Investment Commission, scheduled a joint meeting with the Finance and Law Commissions after the recess period on March 22. On February 25, Jiwasraya's Working Committee Chairman Aria Bima said that the gathering would be led by a DPR leader.
The Law Commission will also take part as the Jiwasraya case is already in the hands of the Attorney General's Office (AGO). Meanwhile, the Finance Commission is needed because the rescue scheme of Indonesia's oldest life insurance company also includes the option of setting up a insurance SOEs holding and a state equity participation (PMN).
The rescue scheme through the PMN will most likely not be completed in a short period of time, since the state coffers is suffering from low income performance. On the other hand, the government's plan to channel funds into Jiwasraya will be vulnerable for public criticism as the insurance firm's troubles are believed to be due to corruption. "The state budget is in deficit, and is in debt. And now it wants to channel state equity participation to Jiwasraya. Many other state-owned companies need PMN," said Amin A.K., member of the DPR Working Committee on Jiwasraya, on Thursday, March 5.
W251bGwsIjIwMjEtMDMtMDIgMDE6NDk6MzIiXQ
Finance Minister Sri Mulyani Indrawati had assured that there would be no PMN allocation for Jiwasraya in the 2020 state budget. She underlined that should the finance ministry, as ultimate shareholder, intervene, those plans would be included in the state budget. "If it is in the 2021 budget, we will surely convey that to the DPR's Commission XI (finance), Commission VI (SOEs), and for legal matters to Commission III," she said on February 26.
Sri said that Jiwasraya's corporate problems are handled by the SOEs ministry. Meanwhile, the finance ministry does stock taking: calculating the firm's liabilities, assets and equity. "We will see a more definitive proposal," she said.
•••
JIWASRAYA's rescue scheme came up at the DPR's Working Committee on Jiwasraya. After Minister Erick Thohir's comments in January, his deputy Kartika Wirjoatmodjo conveyed plans for Jiwasraya at the meeting on February 25. Similar to the previous meetings, this was a closed-door gathering. "The government only gave an explanation," said Amin A.K., who is also chairman of the Justice and Prosperity Party (PKS) Faction in the DPR's Investment Commission.
The government, Amin said, came up with three schemes to pay off and rescue Jiwasraya. Fund injection by shareholders, or bail-in, is the first option, followed by a bail-out or funds from the government, and liquidation.
The presentation document of the SOEs ministry shows that each option has some considerations, including the potential risks. The policy payment in the bail-in scheme, for example, can be done fully or just some part of it. But the latter is considered more risky for a lawsuit.
But bail-in is considered to be the best one since it fulfills legal, social and political aspects. Until now, there are no regulations—neither from the Financial Services Authority (OJK) nor the Financial System Stability Committee (KSSK)—to bail-out insurance companies. Meanwhile, the liquidation option is believed to potentially have significant social and political repercussions.
For these rescue schemes, the SOEs ministry is also preparing merger of the state-owned insurance sector. Securities firm Bahana Pembinaan Usaha Indonesia is being prepared as a holding. Through this holding company, a number of rescue activities will be conducted. Jiwasraya, for example, will sell its property assets to Bahana. Returns from this transaction will then be used to pay off all liabilities in 2020.
This holding is also designed to set up subsidiaries which can accommodate Jiwasraya's healthy assets such as traditional portfolios, including retail and corporate liabilities and other low-liquidity assets estimated at Rp31 trillion. With equity not exceeding Rp12 trillion, the new subsidiaries in this holding will need funds to fulfill insurance companies' risk-based capital (RBC). Based on this, it is calculated that the state equity participation would be around Rp15 trillion. These funds will be given in cash and non-cash forms through the Bahana holding.
Meanwhile, Jiwasraya will keep its Saving Plan portfolio and highly liquid assets which will be liquidated to pay off its claims. Jiwasraya is also hoping for cash from its strategic investors which will take over ownership in Jiwasraya Putra. In late 2019, the SOEs ministry had targeted that the divestment of Jiwasraya subsidiary, which had just been set up the previous year, would raise Rp3 trillion in fresh funds.
Arya Sinalungga underlines that setting up a sub-holding was already in the works for a while. All this time, he continued, this state-owned insurer has made many investments. "One of the reasons for its downfall is its investments," he said. "That's why we set up a sub-holding in order to control investments."
DPR's Finance Commission member Andreas Eddy Susetyo said it was up to the government to scrutinize the best option to rescue Jiwasraya. However, in tandem with Minister Sri Mulyani, plans for a state equity participation must go through a budgeting mechanism for the 2021 state budget draft. Prior to that, he said, "The most important thing is for the government—the finance and the SOEs ministries—to be in agreement."
RETNO SULISTYOWATI, HENDARTYO HANGGI,
CAESAR AKBAR, ANTARA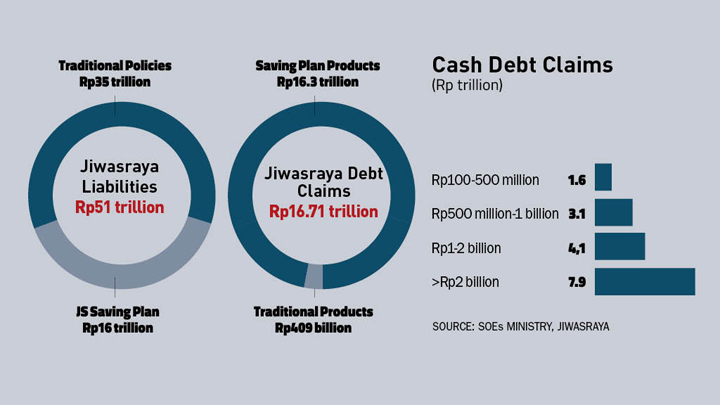 Roundabout Rescue Scenario