Perry Warjiyo, Governor, Bank Indonesia: Global Investors Are Still Waiting
Bank Indonesia (BI) is stepping up measures to mitigate the impact from the new coronavirus or Covid-19 outbreak that has struck scores of nations across several continents.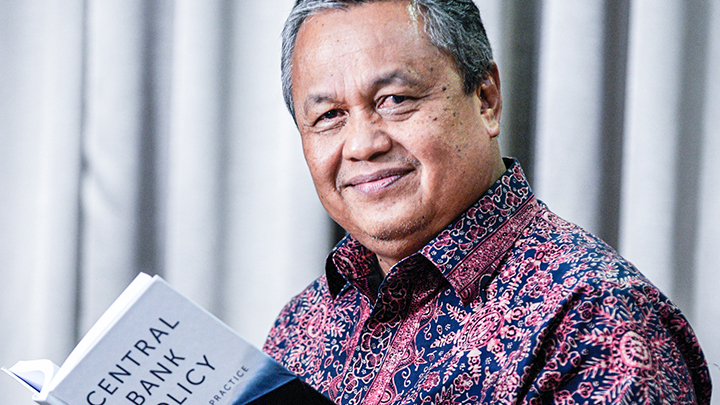 ON the same day —Monday, March 2—that President Joko Widodo announced the country's first positive case, Governor Perry Warjiyo unveiled five policies. "We want to uplift the market confidence by assuring that the money market will be stabilized and the exchange rate stability will be maintained," Perry said during the interview with Tempo on Wednesday last week.
Perry, 61, did not deny severe ramifications the outbreak has had on the domestic economy throughout February and March as signified by, among others, capital outflows by foreign investors that subsequently put pressure on the rupiah exchange rate. Tourism has been one of the worst hit industry with its potential loss of income estimated to be at US$1.34 billion, equivalent to Rp19.1 trillion.
He estimated the condition to gradually improve in the next six months as economic and community activities in China—the epicenter of the outbreak—slowly returned following reports of decline in new Covid-19 infections. "Activities in several ports have increased. Many companies have resumed export import operations," Perry said.
The Covid-19 is not the first crisis Perry faced since he succeeded Agus Martowardojo in May 2018. Last year, for example, he fought together with the finance ministry and the financial services authority (OJK) to counter the effects of the trade war between the US and China.
During the interview, Perry explained about anticipative measures taken by the central bank, the government and OJK against the epidemic's impact on Indonesia's economy. He also talked about the blueprint for the digital payment system targeted to be completed in 2025. Excerpts:
W251bGwsIjIwMjEtMDMtMDUgMDg6NTI6MjIiXQ
How will the coronavirus outbreak affect Indonesia's economy?
The first sector that bore the brunt is the financial market which experienced capital outflows and the subsequent pressure on the rupiah exchange rate. Therefore, initiatives to stabilize the financial market are critical—be it for bonds, stocks or the exchange rate. Another beleaguered sector is tourism—not just the Chinese tourists' segment which brought in around 2.1 million visitors last year—but all segments. We calculated the impact assuming we had 2.4 million tourists annually.
What is the result?
Our analysis shows the impact in a V-shaped curve. We estimate to see the worst in February and March. Then we will begin to see gradual improvements in April. However, recovery is estimated to occur only after six months. That is the same assessment scenario used for Hong Kong when it was hit by the SARs outbreaks during 2002 and 2003. From the V-shaped curve, we estimate that the impact will cause US$1.34 billion in export income loss for the tourism sector.
What about the trade sector?
Exports and imports have fallen by US$0.3 billion and US$0.7 billion in value respectively.
To what extent will the investment sector be affected?
We anticipate delays in investment realization. Potential impact is US$0.4 billion. These are all direct impacts.
Are there any indirect impacts?
Through the decline in China and the world's economic growth. China's growth will fall this year, from our previous estimate of 6 percent to 5.6 percent. That figure is our benchmark in the V-shaped scenario. This is in line with assessments from other international agencies such as International Monetary Fund which say that the global economy will fall 0.2 percent from the previous target of 3.1percent.
How will it have impact on Indonesia's economic growth?
Based on the direct and indirect impacts mentioned above, we revised Indonesia's overall growth downwards by 0.1 percent, bringing our previous target of 5.1-5.5 percent down to 5-5.4 percent.
How much will this epidemic hurt the global economy?
Overall, we observe that the impact has reached its peak in China and now it is somewhat subsiding. Economic activities are increasing. So is people's mobility as seen from higher pollution index numbers. We see several indicators such as increased coal orders although the economy has not recovered yet. More activities in several ports are also reported. Companies in China have also slowly resumed export import operations.
Since when did that happen?
At the end of January. Well, the issue now is the virus spread to developed countries. It has already spread to some Asian countries which have already started initiatives to combat the outbreak. Meanwhile, cases have multiplied in developed countries such as the US and several European countries. Global investors are watching and waiting for response policies from these countries as to how their central banks, finance ministries and governments will respond to the crisis.
Is it what triggered increased uncertainty in the global financial market?
It was reflected in several indicators related to risk premiums, that's how investors measure investment risks not only in developing countries such as Indonesia but also in developed countries. One of the indicators that we see is the increase in stock volatility index called VIX from 20 to 40. One of the risk indicators used in Indonesia is the credit default swap (CDS) spread. Before the coronavirus outbreak, Indonesia's CDS spread was all time low at 59.6 which now became 97. All global investors are feeling uncertain at the moment. Some of them even got so panic that they sold their assets when the risks went up.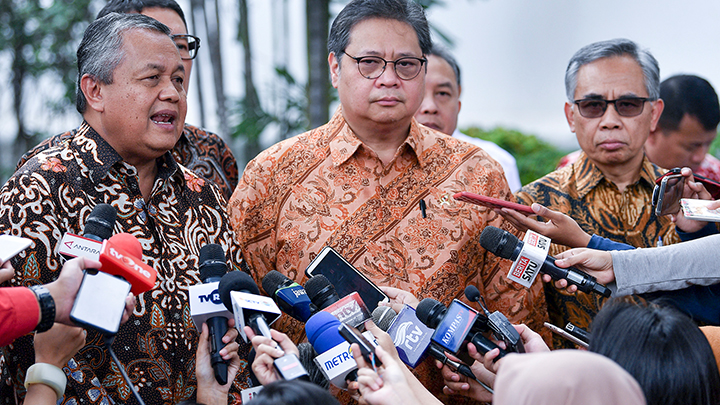 Perry Warjiyo (left) at the press conference on the coronavirus impacts on the Indonesian economy, at the Presidential Palace, Jakarta, March 2./ANTARA/Sigid Kurniawan
So, are investors being irrational?
Yes. They sold their assets, whether these are bonds or stocks and then keep cash or bought gold causing capital outflows in several countries including Indonesia, which in turn put pressure on the exchange rates.
How big is the value of the foreign capital that flowed out of Indonesia?
From the data during early February and February 27, a total net capital flow of Rp30.8 trillion: Rp26.2 trillion in government bonds or SBN and Rp4.1 trillion in stocks were recorded. That's what push the global money market under pressure last week.
What sort of initiatives has Bank Indonesia taken to anticipate Covid-19's impact?
Since February, we've cut interest rates by 25 basis points to 4.75 percent. We added liquidity, we've facilitated bank financing, including calculating funding and financing from Indonesian banks abroad which we use in bank intermediation ratios. We are accelerating the electronification of social assistance payments and regional government transactions to push tourism. We are also trying to bring forward both national and international level seminars and meetings that were scheduled for the second semester. There are around 10 agendas that can boost domestic tourism.
How about the five new policies launched last week?
Through Bank Indonesia's five new policies, we aim to spur confidence in the market by assuring to stabilize the money market and increase the intensity of interventions in the foreign exchange market and also the purchase of SBN in the secondary market. Bank Indonesia is in the market and will continue to maintain the exchange rate stability. As of last weekend, we bought SBN worth Rp103 trillion from the secondary market including Rp80 trillion worth bonds sold by foreign investors at the onset of the corona outbreak. The market has bounced back and is stable with an active supply-demand trend. Rupiah has also regained strength and remained stable.
How about efforts to increase exports and imports?
We will reduce statutory foreign exchange reserve (SRR) ratio to 4 percent. This will give additional US$3.2 billion to banks and also support stability in the financial market including the foreign exchange market. We've cut 50 basis points in rupiah SRR for banks that offer export-import financing. That is equivalent to Rp22 trillion additional liquidity to banks to boost export-import financing in order to help exporters and importers tide over a difficult time like this. We also expand hedging to protect foreign investors so that non-deliverable forward is settled locally, not overseas.
Investors in which sectors are most worried about the current economic conditions?
For sure, exporters and importers who trade directly with China in coal as well as tin and steel businesses in Morowali, Central Sulawesi. Also, those who import textile yarns and chemical products. Many exporters could not export because their counterpart companies in China were closed. But now they are gradually resuming businesses. Port operations have also increased. We have no report of canceled orders. Exports will start again after two months.
You've mentioned that when the market behaves irrationally, we have to take bold and preemptive actions. What do you mean by that?
In a condition like this, investors choose to wait and see. Will the Fed (the US central bank) lower the benchmark interest rate, or will the G-7 countries issue certain policies? Now uncertainty looms and we have to keep monitoring. In a high-risk condition like this, global investors have the tendency to be irrational. They don't care about the yields or the risks. They just prefer to cash in their chips quickly. But we watched to see if they were really dumping assets and fleeing overseas.
---
PERRY WARJIYO
Place and date of birth:
Sukoharjo, Central Java, February 25, 1959
Education:
Bachelor of Economics, Gadjah Mada University (1982)
Master of International and Monetary Economics, Iowa State University, US (1989)
PhD in International and Monetary Economics, Iowa State University (1991)
Career:
Director, Department of Macroprudential Policies, Bank Indonesia (2005-2007)
Executive Director, South East Asia Voting Group IMF (2007-2009)
Executive Director, Department of Economic Research and Monetary Policies, Bank Indonesia (2009-2012)
Assistant Governor BI for Monetary, Macroprudential and International Policies (2012-2013)
Deputy Governor BI (2013-May 2018)
Governor Bank Indonesia (2018-now)
---
What happened?
We've monitored foreign investors' accounts—called vostro accounts—in local banks and found that they still keep the proceeds from the sales of SBN and shares in their vostro accounts. It means their sell off was just a short-term reaction. They wait and then buy again when there is more clarity. Sure enough, in this past two days—after we announced our policies last Monday (March 2)—foreign investors began buying SBN again albeit in moderate value. The market has been stable since.
The US central bank has cut its benchmark interest rate by 50 basis points. What impact will it have on Indonesia?
The Fed has indeed lowered the rate but the Dow Jones indexes continues to plunge. So does SNB (Swiss National Bank)'s. The market is wondering why only the central bank has taken the step. The problem cannot be overcome by the central bank alone. The 50-basis points rate cut is actually huge, you know. Usually it is 25 points. But the market is not yet confident as it still waits and sees what sort of fiscal policies will come out.
How about the policy coordination between BI, the government and the OJK?
The finance minister has already announced a number of fiscal stimulus, such as the increased social assistance, cheap housing, discounted flight tickets or tours to drive the tourism sector. The OJK has issued a regulation regarding loan classifications which originally is based on three pillars including calculation of short-term business prospects. Under the stimulus, as long as the debtor repays, there will only be one pillar. forward
•••
How is the digital payment system blue print progressing?
I've been formulating the system since November 2018. Digitalizing the payment system to integrate the digital economy, particularly for end-to-end retail transactions. From micro, small and medium (UMKM) and traditional markets connected to traders, fintech companies, digital banks until BI accounts through the clearing system. We target to complete it in 2025. Our aim is not only financial but also economic inclusion.
What steps should be taken to realize them?
Transforming and digitalizing banks. That is what we call an open banking concept. Nowadays, banks are competing with one another to offer convenience. For example, people can open accounts via mobile phone applications. Then payment facilities are offered by not just banks but also fintech or non-bank financial firms. Fintech firms must be linked to banks to prevent shadow banking practices like in China.
How?
There is an integration system through standardization called application programming interface (API). Through standardization, payment systems, electronic money or other fintech facilities will be connected to digital banks. We are also required to apply Indonesian standard quick response code (QRIS). All fintech companies, banks and merchants that use two-dimension QR barcode must use QRIS. Otherwise, we will shut them down.
How many QRIS users are there so far?
Almost 3 million merchant users and the number is growing. QRIS's main target is the traditional UMKM market. We have about 60 million UMKM all over Indonesia. That's why we keep pushing the UMKM to use QRIS. There will be banks offering QRIS—BRI, BCA, LinkAja, OVO, Dana, Gopay, etc. Every bank and fintech company will provide its own payment facilities. They will race to offer cheap services but without using own codes. So, the target is fee and volume, not data encapsulation.
(QRIS took effect nationally starting on January 1, 2020 to allow a transition period to payment services providers. The launch of QRIS signifies realization of one of the visions of the Indonesian Payment System 2025 unveiled in May, 2019.)
How will this digital payment integration help the people in the regions with no access to baking services?
Financial inclusion is more achievable through digital payment system rather than conventional bank accounts. There are more than 30 million beneficiaries of the Keluarga Harapan program (a conditional social welfare program for poor families) and the non-cash food assistance program. In the past, they were linked to banks but (the disbursements) became much easier with electronic payment. Fintech's coverage is relatively large in due proportion to the large number of mobile phone users.
Is the banking sector not disadvantaged by the concept of integrating digital banking with fintech?
Fintech firms cannot develop without banks or vice versa. Banks with their limited coverage can reap benefits through collaboration with fintech firms with their agility to reach villages. So far, the most agile bank has been BRI. And then there is the retail bank BCA. Both acknowledge that they cannot achieve that without fintech.
How will Bank Indonesia ensure that the cashless ecosystem will remain safe and fair for local players?
All foreign players must follow the rules, one of them being the requirement to work in partnership with domestic players. For example, a joint venture between Bank CIMB Niaga and WeChat Pay. If all UMKMs use QRIS, foreign barcodes cannot enter Indonesia.