Education Minister's Pace-Setting
Nadiem Makarim had a plan to change the education system before he was appointed to the cabinet. He uses his experience at Gojek.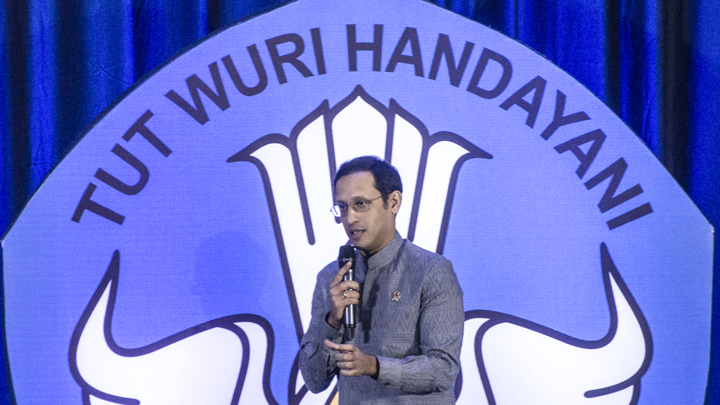 SINCE Nadiem Anwar Makarim became education and culture minister on October 23 of last year, ministry high officials have had some late nights. Paristiyanti Nurwardani, acting director of learning at the directorate-general of higher education, said that they often hold discussions late into the night related to changes to the higher education system.
Near the end of 2019, they were asking for more input from various parties, such as former ministry officials, education experts, lecturers, and rectors. The discussions intensified when working on a ministerial regulation about those changes. "We often had discussions until 2am," Paristiyanti told Tempo at her office, on February 10.
Paristiyanti was a member of the ministry's team which worked on that regulation. Other members were: Minister of Education Special Staff member Pramoda Dei Sudarmo; Expert Staff member for Legal Affairs who is also former head of the legal affairs bureau of the Corruption Eradication Commission (KPK), Chatarina Muliana Girsang; and acting Director-General of Higher Education, Nizam. Asep Saefuddin, advisory board chairman of the Indonesian Rectors Forum, verified attending some discussions held by the education ministry in November 2019 and early January.
Nadiem Makarim finally announced those changes on January 24. Four policies were set out in a program called Kampus Merdeka (Independent Campus), which is an autonomy for A and B accredited campuses to open new study programs; automatic and voluntary accreditation; and ease in changing public service institutions of higher education and working units into a public university with wide-autonomy (PTNBH). The ministry is also giving university students the right to be in a semester credit system outside of their program of study as well as three-semester apprenticeships.
---
W251bGwsIjIwMjEtMDMtMDUgMDg6NTI6MzUiXQ
...education on campus has been limited to teaching students to 'swim in the pool' with one style, according to the related field of knowledge. Whereas, he said, the working world to which the students will go is like the Sunda Strait. "Students must be thrown into the sea once in a while."
---
Acting Director-General of Higher Education Nizam said that three-semester apprenticeships can be done several ways. For instance, they could take classes in other study programs or have an apprenticeship in industry. The ministry is looking into cooperating with the ministry of state-owned enterprises to facilitate student apprenticeships. They are targeting 50,000 students apprenticing at a number of state-owned companies each year. "University students can also make their own pioneering projects," he said.
Another alternative is student exchanges, in the country and abroad. Such exchanges, said Nizam, will be converted into semester credits. The education ministry will likely encourage campuses at home to make this program. According to Nizam, in addition to raising competencies, this program can enable students to become familiar with the character of different parts of the country.
In an interview with Tempo on February 28, Nadiem said that endless debate colored the discussions about changes in the higher education system. Asep Saefuddin, who is Rector of Indonesia Al-Azhar University, verified Nadiem's statement. Asep, for instance, was concerned that a student exchange program would only be followed by big campuses and would potentially disrupt equal access to quality education. He asked that the program involve campuses outside of Java, especially those in eastern Indonesia. "If not, low-ranked campuses will fall further behind," he said.
Nadiem said that these changes are aimed at encouraging campuses to produce creative, innovative and successful students. According to him, education on campus has been limited to teaching students to 'swim in the pool' with one style, according to the related field of knowledge. Whereas, he said, the working world to which the students will go is like the Sunda Strait. "Students must be thrown into the sea once in a while," he said.
•••
The plan to change the education system came about not long after Nadiem Makarim was appointed as a cabinet minister. Paristiyanti Nurwardani, acting director of learning, said that in a meeting with officials at the ministry not long after his inauguration, Nadiem talked about his experience leading the start-up company Gojek. At that time, Nadiem felt that fresh university graduates with high scores were often closed to new ideas.
Meanwhile, students who were accustomed to working in organizations and had backgrounds as student activists tended to be more critical thinkers. "They were accustomed to debating to find solutions," said Paristiyanti. Nadiem did not deny making that statement. He said that his experience at Gojek was one contributing factor in changing the education system.
Changing the higher education system is a continuation of the changes to the primary education system. Called Merdeka Belajar (Study Independently), this program which was announced in December 2019 consists of: replacing the National Test with an assessment system starting in 2021, national-standard school tests being conducted directly by schools, and simplifying learning implementation plans. Nadiem is also changing the system for receiving new students, to 50 percent from a zoning system, at least 15 percent from the affirmation route, at most 5 percent from a transfer route, and up to 30 percent from the achievement route.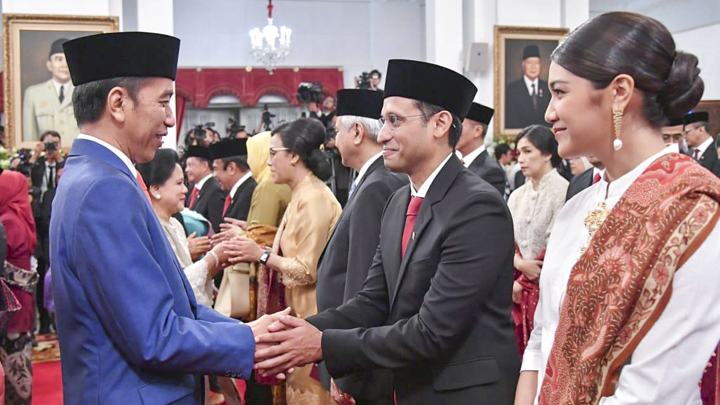 Nadiem Makarim inaugurated as education minister at the Merdeka Palace, October 2019. Kemendikbud
Some high officials at the education ministry met by Tempo said that Nadiem carried out the changes to the basic education system after intensive discussion with Najelaa Shihab, the founder of the Cinta Keluarga (Cikal—Love Family) school. The Merdeka Belajar program was also taken from a program used at that school and which is taught at the Cikal Teacher's Campus. At the Cikal school, for instance, graduation is not only based on written tests, but also on final assignments, such as holding an expo with a particular theme. Najelaa, who is also a member of the board of experts at the Center for Education and Policy Studies, confirmed that she was invited to discuss changing the education system.
Just like for the Kampus Merdeka concept, the creation of the Merdeka Belajar program went through a discussion process that involved experts and practitioners in education. Some officials at the education ministry said that in those discussions some participants from both inside and outside the ministry were against the elimination of the national test because it would potentially make assessments for graduation lose direction. Nadiem still decided to eliminate that test.
This decision created a polemic. Former Indonesian vice president Jusuf Kalla said that the national test is important as a part of the learning process. "Let's not create a soft young generation," Kalla said in December 2019. Doni Koesoema, a member of the National Education Standards Agency, said that his institution was not invited to talk about eliminating the national test. He believes that the national test is still needed. "However, it is no longer to be based on subjects of study," he said.
Nadiem is not reconsidering his decision. He considers that the national test is a prison for teachers and students, that the learning process is directed at preparing for the national test. According to him, that test cannot be a reference for measuring student achievement. "There cannot be multiple choices test to assess this. The teachers must assess student performance," he said.
•••
Nadiem Makarim's plan to change Indonesia's education system was drawn up before he become minister. According to three people knowledgeable about the cabinet formation process, Nadiem knew he would likely preside over the education ministry a few months before his appointment. One of his colleagues said that this man with an MBA degree from Harvard Business School often invites those close to him to have discussions, and he began reading books about the education system.
However, Nadiem disagrees that he was appointed as minister a few months before the new cabinet was formed. "Maybe I did hear a rumor that I would likely become a minister, but I never heard about the matter of education minister," he said.
Nadiem said that one time President Joko Widodo summoned him to the Merdeka Palace and asked him to become a minister. According to him, Jokowi said he would likely place him in a ministry related to human resource development. As for the position of minister of education, "That is one position I could not say 'no' to."
At the age of 35, Nadiem became the youngest minister in the Indonesia Maju Cabinet. After taking up office at the education ministry building at the end of Jalan Sudirman, Jakarta, he immediately took action. In a discussion with Najeela Shihab, Nadiem—who is often called " Mas Mentri (Brother Minister)"—was thinking to recombine the directorate-general of higher education under the ministry of education and culture. Previously, the matter of higher education was under the ministry of research, technology and higher education. Najelaa said that the education system should be integrated from elementary up to higher education. This proposal was approved by President Jokowi.
In addition to recruiting Najelaa, Nadiem has also brought in some people he used to work with, such as Pramoda Dei Sudarmo, who has worked with him at McKinsey & Company. He is now a special staff member for competencies and management. Nadiem also called on Jurist Tan, a former chief operating officer at Gojek from when the company was first founded. This Harvard graduate is now a member of Nadiem's special staff in the field of governance. "I get references from people I trust, then I interview and evaluate them," said Nadiem.
WAYAN AGUS PURNOMO, DEVY ERNIS, HUSSEIN ABRI DONGORAN