Nuclear Detectors at the Palace
Bapeten plans to purchase nuclear radiation detecting devices to be used by officials and installed at BMKG stations. A similar procurement was once reported to the police.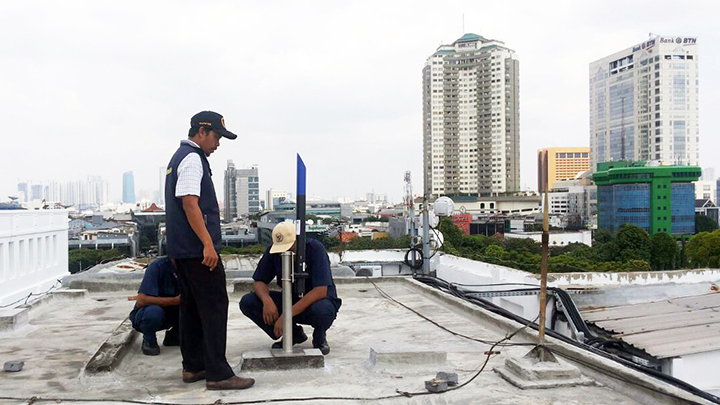 THE plan to procure radiation detectors for cabinet ministers, regional heads, echelon 1 government officials, and heads of government agencies is being discussed by the Nuclear Energy Regulatory Agency (Bapeten). Bapeten Chief Jazi Eko Istiyanto came up with the idea in a coordination meeting of inspectors on February 18.
During a presentation on the concept of nuclear safety for a smart city to the nuclear supervisors, Jazi said that the plan would take place in the future. If this program can run, Bapeten would supply about 600 radiation detectors to be used by those officials. "This indicates that radiation is not a trifle matter," said Indra Gunawan, head of Bapeten's bureau for legal affairs, cooperation, public communication and protocol, on Thursday, March 12.
One senior Bapeten inspector said that his associates are questioning Jazi's plan, which they see as wasteful. Togap Marpaung, a former senior inspector at Bapeten, has heard a similar sentiment from the supervisors who attended that event. "That project will just waste state funds," he said.
He accused Bapeten of taking advantage of the finding of radioactive cesium-137 at the Batan Indah Housing Complex in Serpong, South Tangerang, Banten, to tack on a new project. Such as plan had never been conceived before at Bapeten. No one knows the origin of this idea to protect government officials from nuclear radiation. "It is already an enormous effort for Bapeten to take care of devices currently existing, because they often break," said Togap.
Bapeten's radiation-detecting equipment detected cesium-137—usually abbreviated Cs-137—at the Batan Indah Housing Complex on January 30. That Cs-137 was found on an empty plot of land next to a badminton court several dozen meters from the entry to the complex. It is suspected that this derivative radioactive material had been there for years.
W251bGwsIjIwMjEtMDMtMDUgMDg6MzI6MTUiXQ
Bapeten was testing the capability of the Mona-type radiation data monitoring system (RDMS) when they discovered Cs-137 at that housing complex. Bapeten purchased that Mona system in 2013 for about Rp800 million. It was inoperable for over a year, and resumed operation at the end of 2019. "It was possibly damaged because it was left out in the open for a long time," said Indra Gunawan.
As of now, Bapeten and the police still have not identified the origin of that radioactive material. "After that finding, the police combed the housing complex," said Brig. Gen. M. Agung Budijono, Director of Specific Crimes at the Criminal Investigation Unit of National Police Headquarters, on March 13.
This investigation led to the discovery of some new sources of radiation. The police and Bapeten detected some radioactive material in a building in Block A of the Batan Indah Housing Complex on February 24. That house belonged to Suhaedi Muhammad, a senior employee at the National Nuclear Energy Agency (Batan). He is suspected of keeping a device which contained Cs-137. Investigators then named Suhaedi a suspect for violation of Articles 42 and 43 of Law No. 10/1997 regarding nuclear energy, which carries a maximum penalty of a year imprisonment and a fine of up to Rp100 million.
Nearly three weeks after the finding of Cs-137 on that vacant lot in the Batan Indah Housing Complex, Jazi Eko Istiyanto took a bold move. In a meeting held on February 18, he announced a plan to procure 126 units of RDMS in stages up to 2024. This year Bapeten plans to purchase 22 units of RDMS. Those devices will be installed at Meteorological, Climatological, and Geophysical Agency (BMKG) stations. There is also a radiation detector which can be carried in a backpack.
This plan was then criticized by some of their employees. Togap Marpaung said that Bapeten should be making the best use of the equipment they already have. The radioactivity at the Batan Indah Housing Complex, for instance, could have been detected earlier if the Mona system had been maintained properly and remained in service.
Bapeten's Mona system was installed in a special vehicle with an extensive range. Mona's function is to check for radioactivity in public places, in particular those areas close to Batan's nuclear reactor in Serpong. Togap is pessimistic that Bapeten will be able to take care of 126 RDMS as planned. "The care of RDMS is expensive and complicated, and could overwhelm Bapeten," he said.
•••
After waiting for three years, Bapeten received information that President Joko Widodo has issued Presidential Regulation No. 60/2019 regarding the national policy and strategy on nuclear safety and radiation. Jokowi signed that regulation on September 19, 2019. "Bapeten approached the Palace before that presidential regulation came about," said Abdul Qohhar, head of Bapeten's public communication and protocol bureau, on Thursday, March 12.
One approach was to install a Mira-type RDMS on one building in the Palace complex in Central Jakarta. Bapeten also installed two radiation portal monitor (RPM) units at entrance gates to the Palace and at one building entryway. The RPMs at the Palace are meant to detect radioactivity from vehicles and items carried by guests. "The installation of the RDMS and RPMs was meant to convince the Palace," said Qohhar.
Bapeten also provided training to the presidential security detail on how to operate those RPMs. The State Palace said that they are still using those RDMS and RPMs. "That equipment is still in place," said Piping Supriatna, head of the general affairs bureau at the state secretariat ministry, at the end of January.
Based on this presidential regulation, Bapeten submitted a plan for procuring 126 RDMS units as well as some other projects. Bapeten is working with a sole agent for one brand of RDMS from Germany. The price of one RDMS unit is Rp800 million. Bapeten Chief Jazi Eko Istiyanto first mentioned the planned installation of RDMS units at 126 BMKG stations during a seminar about nuclear energy in Aceh in 2017.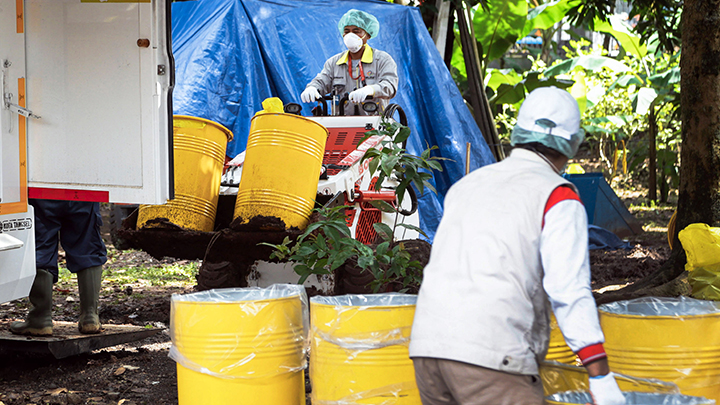 Decontamination process on the land that is exposed to radiation in Batan Indah Housing Complex, Serpong, South Tangerang, Banten, last February./TEMPO/M Taufan Rengganis
The plan is for Bapeten to install those RDMS units at BMKG monitoring stations in northern Indonesia, such as in Papua, Kalimantan, and the tip of Sumatra. The selection of locations is based on the potential for radiation leakage from countries which have nuclear reactors, which are generally found in the north.
At present, Bapeten has 15 RDMS units which were purchased in 2013. In addition to being installed at the Palace, these nuclear radiation detectors are also installed in Batan's buildings in South Tangerang, Bandung (West Java), and Yogyakarta. Five other units have been installed at BMKG stations since 2018. "The operation of RDMS equipment is in the hands of Bapeten to monitor the environment to see if it is safe from nuclear (radiation)," said Rahmat Triyono, head of BMKG's earthquake and tsunami center, on March 13.
Susilo Widodo, a senior Batan researcher, feels that placing RDMS units at BMKG stations is not the best course of action. Bapeten's current RDMS equipment, he said, can only detect gamma and alpha waves coming from radioactive elements. Susilo worked nine years in the inspection division of the Comprehensive Nuclear-Test Ban Treaty Organization, a global institution which monitors nuclear testing, which is located in Vienna, Austria. "RDMS with different specifications from the ones owned by Bapeten are needed to detect other types of radiation waves," said Susilo.
Cesium-137 and cobalt-60 are radioactive elements which emit gamma rays. Whereas, said Susilo, nuclear radiation also produces alpha, beta, and neutron rays. So, if there is a radiation lead of beta and neutron rays, Bapeten's RDMS equipment will not be able to detect it. "Then there is the matter of operating all of the RDMS units in those remote areas. Who is going to take care of all of them?" he asked.
•••
A discrepancy was exposed in an audit report on Bapeten for the 2017 budget year. The Supreme Audit Agency (BPK) noted a price difference of Rp1.1 billion in the purchase of three RDMS units in 2013. It was suspected that each unit was marked up by Rp200-600 million. However, this report was not taken up legally, as the company which was awarded the procurement contract refunded that difference to the state cash account in 2017.
Togap Marpaung, a former Bapeten inspector, reported some suspected corruption in the procurement of goods at Bapeten to the National Police Headquarters in 2014. One instance was that procurement of three RDMS units. This report was then turned over to the Jakarta Police Department, and was stopped in 2018. "The police stopped their preliminary investigation based on that BPK report," said Togap.
This cessation of the preliminary investigation is recorded in letter number B/446 which was issued on February 15, 2018. That letter mentions that one reason for stopping the investigation was that the third party had already repaid the state losses. As the reporting party, Togap did not give up hope. The letter mentions that the police are still dealing with two reports of suspected corruption in the procurement of other goods. "I continued to ask the police about the progress in their investigations," he said.
Commissioner Markos Sihombing, a criminal investigator at the Corruption Sub-directorate at the Special Crimes Investigation Unit of the Jakarta Police Department, said that his team is indeed handling the matter of suspected corruption at Bapeten. "All questioning documents have been completed," he said. However, he was reluctant to divulge any case details. Contacted separately, Sr. Comsr. Yusri Yunus, chief of the public relations division, said that he is not aware of this matter.
Indra Gunawan said that the BPK did indeed encounter a price markup in the RDMS procurement project in 2013. According to him, the contractor determined the price because there was a misunderstanding about the difference between the factory and distributor price. "The matter is considered to be resolved," he said.
Susilo Widodo considers the price and maintenance costs for RDMS are too expensive. Their use is also not transparent. For instance, he never heard about logbook records for RDMS use at the Palace.
He proposes that the government use air monitoring technology, which is used by advanced nations. The range of this equipment is much wider and can effectively detect all radiation and radioactive material which is over the limit. "With such equipment, Indonesia will only need one or two devices," he said.
The government does not need to import such equipment. Djarot Sulistio Wisnubroto, a former chief of Batan, said that their institution has been working on creating such as detector for the past several years. Even though it is still a prototype, its production cost is not as high as an imported detector. "It can be half as much as foreign products," he said.
MUSTAFA SILALAHI, RIKY FERDIANTO,
LINDA TRIANITA, AHMAD FAIZ