Mahathir Mohamad, Former Malaysian Prime Minister: I Want to See Government's Performance First
Mahatir Mohamad was to relinquish his position as Malaysia's prime minister after the Asia-Pacific Economic Cooperation (APEC) forum scheduled to be held this November in Kuala Lumpur, paving the way for People's Justice Party (PKR) President Anwar Ibrahim to fill the country's top position.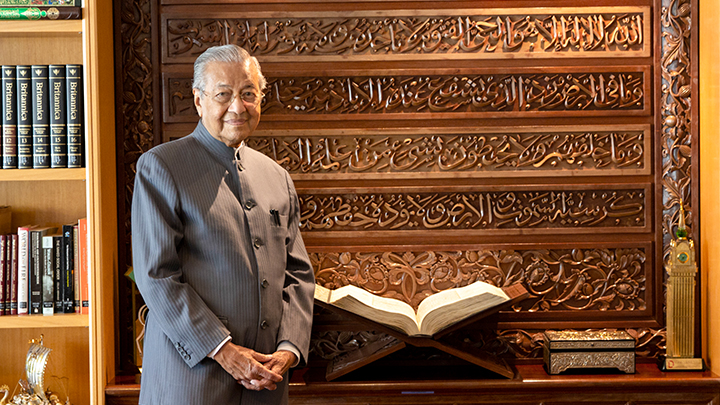 THE agreement among the ruling Pakatan Harapan coalition party members—PKR, Democratic Action Party (DAP), Malaysian United Indigenous Party (PPBM) aka Bersatu and National Trust Party—was reached on February 21.
However, rapid changes in Malaysia's politics in the third week of February put a damper on that scenario. PKR Deputy Chief Azmin Ali along with 10 of his colleagues quit the party purportedly to stop Mahathir from being sabotaged in the middle of his term. The PPBM, during its the leadership meeting on February 23 which was also attended by its Chairman Mahathir and President Tan Sri Muhyiddin Yassin, decided to exit the Pakatan Harapan coalition. In the same evening, Azmin and Muhyiddin met with opposition leaders including those from United Malays National Organization (UNMO) and Malaysian Islamic Party (PAS) at the Sheraton Hotel in Petaling Jaya and all agreed to form a coalition called National Perikatan and continue to support Mahathir as the premier.
The departure of the Azmin camp and the PPBM left Pakatan Harapan to lose seats at the parliament—down from 139 to 92. With less than 122 simple majority needed, the new government still taking baby steps disintegrated. Mahathir who was absent at the Sheraton meeting announced on February 24 that he was resigning from the party as well as from the prime minister position as he disagreed to work with UMNO. PPBM's board, however, turned down Mahathir's resignation from the party's chairman seat.
"I refuse to work with UMNO which still has graft convicts on board as leaders," Mahathir stressed during a special interview with Tempo's reporter Abdul Manan at the office of Perdana Leadership Foundation in Putrajaya, Malaysia, on March 11.
After a one-to-one meeting with the entire 222 members of Dewan Rakyat—Malaysia's parliament—and with the majority support of the lawmakers, Malaysia's King Yang Di-Pertuan Agong Sultan Abdullah Ri'ayatuddin Al-Mustafa Billah Shah picked Muhyiddin Yassin to succeed Mahathir. Muhyiddin was sworn in as the 8th prime minister on March 1 and announced the new cabinet eight days later.
W251bGwsIjIwMjEtMDMtMDUgMDg6MzQ6MDkiXQ
Mahathir, who will turn 95 this July, did not wince as he climbed the stairs to the second floor of the office he founded in 2003 nor mince words as he answered Tempo's questions. In an hour-long interview, he revealed those responsible for the collapse of the Pakatan Harapan government, the reason why he still postponed to meet with Muhyiddin, explained Malays' fear of ethnic Chinese's dominance and the secret to stay healthy as a near-centenarian. Excerpts
What caused the Pakatan Harapan government to crumble just over one and a half year after it took power?
It began in the 14th general elections (2018) when the Barisan Nasional (BN) party—which ruled the country for 60 years—was defeated by the opposition Pakatan Harapan. The announcement of the victory was put off and it turned out Datuk Sri Najib Razak (then UMNO's president) was plotting to form a Malay Muslim government jointly with PAS and several Malay parliament members. Their attempt failed as they did not have enough votes. However, Datuk Sri Najib was persistent with his effort to form the government because, he said, Pakatan Harapan has non-Muslim DAP. So negative campaigns began alleging that DAP had control over Pakatan Harapan and I was under DAP's influence. Although these are false allegations, many were drawn to the idea of a Malay Muslim government.
Was Bersatu also affected?
Some of Bersatu leaders were influenced by this idea and asserted that if Pakatan Harapan was allowed to continue, the country would fall apart and the Malays would become victims. I had refused to work with UMNO which still has graft convicts on board as leaders. But Tan Sri Muhyiddin was willing to work with them because he was worried about the fate of the Malays under Pakatan Harapan. Many lawmakers from Bersatu bought this idea, and rejected my proposal to wait and see: whether the Malays will really be destroyed under Pakatan Harapan. Muhyiddin's supporters felt that we could not afford to wait and must exit now. When Bersatu exited, Pakatan Harapan collapsed of course. That's why I am compelled to resign as both the party leader and the prime minister.
One of the impetuses behind the government collapse is the meeting at the Sheraton Hotel resulting in the consensus to form Perikatan Nasional and to appoint you as the prime minister. Were you consulted about that?
I was asked to call for the meeting. However, my proposal (to not work with UMNO) was already rejected that time, therefore, I did not feel the need to meet with them. I was disappointed by my party's stance.
Before being summoned by the King, almost all the parties supported you to resume your position as the prime minister. Why did they withdraw their support afterwards?
Why my party no longer supported my stance, I gave up my position. One of the ways to seek the successor is via the parliament. Another way is to declare to Tuanku Agong whom they (parliament members) support. That's when I realized that their support for me was not real. They nominated other names and based on the result-which for sure is only known to the King, I got only 66 votes.
Who got the highest votes?
Pakatan Harapan nominated Datuk Sri Anwar. He received more than I did but did not reach the majority. Both he and I were not selected.
Some view your idea to form a non-partisan national government as the wrong strategy as it cost you the parties' support. What is your response?
Everyone prioritizes each party's interests. It is difficult to run a party-based government because everyone is following different principles. It's difficult to reach consensuses. On the other hand, usually someone who is unbound by party interests tend to put national interests first.
But forming a government without involving political parties is not possible in the Malaysian politics, is it?
Indeed, no. But members who are not bound by parties can still be elected. Just don't speak only for the parties.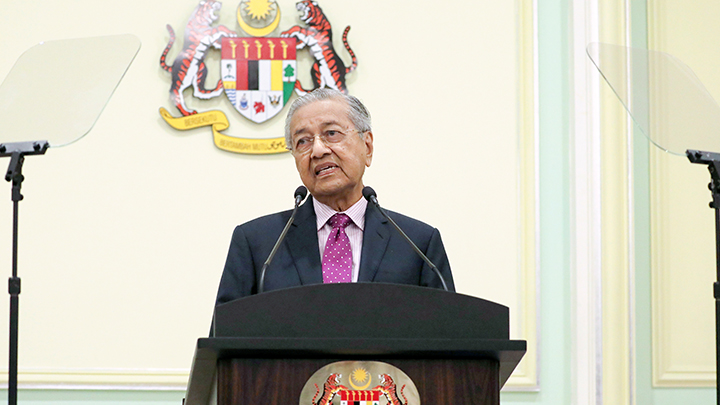 Mahathir Mohamad at a press conference in Putrajaya, Malaysia, last February./REUTERS/Lim Huey Teng
One of the reasons UMNO and PAS retracted their support for you was the inclusion of DAP in your proposed government. Why do they resent DAP?
DAP used to be an opposition. It is also a predominantly Chinese party although it also has members of other ethnicities. Many Malays feel threatened if DAP has the control over the government. They were so frightened that they were willing to work with criminals. Just because of the fear towards the Chinese although DAP is not that strong. The one who held the power is the prime minister, me. DAP needs my consent for every action it takes.
Is it perhaps because you appointed DAP members to strategic positions, for example, Secretary-General Lim Guan Eng as Finance Minister?
This also is related to the 14th elections. To fight Najib and BN, we needed opposition parties in our coalition and DAP was one of the government's opposition that time. We could not have beaten BN without DAP. We also needed a huge number of ethnic Chinese voters.
Is the threat of ethnic Chinese's dominance real or just a political propaganda of the UMNO and PAS?
They do have dominance in certain regions. But, without the ethnic Chinese' support, BN's position is also not secure. BN also enjoyed the strong support from out of town Malays. Pakatan Harapan could not have won either without the Malay support. And we established Bersatu as a Malay party to replace UMNO.
Is it true that Malays are marginalized in Malaysia?
Malays are too dependent on politics. They think that they will be safe if they have the political power. But, in reality, the economic power is actually stronger. Now Malays sell their lands to rich non-Malays people. We see the ever-declining trend in Malays' achievements due to the lack of economic power. That's why I tried to increase Malays' earnings so that they can also play their roles in the economy, be successful and rich, and gain dominance over both domestic and overseas trades. If we can do that, their fear towards the Chinese will subside.
With UMNO being part of the government, will high-profile corruption cases involving UMNO leaders such as Najib Razak be still processed?
Senior UMNO leaders including Najib Razak, Zahid Hamidi (UMNO president) and others are standing trials. With UMNO's presence in the government, we are concerned that they will use the government power to escape justice. But until now they have been denied positions in the cabinet. So, we hope that the legal process will continue and the court will rule without fear or favor.
You and Pakatan Harapan planned to propose a motion to not support Muhyiddin in the parliamentary session on May 18. What chances do you have?
When he formed a cabinet following his appointment as the prime minister, he doled out ministerial posts to anyone he chose including several Pakatan Harapan members. So, we have less support now while his support grew. When we take the no confidence motion to the parliament, they will have the majority votes. Under the circumstance, we can't use this motion.
Isn't there the support from 114 members based on the calculation of you and Pakatan?
I think more or less three people have changed sides. So, we only have 111, half of the total parliament members. We have not decided if we will take the motion to Dewan Rakyat. We can do that if we are in the majority. As of now, we don't have the majority.
How do you see the composition of Muhyiddin's cabinet?
If we look at the total number of Malay Muslim cabinet members, you can call it a Malay Muslim government. Perhaps they can survive until the next elections in 2022. I'm sure they will not have the support of ethnic Chinese voters in the next election. Their number is huge.
You frequently mentioned that you felt betrayed by Muhyiddin. What is the biggest factor that triggered your disappointment?
At this time, I must continue to support the policies that I made during my time as the prime minister. What's more important is not my fate but the Muhyiddin government's implementation of these policies. When I was succeeded in the past by Datuk Abdullah Ahmad Badawi (2003-2009), and then by Datuk Sri Najib Razak (2009-2018), they changed the policies pushing the country into a downward spiral. This time I hope they will not change but continue the plan that we prepared to rehabilitate the country, the economy and other things especially now as we face the Covid-19 and the global economic downturn.
Muhyiddin has sent you an invitation to meet. Why have you not accepted it yet?
I want to see government's performance first, particularly with regard to what it will do with those criminals, whether it will protect them or not. If, for example, the government interferes in the court process, I will not see him.
Some say that you are reluctant to pass the reins to Anwar Ibrahim. How is your relationship with him?
Now there is a change in public views. He was so popular in the past but now his supporters are not happy with his ways. I did tell him that I would quit. After that, it was up to him to prove his capability and to Pakatan Harapan to nominate him. But if Pakatan Harapan cannot produce another candidate, I don't mind to continue although I'm nearly 95. If I am asked to work for the country, I am ready.
---
Mahathir bin Mohamad
• Place and date of birth: Alor Setar, Kedah, Malaysia, July 10, 1925 • Education: Sultan Abdul Hamid College, University of Malaya in Singapore • Career in Government: Deputy Prime Minister of Malaysia (March 5, 1976-July 16, 1981), Minister of Trade and Industry (January 1, 1978- July 16, 1981), Prime Minister of Malaysia (July 16, 1981-October 31, 2003, May 10, 2018-March 1, 2020) • Political Career: Member of Parliament (August 24, 1974-March 21, 2004, May 10, 2018-now), President, UMNO (June 28, 1981-October 31, 2003), Chairman, Pakatan Harapan Coalition (July 14, 2017-February 24, 2020), Chairman, United Malaysian Indigenous Party (September 7, 2016-now)
---
Wasn't the transfer of power to Anwar part of the Pakatan leaders' commitments before the 2018 elections?
Yes. Actually, I didn't give the definite date because I wanted to rebuild the country. After the country has recovered, is safe and stable, I would step down any time. But since we are hosting the APEC meeting in November, I requested that I'd be allowed to leave after the meeting. That is my promise and I would keep my promise. But this crisis has compelled me to give up the position earlier than I expected.
What keeps you still active in politics at this age?
I entered the political arena since I was in my teens. That time I observed how Malays were falling behind. There were not Malay experts in many sectors. So, I thought I would be involved in politics as much as I could. But after I plunged myself into politics, I encountered problems after problems and I was more or less able to tackle them. That's the reason why I was the prime minister for 22 years. That was actually beyond my imagination. I thought it would be just six or seven years but when you faced all kinds of crises, such as the 1997-1998 monetary crisis, I couldn't just leave and run away (from the problems). That's how we finally managed to bring Malaysia's economic recovery.
Some predict that you would continue to hold on to power...
If I want to continue to hold the power, why would I give up the position? Which dictators have ever relinquished power in the human history? Dictators never give up power. In 2002, I thought 21 years was enough. I thought I was too old and it was time to give opportunities to the young generation. But I was asked to go on for another year.
Do you plan to retire from politics?
In 2003, I said I wanted to take a break. But within two or three weeks of my resignation, what the people did not want occurred: many programs were cancelled. When Najib Razak came to power, a myriad of problems emerged: theft, corruption, debt in trillions of (ringgit). They asked me to come back. I wanted to say no but I would come across as an irresponsible leader who only thought of himself.
You still look fresh at 94. Do you have a special regimen?
There is no special recipe. I don't eat much. I know that bodyweight affects the health. If you indulge your appetite, you gain weight. That will burden our heart. I had two operations so I will not burden my heart. That's why I've maintained my weight at 62 kilograms for the past 40 years until now. Our health will decline if we don't keep ourselves active. Too much sleep weakens our muscles. The same goes for our mind. If we don't use it to think, debate, write or read, our (cognitive ability) will decline.