Dead Silence
Nation-wide lockdown puts Italy to a quiet halt. The high population of elderly citizens is a factor causing soaring mortality rates from the corona outbreak in the country.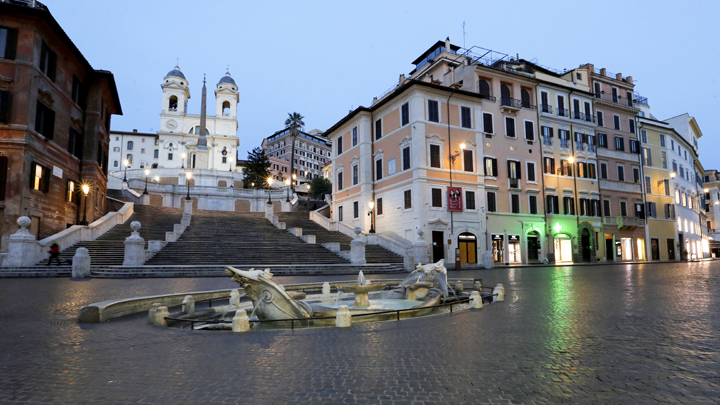 CITIES in Italy suddenly look vacant. On March 10, Petrus Dori, a pastor from Flores, East Nusa Tenggara, visited the Rome Police Station—not far from Vatican—to extend his residence permit. "The station was closed because of the coronavirus," Petrus said on Friday, March 13.
Petrus, a doctoral student at Rome's faculty of education at Università Pontificia Salesiana, saw an announcement at the police station's door asking visitors to email them instead. He left and walked to a court outside the Basilica of St. Peter. The place is usually flocked with tourists. But on that day, it was empty. "What I met was only police and security guards around the Vatican," said Petrus.
Italy's Prime Minister Giuseppe Conte announced a country-wide lockdown on March 9, when the number of their corona confirmed cases reached 7,400. As of March 15, 21,157 people have been infected, and 1,441 people have died. Italy is now the second country with the most cases of Covid-19 after China, where the SARS-Cov-2 virus that caused the disease was first found.
The government urged everyone to stay at home to prevent the new coronavirus from spreading further. Conte said the policy is taken to protect those who are most vulnerable. "Let's distance ourselves from each other today so that we can embrace each other again tomorrow," he said in a televised broadcast.
Travels are allowed with high restrictions. All shops, cafés, and museums are closed. Only food stalls and drug stores are allowed to open. Banks, post offices, government offices and public places like movie theaters are also shut until April 2. All events, including sports and gatherings are canceled, and schools and universities are closed.
Basilica of St. Peter in Vatican, March 11. Reuters/Gugliemo Mangiapane
The Vatican ordered Roman churches to close. A decree issued by Cardinal Angelo De Donatis, representative of Pope Francis in the Rome diocese, is in effect until April 3. It will affect more than 900 historic parishes and churches in Rome. Pope Francis has also stopped public hearings and daily masses at the Chapel of Santa Marta. For the time being, the mass is broadcasted on television every morning.
Milan, a tourist favorite, is also quiet. Indonesian Veja Prata Ginting lives in an apartment at Viale Vincenzo Lancetti, some two kilometers from Centrale Station. The street is usually crowded with commuters walking to and from the station. "It is very quiet now. Only one or two people passing. The trams are empty and buses only have one or two passengers," he said on March 12.
Veja said that he last left his apartment on March 9 to buy groceries. "The supermarket was not as crowded as before. I saw few people, all wearing face masks and keeping their distances from others," said Veja, who is enrolled in the mechanical engineering master program at Politecnico di Milano.
According to Veja, the Italian government's decision to lockdown the entire country due to the corona outbreak seemed sudden, and he and his friends were confused. All outdoors' gathering activities are prohibited. To go outside, residents must carry a travel permit because the police will randomly inspect them. "If you do not have a letter, you could be fined 206 euro or put in detainment for three months. If it turns out that you are positive with corona, you could be jailed for 1 to 12 years."
The city of Cosenza in southern Italy's Calabria Province is also quiet. Noven Hendranto, an Indonesian living there, said there is now almost no activity in public places. Entertainment venues like clubs and cafes are closed. Restaurants are allowed to open, but only until sundown. "Only supermarkets and pharmacies are allowed to open until evening," Noven, a student of the cooperative and sciences development at the Università della Calabria, told Tempo's Teguh Edi Pramono.
Italy has become one of the world's advanced nations that is hit with the worst effects of Covid-19. The disease has been declared a pandemic by the World Health Organization (WHO). Marina Della Giusta, professor of economics at the University of Reading, England, said the high death rate in Italy is related to the fact that the country has the biggest elderly population in Europe, where 60 percent of the approximately 60 million population are over 40.
Most of the Covid-19 patients who died were elderly with existing health issues. "The Italian demographics have a greater impact than many other countries," he told ITV.
Giusta also said that Italian culture of going outdoors and physical contact is also a huge factor. "The interpersonal physical space in Italy is a lot shorter than it is in England."
Experts also said that the Italian government was late in implementing outbreak prevention measures. Della Giusta, originally from the Piedmont region, said many people did not self-isolate themselves seriously when schools were first closed in northern regions several weeks ago. "When schools got shut in Lombardy a lot of people just took their kids and went off on holiday to their holiday homes in the mountains and at the seaside in the other regions," she said. "They thought they were making their kids safe by taking them away, but this kind of behavior is really very damaging."
Denmark became the second country in Europe to close its borders, beginning March 14 to April 13. All flights are canceled, and visitors are banned entry if they are unable to provide evidence that they are Danish citizens or foreigners working there.
"We are in uncharted territory. We are in the middle of something none of us have faced before," Danish Prime Minister Mette Frederiksen said in a press conference on March 13. "I know that the overall list of measures is very extreme and will be seen as very extreme, but I am convinced that it's worth it," PM Frederiksen said as quoted by The Local.
Empty shelves at a store in Copenhagen, Denmark, March 11. Reuters/Nikolaj Skydsgaard
The policy was issued after the country's health authority reported 16 new cases, raising Denmark's corona confirmed cases to 801. As of March 15, they recorded 827 positive cases, with one patient critical and one declared to have recovered.
Ireland and France are the last countries until Friday last week to close schools and universities to prevent the further spreading. The number of corona cases in Ireland jumped from 43 to 70 on March 13, when the country said one corona patient died.
Ireland Republic Prime Minister Leo Varadkar announced schools and child care facilities are closed until March 29. All public gatherings of 500 and more are canceled and the public are asked to work from home as much as possible. "This will make a change in the way we live and I know that I have asked the people to make a big sacrifice," he said in a televised broadcast.
By March 15, the world has 153,648 Covid-19 cases, with 5,746 deaths and 77,776 recoveries. Data shows that old people aged 70 and above are at the highest risk of getting infected.
Petrus Dori realizes this. "Fear of contracting the disease haunts me, as I live among a huge community breathing the same air, the air that is contaminated with virus," the 52-year-old pastor said.
"I pray for Italy and I pray for the world. I pray for the sick and for the paramedics working as God's hands to help those who are ill. This is my small, personal contribution to overcome this pandemic."
IWAN KURNIAWAN