The Chairman Comes of Age
Set to retire in early April, Supreme Court Chairman Hatta Ali has not yet ordered the formation of a committee to select his successor. He was caught on camera visiting a hotel project in West Nusa Tenggara.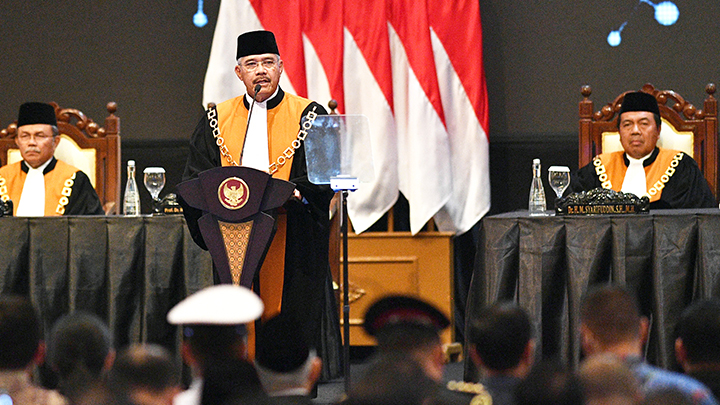 APPROACHING the age of 70 this coming April 7, there is no sign that Supreme Court Chairman Hatta Ali will end his office term. When giving a speech during a special plenary session for the Supreme Court's Annual Report on February 26, Hatta did not mention anything about his retirement or bid farewell.
In his speech, Hatta mostly touted the Supreme Court's achievement of passing verdicts on 20,058 cases in 2019. According to him, this high number was the fruit of good time management in handling cases. "This is the largest number of cases to have been adjudged in Supreme Court's history," Hatta said in his speech.
Selected as Supreme Court chairman in 2012, Hatta returned to the position in 2017. The end of his second term will coincide with his retirement as a Supreme Court judge. The Supreme Court Law limits the age of Supreme Court judges to 70.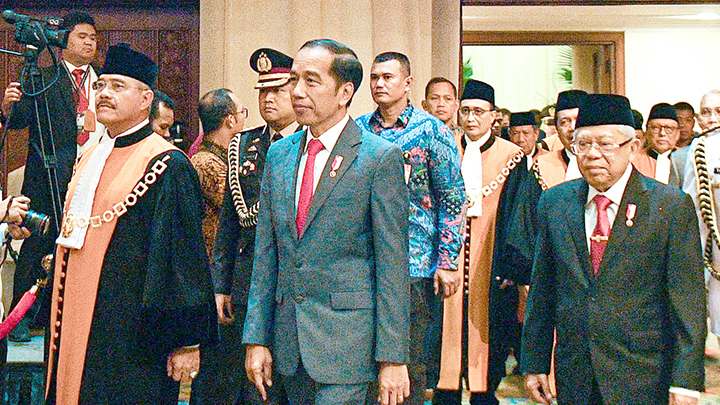 (L-R) Supreme Court Chairman Hatta Ali, President Joko Widodo and Vice President Ma'ruf Amin at Supreme Court's annual plenary session in Jakarta, last February./ANTARA/Sigid Kurniawan
Even though Hatta's retirement is drawing near, the Court has not made any preparation for a plenary session to select a new chair. "We don't know anything yet. There is no (selection) committee yet," said Abdullah, chief of Supreme Court's bureau of legal affairs and public relations, on March 19.
Currently Supreme Court employees are working on the planned National Working Meeting on April 5-7, at Hotel Sultan and the Jakarta Convention Center (JCC) in Jakarta. A notification letter about these series of events has been circulating among all chairpersons of district and high courts, court clerks, and secretaries in the entire Indonesian court system since March 11.
From the event rundown obtained by Tempo, the committee will kick off that event with a meet-and-greet with Supreme Court Chairman Hatta Ali and his ranks at the Hotel Sultan's Ballroom on Sunday night, April 5. On the following day, the committee will pick up participants to take part in the meeting at JCC's Assembly Hall. This meeting will run from morning to midnight. To close the event, the committee will prepare a birthday candle-blowing event for Hatta Ali.
Abdullah said that the committee has completed all of the preparations for that event. However, due to the spread of the coronavirus, the Supreme Court had delayed confirming the event until March 31. "We will see what is decided after March 31, to see whether or not it is possible to hold the meeting," he said.
Legal affairs observer Asep Iwan Iriawan said that the lack of information about the plan to replace the Supreme Court chairman is unusual. According to this former judge, before the replacement of Supreme Court Chairman Harifin Tumpa in 2012, the Court had already given signs the selection process was underway a month beforehand, in part by forming a selection committee.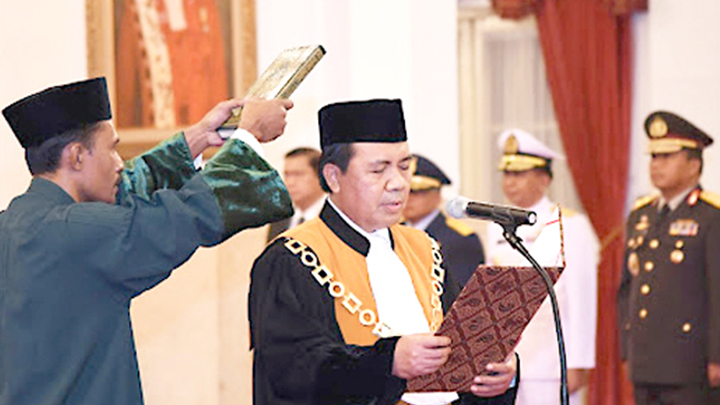 Muhammad Syarifuddin at his oath-taking ceremony at the State Palace, Jakarta, May 2016./Biro Pers/Setpres
Asep said that the attention of people in Indonesia is focusing on the Covid-19 pandemic. However, he considered that this was not a reason to delay this selection. "The election can be done online, without having to be there in person," he said.
While Hatta Ali has not yet said his goodbyes, three Supreme Court judges have quietly been prepared to be his successor. The first candidate is Sunarto. This 60-year-old man became a Supreme Court judge in 2015. He has been a judge since 1986 and was selected to be the Supreme Court's deputy chairman for non-judicial affairs in 2018. Before that, he was deputy chairman for supervision.
The second candidate is Muhammad Syarifuddin, 65. He began his career as a judge in 1982, and has been a Supreme Court judge since 2013. Syarifuddin became Supreme Court deputy chairman for judicial affairs in 2016, beating out Andi Samsan Nganro.
Andi Samsan himself is also a candidate to replace Hatta Ali. He is currently Supreme Court deputy chairman for supervision. This 67-year-old man has competed with Hatta Ali in the selection of Supreme Court chairman in 2012 and 2017.
However, it seems that there could be no such election process this time around. One Supreme Court official said that Hatta Ali has indicated that he supports Andi Samsan. One reason for this is that they are both from South Sulawesi. Andi Samsan's appointment as deputy chairman for supervision by Hatta last February is also seen as a indicator of Hatta's support.
Andi Samsan only laughed when asked for confirmation about Hatta Ali's support for him to be Supreme Court chairman. According to him, Hatta has not yet said anything official about the selection of the new chairman. "For sure, we often have elections here. No major campaigning goes on. It helps to maintain stability. There should not be any friction between Supreme Court judges," he said.
•••
THE lack of any notice being given regarding the impending replacement of the Supreme Court chairman has attracted the attention of Arsul Sani, a member of the Legal Affairs Commission at the House of Representatives (DPR). This politician from the United Development Party (PPP) said that the selection of Supreme Court chairman must be done in early April. He referred to the replacement of Harifin Tumpa in 2012. Harifin stopped working as a Supreme Court judge by law because he had reached the age of 70. "So there is already a precedent," said that deputy speaker of the People's Consultative Assembly (MPR).
According to Arsul, a new Supreme Court chairman is needed to finish works which have not been completed during Hatta Ali's era. He highlighted how the Court is still lax in upholding the independence and the code of ethics of judges. For instance, he said, there is a regulation that judges may not exercise or play sports with lawyers, prosecutors or parties with whom there is a case or could potentially be a case which needs to be handled impartially. "Judges may not organize social activities or sporting events which are sponsored or assisted by private parties," he said.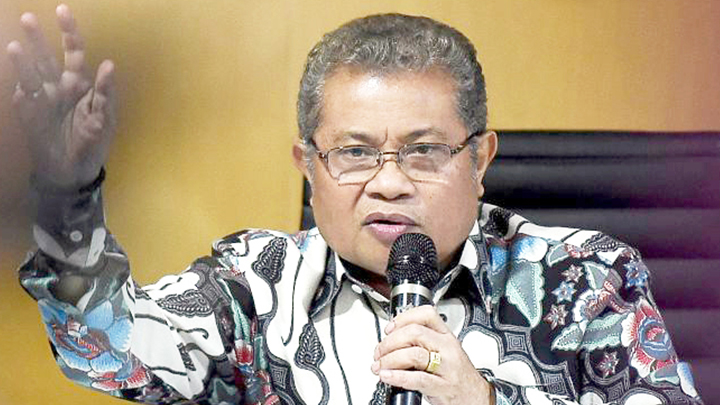 Andi Samsan Nganro./ANTARA/M Risyal Hidayat
The sporting activity of judges is often scrutinized. In 2016, for instance, the Jakarta Corruption Court exposed the testimony of a businessperson who said had given Rp1.5 billion for an internal Supreme Court tennis tournament. Those funds were given to then Court Secretary Nurhadi Abdurrachman. On several occasions, Nurhadi denied being given those funds.
Most judges belong to the Court Members Tennis Association (PTWP). This organization can be found in a number of regions and is generally led by court chairperson. In 2018, the PTWP reported Judicial Commission spokesman Farid Wajdi to the Jakarta Police Department on the accusation of defamation. They denied the news that Rp150 million was collected from each court office to fund a tennis tournament being organized by the PTWP, as Farid had told the media.
A lot of information about the questionable behavior of some Supreme Court judges has reached the Judicial Commission. However, most of those reports end up filed in a drawer. One of them was a report about Hatta Ali's visit to the construction site of a hotel project in Mataram, West Nusa Tenggara, in November of last year.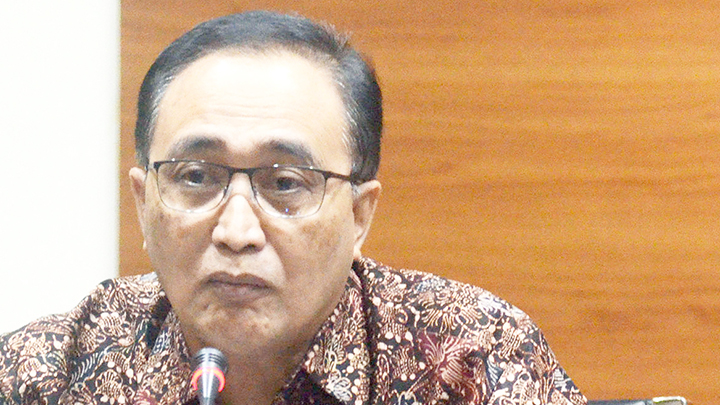 Sunarto./TEMPO/Imam Sukamto
Photographic evidence shows Hatta was accompanied by high-ranking members of the court and a business owner suspected of running the project. Whereas, limiting meetings with certain parties is mentioned in a Supreme Court Chairman Letter of 2002, which was emphasized through Court Circular No. 3/2010. In an interview with Tempo in 2015, Hatta even reminded his colleagues to limit their activity outside the office.
Farid Wajdi was reluctant to respond to the matter of reports on Supreme Court judges not being processed at his institution. "You can convey that directly to the chairman," said Farid. Judicial Commission Chairman Achmad Jayus has not yet responded to an interview request.
As of Saturday, March 21, Hatta had not yet responded to Tempo's interview request. Supreme Court's Legal Affairs and Public Relations Bureau Chief Abdullah said that Hatta Ali's meetings with parties outside the court are still considered to be appropriate. He said that the public often misunderstands those meetings. "How hard it must be to be a judge if you aren't even allowed to meet anyone," he said.
LINDA TRIANITA