Unstoppable Bleeding of the Economy
OUR economy is severely bleeding. There has been a rapid outflow of foreign exchange in the past month.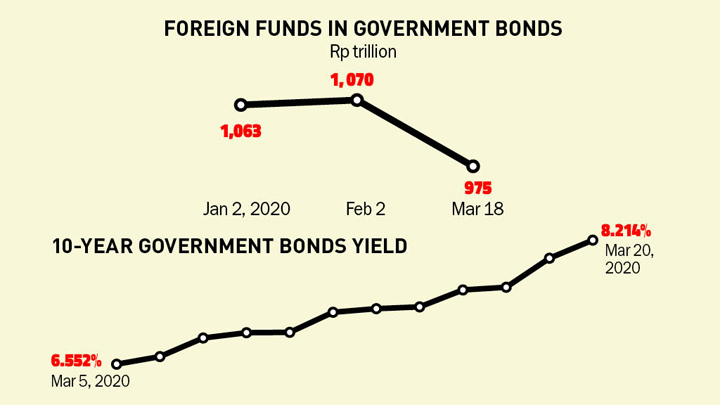 This is the effect of the Covid-19 pandemic which has been shaking global financial markets. All investors—big, small, individual or institutional—are reallocating their portfolio investment seeking safety.
That investment reallocation is the trigger for Indonesia's foreign exchange reserve hemorrhage. Foreign portfolio investment fund that previously parked steadily in various government bonds or stock market suddenly grew restless and run away in droves.
It was directly followed by a portfolio fire sale. Foreign investors sold the equities and the various government bonds that they owned. From the stock market, in one month until Friday afternoon, March 20, foreign investors sold a net of Rp9.68 trillion in stocks. The outflow is much faster in the government bond market, where foreign ownership as of March 18 dropped to Rp975 trillion, falling by Rp95 trillion in just one month.
If this 'bleeding' continues, the rupiah will continue to fall. To illustrate it simply: foreign investors who sold their portfolios will exchange their rupiah proceed from the sales into US dollars to take home. Domestic demand for US dollars suddenly increases and causes its price to rise. That is the main reason why within the past month, the dollar has soared quickly, at one point going above Rp16,000 per US dollar.
The Rp95 trillion flowing out of government bonds, or around US$6 billion, is indeed significant. It is equivalent to 10 percent of the total position last month, before this chaos commenced. The crucial question is by how much this outflow will continue. Will it stop at 10 percent, or will it keep going to 20 percent, or even more than that? If a 10 percent exit already bumped the rupiah to Rp16,000 per US dollar, what would happen if 20 percent went out?
Foreign money parked in portfolio investment is the weak link in Indonesia's economy. It is the Achilles heel that can upend the whole situation, and Indonesia has no way to protect it. That is the characteristic of portfolio investment: it is highly liquid, it comes in easily, and it returns home just as easily. When there is an external shock like in recent times, the money will escape and bringing the rupiah down.
Other than seeking a safe haven, there are certainly other factors that make investors decide to leave. Investor's confidence in Indonesia is on the wane. The sharp rise in government bond yields just reflects that perfectly. As of March 20, 10-year government bond yields was recorded at 8.214 percent, rising by 25.36 percent in just two weeks. If the yield rises sharply, that means bond prices are falling sharply. The fire sale goes on when the price is so low. It clearly shows how low the market's confidence toward Indonesia.
The government and monetary authorities must put in serious effort to restore investor confidence so that the bleeding will not worsen. This would not be an easy task. Many estimations and analyses have concluded that the Covid-19 pandemic will severely damage Indonesia's economy. Criticism from all corners regarding the government's bad mitigation of Covid-19 is just another blow to investor's confidence. This pandemic would not be swiftly overcome in Indonesia. Consequently, the Indonesian economy can be hit even harder.
Markets are now waiting for policy responses from the government and monetary authorities to restore investor's confidence and to stop this bleeding. If there is nothing convincing and the bleeding continues, there is no telling how low can the rupiah go.
YOPIE HIDAYAT (CONTRIBUTOR)