Shelter Before the Storm
Banks are preparing protocol to deal with the crisis that comes with the Covid-19 pandemic. Potentially non-performing loans further induces the flagging business sectors.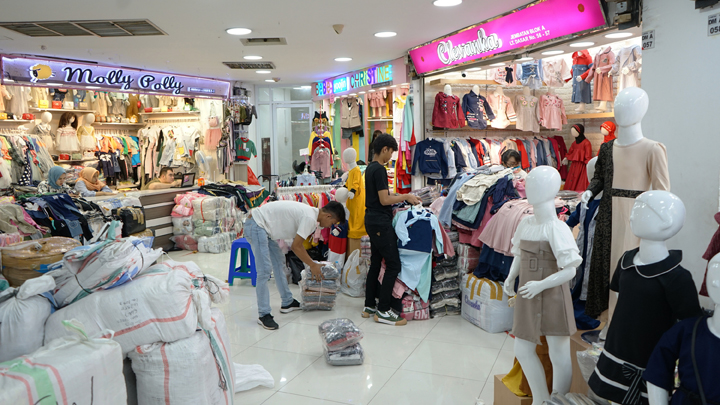 THAMRIN City felt deserted on Thursday, March 19. Customers who usually fill this wholesale shopping center in Tanah Abang, Central Jakarta, have now disappeared. Only owners and shopkeepers were seen at the textile and clothing stalls. Their anxious faces brighten up once a customer strolls by, though there were only very few of them. "Until now we haven't sold anything," said one trader on the first floor.
That afternoon after prayer time, it was like the capital's grey skies crept into the shopping center. As if in mourning, shopkeepers and owners did not feel like talking. Even if they did, they were unwilling to give their names. One trader, a woman in her 40s, said Thamrin City started getting quiet from Sunday, March 15, after the government called on people to limit interaction in order to prevent the corona virus from spreading.
Meanwhile, the stall of Ivan—he just gave his nickname—was only filled with bags of goods. In the last week, his three shops which have been selling garment and batik since 2015 have not made a penny, compared to his normal daily turnover of some Rp10 million a day. Without an income in Jakarta, this 36-year-old man said he has temporarily let go of 30 of his workers in his hometown of Cirebon in West Java. "I don't have money to deposit into the account," Ivan said. "Seems like I have to ask for additional capital from the bank."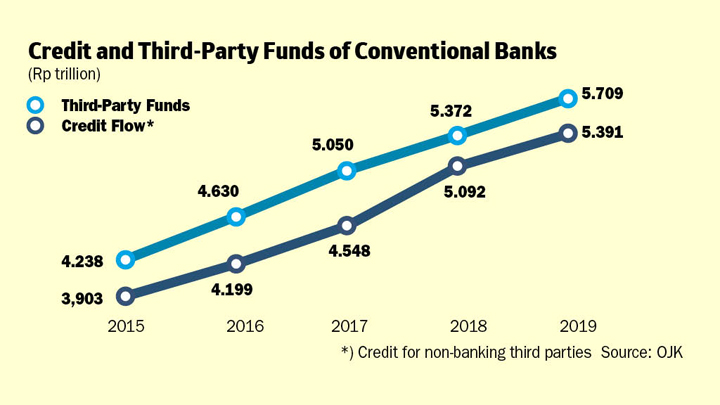 Credit and Third-Party Funds of Conventional Banks
Ivan, however, may not know that his intentions would be anything but easy to carry out. Some banks have put the trading sector, including micro, small and mid-sized traders, in the most vulnerable category of in the Covid-19 pandemic period. In upstream financing, the banking world is anticipating a worsening quality of credit which could shake things from their liquidity to profits this year.
Take Bank Rakyat Indonesia. This state-owned bank with the biggest assets in the country has gone through a number of stress tests in relation with the worsening Covid-19 outbreaks. The simulation took into account the impact of the pandemic on a number of economic sectors, such as tourism and trade. "We have included a number of impacted sectors onto the watch list so as to minimize the impact," said BRI Corporate Secretary Amam Sukriyanto.
In the midst of the pandemic, sectors such as trade, transport, and tourism—including the hotel business—could potentially contribute to the rise of non-performing loans. The manufacturing industry is also included in this category, as it is closely related with the need for imported raw materials. According to Amam, this problem not only exists on the demand side, but for the whole global supply chain.
Two other big banks, Bank Mandiri and Bank Central Asia, are conducting similar simulations. Andry Asmoro, chief economist of Bank Mandiri, said that testing for the Covid-19 danger has been ongoing since February. A number of protocols for handling the crisis and efforts for business sustainability continue to be implemented in order to anticipate the possibility of a lockdown, which could disrupt service operations.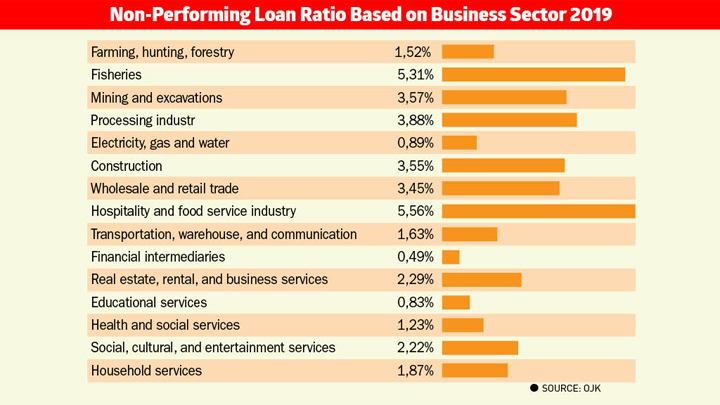 Non-Performing Loan Ratio Based on Business Sector 2019
Hera F. Haryn, BCA's executive vice president of the secretariat and corporate communication division, said that early warning signs are needed in order to be alert against the risk of the drop in the quality of assets and ability to pay debtors. In general, she continued, the stress test results showed that BCA is capable of anticipating those risks. "So far no one has indicated difficulties in payments specifically due to Covid-19," she said.
Hera said that BCA's reserves for losses from lower credit rating until December 2019 reached Rp15 trillion, or 190 percent of total non-performing loans, which is a level deemed very adequate. Even so, the impact of the corona pandemic on the banking sector will mostly depend on how long the situation will continue. The shorter the time, the lower the risks. "We will consistently monitor these risks on a regular basis," Hera said.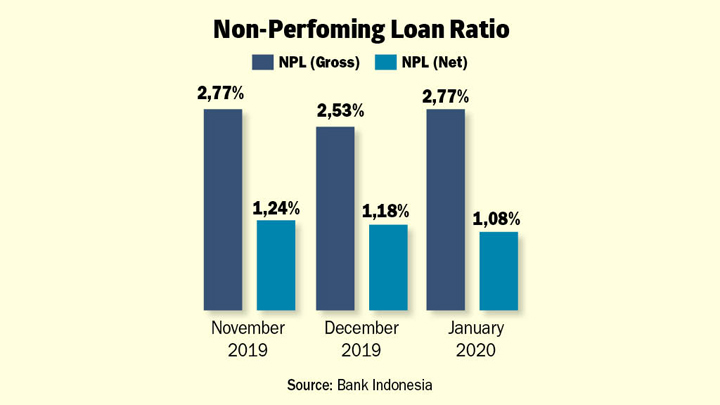 Non-Perfoming Loan Ratio
The potential danger of Covid-19 for the banking sector's performance is also monitored closely by the Financial Services Authority (OJK). Wimboh Santoso, OJK's commissioners' board chief, said that the rise of credit risk could interfere with the financial system's stability. This is why a number of stimulus policies were released on March 19, until the end of March 2021.
Credit quality assessment or other fund financing of up to Rp10 billion, for example, will now be loosened up to be only based on the timeliness of principal and/or interest payment. Also, banks could restructure credit to become performing with no lending ceiling. Easing these regulations, Wimboh said, is valid for micro, small and mid-sized businesses (UMKM), and non-UMKM debtors. "The implementation mechanisms will be up to the policies of individual banks, and will be adjusted to the debtors' payment abilities," he said.
Wimboh hopes that the banking sector will proactively identify debtors who are impacted by the Covid-19 spread.
AISHA SHAIDRA, KHAIRUL ANAM