De-cision
Life is the story of decisions. Even when we decide not to decide.
Edition : Tuesday, March 31, 2020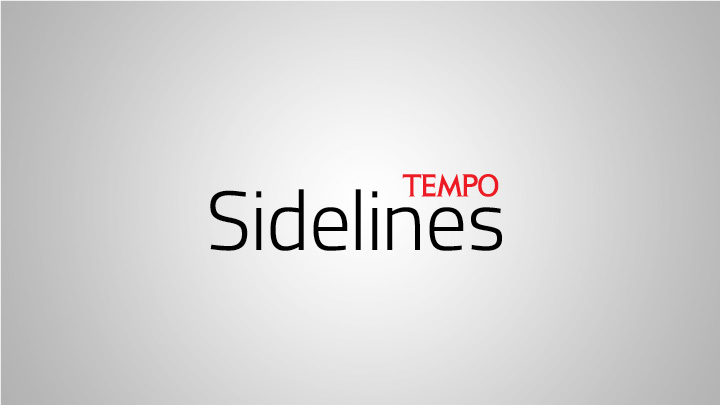 FROM the moment we awake, we choose: will be get up right now or lie there remembering dreams. But not merely that. Sometimes we are in the 'liminal state', to use the words of a philosopher, when, for instance we have to choose between undergoing an operation for cancer or using other treatments; between shutting down a city threatened by contagion or not shutting it down when famine will kill the poor.
We are split. Indonesian has a word for this, ke-putus-an, from putus meaning cut. Something traumatic. It is also the word for decision. What has been cut off, de-cided, di-putus-kan, cannot be restored to what was there before. Leading up to decision, we are in a dilemma. We—who are neither machine nor wayang puppet—exist in freedom which is also confusion.
A moment of decision is madness.
This is the English translation of the Danish philosopher Kierkegaard's famous sentence, which is an intense projection of man as a fragile creature. Kierkegaard—the first existentialist in Christian thinking—rejected mankind seen in abstraction, particularly when in crisis and a person becomes 'man-of-the-moment', the moment of being tested, despised and scourged, the moment of calm choice, as prophesied of Jesus in Isaiah.
That moment, Øjeblikket, determines.
W251bGwsIjIwMjEtMDYtMjMgMTA6MzY6NTkiXQ
But probably to the non-religious the more meaningful example is Hamlet, Shakespeare's fictional character.
Hamlet, the Prince of Denmark in the famous play, returns home to Elsinore from his studies. His face is gloomy, He is in mourning for his father, but also (and this is what is disturbing him), to attend his mother's wedding. Only one month after becoming a widow, his mother is marrying her late husband's younger brother, who has been hastily crowned king.
"Something is rotten in the state of Denmark," one of the palace guards hisses, when late at night Hamlet meets the ghost of the dead king.
From his father's ghost in shadowy Elsinore, Hamlet hears that the new king together with Hamlet's mother hatched a plan to poison the king. The king's ghost orders Hamlet to take revenge. "Revenge his foul and most unnatural murder."
Hamlet is nervous. Are not revenge and murder both sins according to the Christian faith? The young prince is clever but not quick to act. And in the atmosphere of the palace at this time, he is alone. There is no one else feeling what he is feeling: sad and suspected. He is confused.
In an ancient corner of Elsinore, he whispers to himself—and this is the famous soliloquy scene in Hamlet: "To be or not to be: that is the question," the words of someone who must make the choice whether to live or die.
When Rendra performed Hamlet about 40 years ago, he translated these words into Indonesian as "Mengada atau tak mengada, itulah persoalannya..." I think he was wrong.
The word 'mengada' is the philosophical technical term, the translation of 'to be'. But in Hamlet's acute confusion, he is not philosophizing. He is not shaping a discourse. Shakespeare formed the phrases of Hamlet's soliloquy with a tone of anxiety, confusion, and not always consequent.
"Whether 'tis nobler in the mind to suffer
The slings and arrows of outrageous fortune,
Or to take arms against a sea of troubles,
And by opposing end them?"
There is no reply. Then there is a sudden change in tone.
"…To die: To sleep;
No more..."
Hamlet is weighing up whether ending life is the best way to end troubles, when death is merely like sleep. But sleep might bring dreams, and dreaming is also uncertain, like eternity, "The undiscover'd country from whose bourn/ No traveller returns,"
Maybe this is why people choose life with all its evil and ills.
Hamlet's anxiety is acute because he is aware that whatever decision he takes, in his solitude in that space he is living in conversation with others.
In Shakespeare's theater, soliloquies have two roles: (1) to inform the audience what a character is thinking and feeling and (2) to make us aware that in one's solitude, no one is separate. Hamlet feels the need to explain his dilemma to an absent assembly: to others, wherever and whenever that may be. Decisions dependent merely on one moment, one place, and one side will be fragile even for oneself.
So Hamlet is talking not only about his own dilemma. He uses the word 'we'. The fear of life after death 'makes us rather bear those ills we have'.
Unlike Kierkegaard's discourse, Hamlet is not a religious message. Its protagonist's sharing of confusion with others is not to confess sin. He is not concerned about values that religion teaches for judgement. And if they are there, they are not a firm foundation. They are formulated by man who is mortal and contingent, with the name of God.
In other words, 'we' are meaningful only because in semi-blindness (or semi faithlessness) we all seek justification. There is no Standard Operation Procedure. One cannot use experience, because this moment is not a repeat of the past. 'The moment of decision is madness'. There is crisis, worry, and no I-who-Knows what will happen. All there is, is courage in uncertainty and humility
Hamlet: I do not underestimate his indecision.
Goenawan Mohamad