Confusing Stimulus amidst Double Threats
INDONESIA'S economy is facing two serious threats from Covid-19.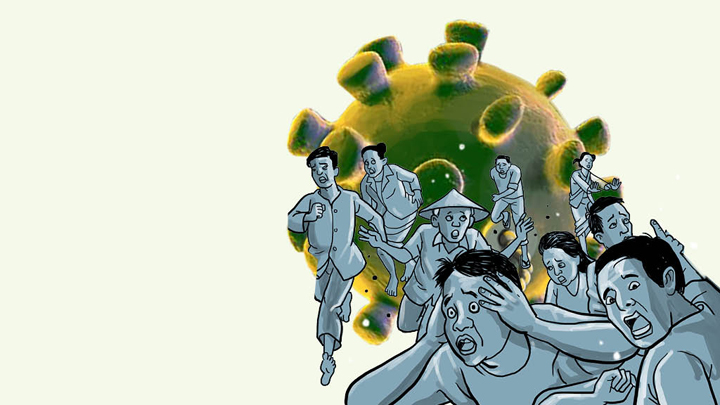 Firstly, fleeing foreign exchange reserve from domestic financial market in search of safety. Secondly, a drastic drop in consumption due to the plague. Instead of growing, the Indonesia's economy might be shrinking this year.
The first issue is not exclusive to Indonesia. Other emerging markets are having a similar problem. This time, the scale of dollar outflow from emerging markets are even greater than that of the 2008 crisis. To make the matter worse, commodity-exporting countries like Indonesia also face double blows. While the bleeding of foreign exchange hurts the economy, a deep drop in export earning gives another push downward.
Until the third week of March, year to date, Bank Indonesia (BI) has purchased government bonds in the secondary market totaling Rp168.2 trillion—nearly US$10 billion. This market operation is certainly taxing on BI's foreign exchange reserves. Offshore investors will ultimately exchange the rupiah that they earned from the bond sales with US dollars to be taken home.
Fortunately, at the end of last week, there are signs that market panic has slightly abated. The US Senate approved a US$2 trillion stimulus program. Optimism returned and stock prices immediately jumped everywhere, from New York to Jakarta. The rupiah also appreciated at around Rp16,200 per US dollar. However, investors should be wary of this euphoria. Indonesia might not stop bleeding out the dollar if a solution to the second problem, the slumping economy, is not yet available.
It is time for the government to immediately deploy newer stimulus in more radical ways. The government is reportedly considering the option to give large scale fiscal stimulus in the form of direct cash transfers. To finance it, the government will be issuing new bonds, but not to the market. Bank Indonesia will be buying them. Consequently, this stimulus might be of significant magnitude so it can move the economy.
To prevent this move from crossing the three percent limit in the ratio of budget deficit to national gross domestic product, the government must issue government regulation in lieu of law (Perpu). And therein lies the controversy. Taking out this limit can have painful consequences in the future, as there will be no brakes for politicians in the House of Representatives as well as the government. They can freely borrow to fund gigantic projects that are politically favorable or beneficial to cronies, all while burdening the economy. Therefore, there must be a defined period in which passing the threshold is allowed. For example, it can be effective only within the year, as long as the pandemic persists.
When the money is already in place, formulating an effective stimulus is not a complicated issue. The government can induce many activities that have great leverages and immediate effects to the economy. Unfortunately, instead of accelerating the execution of those options, the government still opts for wrong policies. For example, in this critical situation, there are signals that the building of a new capital is still going strongly as planned.
Making things even more complicated, government announced a confusing stimulus about one year deferred payment of vehicle credit for drivers of online taxis and motobike taxis as well as credit for small to medium enterprises. Is the finance industry supposed to shoulder that burden? What if non performing loan, which is currently under control, ends up growing and strangling banking sector?
There is a lesson from the past that the current government seems to forget: the most important thing in managing a crisis is to prevent non performing loan explosion from ruining the banking industry. Failing to do so would bring a dire consequence. A repeat of a frightening crisis on a scale last seen in 1998 is waiting to happen.
YOPIE HIDAYAT
(Contributor)