Contingencies for City Closures
Some regions are ready to face quarantines due to the Covid-19 outbreak. The central government does not want to implement a total quarantine.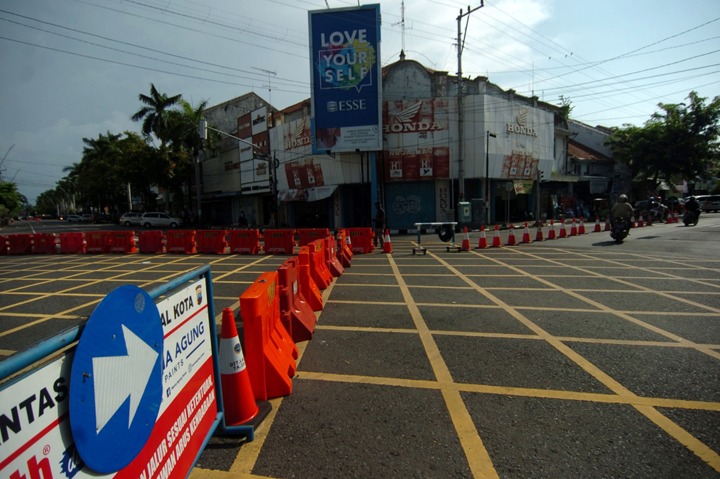 STANDING in front of Doni Monardo, head of the Covid-19 Accelerated Response Task Force who is also chairman of the National Disaster Mitigation Agency (BNPB), Anies Baswedan presented his study on Wednesday, March 18. The governor of the Jakarta made a presentation on the handling of the outbreak of the 2019 Coronavirus Disease or Covid-19 in the Capital.
For about an hour, Anies, who was accompanied by Jakarta Secretary Saefullah and Chief of the Jakarta Health Office Widyastuti, went over four scenarios. Presentation documents obtained by Tempo describe those four scenarios as: a first phase of limited crowding; phase 2A, limited mobility; phase 2B, near zero mobility; and phase 3, zero mobility. "The last one is not a lockdown, but zero mobility," said Doni in an interview with Tempo at his office on March 26.
It was mentioned in that 29-slide presentation that Jakarta needs to apply phase 2B. In this stage, there is no mobility between countries and movement between cities is strictly limited. Public transportation and private vehicle use is also limited. Restaurants and eateries may only serve take-out or delivery. Only grocery stores and drugstores can remain open as usual. Schools are closed, office workers work from home, and events which attract crowds are banned.
The next phase is more restrictive. All activities involving mobility between nations and cities are stopped. Public transportation stops operating and private vehicles may not be seen in the road. Grocery stores and drugstores are only open for delivery service. In the conclusion, the direction of the policy for Jakarta is drastic restrictions on social limiting and limited mobility.
After that presentation, Doni suggested that Anies work hard on educating the public about the importance of social distancing. "I said, 'Pak Governor, please focus on increasing the public's knowledge about the danger of this virus'," he said.
According to Doni, social distancing is the best measure which can be taken at this time. If a lockdown or regional quarantine scenario is implemented, the government must bear responsibility for not only the basic needs of the entire populace, but also the feed needs for pets. This is in line with Law No. 6/2018 regarding health quarantine. "If this happens, it will really drain our energy," he said.
After meeting with Doni, Anies said that the regional policy will be in line with the central government. "We are making sure that the measures taken by the City will be in line with the strategy as led by the chair of the BNPB," said Anies.
•••
AS of the last week of March, the government insists it will not enact a regional quarantine. On several occasions, President Joko Widodo said that there is not yet a need for a lockdown. In the latest, during an online meeting with the nation's governors on March 24, Jokowi mentioned his reason for doing so. "Each country has a different character, culture and discipline. For that reason we do not choose a lockdown option," said Jokowi.
On March 28, the Covid-19 accelerated response task force recorded 1,155 cases of testing positive for coronavirus. There were 102 who died and 59 who recovered. In the Capital, 627 people had contracted corona and 62 died from the virus. Commander of the Jayakarta Regional Military Command Maj. Gen. Eko Margiyono said that in the worst-case scenario there would be 8,000 Jakarta residents contracting Covid-19. "From the simulation with Jakarta Forkompida (Regional Leaders Coordination Forum), as Jakarta has been most affected, the worst scenario could reach 6,000-8,000 people testing positive," said Eko.
The Jakarta government is still calculating the required costs if the central government decides on quarantine measures. Enny Sri Hartati, a senior researcher from the Institute for Development of Economics and Finance, who took part in the online meeting for the Jakarta Covid-19 mitigation team, said that she was asked to calculate how much this would cost. She estimates the amount to be around Rp3 trillion. That calculation is based on the city's database of recipients of social assistance plus workers in the informal sector, which comes to 2.2 million people, with an assumption of Rp100,000 per day during a 14-day quarantine.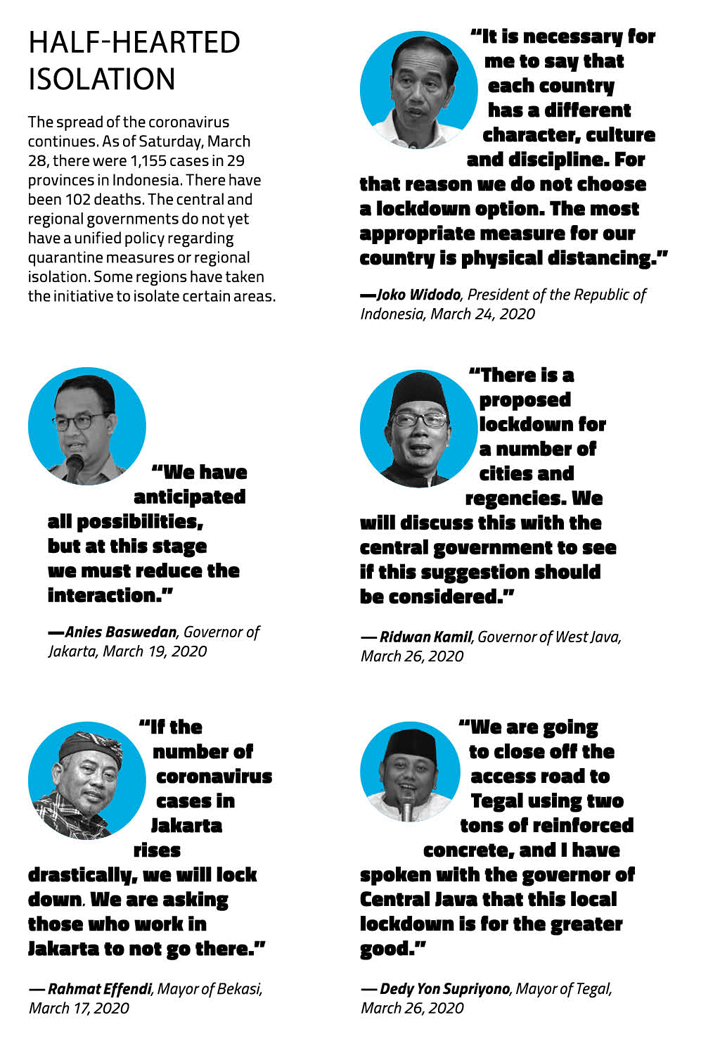 Two subdistrict heads met by Tempo are doubtful that the city government is ready to face a regional quarantine, due to budgeting. These district heads in East and South Jakarta said that since the coronavirus outbreak in Jakarta they have had to use personal funds for the needs of residents, such as buying disinfectant and hand sanitizer. They have to use their own money to buy protective equipment such as face masks and thermometers. Those two said that the Jakarta administration does not have a budget to overcome the corona outbreak. The disaster funds available in the Jakarta regional budget (APBD) are only for dealing with fires and flooding.
Muhammad Taufik, deputy speaker of the Jakarta Regional Legislative Council, said that he has communicated with Regional Secretary Saefullah regarding shifting APBD funds to deal with Covid-19. "In short, we approve and will not get in the way of it," said Taufik. He cited that Rp4 trillion can be obtained by reallocating items for the Formula E racing, unexpected expenditures, and some other items.
The city government has also readied food supplies. Bambang Purwanto, chief of food at the office of food security, maritime affairs and fisheries, said that Jakarta still has a stock of 350,000 tons of rice. Chief Executive Officer (CEO) of Food Station Tjipinang Jaya, Arief Prasetyo Adi, said this his company has submitted a request to import 22,000 tons of garlic to the trade ministry. For sugar, Food Station has brought in a 500 ton supply from East Java. The price of garlic and sugar has been rising as the coronavirus spread to several regions.
Other regions are also preparing to face regional quarantines. Governor of West Java Ridwan Kamil said that he is running through some scenarios. West Java has the second-highest number of corona cases, after Jakarta. On Saturday, March 28, there were 119 patients who had tested positive for the virus. West Java, said Ridwan, has calculated the amount of basic needs which will be given to the public affected by the outbreak, with a budget burden of about Rp5 trillion. Each family is projected to receive Rp500,000 in cash along with basic necessities. This assistance is designed to last for two to four months.
Ridwan considers regional quarantine as a proper policy to suppress an epidemic. "I follow the central government. However, if a lockdown takes place, we have to be ready and may not be stuttered," he said.
Mayor of Bekasi Rahmat Effendi in West Java said that if the Capital is closed, his region will have to be isolated as well. This is because 60 percent of the residents of Bekasi have activities in Jakarta, which is the epicenter of coronavirus cases.
Some other regions have taken the initiative to go into quarantine, including in relation to people returning to their hometowns from the Capital. The Sumedang Regency government, also in West Java, for instance, is applying regional isolation for all of its subdistricts. "This regional isolation is more for those retuning from out of town so that they do not go outside," said Regent of Sumedang Dony Ahmad Munir.

Mayor of Tegal Dedy Yon Supriyono in Central Java is also limiting regional access at the entrance to Jalan Pantura and the border of the Tegal Regency from March 30 to July 30. During this quarantine period each entry point into the City of Tegal will be blocked by concrete road barriers. According to Dedy, this policy is being done in anticipation of a large number of people arriving from the Capital before the end-of-fasting month celebration Idul Fitri (Lebaran).
In the east, Governor of Papua Lukas Enembe has closed access to the airport and ports for 14 days, from March 26 to April 9. Rasella Melinda, a researcher from the Pusaka Foundation, an institution concerned with the rights of indigenous communities, could not return to Jakarta and had to stay in Merauke. She said that she had purchased a return ticket for March 26. "I did not know there was a quarantine because I was in a remote area with no cellular phone coverage. That's just how it goes," she said.
However, some regions have no plans to take quarantine measures, such as the Yogyakarta Province. "We are not rashly going into a lockdown. It has severe effects," said Yogyakarta Regional Secretary Kadarmanta Baskara Aji.
To ensure that the regions are in line with the central government, Home Affairs Minister Tito Karnavian has met with some regional heads, including Ridwan Kamil. Ridwan said he discussed lockdown measures with Tito in mid-March. According to him, Tito reminded him that the authority for large-scale regional quarantine rests with the central government. A day earlier, Tito visited Anies at his office to remind him of the same thing. This former National Police chief said that the regions must submit a proposal to the Covid-19 task force if they want to have a regional quarantine.
Coordinating Minister for Political, Legal and Security Affairs Mahfud Md. said that the government is preparing a government regulation about regional quarantine. Mahfud said that this regulation will be made to create uniformity for limited quarantine procedures. "It will regulate when a region may set limitations, its conditions, and what is banned," he said.
DEVY ERNIS, HUSSEIN ABRIi, GANGSAR PARIKESIT, JAMAL A. NASHR (SEMARANG), AHMAD FIKRI (BANDUNG), SHINTA MAHARANI (DIY), ADI WARSONO (BEKASI)