Dogfruit Warrior
Uraso may be known as a jengkol (Archidendron pauciflorum) or dogfruit producer, but it was Seliwati who stood behind him.
Edition : Tuesday, April 7, 2020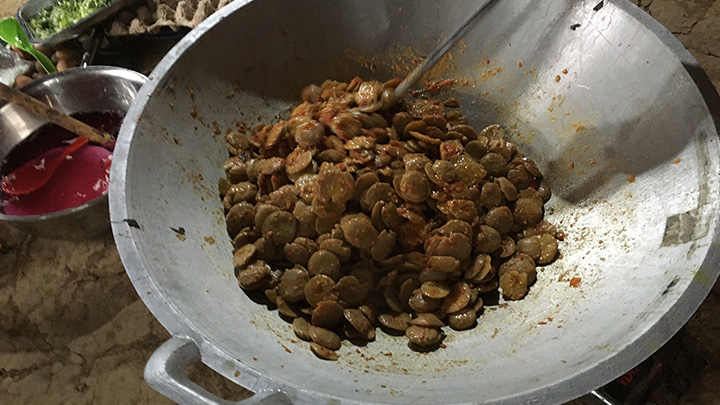 THE mother of three introduced the residents of Uraso village in North Luwu Regency, South Sulawesi, to jengkol around eight years ago.
Damaris Z.B, an Uraso villager who also planted jengkol trees, said that Seliwati went around to persuade locals. "One tree produces this many kilograms, compare that to oil palm. Besides, oil palm yields lesser produce as they age, while jengkol gives more the older they get," said Damaris on March 12.
The 49-year-old Seliwati brought dogfruit seedlings from her old village, Patila in North Luwu. She suggested the people of Uraso to plant jengkol when they—particularly those from Kampung Baru and Kumila hamlets—were contending for their rights over the lands, part of the cultivation rights tittle (HGU) area of state-owned Perkebunan Nusantara (PTPN) XIV.
Few were initially attracted to her suggestion. Together with her husband Esrom Cakka, a native resident of Uraso, she decided to push ahead by planting 60 jengkol seedlings, which continued to grow in number until it now reaches more than 100. Later on, her neighbors followed suit. "Mass jengkol planting began in earnest in 2015," said Saenal Abidin, head of the Wallacea Society, who has been counseling the people of Uraso for quite some time.
W251bGwsIjIwMjEtMDUtMDggMTQ6MjI6NTEiXQ
During the early harvests, jengkol sold for a good price. During her first harvest in 2016, Seliwati gathered around half a ton, selling for Rp30,000 per kilogram. Unfortunately, the price declined continuously. The next year, when she harvested two tons of dogfruit and sold it for Rp20,000 per kilogram. Last year it went down yet again to Rp15,000 per kilogram and this year they heard the price will only be Rp6.000. Nevertheless, jengkol remains one of the main sources of income for the many people of Uraso.
Seliwati's actions garnered attention from Oxfam in Indonesia. In 2016, they gave her the Female Food Hero award. "Seliwati became a pioneer who drove communities and gave them resilience against the social pressure they were facing up against, in this case the recognition of their rights over the land," said Wiwid Widiyanto, Oxfam in Indonesia project manager. "Seliwati played an important role in transforming that challenge into an opportunity."
PURWANI DIYAH PRABANDARI