Mohammad Syahril, chief executive officer, Sulianti Saroso Infectious Diseases Hospital: Not All Doctors Are Prepared
Rising number of Covid-19 patients reminds Mohammad Syahril of the time the pandemic began to unfold last January. He had just been appointed the chief executive officer of the Sulianti Saroso Infectious Diseases Hospital (RSPI) that time.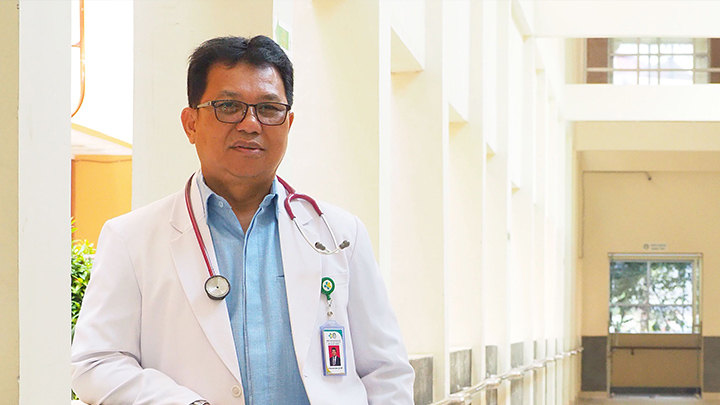 RIGHT after he took the helm of the hospital, he came face to face with the impact of the coronavirus outbreak which first emerged in Wuhan, China last November. Sulianti Saroso RSPI received several referral patients carrying Covid-19 symptoms. "People who returned from the endemic areas, Wuhan for example, were also sent here," Syahril, 57, recalled in the special interview with Tempo on Tuesday, March 24.
Syahril said since the day it declared the outbreak as the global national emergency at the end of January, World Health Organization (WHO) has set criteria for people under observation (ODP) and patient under surveillance (PDP). The virus had by then killed more than 200 people in China and infected 9,000 in 19 countries. Sulianti Saroso RSPI took measures to prepare itself to face the onslaught, however, when this new strain of the coronavirus was finally detected in the country, the hospital was nonetheless snowed under.
Since the first two corona positive patients were admitted on February 29, the number of suspected patients who were referred to the hospital located in Tanjung Priok, North Jakarta, has gradually climbed. The facility which already had 11 isolation rooms had to add more infirmaries to accommodate the influx of patients. Doctors and nurses felt overwhelmed, and were shaken when they got news that some of their colleagues in other hospitals had contracted the disease from infected patients and some had succumbed to the virus. "They are also human," said Syahril, who often had to console his medical team.
During the chat with Tempo reporters Mahardika Satria Hadi and Nur Alfiyah at his office which is marked as a green zone for visits, Syahril, a pulmonologist himself, explained about various issues: from what his medical team is going through in handling Covid-19 patients, the dire need for personal protective equipment (PPE) to patient treatment. The interview was supplemented with additional information via WhatsApp chats on March 31 and April 3.
The surge in the number of Covid-19 patients overwhelmed the Sulianti Saroso RSPI medical staff even causing a shortage of ventilators. What happened?
Sulianti Saroso RSPI only has four isolation intensive care (ICU) rooms and three anesthetists. The sudden jump in incoming patients with severe or critical complaints who need ventilators put us in a very tight spot. But we now have two additional ready-to-use ventilators and arrangements are underway for additional 12 rooms which can be fitted with ventilators.
Does the hospital still have sufficient medical facilities and staff?
Yes, we do. If I'm not mistaken, on March 15, we were designated as a special Covid-19 hospital. We—including the emergency ward—no longer accept non-Covid-19 patients.
With sufficient medical staff and facilities, why are still patients dying in the hospital?
The RSPI is a Covid-19 referral hospital. It means some of the patients who came to us were previously treated in other hospitals. Some were already in critical condition, already hooked to ventilators. All the patients here are classified as emergency patients and they are treated intensively. The majority of the patients who died already had comorbid conditions, among others, diabetes, hypertension, heart and kidney diseases. One even had a secondary infection that led to sepsis.
How do you explain the case where a patient was rejected by Sulianti Suroso RSPI and later died due to delayed treatment?
It was not rejection, really, but that time all the isolation rooms were occupied. Every Covid-19 patient must be placed in isolation room, not in general wards. So, the patient was referred to another referral hospital, either the Gatot Soebroto Army Hospital or Persahabatan General Hospital. The RSPI is the last resort. It means, we only accept referral patients from other hospitals which cannot accept nor have the ability to handle corona patients who are in advanced stage or patients with moderate to severe illness.
When did the hospital first handle patients suspected of having Covid-19?
Since January-February. They were referral patients from other hospitals. All were confirmed negative.
(Sulianti Saroso RSPI for the first time treated two female suspected Covid-19 patients at the end of January. They were referral patients from the Pondok Indah Hospital in South Jakarta and had Covid-19 symptoms such as cough, fever and sore throat. One of the patients had travelled to Wuhan, China.)
How were they treated?
They were treated in isolation rooms. Since the bird flu pandemic in 2003, we've had 11 tightly sealed isolation rooms. One room for one patient to break the chain of infection. Inside each room is a negative pressure machine, AHU (air handling unit) to regulate the air circulation so as to keep the room virus free at all times.
Which hospitals had referred these patients?
Private hospitals in Jabodetabek (Jakarta, Bogor, Depok, Tangerang and Bekasi) including port health authorities. They all use thermal scanner, you see, and send all suspected cases here. There were already endemic places, for example, Wuhan. So, all the travelers returning from Wuhan were also sent here. We examined their symptoms and history of contacts or travels.
Was the condition at the time conducive to handling the patients?
Luckily, all the tests came out negative that time. As soon as President Joko Widodo announced the first two positive cases on March 2, the number of cases escalated. The first four patients were admitted here.
How are their conditions since their admission?
Patient 1, we observed, is a proactive person who knows what's happening in the outside world. She knew exactly what Covid-19 is. So, as soon as she experienced the symptoms, she told her doctor (at the Mitra Keluarga Hospital in Depok, West Java). She was immediately referred to our hospital along with her mother (Patient 2). The mother was also very cooperative and open to advice although she was stressed at first.
How long did it take the hospital to get the swab results of Patient 1 and 2 from the health development and research institute?
Two days. The results were immediately reported to the health minister via the PHEOC (Public Health Emergency Operations Center). All the results are sent there. The hospital followed up on the result after Covid-19 mitigation spokesperson, Achmad Yurianto, informed the public via press conference.
What was the treatment protocol for the patients who were actually tested positive for corona in the course of those two days?
The RSPI already has the same standard operating procedure in place to treat the same all the patients who are admitted to isolation rooms for preparation or for treatment. All the medical and other staff entering the rooms must wear complete PPE. The infection prevention and control team monitors the use and the removal of PPE. So, everyone must be highly vigilant for the safety and security of the personnel.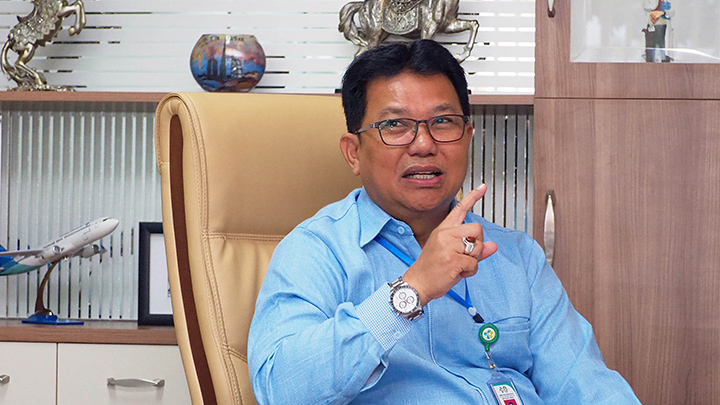 Mohammad Syahril, CEO of Sulianti Saroso Infectious Diseases Hospital, during the interview with Tempo, Jakarta, March 24./TEMPO/Nurdiansah
Before Patient 1 and 2, how many people came for examination?
A lot of people got panicked last January. There are many Chinese companies around here. We received numerous calls. They wanted to be checked to make sure they were corona free and so on. In the end, we opened a 24-hour post to provide information, education and consultation. They were spooked because they didn't understand.
How was the commotion like that time?
There were around 100 to 150 people who came to the post everyday. Some came at midnight to get checked earlier. But after giving information and if they were okay, we asked them to go home. Those who needed to be examined, we examined. We swabbed those with fever and severe flu symptoms. We warded them to monitor and give intravenous fluids, oxygen etc.
Who are these people?
Those who returned from China, Singapore or Malaysia. These countries had cases earlier than us, you see. In general, they came here out of fear and concern. But there were also people who came for corona-free certificates demanded by some foreign companies. We explained to them that there was no test to certify that someone was free of Coronavirus. We've never issued such a letter to this date.
Did the people who were tested negative show no symptoms?
We had to make sure. When they came to the post, we screened them. Some were okaybut we asked some to have lab test or x-ray. The results came out okay. So, we gave them medicines for cough and fever as needed.
Has the increased number of patients after Patient 1 and 2 overburdened the medical staff?
This is the first time we've ever handled such a huge number of outbreak patients. There were very few during the avian flu pandemic. Doctors and nurses were also frightened. They asked me, 'What will happen to us? How about health insurance for us?' That's the hardest thing for me. They are also human who have fears.
What did you do then?
I talked with them, offered counsel that they had chosen to work in this hospital, so, there was no excuse not to do whatever necessary. Second, the country is calling us. And that not every battle involves weapon. I frequently had such a discussion with the doctors one by one. Don't think that my doctors did not protest. Not all doctors are prepared, you see, especially those who are not lung specialists.
Haven't they already handled corona suspect patients last January?
But soon after positive cases emerged, a lot more appeared. One of the doctors said, 'Sir, we're scared. We just want to stay at home.' They are scared, even more so after the deaths of doctors and nurses. Corona strikes everyone and everywhere. Even ministers, not to mention us who work in hospitals, can get sick. But I always emphasize to my medical staff that as long as we comply with preventive measures via PPE, we will be safe,
Has any of the medical staff been infected?
One of the nurses was. She was tested positive but has since recovered. That's what I remind others of, so they don't get stressed.
How did the nurse get infected?
She came into close contact with the positive patient she was attending to. Perhaps her immune was not very strong at the time. The infection was discovered via symptoms. We also routinely check all the employees through medical checkup prioritizing those at highest risk. We swab their samples. Only afterwards, it's the rest of the employees' turn. This procedure is repeated every fortnight or whenever necessary.
Which employees are at highest risk of getting infected?
Those who work in the isolation rooms, the intensive care units, the emergency ward, the laboratory, and also cleaners. Besides doctors and nurses, lab analysts who take sputum swab also are at risk of exposure. They have direct contacts with the patients.
What is a standard isolation room like?
It's a 3-x-3-meter room with en-suite bathroom, TV, intercom and also CCTV. The total number of rooms has increased from the previous 11 to 30. The added rooms are not negative pressure rooms but they meet isolation standards. They comfortable rooms. Patients are visited daily by doctors, nurses, cleaners and also meal deliverers. Therefore, PPE is a primary defense weapon.
How many PPE units does the hospital need?
We need 20 complete sets for each patient for each day and night. Each set can be worn only once if the patient is confirmed positive. If there are 26 positive patients, how many sets are needed? Do the math. And it's not easy (to fulfil the need). Other hospitals are also experiencing it.
Is it true that the PPE supply was disrupted?
As a government hospital, we do have the state budget, however, we did not stockpile it because we didn't know we would experience something like this.
What is the solution?
We try to be efficient sometimes. If there is no critical need for PPE, we skip it. For example, we usually wear two pairs of gloves and now we remove the outer one only so the inner one can be worn again. That's one way to be efficient.
Do you do that often?
That's one of the ways to increase efficiency when we need to. But when there is stock, then they must wear the complete set. We enforce the highest standard and nobody plays around with that.
Has the hospital run out of PPE before?
We didn't run out but our stock was depleting because of scarcity. We had the money but the good was not there.
Until when will the current supply last?
We've got a lot of assistance from the private sector, such as the Buddha Tzu Chi Indonesia Foundation, Human Initiative, and so on. We received around 600 sets of PPEs and several units of ventilator from Tzu Chi. We have enough for the next few weeks.
So far, how does Sulianti Saroso RSPI acquire PPE?
We buy directly from local distributors with fund from the government. But under the circumstances, many distributors are facing shortages. The government then explored various avenues and decided to import several tons of PPE from China.
---
MOHAMMAD SYAHRIL 
Place and date of birth:
Lahat, South Sumatra, July 23, 1962
Education:

Bachelor of Medicine, Sebelas Maret University, Surakarta, Central Java (1988)




Master in Pulmonology, Faculty of Medicine, University of Indonesia, Jakarta (2003)




Master in Hospital Management, Faculty of Medicine, Gadjah Mada University, Yogyakarta (2011)
Career:
Chief, Public Lung Health Center, Surakarta (2006-2011)

CEO, Ario Wirawan Lung Hospital, Salatiga (2011-2013)

CEO, Persahabatan Central General Hospital, Jakarta (2013-2015)

CEO, Dr Mohammad Hoesin Central General Hospital, Palembang (2015-2020)

CEO, Prof Dr Sulianti Saroso Infectious Diseases Hospital, Jakarta (Since January, 2020)
Awards:
Gold Champion of Indonesia WOW Service Excellence Award (2016)

Award/ International Hospital Accreditation from Joint Commission International (2016)
---
What if the distributor also runs out of supply?
We have donors. I don't know where they source them from. Some also came via public donation.
Doesn't the government provide PPE?
We already received 1,500 units, donated by the National Disaster Mitigation Agency, handed over via the Jakarta health services department.
What other challenges do you face in response to Covid-19?
The burgeoning number of patients. A lot of people are queuing up. That's why we need the Wisma Atlet emergency Covid-19 hospital. Non-referral hospitals should send patients there. Wisma Atlet can immediately receive patients or referral patients with mild to moderate symptoms. Let us focus on patients in critical condition.
What kind of medication is given to Covid-19 patients?
The Covid-19 therapy includes, among others, azithromycin, isoprinosine, chloroquine phosphate or hydroxychloroquine and vitamin C. Avigan arrived only on March 31.
Where do you get chloroquine?
Donated by Indofarma. We have a lot. It used to be a malaria drug in the past.
How does the hospital deal with the psychological effects of patients who have been isolated for long?
We have psychologists. Attending doctors can determine if certain patients need counselling. They know if their patients are suffering stress or trauma.