Storm of Hatred in Uncle Sam's Country
At least 1,000 racist or discriminative actions against Asians occurred amid the coronavirus outbreak. Four cases happened to Indonesians in Philadelphia.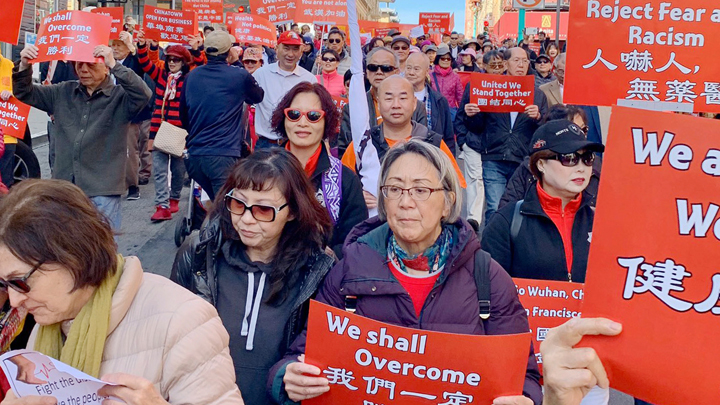 RANIA, a teenage from Indonesia, used to take public transport every day to her work place at a small shop in downtown Philadelphia, Pennsylvania, the United States. That routine came to a stop on April 1, when Pennsylvania Governor Tom Wolf issued the 'stay at home' order for the state's 12.8 million residents in order to stem the spread of the Coronavirus Disease 2019 (Covid-19).
Now, Rania has to deal with harassment whenever she boards the bus or subway. Aside from unfriendly attitude, she is also mocked: "Go back to your country!" The 17-year-old girl would usually ignore it. If it comes from a group of young people and Rania is the only person of Asian descent around, she chooses to stay away.
Rania does not always tell her mother, Indah Nuritasari, of what she experiences. "She said 'you would cry if I tell you every day'," said Indah, repeating her daughter's answer to Tempo, Wednesday, April 15. Indah also said that the racially-motivated hate slur continues to occur. It happens not only to Indonesians, but Asians in general.
What Rania encounters has become a rather frequently reported type of incident since the coronavirus outbreak began sweeping across the US. It is generally directed towards Asians. STOP AAPI HATE—a reporting center for hate speech against Asian and Pacific Islander American—received 1,135 reports of such incident from March 19 to April 1. This reporting center was established by the Asian Pacific Policy and Planning Council, the Chinese for Affirmative Action, and San Francisco University Department of Asian-American Studies.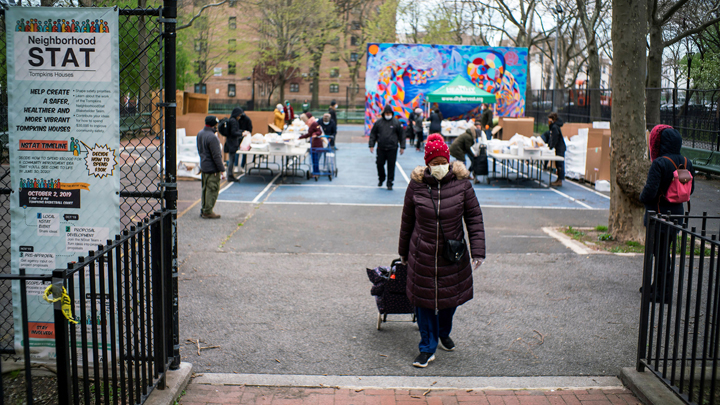 Food donation in a densely populated area in New York, amid the Covid-19 pandemic, April 15./REUTERS/Eduardo Munoz
Based on data collected by the center, most of the harassment victims were females. Children account for 6 percent of the victims. Despite the 'stay at home' order in Pennsylvania, discriminative incidents remain high and frequently occur in grocery stores, pharmacies, and large retail stores that remain open.
As of April 17, Covid-19, a disease first spread in Wuhan, China, has infected 636,917 people in the United States, killing 28,586. America becomes a country with the largest number of victims, surpassing China, which reported 82,367 cases of infection with 3,342 fatalities. In Philadelphia, the number of cases amounted to 7,121, with 131 death.
There is still no certain information regarding the number of Indonesians in Philadelphia subjected to racist actions. Some cases were reported to the police, but many more were not. "For cases involving Indonesians, there were four reports from the police since a month ago," said Reverend Theny Landena who leads the Indonesian Christian Church (ICC) in Philadelphia to Tempo, on April 15.
Theny, who is also a member of the Philadelphia Police Asian-American Advisory Committee said that based on reports from the police, cases of racism acts against Indonesians usually involve verbal harassment. "Upon exiting the subway, someone said to them 'virus carrier', 'trouble maker', 'get out of this country!'. There was also an Indonesian who was spat on after disembarking the subway train. Needless to say, they were hurt," he said.
From reports filed to the police, Theny said that the harassment targets are mostly people whose physical appearances suggest Chinese ancestry, such as having yellow skin tone or slanted eyes. On average, Indonesian victims in Philadelphia happened to have yellow skin tone. "This is not entirely xenophobia. It is more like Sinophobia," said Theny.
Nevertheless, similar cases are also occurring to other people of color of Asian descent. Theny had one himself. In mid-march, he and his two colleagues were about to join a meeting. "Upon entering the room, somebody in the back shouted, 'Corona! Corona!", he said. "Even though my skin is rather darker."
Another one took place in the second week of April. Theny donned a mask and walked outside to do a church business. He encountered a woman who was walking her dog. When she was in close proximity, the woman suddenly said loudly to him, "I am not wearing my mask. That is not fair." Theny did not understand what was the woman's objection towards him.
The Philadelphia government and City Council reacted to the increase of racism against Asians, who make up 8 percent of the city's population. On April 7, they published a statement expressing concern. "Members of the City Council of Philadelphia released the following statement today in condemnation of racist and xenophobic rhetoric against Asian and Asian-American communities amid the rise of Covid-19," reads the statement signed by 16 council members.
The statements also mentions the federal government's stance under United States President Donald Trump, which is said to be inciting racist sentiment. On March 7, for example, Secretary of State Mike Pompeo used the term "Chinese coronavirus" in a televised interview. It triggered multiple members of the congress to begin using the term. On March 16, Trump used the term "Chinese virus" at a political rally.
Theny said, by the end of March, the Philadelphia City Administration invited community figures to discuss this problem. After the meeting, the government published a pamphlet. "Racist and discriminatory acts against any community are illegal and must not be allowed in Philadelphia," it reads. The government urges residents who become victim of any crime to call the 911 emergency number. For racist hate crime, they were told to contact the Philadelphia Commission on Human Relations.
Despite the emergence of racially-motivated offenses, there had been no report to the Indonesian Embassy in Washington, DC. "On unpleasant acts related to the Covid-19 problem, it can be said that there is no official report," said Brig. Gen. Ary Laksamana Widjaja, Police Attache of the Indonesian Embassy, to Tempo, on April 16.
The Embassy has five consulate generals spread across America: In Chicago, Houston, Los Angeles, New York, dan San Francisco. "We carry out monitoring from pockets of Indonesian community and they also report that," said Ary. During a video conference via Zoom on April 5, he learned of Indonesians being harassed or spat on. "This treatment is linked to the virus from Wuhan, China. These people are being viewed as virus carrier," he said.
Ary is not sure why he heard this kind of report from Philadelphia but not from other cities, yet. There are more than 24,000 Indonesians in America, according to Ary. One of the largest concentrations is located in Philadelphia, estimated to number more than 6,000 people. Many Indonesians reside in the southern part, where population is more dense and rent is relatively more affordable. "The areas are known to be a bit prone to crime," said Ary. Indonesians here work various professions. Some own restaurants or work in one, or a factory, and some others become online taxi drivers.
During the video conference on April 5, Ary also gave tips to increase security, such as avoiding crowds if feeling uncomfortable, not going out alone, and not carrying too much cash when shopping. "If mugged, better give it up instead of defending it. People here carry firearms. So, rather than resisting and being hurt," he said.
Ikhsan Darmawan, an Indonesian citizen in the city of Kent, Ohio, said he has not heard of cases of racism in the area. "I have never experienced it, nor have I heard of it around here," said the college student who is pursuing his doctoral degree to Tempo, on April 15. "Moreover, we are now told to stay at home."
Ohio Governor Mike DeWide issued the 'stay at home' order on March 22. As of April 17, there are 2,902 cases of coronavirus infection with 81 fatalities in this state. Ikhsan now only goes out to buy daily necessities. Restaurants may still open, but only for deliveries. Grocery stores remain open as well, but they limit the number of people inside in order to be able to keep social distancing.
Kent is not a densely populated city, with 29,000 residents according to data in 2018. Total population of Ohio State is 11.6 million. "In Ohio, densely populated cities are Columbus and Cleveland, among others. There is usually a link, more or less, between population density and potential for racism. More prone, to be exact," said Ikhsan.
Cynthia Choi from the Chinese for Affirmative Action said a report compiled by her institution reveals an increase of racism following the outbreak, particularly against Chinese. "Anti-Asian racism is on the rise because they blame China and the Chinese government. This is racist because Chinese-Americans are not the Chinese government and cannot be blamed," she said to Tempo, on April 17. "Now all Asians are targeted, not only the Chinese."
Based on data from STOP AAPI HATE, racist or discriminative treatments are reported by Koreans (15 percent), Vietnamese (7 percent), Filipinos (7 percent), Japanese (5 percent), Taiwanese (5 percent), and Chinese (40 percent). Most comes in the form of verbal abuse, amounting to almost 70 percent. Meanwhile, physical offenses such as coughing at the victim make up less than 10 percent.
The report, for example, mentions a woman in a grocery store who spat on Asians who were shopping there. The woman said the corona virus is their fault. There is also this family of five who visited the old town Haleiwa, Hawaii. Some cars approached them. The drivers lowered their windows, coughed at them, laughed, then quickly left.
Another person told of an experience in a supermarket. A child suddenly grabbed the person's hand and told the person to go back to his or her home country, saying that his father died because of this person. "It was the most terrifying and saddest experience I have ever had in America since 1977," said the complainant in the report.
Choi said that cases of racism against Asians are indeed showing an increasing trend, although this is nothing new. "I suspect this will increase as racist rhetorics become more provocative towards the election," she said. If not delayed, the United States Presidential Election will take place on November 3.
ABDUL MANAN