Bitter Taste of Sugar Shortage
The government is struggling to keep up consumption sugar supply after prices soared. This comes in the midst of an impending global food crisis due to the Covid-19 pandemic.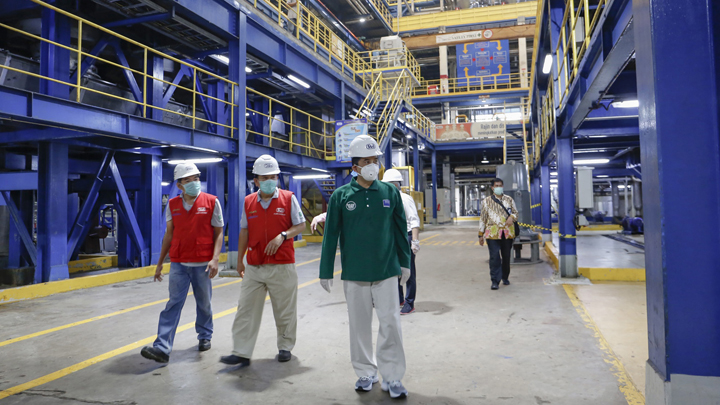 TRADE Minister Agus Suparmanto is vigorous in carrying out inspections in the past two weeks. He visited three sugar factories in a row—Industri Gula Nusantara (IGN) in Kendal, Central Java; and Angels Products and Sentra Usahatama Jaya in Cilegon, Banten—on April 7 and 9. "We will monitor refined sugar factories which have received special tasks," Agus said during his visit to Cilegon.
The special tasks he referred to were orders given to refined sugar factories, which usually cover industrial demand, to process raw sugar into consumer product. The factories visited by Agus in Kendal and Cilegon are three out of a number of factories tapped to 'assist' the state to overcome sugar shortages.
The government is making an effort to boost household sugar production. Since February, the low supply has jacked up refined sugar prices. Until April 16, the average national price for refined sugar at traditional markets reached Rp18,350 per kilogram, up 25 percent from the same period last month. Refined sugar prices in a number of provinces, particularly in central and eastern Indonesia, even went past Rp20,000 per kilogram.
By adding supply by reallocating the use of raw material from industrial to consumption sugar, the government hopes that prices will go down to the highest retail price (HET) set by the trade ministry, which is Rp12,500 per kilogram. "In almost all regions, refined sugar prices rose up to 47 percent higher than the HET," Agus said in Kendal.
Sugar shortage and price hikes are even more worrisome given that demand will go up with the upcoming fasting period and Idul Fitri celebrations next month. The government estimates that a supply of 1.15 million tons is needed until June. On the other hand, covering supplies through imports is currently not an easy matter.
State Logistics Agency (Bulog), for example, has clinched a permit to import 50,000 tons white crystal sugar since mid-March. However, Bulog Chief Budi Waseso said realizing the imports has become increasingly difficult due to the Covid-19 pandemic. Many sugar factories abroad have halted production. "The same goes for the transport of logistics," said Budi in a meeting with the House of Representative's (DPR) Food Commission on April 9.
•••
THE shortage of sugar stock since the beginning of this year has already been predicted for a while. The sugarcane planting period in 2019 was delayed due to the long dry season. This delay has impacted harvesting and milling at the factories. Thus, a limited coordinating meeting at the ministerial level on September 17, 2019, decided to allow imports of 521,052 tons of raw sugar to be processed into consumption sugar.
From that amount, 252,630 tons of raw sugar imports were realized, and the rest would materialize this year. The problem is that the procurement planning to cover demand in early 2020 came too late: import permits were only issued in mid-February.
Then, when sugar became increasingly scarce, the road to more imports were opened. Industri Gula Nusantara's factory, for example, was given a raw sugar import permit for 37,000 tons by the trade ministry on March 19. An import agreement was issued on March 23 for 40,000 tons. However, on April 1, only 20,000 tons was realized by the firm.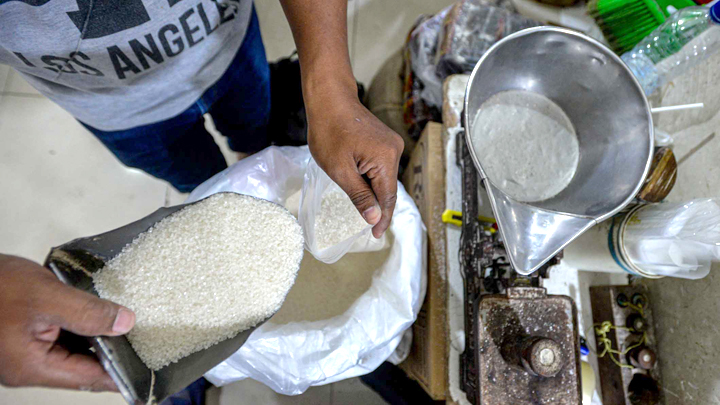 Sugar trader at Senen Market, Jakarta./ Tempo/Tony Hartawan
Meanwhile, Angels Products and Sentra Usahatama were given orders to respectively process 10,000 tons and 20,000 tons of sugar. Seven other firms which are members of the Indonesian Refined Sugar Association (AGRI) were also given the task to process raw sugar into consumer sugar. They were targeted to add 250,000 tons to consumer sugar supply.
That order was detailed in the Trade Ministry Assignment Letter No. 298/M-DAGSD/3/2020 dated March 26, signed by Agus Suparmanto. It said that the policy to reallocate industrial sugar stock for consumption sugar was AGRI's suggestion. Two days prior to that, the association sent a letter suggesting that refined sugar producers be assigned to make consumer sugar. A similar letter was sent to Kebun Tebu Mas on the same date.
Kebun Tebu Mas Director Adi Prasongko said that his factory in Lamongan, East Java, was ordered to process some 15,000 tons of sugar. The product would then be distributed in East Java, which is also short of sugar. "East Java actually has a surplus in production, but it is also used by other regions, so the amount has gone down," Adi said on April 16.
AGRI Chairman Benardi Dharmawan explained that the order has already been implemented using the available raw material. "It's not new imports. It's sort of a loan use," he said. Further, the government has to replace the imported sugar volume which was used so that supply for the food-and-beverage industry is not disrupted. So far, Bernardi continued, AGRI members have realized production of some 25,000 tons, out of which 20,000 tons have been distributed.
The usage of industrial sugar for household needs is actually prohibited. Based on Trade Ministry Regulation No. 14/2020, regarding sugar import stipulations, importers that have import agreement can only provide sugar as raw or auxiliary material in the production process. This regulation pointedly prohibits trade and/or transfer of imported sugar to other parties.
However, in his assignment letter to the sugar firms, the trade minister reasoned that the reallocation does not violate rules. The policy has been agreed upon in the meeting of limited coordinating economic affairs on March 20. Also, the ministry points to chapter 35 of the Trade Ministry Regulation No. 14/2020, which says that there are exceptions to the prohibitions as long as it is done in coordination with related ministries or state institutions. "This is not a normal situation, so it has been discussed and agreed upon for (additional sugar supply of) 250,000 tons," said Suhanto, the trade ministry's director-general for domestic trade.
Supriyanto Sardjowikaro, general chairperson of the National Forum of Sugar Transparency, said that the government must re-arrange the national sugar system so that the consumer sugar crisis does not become a cyclical occurrence. Looking ahead, he asked the government to measure the real shortage of domestic sugar and revitalize factories which currently are inoperable. "Also, the government must improve its sugar cane planting system by preparing superior seeds, and replace the sugarcane buying mechanism from sharecropping to regular buying," he said.
•••
THE sugar supply shortage and price hiked have rung alarm bells amidst threat of impending food crises due to the Covid-19 pandemic. In late March, the United Nations' Food and Agriculture Organization (FAO) has warned all countries that the pandemic will impact food supplies. In a policy briefing released on March 29, Maximo Torero Cullen, FAO's chief economist and assistant director-general for the economic and social development department, urged all countries to safeguard its food supply chain.
In Indonesia, the state has focused its attention on rice. President Joko Widodo acted on the FAO warning by asking related ministries and institutions to safeguard the second harvest season, which should fall in August-September.
Unlike the low supplies of sugar, rice is in overflow right now. A number of rice centers are enjoying good harvests. The Karawang Regency in West Java, for example, has been harvesting rice in fields measuring 19,621 hectares between January and mid-March. Karawang Regency administrators have noted that the current harvest has resulted in 137,347 tons, with average production of some seven tons a hectare.
Acep Jamhuri, regional secretary for the Karawang Regency, was grateful that the Covid-19 pandemic has not halted farming in his region. "Since January, one subdistrict after another has been harvesting," Acep said.
In some regencies, planting season has started. On April 16, Engkus and 15 of his colleagues got out of their pick-up vehicle at Randu hamlet in the Pedes subdistrict of Karawang. That morning, they were getting ready to work on the four-hectare field owned by Mahdi Pahrudin. Armed with a taplakan, a tool to arrange seeds, they started neatly putting seeds into the soil.
Mahdi said that farming activities have been normal despite the pandemic. "Now is the planting season. If all goes well until harvesting, we can produce up to 28 tons," he said.
Minister Agus Suparmanto estimates added production of some 19.8 million tons of rice until August. "That will be enough to cover national demand until December," he said when visiting Central Rice Market Cipinang in Jakarta on April 16.
Bulog Corporate Secretary Awaluddin Iqbal said his agency has absorbed 120,000 tons of local rice. "We hope that we can maximize this again during the April-May harvest," he said. He added that Bulog currently still has rice stock of 1.4 million tons. "That's quite a bit."
RETNO SULISTYOWATI, FAJAR PEBRIANTO, CAESAR AKBAR, HISYAM LUTHFIANA (KARAWANG)