Hazmat Suits Coded As Baby Clothes
Hundreds of thousands of sets of PPE were successfully exported to Korea with falsified codes. The matter was resolved unofficially by three institutions.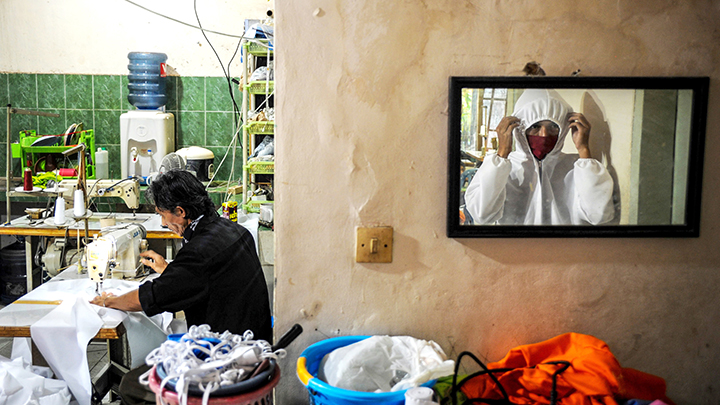 OVER 100 workers of Dae Dong International were busy working with pieces of white fabric at their tables on Tuesday, April 14. This cloth is the material they use to make hazmat suits at their factory located in a bonded area in Ciawi, Bogor, West Java.
Dae Dong produces personal protective equipment (PPE) for the foreign market. However, they had a problem with their exports at the end of last March. At that time, Coronavirus Disease 2019 (Covid-19) had spread in Indonesia and resulted in some deaths. Trade Minister Regulation No. 23/2020 forbids the export of some medical equipment and PPE in order to meet domestic needs.
The Bogor Customs office sealed a shipping container containing PPE belonging to Dae Dong on March 21. "Officers did put a hold on the goods they were going to export," said Deni Surjantoro, a spokesman for the directorate-general of Customs, on April 17.
That same day, the Customs office sealed shipping containers containing PPE belonging to GA Indonesia, Pelita Harapan Abadi, Indomatra Busana Jaya, and Permata Garment. Those four companies are located in Bogor and Depok, West Java. They were planning to export all of that medical gear to Korea via Sukarno-Hatta Airport in Tangerang, Banten, and Tanjung Priok Port in Jakarta.
Customs officials sealed those shipping containers at the factories, which contained 145,000 sets of PPE in total. According to documents obtained by Tempo, those companies are suspected of not listing the correct harmonized system (HS) code as PPE in their notification of export documents. They actually used the HS code for ordinary clothing, such as for jackets and baby clothes.
Each exporter and importer must list the proper HS code so that Customs can charge the correct tariff on the goods. There are eight notifications of export suspected of being incorrect. "Customs notification is a self-assessment done by exporters," said Tatang Yuliono, chief of the Bogor Customs office, on April 16.
The containers were only sealed for a few days. The trade ministry issued Regulation No. 34/2020, which made changes to Article 3 of Regulation No. 23, on March 31, 2020. According to this new regulation, the minister may make exceptions on that prohibition for certain companies.
Two letters obtained by Tempo said that the trade ministry is allowing Dae Dong International and GA Indonesia to export PPE until June 30. Those letters dated April 3 also say that the authorization is retroactive.
Customs then authorized the export of all of the PPE of those five companies to South Korea in early April. One law enforcement official said that Tatang is suspected of playing a role in getting those exports approved. He was suspected to make an inaccurate report regarding the amount of PPE produced and exported by those five companies in order to obtain export authorization from the government.
Trade Minister Regulation No. 34/2020 says that companies that produce antiseptics, PPE, and masks will be authorized to export if they have the blessing of the related government institution. In this case, that is the Covid-19 Accelerated Response Task Force—led by National Disaster Mitigation Agency (BNPB) Chief Doni Monardo—which was formed by President Joko Widodo in mid-March.
According to other law enforcement officials, Tatang is suspected of writing a report which seemingly mentions that those troubled exporters were also supplying domestic PPE needs. This report was important, because in several meetings the government had asked exporters to meet the growing demand for PPE in Indonesia.
If it was deemed that those companies were contributing to the effort, they would be considered for export authorization as mentioned in Regulation No. 34/2020. That regulation says that the trade minister can authorize the export of PPE under certain considerations.
Tatang was reluctant to answer questions about how the matter of the sealed shipping containers was resolved. He asked Tempo to confirm that matter with Deni Surjantoro, spokesman for the directorate-general of Customs. "In system terms, the Bogor Customs office has no obligation to do research on export documents," he said.
Deni Surjantoro said that the sealing of shipping containers of those five companies was the result of routine patrols done by Customs officers. To date, he said, Customs has not found any violations, including suspected alteration of HS codes to expedite exports. He also said he did not encounter any state losses. "That incident the other day was not an act of enforcement, but was just business as usual," he said.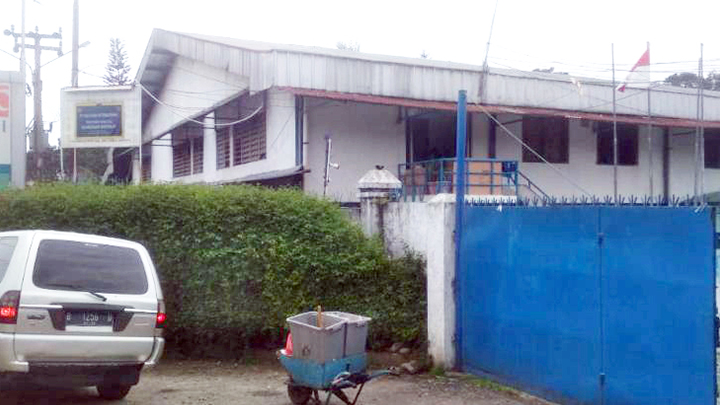 Dae Dong International's factory./TEMPO/Mustafa Moses
From February 2 to March 19, Dae Dong International, GA Indonesia, Pelita Harapan Abadi, Indomatra Busana Jaya, and Permata Garment were listed as having exported PPE to Korea and China several times. During that period, documents obtained by Tempo noted that those five companies had exported about 1.2 million sets of PPE.
Differing from Deni's explanation, those documents showed that some of those PPE exports used the same modus. In the notification of the export of goods, the exporters declared that the products were robes, coats and baby clothes. Some other documents gave the appropriate HS code, namely 62101090, for protective work clothing, as well as using the 62101011 code for apparel used for protection from chemical substances and fire.
Dae Dong International and GA Indonesia had not responded to written requests for interviews as of Saturday, April 18. An employee at Dae Dong named Kolbi did promise to respond to some questions via e-mail when met by Tempo at the factory.
Via e-mail, a staff member of Pelita Harapan Abadi named Kristiani said that they were not ready to accommodate any interviews with Tempo. A staff member of Permata Garment, Mutiara Ayu, and Esti from Indomatra Busana Jaya, said the same thing in their letters.
• • •
While holding a meeting with the Covid-19 Accelerated Response Task Force, on March 30, President Joko Widodo announced that the stock of PPE in Indonesia had dwindled. Counting up to this coming May, Jokowi estimated that 3 million units of PPE are needed. He ordered the Task Force to expedite PPE procurement efforts.
Even though Indonesia has many garment factories, only a few produce PPE such as hazmat suits, facemasks, and other equipment for medical workers. Muhammad Khayam, director-general of chemical, pharmaceutical, and textile industries at the industry ministry, said that companies which produce PPE have mostly been exporting their products, in particular to Korea.
Before the epidemic, domestic production of PPE was just 913,000 sets per month. In part due to limited domestic demand, those exporters of PPE generally obtained the raw materials from Korea. "They had contracts with importers in Korea long before this Covid-19 epidemic," he said.
Factories which produce PPE, such as GA Indonesia and Dae Dong International, are foreign capital investment companies. According to the company deed obtained by Tempo, all of the stockholders, commissioners, and executives of those two companies are Korean citizens. Korea, said Khayam, has long had a need for PPE.
This is why the sealing of shipping containers containing PPE which belonged to those five companies located in a bonded area drew the attention of several institutions. There was concern that such action could have an impact on bilateral relations between Indonesia and Korea. Moreover, Indonesia still depends on sourcing a material used in the manufacture of PPE, namely spunbonded non-woven fabric, from Korea.
Doni Monardo, head of the Covid-19 accelerated response task force, also asked Korea to assist Indonesia by providing the material used in the production of PPE. He gave a recommendation for exceptions for export authorization for four companies, for maximal shipments of 245,000 sets of PPE. Those four companies were: Pelita Harapan Abadi, Indomatra Busana Jaya, Dae Dong International, and Permata Garment.
The consideration for giving that recommendation, according to Doni, was that Indonesia still imports the material for making PPE from Korea. "There needs to be cooperation with South Korea, and there will be a sharing of the proceeds from production," he said. The distribution will be 50:50 for each production for export, along with meeting the domestic supply.
Aside from the matter of international cooperation, Directorate-General of Customs Spokesman Deni Surjantoro said that their side has other considerations. Those companies which produce PPE were established in a bonded area and help the country employ hundreds of workers.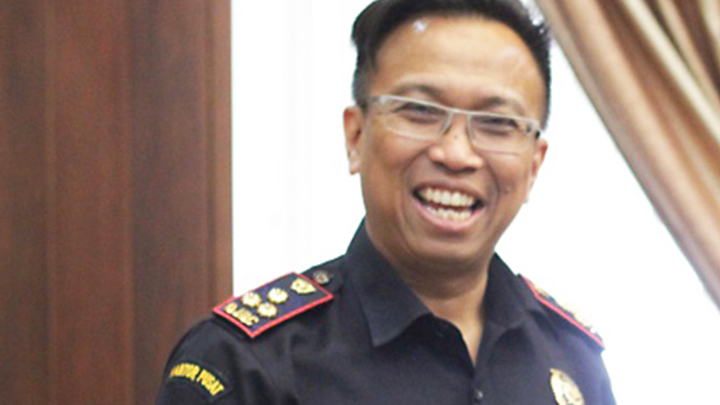 Chief of the Bogor Customs Office, Tatang Yuliono./Bogor Customs Doc.
Their side will continue to encourage the export of PPE as long as it comes with a recommendation from the BNPB and follows customs regulations. "So far, we have seen that those companies produce more for the domestic demand than for export," he said.
In addition to supplying PPE to private parties in Indonesia, documents obtained by Tempo mention that Dae Dong International relinquished 2,000 sets PPE to Customs on April 6. One law enforcement official said that this was a 'tribute' from that company which was given to facilitate obtaining export authorization from the government.
Chief of the Bogor Customs Office Tatang Yuliono said that he does not know about any PPE donations. Deni Surjantoro said that he obtained that document which mentions a donation of PPE to Customs. He denied that his institution received any such PPE assistance.
Deni said that the circulated document about the sealing of shipping containers belonging to five companies in Bogor and Depok, as well as the one about that donation of PPE, did not come from the Customs directorate. Those documents, he said, were not written in the normal format used by Customs workers.
According to Deni, Customs officials are not going to fool around with the need for PPE during this Covid-19 pandemic. Customs is going to help those parties playing a role to overcome this pandemic. "There is no benefit to playing around," he said. "Surely we would be condemned by many if we did."
MUSTAFA SILALAHI, LINDA TRIANITA,
RIKY FERDIANTO, BUDIARTI UTAMI PUTRI