Upstream Chaos
The oil-and-gas upstream industry is revising its 2020 targets, as it gets hit from all sides.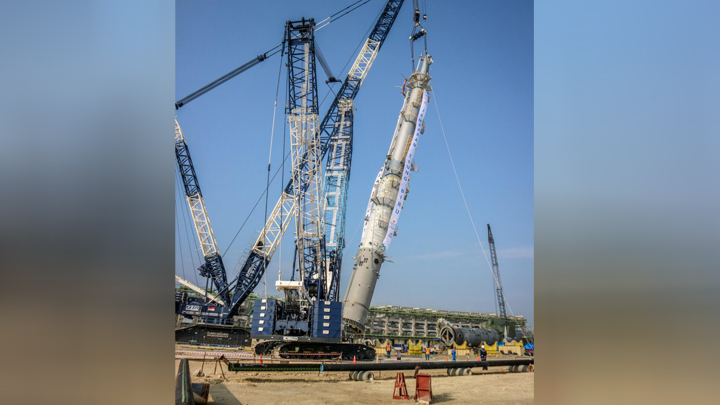 THE flyover at Ngraho village in the Gayam subdistrict in East Java's Bojonegoro has been quiet since restrictions are in place in mid-March to combat the Covid-19 pandemic. On Thursday, April 23, the ramp towards the location for two projects at the unitized Jambaran-Tiung Biru (JTB) gas field was no longer jammed with heavyweight vehicles.
On location, some seven kilometers from the Bojonegoro-Ngawi-Blora road, 3,504 people were seen at work according to the 2-3 meter social distancing regulation in place since the Covid-19 pandemic. "We haven't had layoffs," Zainal Arifin, spokesperson for Rekayasa Industri (Rekind), told Tempo on April 23. "We have no foreign workers."
Rekind is the contractor for the project's engineering, procurement, and construction through a consortium which includes Japan Gas Corporation and JGC Indonesia. On April 16, a selexol regenerator—a 66-meter-tall device to purify gas—was installed.
Managed by Pertamina EP Cepu, JTB is a national strategic project to fill the gas deficit in East and Central Java with supply of at least 192 million standard cubic feet per day (MMSCFD). The gas field with reserves of 2,5 trillion cubic feet has been languishing until Pertamina started developing it again, with a target to start production in the third quarter of 2021.
However, Covid-19 has hit the oil and gas industry hard. The Upstream Oil and Gas Special Regulatory Task Force (SKK Migas) estimates that a number of upstream oil and gas projects would not reach their original targets. The JTB project is one of them, with its on-stream projection delayed until the fourth quarter of 2021.
W251bGwsIjIwMjEtMDMtMDEgMTA6MzY6MzEiXQ
The SKK Migas notes that this pandemic has delayed the delivery of construction material needed for upstream oil and gas projects, particularly those that come from abroad. Equipment or facility performance inspection also takes longer due to the work-from-home regulation. Mobilizing workers to the project location is also more difficult due to permits and quarantine processes.
Other projects scheduled to be on time are also suffering delays. Take the Abadi Field gas project in the Masela Block, Tanimbar Islands Regency, Maluku, which is now stagnating. Two field survey dates have been moved from their original schedule of early May. The activity, set to involve 200 workers, have been postponed indefinitely due to the physical distancing regulation. Public dissemination activities scheduled prior to the survey have also been suspended. "It's been postponed," Inpex Masela Corporate Services Vice President Nico Muhyiddin told Tempo on April 22.
A. Rinto Pudyantoro, SKK Migas' chief representative for the Papua and Maluku region, said that crew exchange periods take a longer time for contractors of cooperation contract (KKKS) in Papua. The regular ratio of work/vacation days of 14-14 or 21-21 is now shifted to 28-28. This schedule has to be synchronized with that at the Domine Eduard Osok Airport at Sorong, West Papua, which only operates on April 11, 14, 21, and 28.
Covid-19 is not the only thing hitting the upstream oil and gas industry. Foreign exchange fluctuations have made the US dollar more expensive against the rupiah, and the free fall of global crude oil prices had already forced the SKK Migas and contractors to revise their work program and budget.
Since early 2020, crude oil prices have continued to fall. West Texas Intermediate (WTI) oil May contract prices at the New York Mercantile Exchange (NYMEX) was even below zero at one point, trading at US$-37 a barrel on April 21.
SKK Migas Chief Dwi Soetjipto has been busy coordinating with KKKS leaders. "We've been swamped in discussions with the KKKS," Dwi told Tempo on April 23.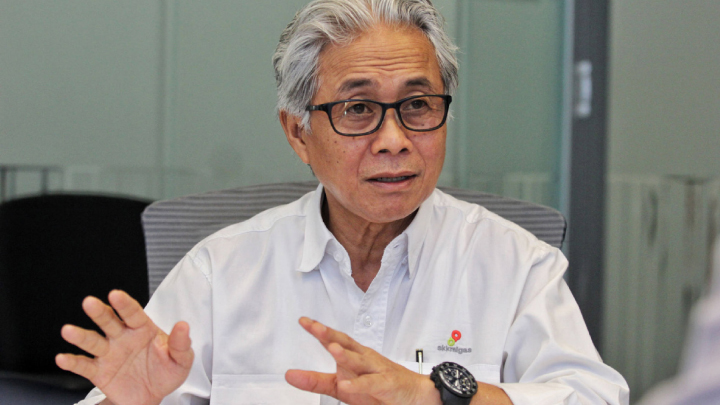 Upstream Oil and Gas Special Regulatory Task Force Chief Dwi Soetjipto at his office, Jakarta, July 2019./ TEMPO/Hilman Fathurrahman W
Although the price of oil at Duri, Riau—which has been the reference for Indonesian Crude Price (ICP)—is still around US$40 a barrel, the downward spiral of international oil prices has rung alarm for the government. Presidential Regulation No. 54/2020, which has been used as the basis for the revision of the 2020 state budget, assumes an ICP of US$38 a barrel. The fiscal policy department of the finance ministry has estimated that if the ICP slips further to an annual average of US$30.9 a barrel, then the budget deficit will balloon by Rp12.2 trillion.
Dwi and the SKK Migas team has been discussing this matter with the energy and mineral resources ministry. The upstream oil and gas sector is in danger of suffering losses as product prices cannot keep up with costs. Several steps have been taken, such as reviewing this year's working plans and targets, and asking the KKKS to renegotiate contracts for cost efficiency.
Planned shutdowns are also taken into consideration, such as those at the Banyu Urip and Tangguh fields. Banyu Urip is in the Cepu Block in Bojonegoro, East Java, and managed by ExxonMobil Cepu Ltd. Meanwhile, the liquefied natural gas refinery project Tangguh is managed by BP Indonesia at Teluk Bintuni, West Papua. This facility accommodates natural gas from a number of gas areas around Teluk Bintuni such as the Berau, Wiriagar and Muturi blocks. Projects at the Merakes gas field in the East Sepinggan block, East Kalimantan, managed by Eni East Sepinggan Ltd, are also estimated to be delayed till next year.
Pertamina has also revised its performance targets for 2020. This state-owned company has slashed exploration drilling activities from its earlier target of 23 wells to 15 wells. Exploitation drilling wells have also been limited from 388 to 291 wells. Thus, oil production targets have been lowered by two percent from 430,000 barrels per day (BPH) to 421 BPH. Gas production is estimated at 2,741 MMSCFD from the original target of 2,857 MMSCFD. Meanwhile, geothermal production has been revised from 4,635 gigawatt-hour (gWh) to 4,045 gWh.
Saka Energi Indonesia (PGN Saka) is taking similar steps. This subsidiary of state-owned gas company Perusahaan Gas Negara (PGN) has revised its investment and operational expenditure budget. Saka Energi CEO Nofriadi explained that the company is also reviewing a number of its activities to match them with its operational calculations. "So that we can remain competitive within the oil and gas industry," Nofriadi said on April 22.
In its public expose on March 17, Medco Energi Internasional already said that it would slash its investment and operational budget by US$150 million. The company has also made a correction for its production by 5,000 MBOED (thousand barrels of oil equivalent per day) due to shrinking investment and weak demand. However, the company assured investors that it has sufficient liquidity despite the falling prices.
With all those revisions, the SKK Migas has slashed the national oil production outlook for this year to 725,000 BPH from 735,000 BPH. Gas production estimates have also been lowered to 5,727 MMSCFD from 5,959 MMSCFD. Consequently, state's gross revenue is projected to fall to US$19 billion from the earlier estimate of US$32 billion.
The SKK Migas is making efforts to rescue the lagging oil and gas businesses. In a meeting with the energy ministry on April 23, Dwi Soetjipto suggested a stimulus package to the KKKS. He said that this incentive was needed to keep the sector going. "We are discussing this with the energy and finance ministries," he said. The plan is that the incentive would be given on the condition that the KKKS would support a reduction in imports and not lay off workers.
RETNO SULISTYOWATI, FAJAR PEBRIANTO, SUJATMIKO (BOJONEGORO)