Touched by a Wounded Elephant
Solfarina's meeting with Dita, a female elephant with a limp, changed her life. Solfarina and Rimba Satwa have served as a shield that protects the elephants in Sumatra's forests.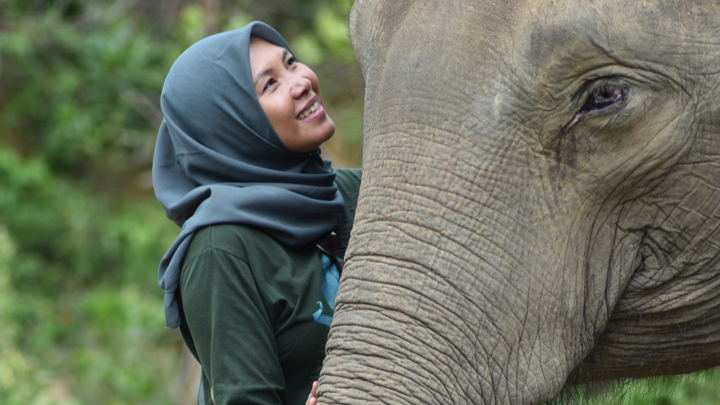 AFTER walking for only 500 meters from the entrance of the Petani village forest in Bengkalis Regency, Riau, the group of hikers from Hipam—a community of environmental activists—saw an elephant stooped behind an acacia tree. Its head was lowered, its rear pointing up. When the elephant, which was six times the size of a person, began to walk, it was slow and limping. There was an open wound on its front leg.
Solfarina, a senior member of Hipam, was moved. After the unexpected encounter with the limping elephant, Solfarina continued to feel restless. "I wanted to save them," said Solfa when she recalled the incident six years ago.
The elephant that managed to touch Solfa's heart was then named Dita, short for ditingga taruih (always left behind) because she was often seen moving alone without a herd due to her limp. The tear in her leg was caused by an iron sling trap made by locals. Solfa and her colleagues continued to monitor Dita's movement. She also accompanied Dita when she was being treated by the Riau Natural Resources Conservation Agency (BKSDA). "The infection had spread, and her leg rotted and fell off," said Solfa.
After meeting Dita, Solfa and her colleagues created a new elephant conservation division under Hipam's flag. Members of the community based in Duri, Bengkalis Regency, come from various professional backgrounds. Solfa herself was a school counselor. "At the time, we knew nothing about conservation," said Solfa.
They then learned that elephants were considered 'pests' by villagers in the Bengkalis Regency and its surrounding areas. Traps and poison would be laid out to disable the trunked animal. Every time they approach a settlement, people would throw fireworks at the elephants, causing them to run away scared. "I've seen how these fireworks would burst right above the elephants," said Solfa.
After working with Hipam, Solfa decided to establish another foundation focused on elephant conservation. Along with her husband, Zulhusni Syukri, and her colleague, Ade Kurniawan, Solfa launched the Rimba Satwa Foundation (RSF) in April 2016. Now RSF has 16 members, and the areas it monitors include the Balai Raja Wildlife Sanctuary, which is home to four elephants; Giam Siak Kecil (GSK) Wildlife Sanctuary, home to 40-60 elephants; and the Senepis Forest at the border of Dumai and Rokan Hilir, populated by 40 Sumatran tigers.
At first the foundation was self-funded, with an office in Solfa and Zulhusni's living room. The couple live in a shophouse and the first floor is used for Zulhusni's car sound system workshop, while the second floor—their living space—is then partitioned to function as RSF's office. "We began with what we had first," said Solfa.
RSF became a ray of hope for elephants in Balai Raja and GSK, two of the remaining habitats for the Sumatran elephant. Balai Raja, on the edge of the East Sumatran lane, was once a safe place for tigers, elephants, even rhinoceroses. But logging by companies and transmigration have caused this safe space to shrink.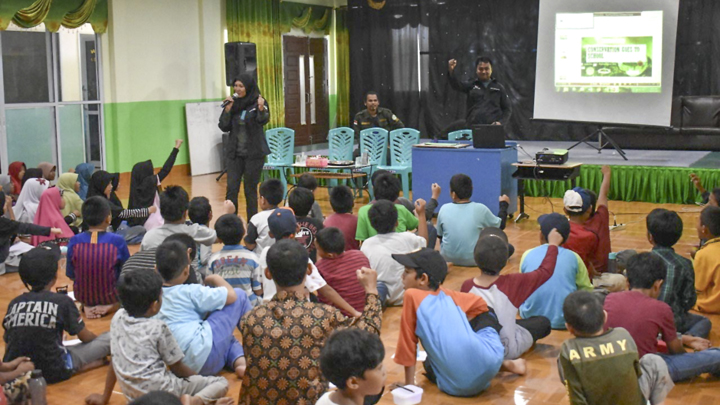 Solfarina and her Rimba Satwa Foundation team educate children on elephant conservation in Riau, in January/ Private doc.
Sunarto, an animal and landscape ecologist with the World Wide Fund for Nature (WWF) Indonesia, says only 200 hectares of Balai Raja's forest is left from what used to be 16,000 hectares. Most of the area has been turned into oil palm plantations. The only wildlife left are elephants, and even they are under threat. "Balai Raja is destroyed and not many care. Friends at RSF, including Solfa, are its defender," said Sunarto.
Sunarto sees RSF as a unique movement because its members were not environmental activists nor part of a non-governmental organization. Their acted only based on their concern for the elephants. "RSF has very proactively sought guidance, even coming to see me in Pekanbaru," said Sunarto.
Solfarina and her husband are the motors behind RSF. The 36-year-old woman has actively buildt networks with the BKSDA and other institutions, such as the WWF, not to mention enticing donors, both from the country and overseas. "Solfaria was the one who strategized (the program) so that all of us here can go on patrols, and for the educational program as well as budgeting," said RSF member Hartoni Surono.
At the end of 2016, Solfa left her teaching job to focus on elephant conservation. Armed with field risk management and rescue training from mountaineering organization Wanadri, she went to the field for patrols and monitoring, and provided those living in villages directly bordering the elephants' route with information on the animal's behavioral patterns as well as how to handle them.
Today, four elephants are being monitored by Solfa and her friends in the Balai Raja area, namely, Seruni, Rimba, Getar, and Codet. Dita, who was part of the herd, was found dead in October last year on Jalan Bengkalis Balai Raja, Pinggir subdistrict. "Dita's death was a severe blow to us. We became even more motivated to continue protecting her friends," said Solfa.
The patrols, which usually last 12-16 days a month, are conducted by teams of two to four people. Patrol activities include accompanying the locals and providing them with information. If the elephants approach a human settlement or a plantation, they would be led away with an alcohol canon. This method is an alternative way to drive away elephants, which RSF promotes to locals, to avoid hurting the elephants the way fireworks do. There is also a program for planting plants as food for the elephants, such as king grass and banana trees, to divert the elephant herd from estates owned by locals.
During patrols, Solfa and her team monitor elephants' movements in an around 30-meter radius. They must monitor the the giant mammals from a high place, which means Solfa has frequently had to stay atop trees for long periods of time. Once, when Solfa was monitoring a herd of elephants in a green belt forest, she was surprised when the animals she was observing began to approach her. "I was surprised but tried to stay put while still looking in the direction of the elephants," said Solfa. "Fortunately, they immediately move toward another direction."
Even so, said Solfa, she feels more afraid when dealing with angry locals compared to elephants. "We were once stopped by locals and were about to be driven out of the village because they thought we had brought the elephants there," she said.
In such situations, said Hartoni Surono, Solfa is a great communicator who keeps a level head when locals or other members of the team are growing emotional. "Solfa is often our shield when dealing with locals," he said.
Solfa is able to calm the locals and convince them that humans and elephants can live side by side. Recently, Solfa and her team have been able to build a solid network with local communities, allowing patrols to be conducted by locals.
She also supervises an educational program aimed at students. She visits early education to middle schools in Duri City to share information on the environment and wildlife protection. Using photo and video documentation of Dita walking with a limp due to her serious wound, Solfa hopes that people can be touched from an early age as possible, so that the conflict between human beings and wildlife do not last.
To Solfa, elephants are part of her life. When her husband's business went bankrupt, they were focused more on protecting the elephants. Solfa and Zulhusni were not discouraged from moving forward with their commitment. Solfa only feels divided whenever she has to leave her two children, who are 6 and 10 years old, for patrol. She often brings her children to the forest so they can see what she is fighting for. "Nothing can stop her," said Zulhusni before breaking into laughter.
---
Solfarina
Place and date of birth: Padang Panjang, West Sumatra, October 18, 1983
Education: Padang State University, Bachelor's degree
Occupation: Rimba Satwa Foundation Founder and Education Division Deputy Coordinator