Salvaging Leftovers
Garda Pangan is a response to the country's irony: 60 percent of Indonesia's trash consists of leftover food although many in the country cannot have decent meal.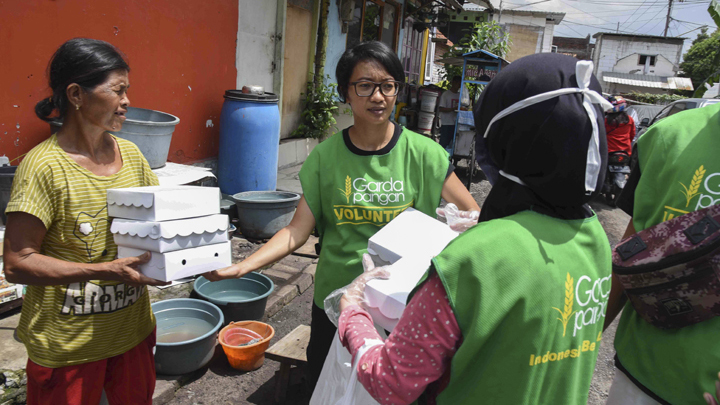 FIVE young people deftly unloaded hundreds of boxes containing food from a Toyota Alphard car in Jalan Baratajaya XVII, Surabaya, East Java, on Saturday, April 18. The green vests they wore stood out as they distributed those boxes to modest homes along the Jagir River bank. Once in a while, they would converse and laugh with scavengers, who greeted their presence happily.
Tini, 29 years old, a resident who received one of the boxes, immediately ate her food. She and her children and nephews seemed focused as they devoured their meal. "(We) haven't eaten since morning," she told Tempo.
The young people distributing the food were volunteers with Garda Pangan (Food Guard), a food bank community in Surabaya. These volunteers have been routinely distributing food for in-need residents, those living on river banks and scavengers. The volunteers come from various backgrounds and professions, from school and university students to entrepreneurs.
More than a few of these volunteers are also the project's donors. Agung Dwi Kurnianto, owner and manager of the Revolt Industry Surabaya, is one example.
Since last year, Agung has been putting aside 10 percent from the sales of his company's handicraft for Garda Pangan. During the coronavirus pandemic, he has been holding limited auctions for his company's leather wallets. "(We) collected Rp4.6 million," said the 29-year-old man. "We donated it to buy food for those in need."
***
GARDA Pangan was founded by Eva Bachtiar. The woman from Bontang, East Kalimantan, who studied at the Bandung Institute of Technology (ITB) was motivated by the great amounts of leftover food in Surabaya that was going to waste when she set up the volunteer organization. The city yields 1,600 tons of trash each day. Country-wide, of the 64 million tons of trash produced annually, 50-60 percent of it is made up of organic waste and leftover food.
Eva and her friends began to collect leftovers, such as food from restaurants, weddings and food stalls. She would wrap the food in cardboard boxes before distributing them to people on the streets and on river banks, as well as to the scavengers she would encounter.
In September 2016, Eva met with Dedhy Bharoto Trunoyudho and Indah Audivtia through a social activity. Dedhy and Indah are a husband-wife couple with a catering business. They were already accustomed to distributing surplus food from their business to orphanages in Surabaya. "We had a similar vision and agreed to establish Garda Pangan on July 10, 2017," said Eva, 34 years old.
They then invited several of their friends to join. Garda Pangan also frequently campaigns on social media, raising awareness on the importance of salvaging food to be donated to those with no access to proper food.
Dozens registered to be volunteers. "Not all are full-time volunteers," said Eva. "Some are temporary volunteers or part of the public."
Every two weeks, Garda Pangan would enlist volunteers from the general public. Eva involves them in social activities under the coordination of core volunteers for two weeks. If these 'public' volunteers wish to continue volunteering, they can re-register. In every meeting, Eva invites the volunteers to discuss environmental issues and social disparity. Volunteers' concern for the environment and the people has continued to grow.
Being a Garda Pangan volunteer is not an easy matter. They are required to obey the rules and to come every time there is an order to retrieve or deliver food. During the flood in Surabaya in early January, for example, the volunteers had to brave rains and deluges to retrieve and distribute food. Volunteers who disobey the rules or refuse to retrieve food are expelled and forbidden from rejoining.
Not many volunteers have been ousted since Garda Pangan was founded. Titis Jyhan, a student at the State Electronic Polytechnic Institute of Surabaya joined Garda Pangan in mid-2018. Titis has remained as a volunteer because she feels that Garda Pangan has a clear vision. "Its social movement has always persisted, in all conditions," she said.
Garda Pangan's food bank concept is quite simple. Like a bank, Garda Pangan is only tasked with keeping food. Its 'customers' are restaurants, hotels, food stalls, and wedding organizers. These customers submit surplus food to Garda Pangan and the volunteers will then sift through the food before processing and distributing it.
Despite the seemingly simple set-up, the practice is quite complicated because the majority of the food they receive is wet food. Because of this, Garda Pangan volunteers must race against time so that the food will still be in good condition when they are distributed.
And it was not easy to convince people to become a 'customer'. When Garda Pangan was formed, out of dozens of restaurants, bakeries and hotels that they approached only Tanak Melayu expressed interest, as the restaurant's owner went to an overseas university and was already familiar with the food bank concept. The rest still had doubts. "They were afraid that we would sell the food they gave us. Others were also afraid that people would get food poisoning if we failed to process the food properly," said Eva.
Eva and Dedhy then drafted a standard operating procedure for proper food, covering visual, aroma and random inspections. Only food that is proper for consumption is distributed to the people while the rest is processed into compost or biogas. "I have an official food handling certificate from the Surabaya health office," said Dedhy.
Food processing and distribution are also performed transparently. Garda Pangan sends a monthly report of their food distribution to their partners.
Slowly, public trust in Garda Pangan began to improve. Today, they have 11 partners, made up of restaurants, bakeries and fruit distributors in Surabaya. The number of food recipients have also risen. Besides helping scavengers, they are distributing food to street kids, orphanages and shelters. At this time there are 100 food distribution points in Surabaya.
The residents are not the only ones who have benefited. Likewise, Garda Pangan's partner companies. Yonathan Alexander Widjaja is one example. The Sunpride distributor in Surabaya would, in the past, often worry about the fate of the fruits piled up in his warehouse after they were rejected by supermarkets. Supermarkets will only accept fruits that are not yet fully ripe so that they can last longer on display. "Not all of their fruits sell in one day, which is why they don't want us to deliver ripe fruits," he explained.
Yonathan had tried to directly donate fruits to orphanages. But the shortage in workers caused shipments to often be delayed. "In the end many fruits were neglected and ended up rotting." Now, every time he receives his supply of fruits, Yonathan only has to contact Garda Pangan.
Garda Pangan's popularity in Surabaya is often made use of by local residents who are holding weddings. At first, the volunteers would come to reception halls to retrieve the food, but now event organizers would contact them when they wish to contribute leftover food from wedding receptions.
The problem is, donations from weddings are unplanned. Wedding organizers would contact Garda Pangan at 10pm, asking volunteers to immediately retrieve leftover food. As a result, Eva and the volunteers must often delay their sleep to salvage the leftovers.
---
Eva Bachtiar
Place and Date of Birth: Bontang, East Kalimantan, May 3, 1986
Education: Industrial Engineering, Bandung Institute of Technology
Occupation: Garda Pangan CEO
Award: 2017 Tempo Startup Awards, Startup with Best Social Impact