Nurturing Nature
They began with the need for self-fulfillment, and ends up passing on their knowledge about taking care of the environment. Four young women successfully build an education program, using resources available around them.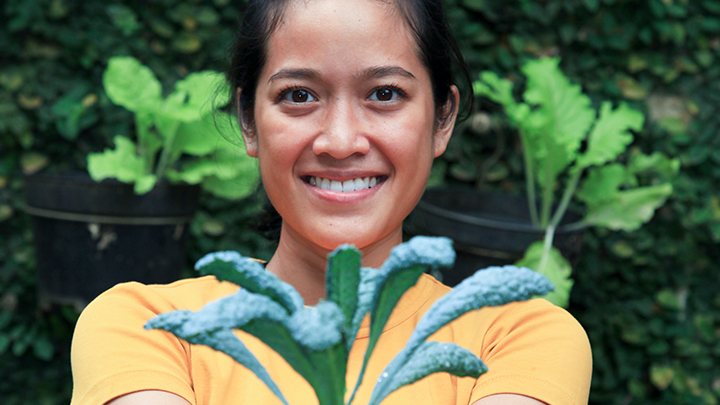 DOZENS of container baskets filled with vegetables seedlings lined up on shelves. Tomatoes, lemongrass, okra, red chili, and eggplant sprouted from black soil plots with walls made of glass bottles. Pots of lettuces hung from a garden wall with vines, and the scent of warm rosella tea filled the air. "Every day, we can enjoy vegetables produced by the garden," Siti Soraya Cassandra (31) said on Tuesday, April 21.
Sandra—Cassandra's nickname—built Kumara Garden with her husband, Dhira Narayana, in July 2016. The organic plantation project in Situ Gintung, South Tangerang, Banten, spans on a 300 square meter land. "For the capital, my younger siblings helped chip-in," Sandra said.
Sandra decided to become a farmer because she was bored with her office job. But the psychology graduate from the University of Indonesia lacked farming experience. So, she took a gardening course in Yogyakarta, and spent her time there discussing with a friend who had become an organic farmer in that city.
Sandra remembers how their business failed miserably in the first year. Everything they did, from planting seeds to making compost, as well as agricultural training, produced nothing. They ran out of capital, too. But Sandra and her team did not give up. They wanted Kumara Garden to be a place where city residents can get to know nature and take care of it.
They decided to redesign the garden and studied more about farming. At the end of 2017, Kebun Kumara started producing. Visitors also flocked, coming there to learn. "At the beginning, people were reluctant to garden, as they were not using to playing with dirt and getting their hands dirty," said Muhammad Muntaha Yasin, a young farmer who helps Sandra take care of Kumara Garden.
In addition to selling plant seeds, Kumara Garden also provides training programs for farming, making compost, and treating plastic bottle waste. Farmers in Kumara also turned a portion of the land in Situ Gintung, which had been a landfill, into a small garden and compost house.
The success of Kumara Garden led to an invitation to the Bogor Palace. President Joko Widodo invited her and a number of other young people to celebrate the Youth Pledge Day in 2017.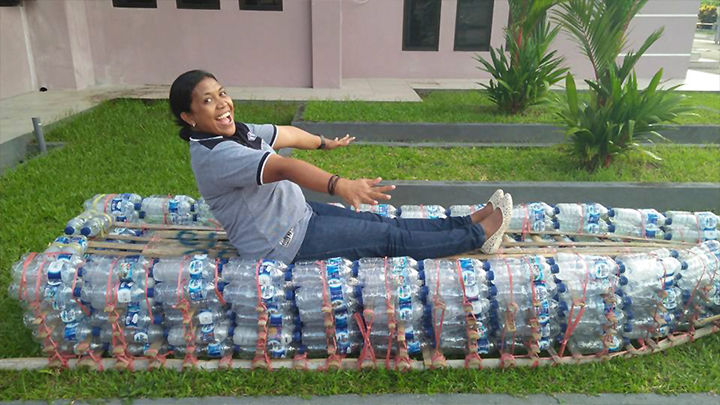 Irene Sohilait/Facebook.com/Irene Sohilait
Today, with the help of three employees and dozens of volunteers, Kumara Garden is a place where urbanites learn about caring for the environment by gardening on small plots of land. "Through gardening, people will definitely take care of their trash and try to keep the place clean," Sandra said.
The issue of environmental pollution also motivated Anita Resky to design a community program for waste reduction. Anita (30), a sanitarian at the Polowijen Community Health Center in Malang, East Java, established a training program to reduce waste of disposable diaper in 2017. "People often throw used diapers into the village waterways and rivers," said Anita. She founded The Rumah Diapers or Diapers House as a training center in 2019.
According to Anita, some residents of Malang City believe in a myth known locally as suleten. It says that rashes on babies buttocks and thighs appear because the parents throw diapers into trash bins and then burn them. This led them to throwing dirty diapers into rivers. The myth is also prevalent in other regions of Java. "This is a huge problem as feces enter the river, which will pollute water sources," she said.
Anita runs the training by first approaching the mother-children integrated healthcare centers (posyandu), neighborhood chiefs, as well as subdistrict officials, as they have programs to routinely clean rivers. She also asked residents not to burn diaper wastes, as they are made of plastic, which can release dioxin compounds that are poisonous when burned.
Every month, Rumah Diapers receives around 800 used diapers that have been cleaned. The liquid absorbent material in the diaper can be used as a mixture of growing media. The packaging, after being washed clean, can be repurposed into handicrafts. "There were rejections, especially from middle-aged mothers who felt it was too bothersome, but we slowly persuaded them," said Erny Setyorini, one of the coordinators at Rumah Diapers in Polowijen village.
The Rumah Diapers Program won an award in sanitation from the health ministry in 2019. A number of sanitation trainers from several areas such as Blora in Central Java; Situbondo, East Java; and Pinrang, South Sulawesi, came to Rumah Diapers to learn. "Hopefully other health centers can replicate this program as a way to reduce diaper waste," Anita said.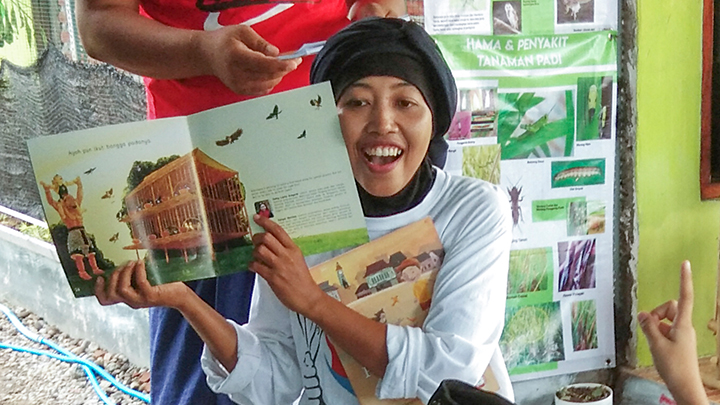 Wiwik Subandiyah teaching elementary school children./Private Doc.
Irene Mindelwill Sohilait (39), was also irritated by the piles of garbage in Ambon City, Maluku. She returned to her hometown after getting her masters in environmental science at Gadjah Mada University, Yogyakarta, in 2006, and was devastated by the garbage piling up on the shores and mangrove forests. Every day, Ambon residents produce some 70 tons of waste. "Some are thrown to a cliff near Mount Nona, which is a catchment area," she said.
The Ambon City government built a new final landfill, about 15 kilometers from the city. Irene, who also works at Ambon City's department of environment and waste, did a small research on household waste management. It turned out that residents did not know how to sort and process waste. Irene then worked together with the city government, while starting up the Green Moluccas community in 2011 to help solve the waste problem in Ambon.
Using their own money, volunteers at Green Moluccas run a nature school for some 150 children of garbage pickers living near landfills. Twelve tutors and 30 volunteers provided learning materials on environmental education, disaster, and healthy living patterns. The children are engaged in natural school activities after studying in a regular school. "They are free to decide what subjects they want to study, and which tutor they want," said Irene, who teaches about the environment.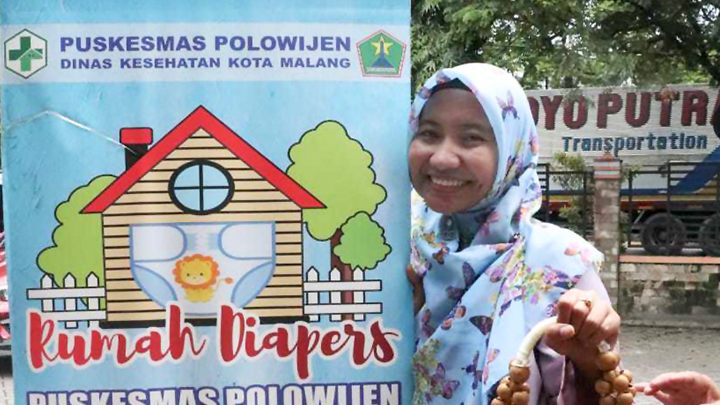 Anita Resky holding a bag made of used diapers./Private Doc.
In Jombang, East Java, Wiwik Subandiah built a place to educate children about the environment in the Pesantren village. Wiwik and her husband established the Alam Riang Community Reading Park after resigning from their jobs in Surabaya in 2012. "At that time, our parents were against the idea, but we continued because we were committed," Wiwik said on April 21.
Wiwik, who studied Japanese literature at the Surabaya State University, developed Alam Riang in collaboration with non-profit organization Green-Book, which has an environmental activity program to help supply children's books. She also collaborated with organic farmers in Jombang to develop plantation areas that are integrated with fish ponds. There, children learn about plants and making fertilizer from fish droppings.
The activities at Alam Riang, Wiwik said, help children learn about plants, as well as how to sort waste and make compost. Wiwik also tried to change village children's habits of capturing birds as pets to play with. Wiwik said the children did not know that birds are farmers' natural helper—eating caterpillars, which are pests. "They are learning about nature," said Wiwik.