Close to the Pure
Edition : Tuesday, May 5, 2020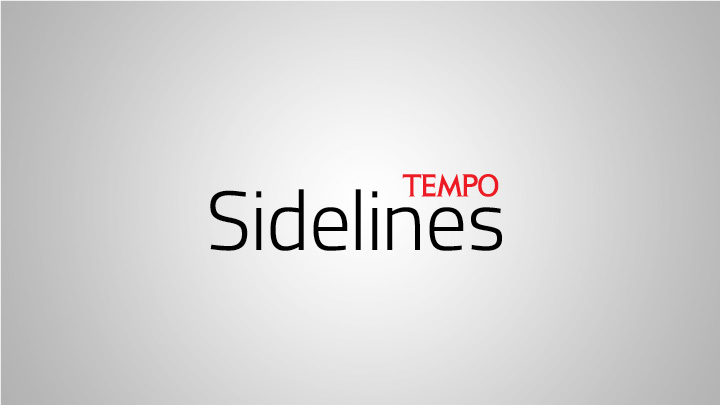 In Memory of Arief Budiman (1941-2020)
A
young man of 19, my age, but thinner than me, taller, his shirt and trousers crumpled but clean, his manner of speech direct but not agressive, and called 'Djin', told me he had translated a chapter from L'Étrangère: from our first meeting at the Faculty of Psychology at the University of Indonesia (UI) in 1960, it was evident that Arief Budiman—who back then used the name 'Soe Hok Djin'—was extraordinary.
His love of literature and philosophy had begun at high school, he painted, he played classical guitar pretty well for a beginner, and he was clever at mathematics.
MAYBE because we both stood rather apart from the social life of other students in the faculty. Back then the number of students in the Faculty of Psychology totalled no more than 150; but in general they were not interested in the things we liked: chatting about philosophy, chatting about art. Arief also did not enjoy things they enjoyed—at a university whose motto at the time was 'books, parties, and love'.
Our friendship strengthened though the circle that formed later. Arief introduced me to well known artists and intellectuals: Trisno Sumardjo (artist and translator of Shakespeare), Nashar (artist), Zaini (artist), P.K. Oyong (journalist and later the founder of Kompas), Onghokham (historian), and, after 1967, someone he admired and to whom he was close, Mochtar Lubis.
I quickly became part of this scene—even though I, who had been raised with Javanese as my first language, did not dare to copy Arief and use the familiar Indonesian pronoun 'kau' to address senior artists.
Yes, Arief was a Jakarta boy, born and bred. He was raised in a Chinese family that only ever spoke Indonesian (his father had been a writer of literature in Sino Malay), and even though his mother spoke Sundanese, Arief's way of speaking was direct, matter of fact.
Moreover, he did not see himself as inferior. Even at this young age, he was already writing essays for the magazine Star Weekly. As I mentioned earlier, Arief had translated one chapter of L'Étrangère. He admired Albert Camus: he even had felt some similarity with the Algerian-born Camus when at 17 Arief was diagnosed with tuberculosis and had to be treated at Pacet sanatorium. He read Camus' books in English translation. He devoured The Myth of Sisyphus, from which he developed his anti-utopian views. I still have that very book, inscribed with his name 'Djin' on the first page, after half a century.
Arief was no photocopy of Camus, of course. He was never active in the world of performance, and unlike Camus, had no relations with enticing women. But his anti-utopianism was definitely shaped by the Sisyphus myth Camus used as an allegory for human history that is never finished and complete.
This was particularly true when in 1963, aged 22, Arief participated in drawing up the Manifes Kebudayaan or Cultural Manifesto. The Manifesto was a kind of petition. We called for the protection of artistic freedom of expression in the era of 'Guided Democracy', when much writing was stifled.
Our petition was based on the view that artistic freedom did not have to be sacrificed for the political struggle (in 1960 this was called Revolution with a capital R) that aimed to achieve a perfect society. Because, in the anti-utopian perspective, such a society will never be achieved. Rather, through nurturing freedom, the Cultural Manifesto saw, art could become part of liberation. This role of art is unending, because it does not assume there is 'heaven on earth'—to use the title of a collection of poems by a Lekra poet, Sugiarti Siswadi.
In this, the manifesto—which was mocked with the acronym 'Manikebu'—was at odds with the 'socialist realism' that Lekra supported. This 'Realism' was the realism that Stalin had drawn up in the early 1930s to support the Five Year Plan. In this doctrine, artistic freedom was a luxury. As Lenin once said, freedom exists only after the birth of the socialist society.
We objected. Freedom should not be quarantined. Arief and the signatories of the Cultural Manifesto thought many things would suffer as a result, as in the Soviet Union where writers were imprisoned, ostracized, or executed. And all for naught, because they were sacrificed for a future society that would never be. And it was proven that Stalin's experiment failed to build such a society.
'Socialist realism' was discarded after Stalin's death in 1953; new works of literature were born: Yevtushenko's poetry, Solzhenitsin's novels, Pasternak's poetry and prose, amongst others. The Cultural Manifesto, which was written post-Stalin, took inspiration from this spirit.
Actually, back then Arief was far from Marxism. He was not interested. He never came with me to browse the books published by the Foreign Publishing House, Moscow, at Jalan Kramat Raya in Jakarta, under the office of the Central Committee of the Indonesian Communist Party, where works by Dostoyevsky, Gorky, Turgenev, Plekhanov, Lenin, Marx and Engels—in thick, interesting volumes—were sold cheaply. I often went shopping there; the Marxist books with their pictures of two bearded men reminded me of my father's library—so perhaps—proud as I was to have memorized the Internasionale back in third grade of primary school—I liked them because of nostalgia. Arief got his main reading material from other places, probably with the assistance of P. K. Oyong, senior journalist at Star Weekly, with whom he was very close. Oyong, during the period of Guided Democracy when his magazine was closed down (because it was considered to be close to the Indonesian Socialist Party which Bung Karno had disbanded), had ways of getting books from Europe and America, the import of which was prohibited at the time. Arief was fortunate to benefit in this.
I was impressed that he mastered the difficult bits of Being and Nothingness, the English translation of Sartre's work. But if he liked 'existentialism', this was not because he was following an intellectual fashion: existentialism was part of Arief's views in the early and mid 1960s. He even wrote his psychology thesis focussing on the Indonesian poet Chairil Anwar as 'existential'. This was extraordinary in the Faculty of Psychology at UI at the time, which never went near Indonesian literature.
I think that what so deeply touched Arief and French writers after the Nazi occupation was the spirit of rebellion and ideas of freedom—two themes that became features of his thinking from then on.
In this, Arief chose the clay path—the path of solid ideas above the recalcitrant and soft world beneath. He had a puritanism within. He would never go looking for delicious food or fancy clothes. The simplicity of his life was linked to his belief that the body is not terribly important. The world of thought is more important.
Sartre's ideas echo faintly there—or the world of thinking that made it easy for him to accept binary divisions à la Sartre: on the one hand the en-soi life, not driven by awareness/thoughts/reflection. On the other, the pour-soi life, aware of its awareness, which can shape, change objective situations.
This kind of binary perspective is strong in Arief's views: for instance, he saw stark difference between 'moral movements' and 'political movements'. And as is normal, binary perspectives prioritize one over the other. To Arief, 'political movements'—including those wanting to change rotten structures—always come up against 'dirty hands'. He chose 'moral movements'. (Safeguarding 'the moral' could even go to trivial extents. When he became a member of the Film Censor Board in late 1968, as representative of artists, he refused to take the 555 cigarettes that were distributed by the film importer; to him this was a small step in bribery.)
Arief's Marxism, which he adopted while studying and socializing in US campuses in the late 1970s, was 'ethical' Marxism. He was attracted to the works of the young Marx. Arief's Marxism sprang from awareness of injustice, and later shaped the construction of social theory. From here he analyzed situations. His Harvard dissertation about Chile and the leftist Allende government was an example of this.
In his scientific thinking, Arief pursued what was called 'idealization': comprehending reality by shaping it in ideas—and in this way analyzing problems brilliantly.
This is why Arief Budiman's essays are such clear and distinct prose. Complexity, complication and inconsistency in the world do not get in the way of the thesis he is proposing. He is masterful at digesting issues and analyzing problems, making them simple. I once saw him explain a complicated statistical problem to fellow students. They were happy that the problem became clear—just as when people followed his explanation of, for instance 'dependency theory' in economic development in Latin America.
So Arief's transformation from lover of philosophy to man of action—from someone excited by the world of ideas to someone who went down to the street to make statements—made sense. Activism demands clear direction.
This was in line with the changes in Arief's intellectual sources: he began to be attracted to Marxism after his youth 'diving' into Camus and Sartre.
I think that Sartre was a bridge here. Having tried to promulgate his philosophy as an alternative to Marxism, in the late 1950s Sartre changed. In his Critique de la Raison Dialectique pubished in 1960 he stated that existentialism was under Marxism. He was a 'Marxist', he said, describing himself.
Arief never explained this change in his writing (or I never knew about it, if he did). But like Sartre, he had unique humanist conviction. To him, man was free because he was sentenced to be free, and with that freedom he could not be formulated with specific essentials. He became himself because he chose, did, made.
Sartre's activism—recall that this philosopher not only wrote thick tomes, but was also the motivating force of demonstrations against capitalism and imperialism—sprang from views about man with no certainty of destiny. Arief's activism was the same.
But I must immediately add: in Arief, there was something very different.
One of the characters in Sartre's play Huis Close (No Exit) says, "Hell is other people." Contrary to this, Arief met others. He found it easy to mingle, to exchange ideas, undefensively. Communication was a dominant impulse within him.
He even saw conflict as communication. He never uttered words like 'idiot' or 'bullshit'. He never mocked other opinions. The most negative word from him was 'payah!' (Oh, come on!). He had the capacity to listen, and also to listen to the fiercest criticism.
With his eyes wide open, he joined the 'movement'.
But there was another factor that made him do so. That was Soe Hok Gie, his younger brother. To be exact, when Gie died in an accident on Semeru mountain.
The two brothers rarely talked to each other. They kept their distance, or at least with people around. Their social worlds were different. Gie was an activist in the Socialist Students Movement; he was close to the circles of the Indonesian Socialist Party which Bung Karno had banned and whose leader, Sjahrir, had been imprisoned. Gie was more familiar with political activists, including the former members of the Permesta Rebellion. Arief on the other hand mixed more with artists like Nashar, Zaini, Oesman Effendi, and Trisno Sumardjo, and later with me, Rendra, and other writers.
But when Arief wrote his short obituary for his brother, he was shaken, and moved by Gie's fight that until then he had probably not taken much notice of. He went to collect Gie's body from Semeru mountain. There, people told him that the coffin maker had wept because of the death of this 'brave man'.
This gave Arief new insight. Gie had once confessed to him his doubt: in his fight to 'help the oppressed common man', he felt people were increasingly hostile towards him. Gie said "sometimes I feel utterly alone."
But there at the foot of the mountain, Arief knew this was not the case. Soe Hok Gie did not lack supporters and admirers. Standing beside his brother's coffin, Arief said, "Gie, you are not alone."
Arief went on to prove this with his actions as an activist, as though he picked up the fallen flag of courage that his dead brother had borne. Arief believed that someone 'honest and brave' who opposed injustice would 'get voiceless support from many people'.
I saw that Arief's belief in 'many people' revealed his own attitude: there was no arrogance in him, there was no showing off of someone on the stage of struggle.
Unlike Gie, Arief never said that he was alone and with this felt heroic. The aloneness within Arief was very close to resignation. He liked to take the hero of the western film Shane as his model. The hero faced tyranny without putting others in danger, and after he succeeded in restoring justice, he left, vanished. Without waiting for the cheers.
That is why all who knew him knew that Arief's fight was pure. His friendships were also pure, as was his love for Leila, his university colleague who later became his wife.
I recall something said by someone who admired and loved him: Ivan Kats, who worked for the Congress for Cultural Freedom in Paris in the 1960s.
Before Arief and his family moved to Paris in 1972 to work with Ivan, Arief had stayed with the Kats family earlier in 1964 at their home in Marly-le-Roi, a small old town with shady woods near Versailles. I once visited when on university vacation from Bruges in Belgium, and Ivan and his wife, Evelina, an artist, told me a story: they asked Arief a few times to join them walking in the woods. They were amazed that Arief would stop beside a ditch with clear water, and in the autumn weather, would drink directly from the ditch.
"He really is close to what is pure," Evelina said.
Now, Arief will be pure forever.
Jakarta, April 23, 2020
Goenawan Mohamad
W251bGwsIjIwMjEtMDYtMjUgMDY6NTQ6MjgiXQ