Easing Restriction Before Recovery
The government prepares a scenario to ease off large-scale social restrictions, claiming that coronavirus transmission trend is flattening. Meanwhile, the number of tests is still not ideal.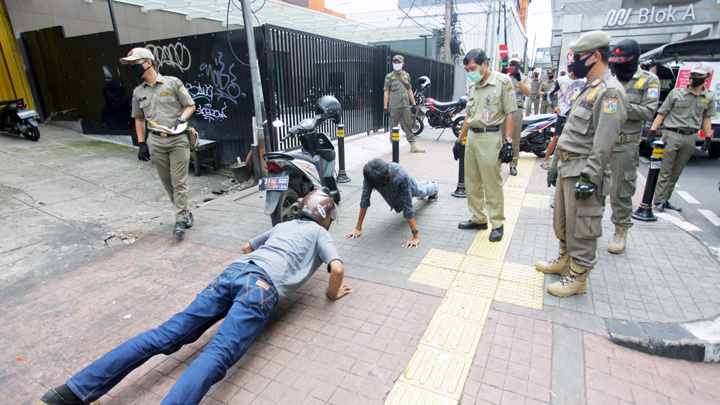 SEVENTEEN days after the Capital started implementing large-scale social restrictions (PSBB) on April 10, the Covid-19 rapid response task force claims that the effort is showing results. Covid-19 Task Force Chief Doni Monardo said the growth of new coronavirus cases in Jakarta is slowing down. "The curve is now flattening," said Doni.
Doni, who also heads the National Disaster Mitigation Agency, said the government will continue to push rapid tests to curb the spread of the coronavirus. He is targeting for a decline of positive cases in Indonesia starting in June. "Therefore, by July, we would hopefully be able to resume our normal lives," said the former Special Forces General Commander on April 27.
Before Doni's announcement on the success of the social restriction, the number of daily cases in Jakarta had been decreasing in five days. On April 21, Jakarta administration recorded 167 daily cases, which gradually declined until it reached 65 new cases on April 26. The next day, on April 27—when Doni claimed there had been a slowing down of new cases—the number of infection rose by 86 people, and then it grew again by 118 new positive cases on April 28.
Doni's claim is questioned by a number of health experts. Member of Board of Experts of the Public Health Expert Association, Hermawan Saputra, said government's data is not yet consistent because several points in Jakarta are still experiencing an increase in cases. Meanwhile, Epidemiology Department Head at the University of Indonesia's School of Community Health Tri Yunis Miko Wahyono said that positive cases may be on decline because early detection is slow. Tri estimates the peak of the outbreak in Jakarta will only occur by the end of June. "The trend may be decreasing, but social distancing must not be eased," he said.
Until Monday, April 27, according to government's spokesperson for Covid-19, Achmad Yurianto, 75,117 specimens had been tested using the polymerase chain reaction method. That same day, Singapore had conducted more than 140,000 tests. A government official familiar with rapid test implementation in Indonesia said that 4,000 rapid tests are carried out in a day on average. That number, said the official, is still well below the ideal amount of 7,000 tests per day.
W251bGwsIjIwMjEtMDMtMDEgMTE6MzY6MDkiXQ
While the trend of coronavirus positive infection cases is not yet stabilized, the government considers the option of easing the PSBB. The government's plan was expressed by Coordinating Political, Legal, and Security Affairs Minister Mahfud Md. during the opening of an online discussion held by the Central Information Commission on April 30. Mahfud, the former Constitutional Court chief justice, said the government is thinking to re-open business centers that could continue to operate amid the pandemic.
Mahfud also said that the government is re-evaluating study-at-home activities. One of the reasons they factor in is that people often complain their learnings are troubled by Internet connection problems. "We are thinking to relax social distancing without compromising the protocols of coronavirus prevention," he said.
Two persons with knowledge of the relaxation or easing of social restrictions evaluation process said the government will set a number of indicators for regions considering to loosen up their isolations. Both said that the government still refers primarily to the data on virus transmission in the corresponding region. The government will check the trend of daily new cases in a region intending to ease social restrictions. A set of criteria used for reference says the number of new patients must be declining consistently over a period of 7, 10, to 14 days. On the other hand, said the person who is also an official in the government, the number of recovered patients must increase as well.
Even when the status of restriction relaxation has been granted, it does not mean that every sector may resume operation immediately. The government plans to first allow the industrial sector, along with small and medium businesses such as grocery stores and restaurants. The same source also mentioned that companies permitted to resume activity will be required to implement a strict prevention protocol, such as arranging employee work shifts and maintaining safe distance between individuals.
Regional administration intending to ease up social restriction will also need to fulfill a number of prerequisites set by the central government. An expert familiar with the discussion on social restriction relaxation said regional administrations will be asked to quickly organize mass rapid testing for its residents. They must also increase the speed and ability to track people who have interacted with coronavirus patients.
Other matters required for easing of social restrictions include provision of dedicated locations for isolation. The same expert said that regional administrations will need to provide and increase the number of public facilities similar to the Kemayoran Athletes' Dormitory, in order to treat corona patients. A dedicated place for isolation is deemed to be effective in localizing transmission, instead of self-quarantine in homes.
Regional administrations have begun to prepare to lift social restrictions. One of them is Jakarta Governor Anies Baswedan. During a teleconference meeting with hundreds of business owners on April 28, he stated that social restrictions may be ended soon if Jakarta is able to lower a number of indicators related to Covid-19 transmission. "We will return to normal if the number of corona patients under treatment and death rate continue to decline," said Anies.
The government has implemented additional policies meant to curb the coronavirus spread. These include banning the Lebaran mudik (going to home town for end of fasting month Lebaran celebration). The ban was initially applied only to civil servants, soldiers, police officers, and employees of state-owned enterprises. Later on, President Joko Widodo affirmed that the mudik ban applies to all members of the general public.
National Development Planning Minister Suharso Monoarfa said the President received inputs from the minister during a meeting on April 21 before banning mudik entirely. In that meeting, Suharso said that coronavirus transmission may multiple if the government did not ban the exodus. "People's interaction during Lebaran mudik, such as handshakes and family gathering, may increase contact rate and risk of contagion," said Suharso, the United Development Party (PPP) chairman.
Suharso gave his advice based on feedback obtained by the National Development Planning Agency from community health experts, including a team from University of Indonesia's (UI) school of public health. A member of the UI research team, Pandu Riono, said the team constructed a model of Covid-19 cases during mudik. Pandu and his team estimated that an additional 200,000 of corona cases would emerge in all of Java if the government did not ban the mudik.
Calculation from the UI team predicts that the outbreak will reach its peak on May 24. On that day, the number of additional cases in Java Island alone may reach 40,000. "Seeing the risk of transmission that may occur, we suggest to ban the mudik. A mere call to not go on the exodus will not suffice," said Pandu.
A high-ranking government official who has been following the discussion on mudik said the decision to ban it was taken after President Jokowi confirmed that social aid had been distributed in the field. The government provides an assistance package worth Rp 600,000 per month for four months for poor people in Jakarta and its surrounding areas who are not originally from the region.
The president also considered the number of people who were still intent on going back to their home town, had the government not issued the ban. Jokowi received input from the transportation ministry regarding the potential flow of people during the mudik. Based on a survey by the transportation ministry's research and development agency, some 24 percent of residents were still intent on going to their hometowns. With an estimated total of 14,9 million people that could go on the mudik as in 2019, it meant that at least 3.5 million would be going.
Land Transportation Director-General Budi Setiyadi who attended the meeting said that Jokowi listened to all feedback before banning the mudik. There were initially two options regarding when the ban would start, April 24 or May 7—during Buddhist Waisak national holiday. However, considering that millions were still committed to the exodus, the government decided to accelerate the ban. "So as to prevent more people coming out from the coronavirus epicenter in Jakarta and its surrounding areas," said Budi.
Transportation Ministry Spokesperson, Adita Irawati, said a day after President Jokowi issued the ban on mudik, the ministry held a meeting with a number of institutions. Among them, the National Police traffic corps, the public works ministry, state-owned toll operator Jasa Marga, and transportation agencies in several provinces. During the meeting, the government agreed to control the flow of mudik by blocking off entrances to territories designated as Covid-19 transmission red zones that have implemented social distancing measures. "Travelers who want to pass through that region will be asked to turn around," said Adita. As of April 29, officers have forced 14,000 vehicles to turn around at some crossing points.
RAYMUNDUS RIKANG, EGI ADYATAMA, MAYA AYU PUSPITASARI